Watermelon
Watermelon is a popular fruit of Vietnam, especially in the summer, mainly used for refreshment and thirst-quenching, and is loved by all families.
The Legend Of Mai An Tiem and Watermelon
Those who have heard of Vietnamese folk tales must also know the legend of Mai An Tiem - the person planted the first delicious watermelon seed. 
In the past - the Hung Vuong 18th time, there was a young man named Mai An Tiem. Mai An Tiem was quick, resourceful, and hard-working, so he was loved by the King and even married to the King's adopted daughter. Despite the favor, he was still working hard, not expecting to rely on the King's fortune. However, his good intentions were misinterpreted, falsified and he was exiled to the desert island. Without being discouraged, he conceived that as long as he worked hard, he would survive.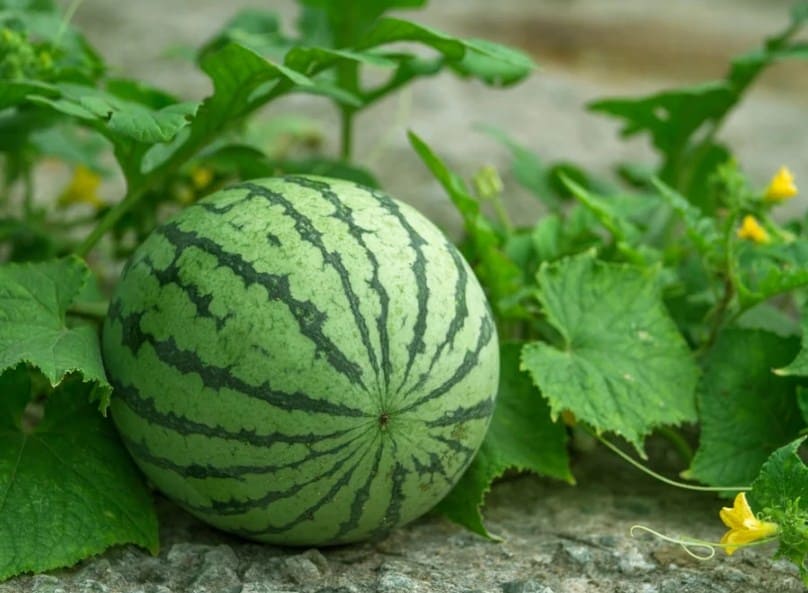 Photo: khoeplus.com.vn
One day by chance, Mai An Tiem discovered that there was a flock of birds from the West, they were sitting on the shore and were eating some kind of black seed. Mai An Tiem thought to himself: "If a bird can eat this seed, everyone can eat it!" Thinking so, Mai An Tiem immediately gathered all the seeds and planted them in the ground. Day by day, he tried hard to fertilize the garden. And when the harvest season came, Mai An Tiem, together with his wife and children, brought home all the ripe fruit. When they ate the fruit, they found that the fruit was very juicy, sweet and delicious. This fruit is our watermelon today.
Variety
There are a decent number of watermelon varieties in Vietnam, some imported and some original.
Yellow rind watermelon: the shell is yellow instead of the usual green color. However, the flesh of the melon remains unchanged – red. This melon is delicious and sweet.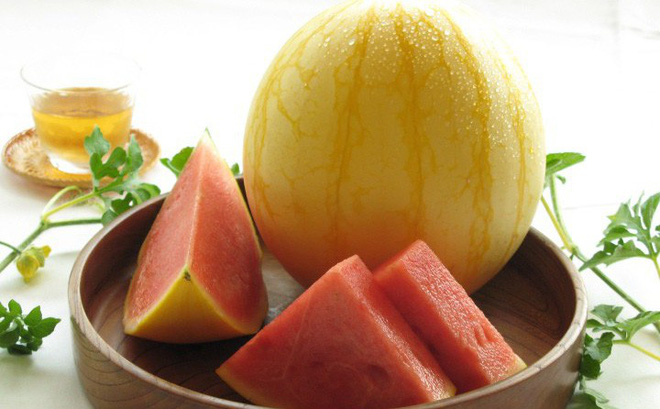 Photo: doanhnghiepvathuonghieu.vn 
Tiny watermelon: also known as Cucumber watermelon (Dua Hau Chuot), belongs to the vines family. The inside of a tiny melon is light green in color, crunchy like a cucumber and a bit sour.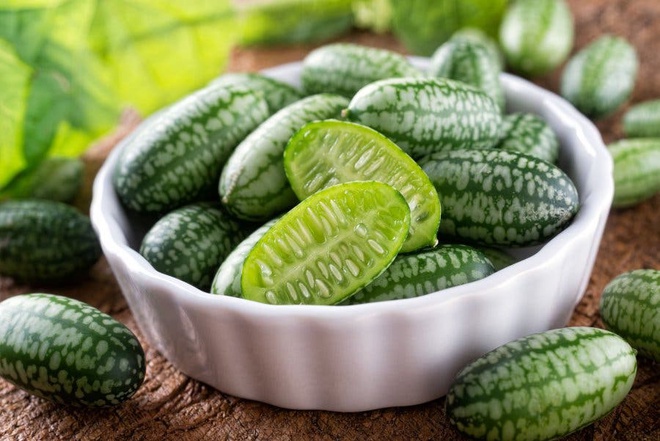 Photo: zingnew.vn 
Cream Fleshed Suika: white flesh watermelon. This melon is loved by the fancy creamy white fillings and has a refreshing, slightly sweet taste. Cream Fleshed Suika is sold with an extremely expensive price.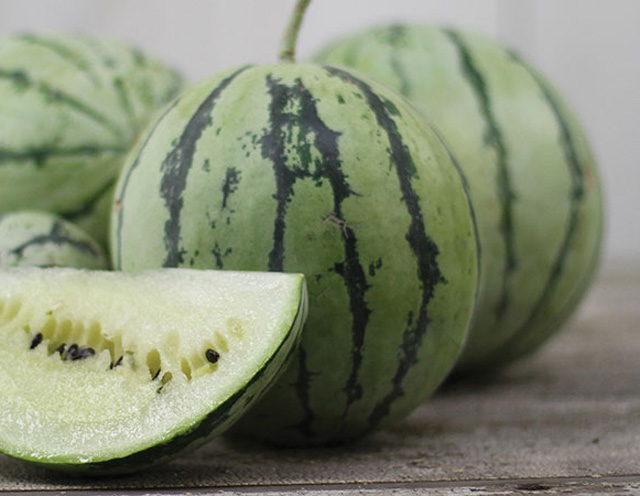 Photo: danviet.vn
Pepino watermelon: also known as yellow striped melon, a cross between a watermelon and a pear melon.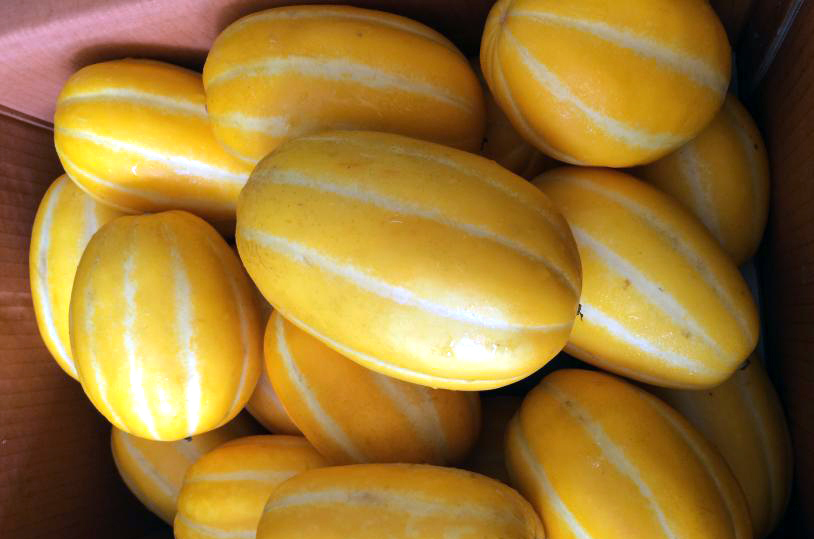 Photo: vietnamnet.vn 
How to eat
Due to its huge size and hard-rock rind, it is quite difficult to eat watermelon. You have to use strength and force to break the outside of the watermelon in order to taste the rewarding sweetness of the insides. First, we cut the melon into 4 equal parts with a sharp knife, then continue to cut each part into smaller pieces. Next, use a knife to carefully separate the melon peel and the flesh, present it in a plate and then we can enjoy this energizing summer fruit.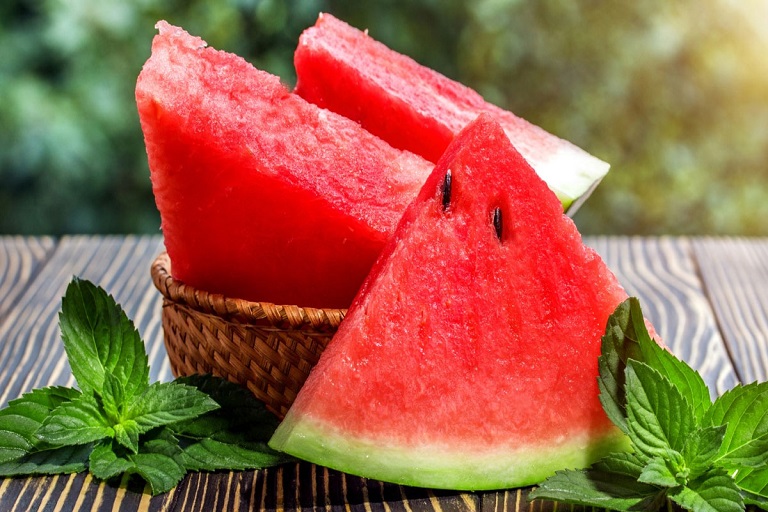 Photo: thuoccdantoc.org 
Where are watermelon grown in Vietnam
As a signature summertime fruit, the hot and dry weather is the best time for watermelon planting. For this reason, watermelon gardens are usually found in the South of Vietnam – the place of the eternal summer. However, these plants are well adapted to the tropical weather conditions in Vietnam, so they can be planted year round in almost every part of the country.
Some notable regions where watermelon gardens are grown: Gia Lai, Nghe An, Dalat, Saigon and so on.
Benefits of watermelon
Watermelon has a high water content, rich in vitamins and minerals, is good for your overall health and especially suitable for summer days. Eating watermelon regularly can reduce symptoms of dehydration after vigorous exercise, minimize cramps, dizziness. Admittedly, watermelon also contains a lot of lycopene that has cardiovascular benefits, reduces the risk of stroke, and prevents high blood pressure.
Food made from watermelon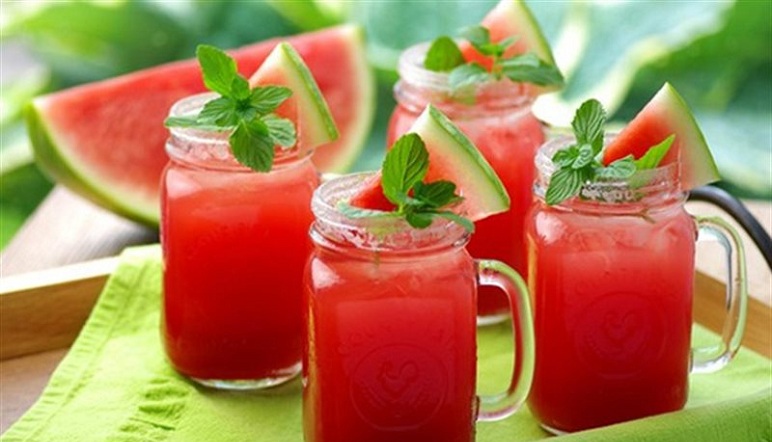 Photo: vietgiaitri.com 
Hot summer is coming, thus, natural juice is definitely an indispensable treat for the body, in which watermelon is a very popular fruit ingredient. It can be mixed into watermelon juice, watermelon smoothies or combined with medicinal herbs in traditional medicine such as: western medicine, honeysuckle, chrysanthemum to make medicine to cool down and refreshment, prevent dehydration and energize your body.
Conversations (0)
Join the conversation
Conversations
Join the conversation
ALL COMMENTS (0)
There are no comments. Add your comment to start the conversation.
read next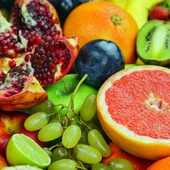 Being geographically located in the tropical zone, Vietnam is truly a heaven when it comes to fruits.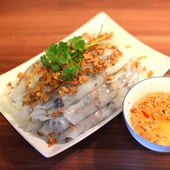 An overview to the different types of cake in Vietnam.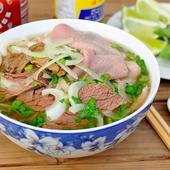 An introduction to Vietnamese noodles.