Vietnamese Pho with Beef Stew
Preparation time: 10 minutes
Cook time: 45 minutes
A mixture of pho and beef cooked with brine builds a newly dish "Phở in beef stew soup" (Phở sốt vang). It attract people by softly and wine-smelly taste. This recipe yields 4 servings.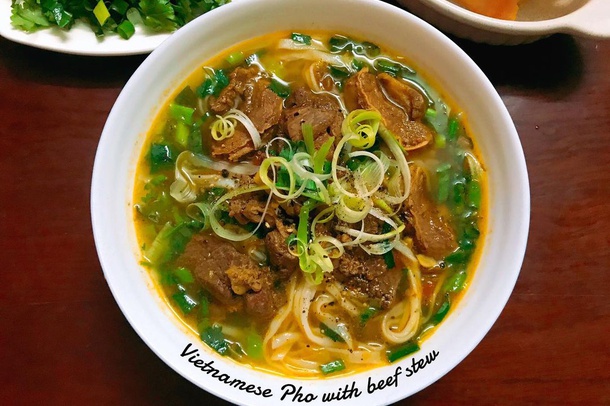 Photo: @noi_nay_co_an
Detailed Instructions
Ingredients
1 pound beef-leg bone or 1 large container of beef stock
¾ pound stewing beef
1 pack of dried pho - rice noodle
1 cup red wine
2 tbsp ginger and scallion
1 pack of cooking pho spice (bought at Asian grocery store)
1 bunch Green Onion
1 cup tomato sauce
Thai basil, red chilli paste to serve.
Preparation
Cut the stewing beef chunk into small squares. Roughly roast the beef-leg bone then boil for stock or use the stock ready to cook
Toast ginger, scallion and pho spice until fragrant. Smash and add them into the stock.
Combine beef with garlic, pepper, salt, sugar, tomato sauce and marinate for about 10 minutes. Boil the beef bone in 45 minutes and re-filter bouillon.
Heat oil over medium heat, saute garlic until it begins to turn light yellow and fragrant. Add beef then fry until it looks dry.
Add the mixture to stock. Cook until the beef softens. Try in your taste and add red wine.
Cooked the dried rice noodle in boiling water until well-done, divide into 4 bowls and cover with beef stew soup. Add Thai basil and pepper to taste.
Serve with chili paste.
Note: You may add carrot and daikon if you want more vegies in your dish.
Did you find this answer helpful?
Helpful (0) Not Helpful (0)
Conversations (0)
Join the conversation
Conversations
Join the conversation
ALL COMMENTS (0)
There are no comments. Add your comment to start the conversation.
read next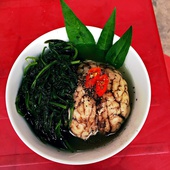 Óc trần lá ngải is listed among the most horror foods for foreign visitors in Vietnam.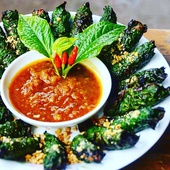 Riding along the crowded streets of Saigon in the afternoon, people can often be attracted by a fragrant and spicy smell of seasoned grilled rolls of beef, stemming from moving-stalls blurred in the smoke from charcoal flame. This dish, wrapped up in wild betel leaf, has become a favorite snack of Vietnamese, particularly Saigonese, to serve with beer or wine.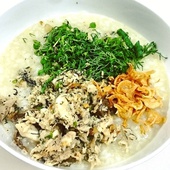 Snakehead fish congee can appear as a normal dish of the commoners, but to those who first taste, that dish served in hotpot style is quite a surprise.