Floating Rice Cake - Banh Troi
Preparation time: 20 minutes
Cook time: 5 minutes
Floating rice cake is essential to Vietnamese festival "Banh Troi - Banh Chay" to celebrate traditional cuisines and rice cultivation. Banh Troi is similar to Mochi (Japanese rice cake) in a way but the melting sugar cube inside the dough makes Banh Troi uniquely Vietnamese.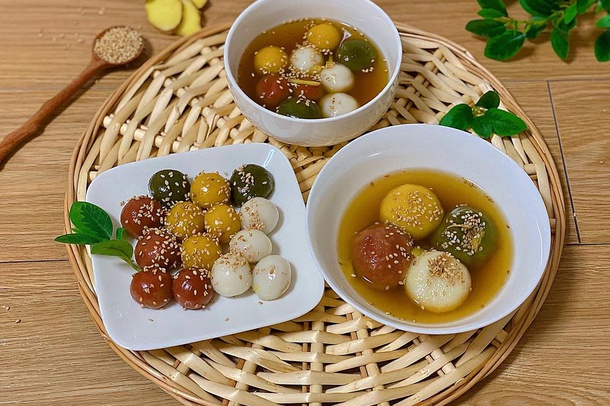 Photo: @na_homecook
Detailed Instructions
Ingredients
180g sticky rice flour
20g rice flour
200ml warm water
150g dark palm sugar balls
Roasted sesame seeds
Preparation
Prepare the dough: blend the two kinds of flour together. Gradually add in water, mixing until the dough turns smooth, elastic and glutinous. Cover and rest.
Pinch a little dough and flatten it out. Place a sugar ball in the middle and roll into a small ball. Repeat with the rest of the dough.
Bring water to a boil. Fill another bowl with warm water.
When the water is boiled, drop the rice balls in batches. Then, bring the water to the boil again. Wait until the balls float to the surface of the pot to take them out by a slotted ladle. Then, put them into the bowl of cold water right away so they are separate from each other.
Put the balls on a plate and sprinkle with sesame seeds. A plate of floating cakes is ready to serve and should be eaten within a day. Traditionally, floating cake is white but you could make it more colorful by adding food coloring to the dough.
Did you find this answer helpful?
Helpful (4) Not Helpful (1)
Conversations (0)
Join the conversation
Conversations
Join the conversation
ALL COMMENTS (0)
There are no comments. Add your comment to start the conversation.
read next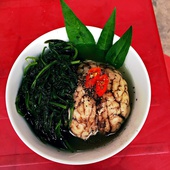 Óc trần lá ngải is listed among the most horror foods for foreign visitors in Vietnam.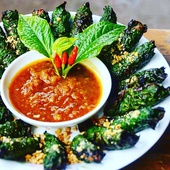 Riding along the crowded streets of Saigon in the afternoon, people can often be attracted by a fragrant and spicy smell of seasoned grilled rolls of beef, stemming from moving-stalls blurred in the smoke from charcoal flame. This dish, wrapped up in wild betel leaf, has become a favorite snack of Vietnamese, particularly Saigonese, to serve with beer or wine.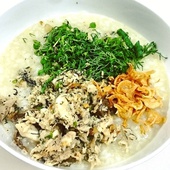 Snakehead fish congee can appear as a normal dish of the commoners, but to those who first taste, that dish served in hotpot style is quite a surprise.