Hoa Binh
Cradle of Muong ethnic culture with picturesque landscapes
Located on the entrance of the Northwest region of Vietnam, Hoa Binh Province is proud to be one of the oldest areas in Vietnam with the world-famous "Hoabinhian Culture" (Van Hoa Hoa Binh). In the last few years, Hoa Binh has strongly developed to be a tourist attraction city thanks to its valuable natural and cultural heritages.
Location and History
Hoa Binh is 82km to the Southwest of Hanoi, bordering Phu Tho to the North; Ha Nam and Ninh Binh to the South; and Son La and Thanh Hoa to the West. The climate of this district is representative for tropical monsoon, which is pretty cold and less rain in winter and hot and rainy in summer. The temperature here is between 15 to 29 Celsius Degrees, depending on seasons.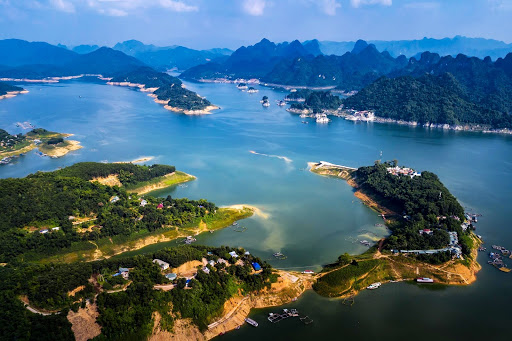 Photo : baovanhoa.vn
The province was established on 22/6/1886 with its first name "Mường Province" and then was officially re-named Hoa Binh on 18/3/1891 by the Governors of French Indochina. Through many separations and mergence, parts of Hoa Binh now become a portion of Hanoi.
Hoa Binh is also one of the most ancient lands in the world where human life is proven to existed here since 10,000 – 2,000 BCE.
Ecotourism Destination
Although Hoa Binh's geographical characteristics cause it many difficulties in developing its infrastructure and economy, the accumulated mountainous topography here is really a Godsend in term of tourist attraction. Together with average-high mountains are green valleys; surrounded by primitive forests with thousand species of rare plants and animal and hundreds of fanciful caves and streams that offer tourists numbers of tours like adventurous hiking, walking, hunting or hot spring.
Going 30km further from Hoa Binh Town, travelers may recognize a bunch of hotels and inns which offer hot-spring service on both side of the road. The area is lucky to have the source of mineral water from Kim Boi hot-spring. Mineral water here is always naturally kept at 36oC and is proven to be able to drink and bath. More interesting, the water may help healing diseases like arthritis, gastritis, and hypertension.
Kim Boi hot spring is popular among domestic tourist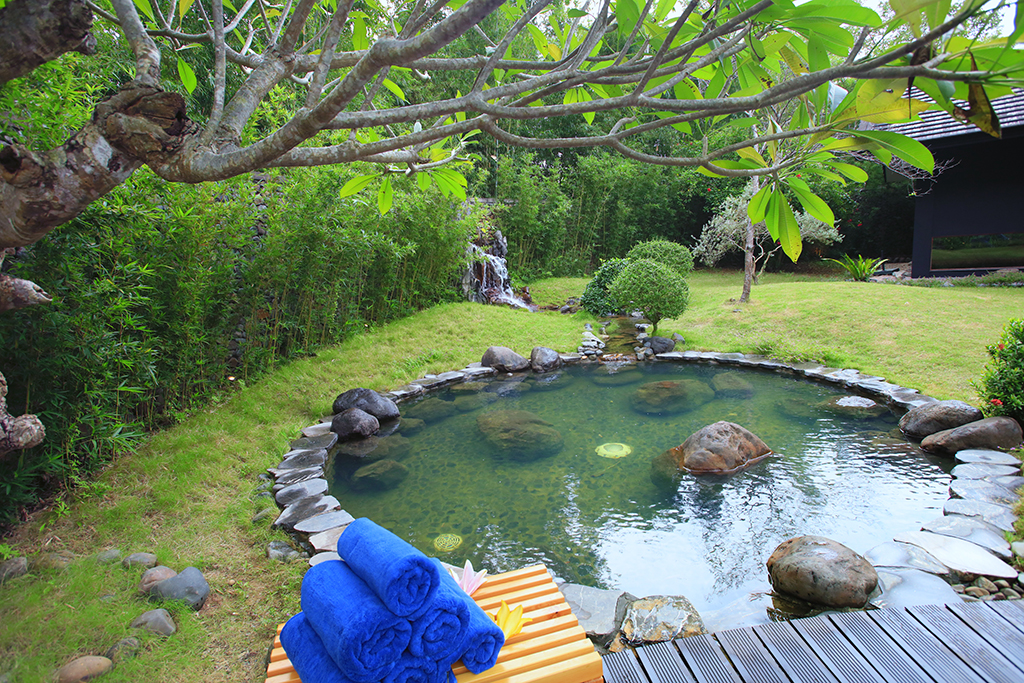 Photo : serena.com.vn
Thung Nai is another ideal spot for ecotourism which ones can get there by travelling on romantic green surface of Da River through winding currents and wonderful view along its sides. Thung Nai is especially suitable for tourists who seek for peaceful relaxing time with family or friends, forgetting all about the stresses of busy life and enjoying stunning natural wonder. Thung Nai is also regarded as "Ha Long Bay on land".
Thung Nai - A tourist spot for tranquil moments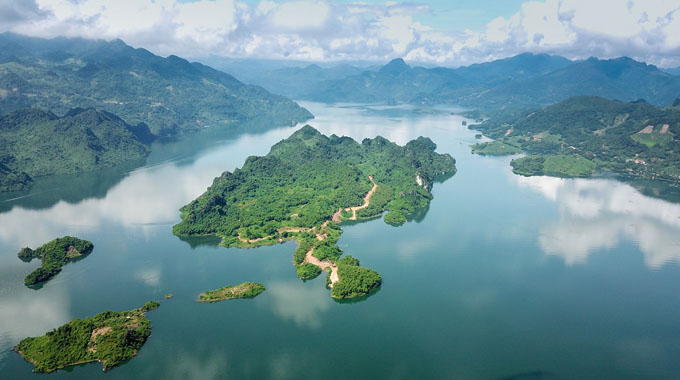 Other ecotourism destinations for travelers in Hoa Binh are Da Bac and Luong Son District with primitive sceneries. However, tourism there is not as developed as the first two sites.
Cultural Essence
With the background of being an ancient land, Hoa Binh is not lack of antique and historic relics, in fact, the province honorably preserve 37 national relics and 18 regional vestiges. The residents here consist mainly of Muong ethnic group and various ethnic minorities such as Thai, Yao, Tay and Hmong. This contributes a lots to the cultural diversity of this mountainous province as well as the development of its tourism industry.
At present, there are more than 50 ethnic tourism hamlets within Hoa Binh available to visitors both inside and outside Vietnam. Lác Village and Muong Village are the most well-known sites that have been officially developed for cultural and ecotourism by Hoa Binh Authorities. Besides, visitors are advised to visit Culture Tourism Village in Dong Mo, Son Tay, Hoa Binh. The village is composed of Vietnamese ethnic traditional architecture, established with the purpose to preserve and promote Vietnamese culture to the world.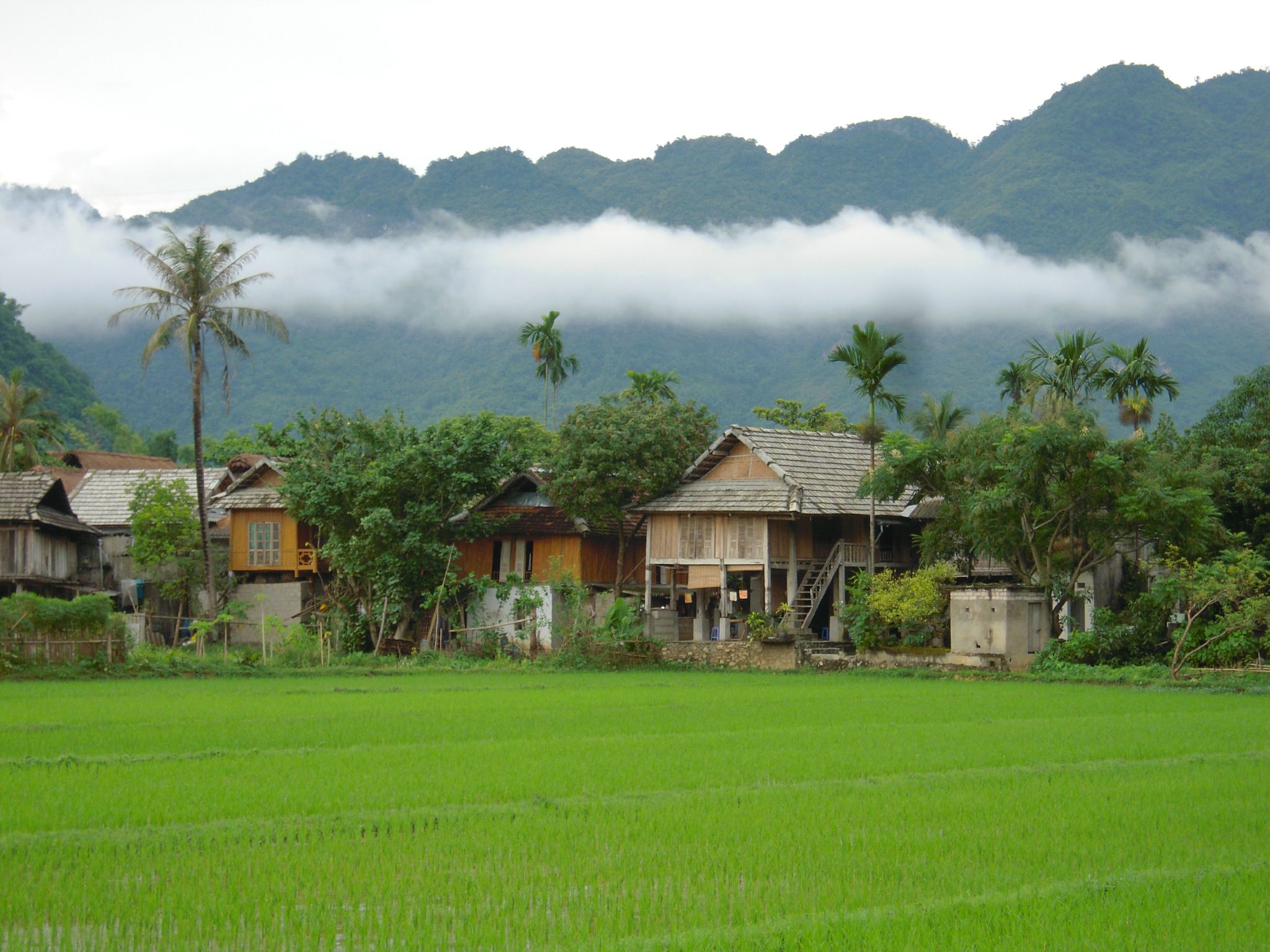 Photo : maichauhoabinh.com
Coming to Hoa Binh on Tet Holiday, ones may have chances to attend a wide range of festivals organized by the locals in different areas and by different ethnic groups. To illustrate Chua Tien Festival in Lac Thuy Prefecture, "Khai Ha" Carnival of Muong Bi people and "Xen Ban Xen Muong" Carnival of Thai ethnic group.
How to get there
Hoa Binh town is 82 km from Hanoi which can be approached both by road and water transportation. Ones can travel by cars or coaches from Hanoi, along National Highway no. 6 to Hoa Binh Town; National Highway No. 15 from Thanh Hoa to Mai Chau or National Highway No. 12B from Ninh Binh to Hoa Binh.
READ MORE
Weather / Temperature:
23.56°C
Humidity
92%
Wind
0.65 km/h
Sunrise
06:25 AM
Best Of Hoa Binh
See, Eat, Sleep, Shop, Stay - The Best of Hoa Binh
Frequently asked questions
Are there ATMs in Mai Chau?
Despite ATMs are available in Mai Chau, it is not really popular and there is a limit of the amount you can withdraw. It is advised that you should prepare some cash with you for this trip in advance.
What local foods Mai Chau offers?
When it comes to specialties in Mai Chau, you cannot miss com lam (bamboo-tube rice). This dish is made with rice, banana leaves, coconut milk, and tubes of bamboo, making it stand out for its plasticity and sweetness. Some other must-try dishes you shouldn't skip are ga doi (hills chicken), thit xien nuong (grilled pork skewers), can wine, and so on.
Are there any interesting experiences can I try in Mai Chau?
Mai Chau is a real heaven of nature where you can fully relax to admire the beauty of creators and experience the local lives of Vietnamese mountainous residents. You may consider some below suggestions have a perfect plan for your trip to Mai Chau:
• Cycle through the valley
• Sleep in a homestay/stilt house
• Go trekking in Pu Luông Nature Reserve.
• Go kayaking on Hoa Binh Lake
• Eat with the locals
How to get to Mai Chau?
Mai Chau is located 140km northwest of Hanoi which will take around 4 hours of transfer. The most stress-free option is to rent a private car or taxi. Or, if you want to save cost, a local bus can also be considered. The buses to Mai Chau start from My Dinh bus station or Yen Nghia bus station, the ticket far is around VND 80,000 – 150,000. There are also several high-class buses which can pick you up from Hanoi Old Quarter, however, the cost is higher at around VND 200,000 – 250,000.
When is the rice field season in Mai Chau?
Harvest season is one of the main reasons why many visitors choose to visit Mai Chau. From May to June or September to October is the best time if you are looking for shiny yellow rice paddle fields. Especially, the weather from September to October is more pleasant, which is ideal for outdoor activities.
Vietnam's Most Popular Destinations