Mai Chau
Mai Chau has a dreamy beauty unlike anywhere else. Not flashy with attractions as the neighbor Sapa, the humdrum looking Mai Chau valley has captivated many hearts with the fresh air, diverse cultural identity, and the richness yet serene touch of nature.
Location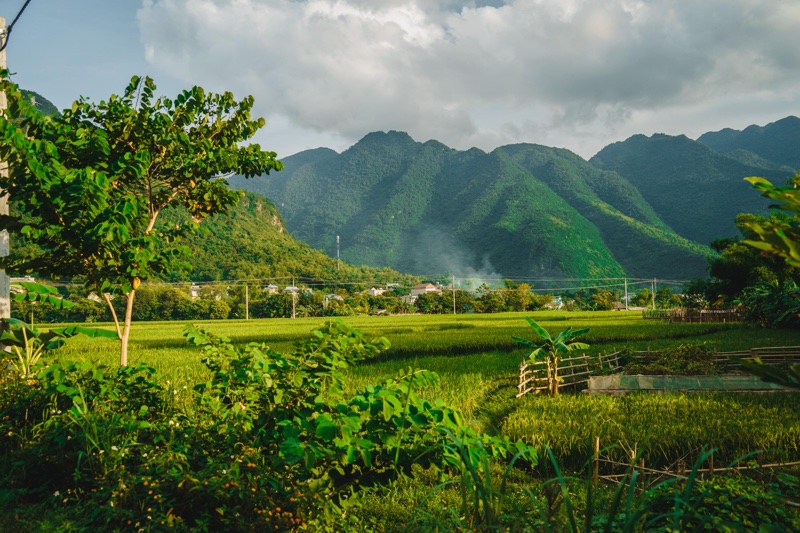 Mai chau Valley
Mai Chau is a part of Hoa Binh, bordering with Moc Chau (Son La) and Pu Luong (Thanh Hoa) and takes around 3-4 hours to travel from Hanoi. The mountain area is one of the best places to visit in the North-western region of Vietnam. A trip to Mai Chau can bring peace and new culture discovery for just about anyone.
Best time to visit
Mai Chau in every season is idyllically beautiful. Thanks to the surrounding mountains and hills, the valley weather is comfortable and suits all travel ideas.
The most popular travel time may lie in autumn between September and October when the whole land wears its golden ripe crop color. Nevertheless, other seasons still can be considered.
At the end of December when winter comes, Mai Chau blooms with white plum and mountain ebony flowers.
When spring marches and dissolves the light cold, Mai Chau welcomes the new year, and the festive atmosphere begins to bustle. Gong festival of Muong people, Long Tong festival of Tay ethnic group, and rain festival of Thai are some you should visit.
And then summer knocks the door, bringing a green layer to the mountains and rice fields. This is also the best time for a village cycling tour, when the strong winds lessen.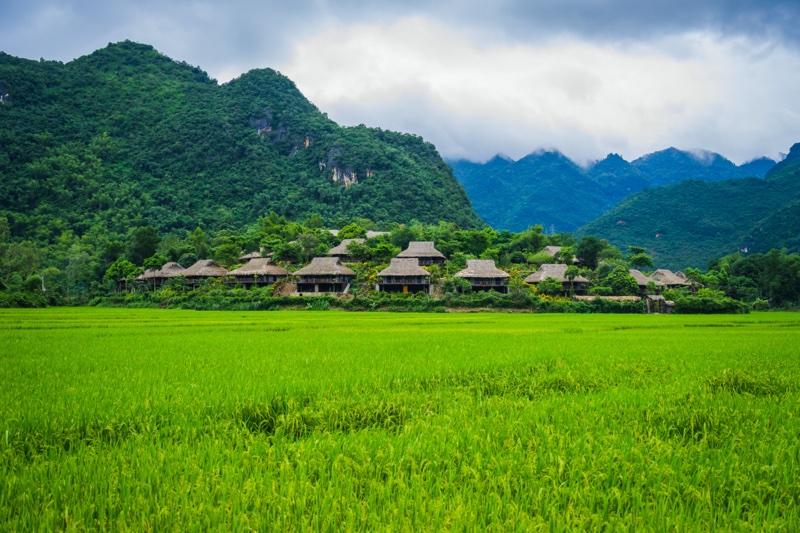 Beautiful rice field and local houses in Mai Chau
Learn more on our Mai Chau weather guide.
How to get there
By private vehicles and public bus, Mai Chau is only 3 to 4-hour-drive from Hanoi.
Sitting on a car or motorbike is an excellent option as along the way are numerous gorgeous landscapes. Follow the route Hanoi - Xuan Mai - Luong Son - Hoa Binh and 6 National Road to reach Mai Chau.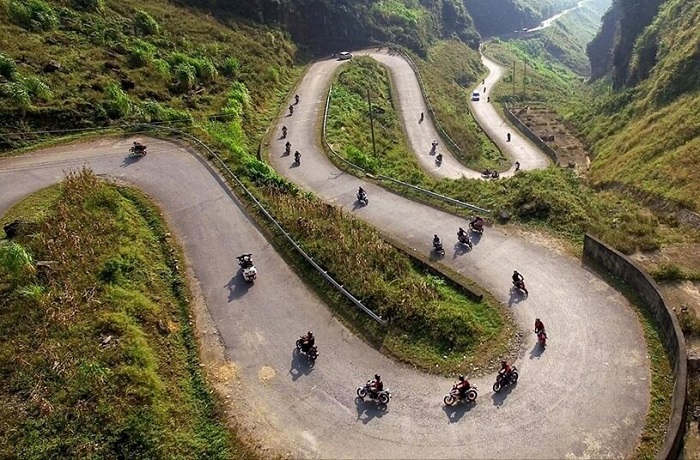 On the road to Mai chau- Photo: luhanhvietnam
A shuttle bus, on the other hand, is a convenient choice. My Dinh and Giap Bat bus station provide transport services to Tong Dau intersection with many turns a day and at a reasonable price 100.000 VND/ person. Some reputable companies are Ha Loan, Cuong Coi, and Hoang Thao. From Tong Dau, visitors can catch a motorbike taxi to Mai Chau center, 5km away for about 100.000 VND.
Places to stay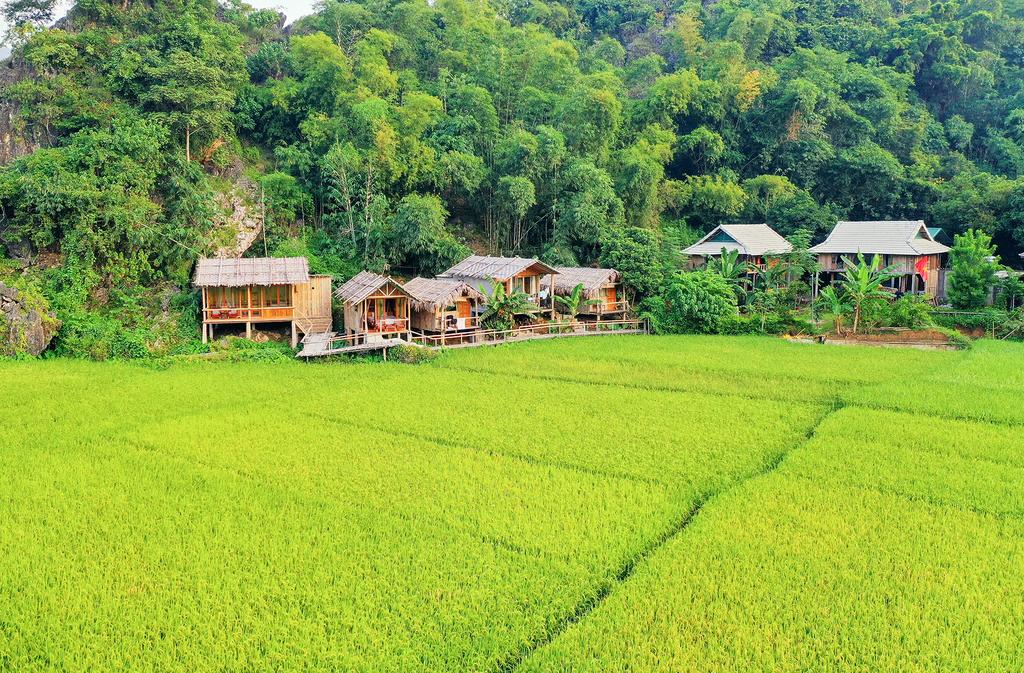 Little Mai Chau Homestay
Accommodation service in Mai Chau is relatively soaring with multiple estates. Guests are welcomed to the fully equipped hotels in the middle of nature or enjoy a simple life just like the locals in the ethnic-stilt house-inspired homestays.
Mai Chau Ecolodge - Na Thia village: a circular, small community next to the green fields where a swimming pool, spa, and cycling tour collide.
Mai Chau Xanh Bungalow - 2 Lac village: full service, free parking space, and free traditional breakfast are on the way.
Mai Chau Green Rice Field Hotel - 1 Lac village: true to its name, the green rice field is always at your doorstep when booking the stay.
Little Mai Chau Homestay - Na Phon Hamlet, Na Phon Commune: the wood and stone house with the full view of majestic mountains from the balcony.
Lim's House - Group 1, Mo Hamlet: the spacious partly stilt house - plus a large front yard - for culture study scientists with lessons from the friendly host.
Co's House - 27 Lac village: a traditional share stay in the center of the busy Lac village, filled with ethnic breath and, of course, people 
Things to do in Mai Chau
Wander around the valley humble villages
With a lung full of fresh mountain air, you can start your day early by a fun, healthy stride or bicycle roaming around Lac village. Try to head your wheels to the neighboring Poom Coong village on the way. There is a coffee house on the rooftop of one Poom Coong accommodation with a panoramic view of the whole village. Come early, and you can witness mist parting away and reveal row and row of traditional houses amid green hills and the peaceful scenery of children playing in their colorful brocade costumes.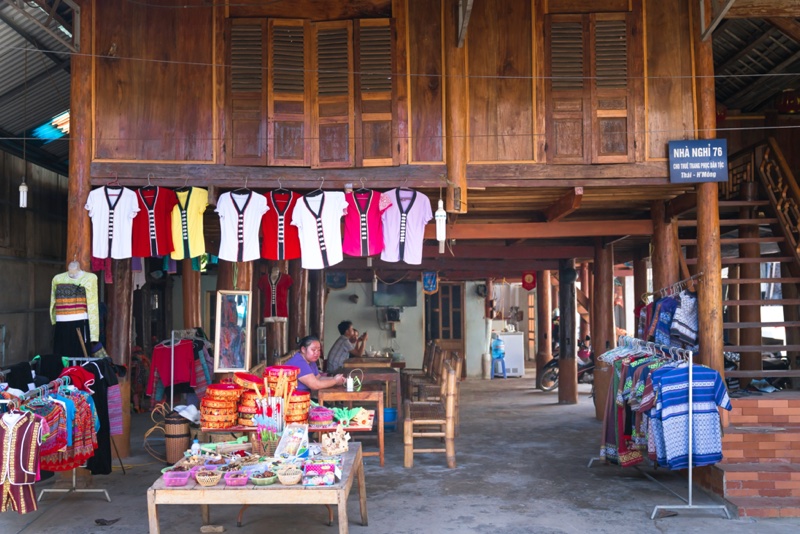 A hostle in Pom Coong village
And if your strength has given up, Mai Chau has developed an electric bus system to ship your curiosity to the sunken deep in forest villages. Other than the fame attracted - and crowded- Lac and Poom Coong village, designate your trip to Buoc and Van village. The two are at the same scale rustic but may pose more poeticness thanks to the remote location.
Wandering around the villages is not simply to make the most out of the landscape, you can also learn about the culture of ethnic minorities. Stay at the local houses and do what the locals do, or pay a visit to their handicrafts stalls at the fair markets. And in the evening, take part in campfires and cultural performances held in the center of Lac village, that should wrap one meaningful day.
Peek at nature artworks
Mai Chau is also home to many natural caves and falls, both beautiful in view and enormous in scale.
Mo Luong and Chieu caves impress visitors with the mysterious and magical charm of limestone blocks and endless green fields right at the caves' doors. The roads leading to these caves can be quite time-consuming, but they are not that difficult to finish. Overcome more than thousands of steps of rocky stairs, and you will be paid off with wonder.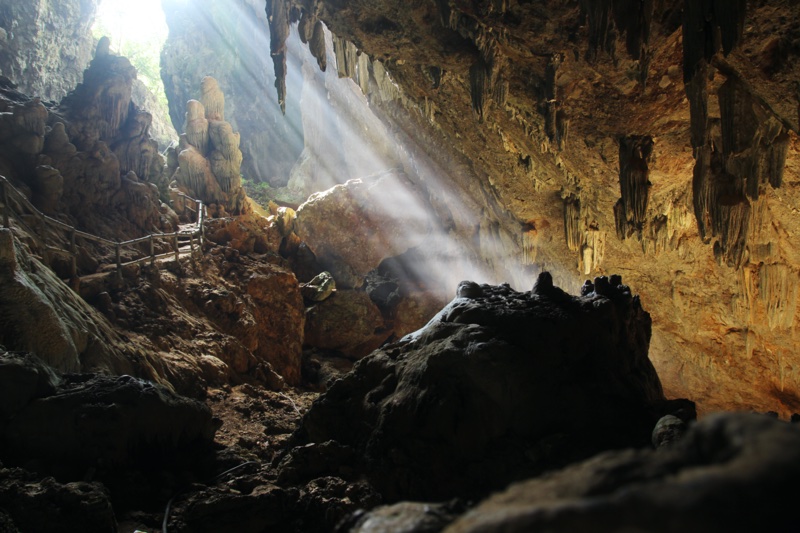 Chieu Cave in Mai Chau
For a trip to Go Lao waterfall, a pleasant afternoon relaxing experience is guaranteed. Coming to the waterfall cluster, you can enjoy soaking in the cool water, camping next to the splashing flows in a tranquil space, with only the sound of clouds passing by and the birds singing.
Make a trip to the treacherous whitewashed pass
Located between Tan Lac and Mai Chau on National Highway 6, Thung Khe Pass - or usually called White Stone Pass by Mai Chau residences - provides a gathering ground for adventure - on vehicles - seekers. The pass wears a pure white coat all year without a single flake of snow. However, it still sees rapidly changing seasons just in one day. One half of the day is filled with sunlight and bright sky, the latter one is just cold with thick fog hovering around at eye level, blinding the drivers' sights.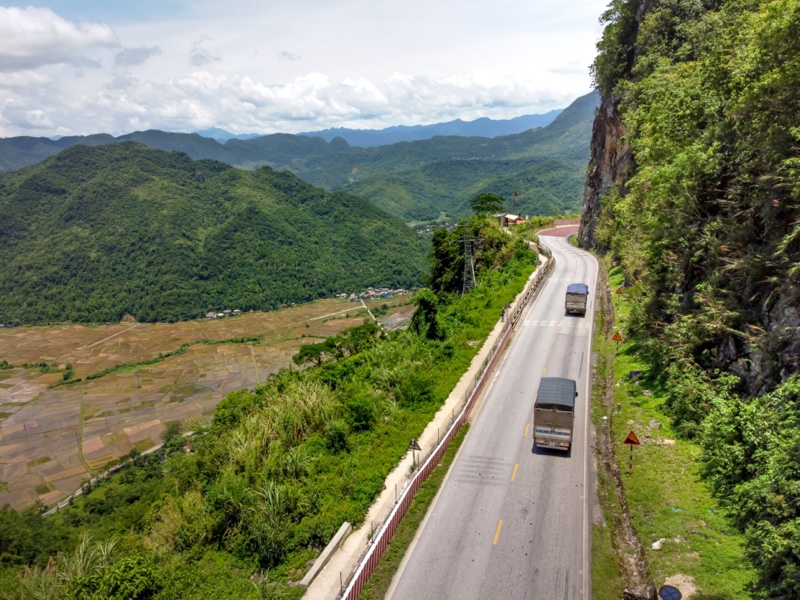 Thung Khe pass on National Highway 6
Conquering the pass on a motorbike is the favorite activity for many travelers. With an altitude above the sea of 1000m, standing on top of the pass sure rewards any brave heart with the idyllic picture of the whole Mai Chau valley. After the conquest, stop by the road stalls to warm up with grilled corn, bamboo sticky rice, and a hot cup of green tea.
Try Northwest cuisine
Bearing many differences from the Highlands cuisine, Mai Chau culinary is the perfect combination between Northwest taste and the delta level quintessence. BBQ pork on a stick: The typical dish seen in every village of Mai Chau. Muong bacon will be grilled on charcoal until color turning and fat sizzling.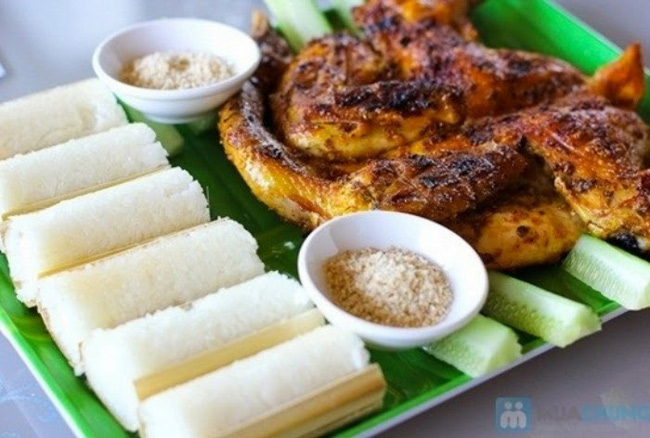 Con Lam - Photo: dulichthegioi
Boil free range chicken: The chewy and golden boiled chicken serving with Mac Khen salt.
Mai Chau grilled river fish: the fresh catch fish marinated with lemongrass. The grilling part is the same as anywhere, but the special Mac Khen dipping spice is what makes it unique.
Com Lam - Bamboo sticky rice: sticky rice mixed with coconut flesh stuffed in a bamboo tube and grilled on charcoal for 2 hours will be the best eating with sesame salt.
Sour bamboo shoot: the familiar ingredients in Mai Chau people's courses. The sour taste will awaken the strong flavor of dishes such as stir-fried chicken hearts and fish soup.
Useful Information
Location: Mai Chau, Hoa Binh
Best for: All visitors
Entrance: Free
Hours: All Day
Distance to city center: 37.6km (23.4 mi)
Conversations (0)
Join the conversation
Conversations
Join the conversation
ALL COMMENTS (0)
There are no comments. Add your comment to start the conversation.
read next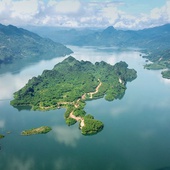 Thung Nai impresses anyone who sees it from the very first time with the harmonious combination of mountains, lakes and charming houses nestled in between the high hills.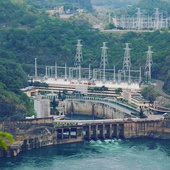 The most well-known feature of Hoa Binh is Hoa Binh Dam for hydro-electric purposes.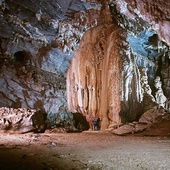 After visiting Hoa Binh Dam, tourists should never miss the chance to go to Tien Phi cave on their path to Hoa Binh.