Halong Bay vs. Lan Ha Bay - Which one to visit?
Possessing a big number of limestone mountains on the magnificent seascapes, Halong Bay has become one of the must-sees of every traveler when coming to Vietnam. Adjacent to Halong Bay, Lan Ha Bay is regarded as the "forgotten haven", a rough gem with hidden beauty and an ideal alternative for Halong Bay. Depending on your travel style and plan, you can find out which one suits you better. Let take a deep dive into the difference between these two most famous bays in Northern Vietnam and get your plan ready!
Where are Halong Bay and Lan Ha Bay?
Belonging to the Gulf of Tonkin, Halong Bay is located off the coast of Halong city, Quang Ninh province in the Northeast of Vietnam. Attached to the legend of "descending dragon", the bay has an area of around 1553 km2 and includes nearly 2000 islands and islets dotting the bay like dragons landing. Halong Bay has been proudly recognized by UNESCO thanks to its aesthetic value in 1994 and its archeological value in 2000, making this place well-known all over the world and attracting countless travelers to come.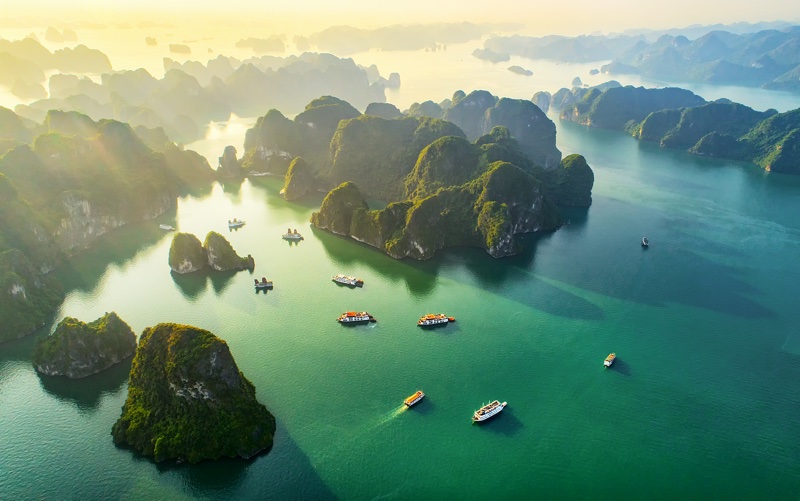 Ha Long bay
Neighboring Halong Bay, Lan Ha Bay is situated to the East of the second largest tourist archipelago in Vietnam – Cat Ba island, Hai Phong Province. The bay boasts around 400 beautiful limestone islands in different shapes. In spite of the smaller size of 70km2 but thanks to the untouched and poetic beauty, Lan Ha Bay became an official member of the Most Beautiful Bays in the World (MBBW) in May 2020.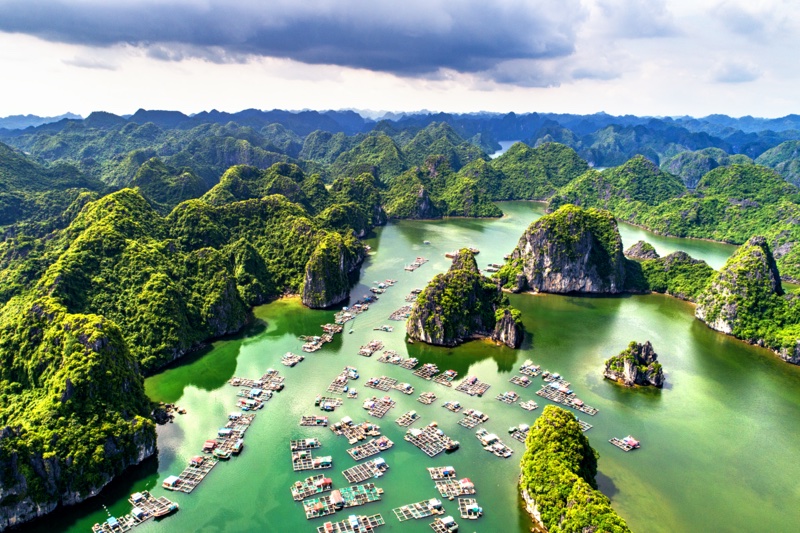 Lan Ha bay
Is it easier to get to Halong Bay or Lan Ha Bay?
Apart from a lot of package cruise tours offering the transfer included from Hanoi Center, you will find it easy and convenient to get to both Halong Bay and Lan Ha Bay.
Around 130km from Hanoi Center and 24km from Cat Bi Airport, Lan Ha Bay can be easily accessed via Got Pier (Hai Phong). It takes you around 2 hours from Hanoi and 40 minutes from Cat Bi to get to Got Pier, and a car or taxi is available in abundance for you.
To visit Halong Bay, you can either get to Tuan Chau Marina or Halong International Cruise Port (SunGroup) in Quang Ninh. It takes you around 2.5 hours from Hanoi Center and more than 1 hour from Van Don Airport (Quang Ninh). If you want to visit Tuan Chau but need to take the flight to Hai Phong, just a 1-hour drive from there, you can get to Halong Bay with ease.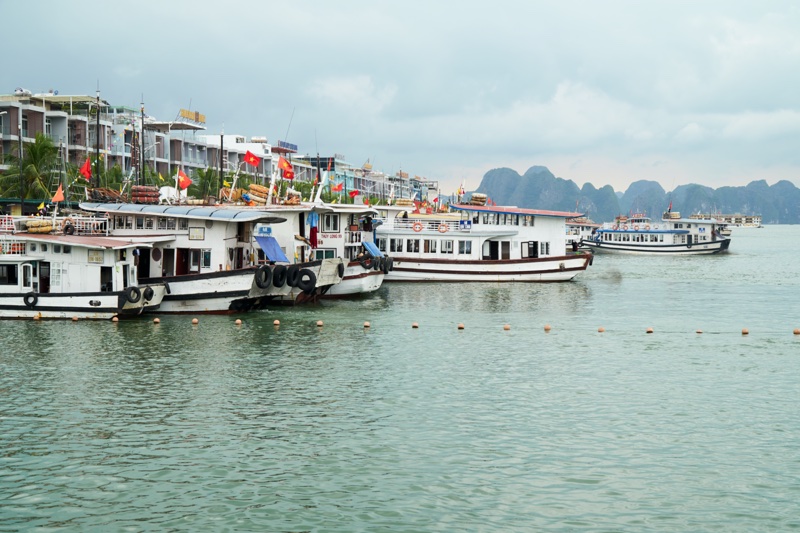 Tuan Chau Marina
What do Halong Bay and Lan Ha Bay offer?
Caves
Halong and Lan Ha Bay are both well blessed with a lot of caves and grottos. However, if you are adventure-seekers who love to explore giant caves and learn about the majestic formation and archeological value, Halong Bay is definitely a better option. Some of the best caves that must be mentioned are Sung Sot (Surprising Cave) – the biggest cave in Halong Bay, Thien Cung (Heavenly Palace Cave), Trinh Nu (Virgin Cave), Me Cung (Maze cave), etc. Travelers can walk inside the cave to see the artful ceiling like sea waves, watch the sparkling stalactites and stalagmites and climb up the top to get a panoramic view of the bay.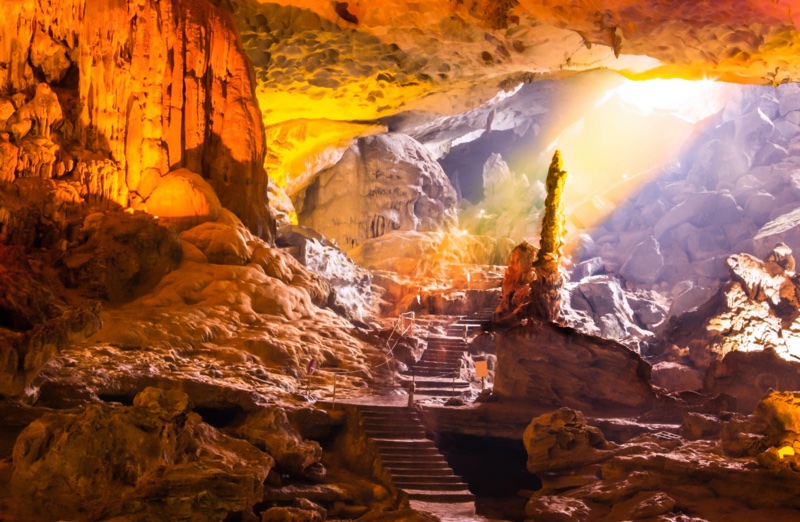 Sung Sot cave
On the other hand, caves in Lan Ha Bay are mainly underwater caves, not as big as caves in Halong but also were formed millions of years ago with beautiful stalactites. Although you cannot walk through and hike to the top, you will never regret kayaking or taking a sampan boat to discover the cave and see the stunning view of the lagoon. The most famous cave that you should not miss is Dark-Bright Cave.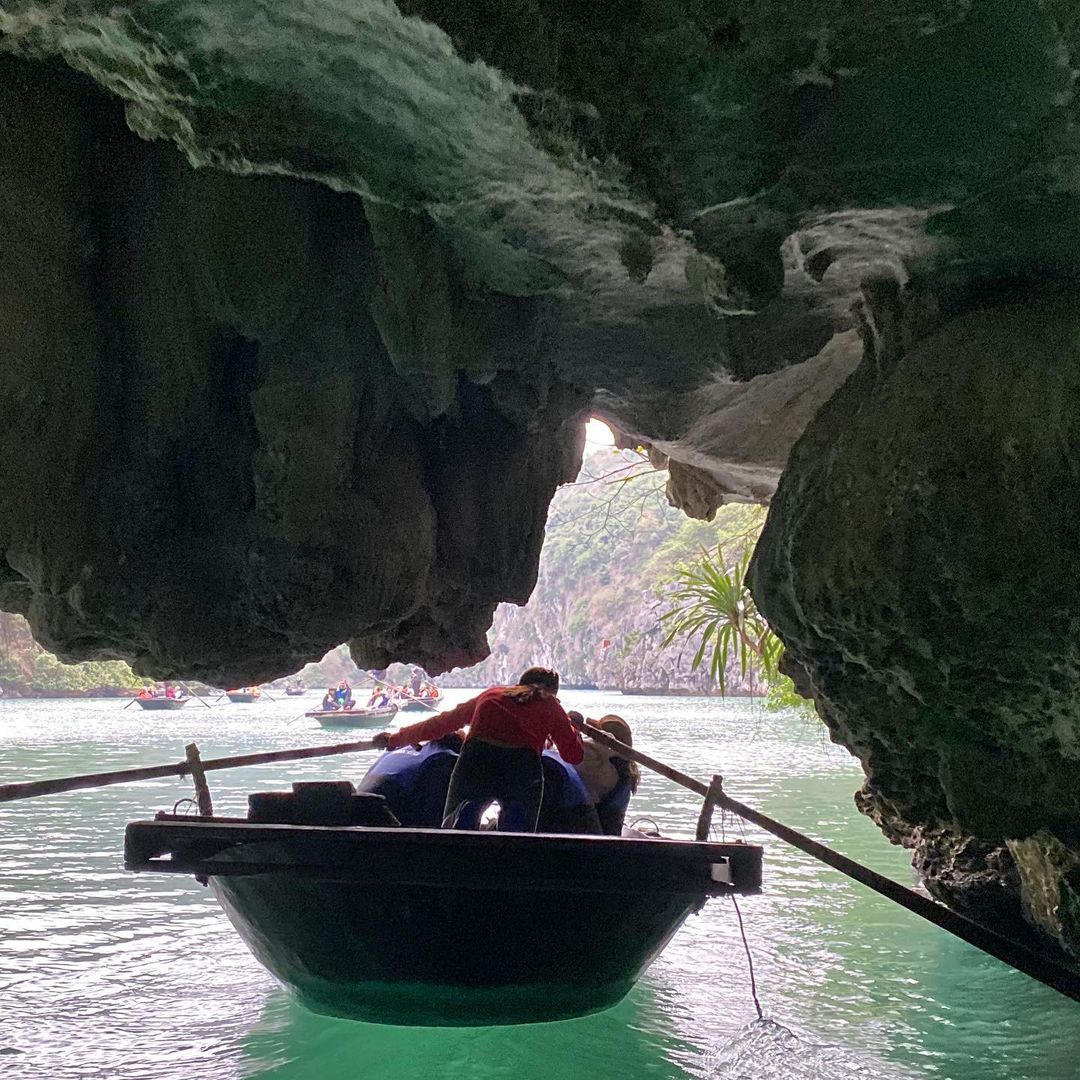 Dark and Bright cave - Photo: @saigontoursas
Beaches
For beach-lovers, head to Halong Bay for larger but more touristic beaches and come to Lan Ha Bay for small, pristine, or even private beaches. If Titov and Soi Sim are the 2 most famous sandy beaches on Halong Bay, Ba Trai Dao and Van Boi Beach are the two most beautiful ones on Lan Ha Bay. Since Titov and Soi Sim are surrounded by many islands, and own a huge dock for parking, all the big and small boats can access easily which makes the beach more crowded. However, it is definitely worth visiting thanks to the soft sandy beach and an amazing 360-degree view from the top of the island.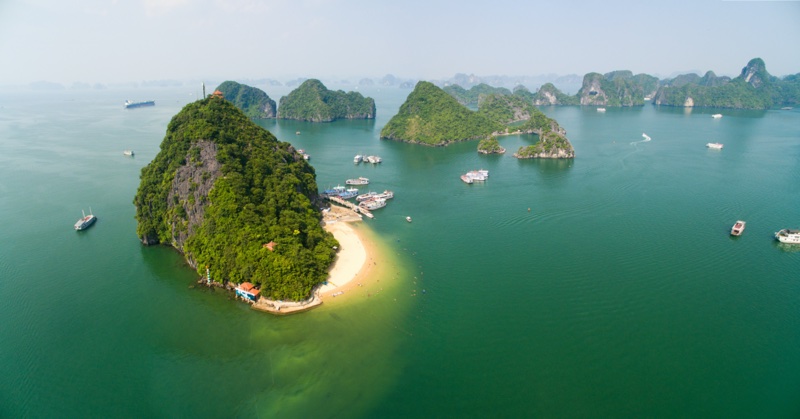 Titov Island
On the contrary, thanks to the distance near the ocean gateway and being accessed by boats under good weather conditions only, Lan Ha Bay's beaches allow much fewer tourists to come, therefore more untouched and private than Halong Bay's ones. Ba Trai Dao, Van Boi Beach, and many other unnamed beaches on Lan Ha Bay feature white sand, crystal-clear, and very clean water, which is perfect for swimming, kayaking or simply sunbathing without any disturbance and noise.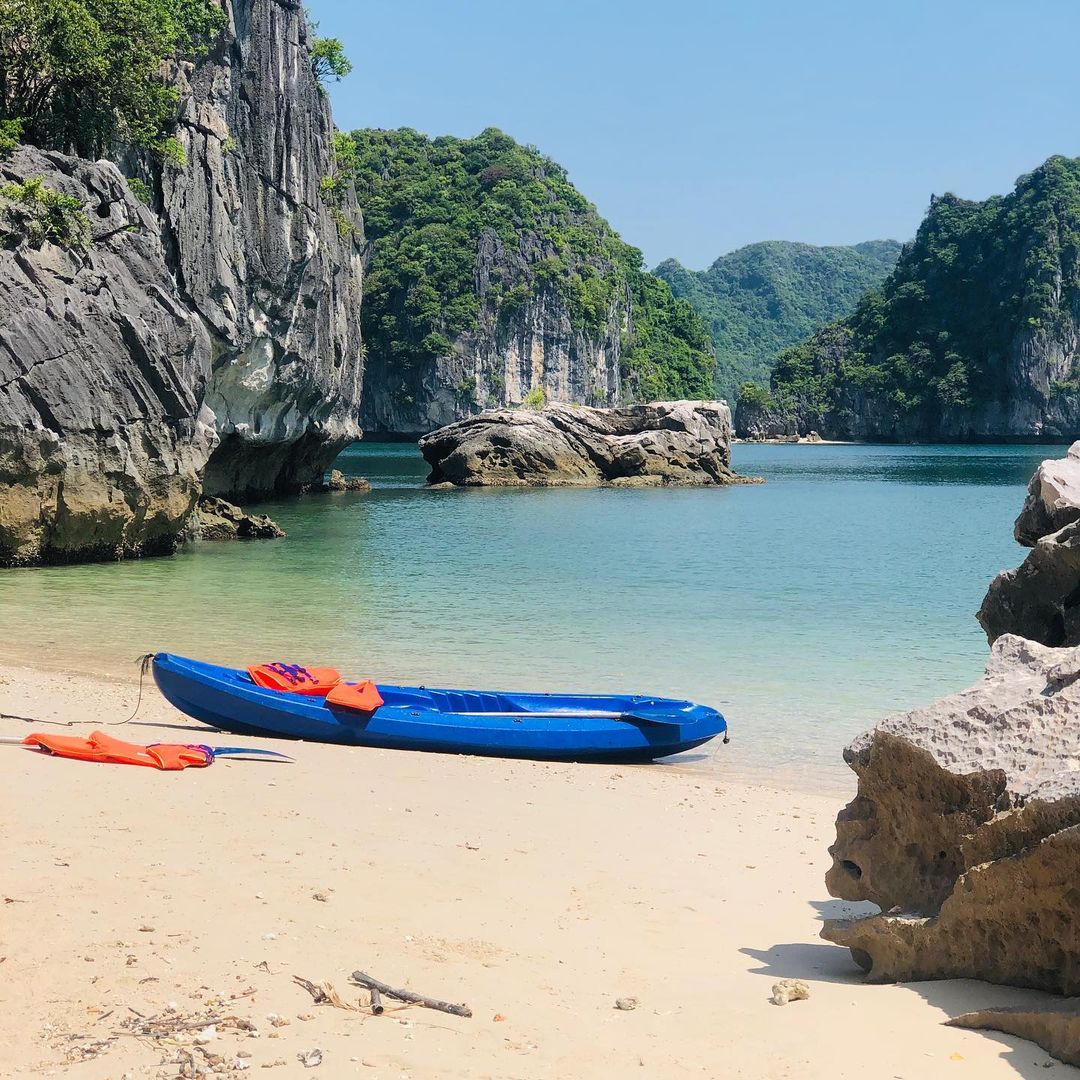 Ba Trai Dao beach - Photo: @wlgoexploring
Floating fishing villages
Not only well-known for their spectacular scenery, but Halong and Lan Ha Bay also attract travelers by a well-preserved traditional culture of floating villages. If Halong Bay is famed for Cua Van fishing village – one of the 16 most beautiful ancient villages in the world by Journeyetc.com in 2012, Lan Ha Bay certainly impressed you with Cai Beo village – one of the largest and most famous floating villages in Asia. There are some other villages you can visit on Halong Bay like Ba Hang or Tung Sau village. No matter which bay you come to, you will have a real view of the local floating life of fisherman for decades with floating houses protected by rocky mountains, wooden fishing boats – the means of life earning, bamboo boats – the main transport, and so on.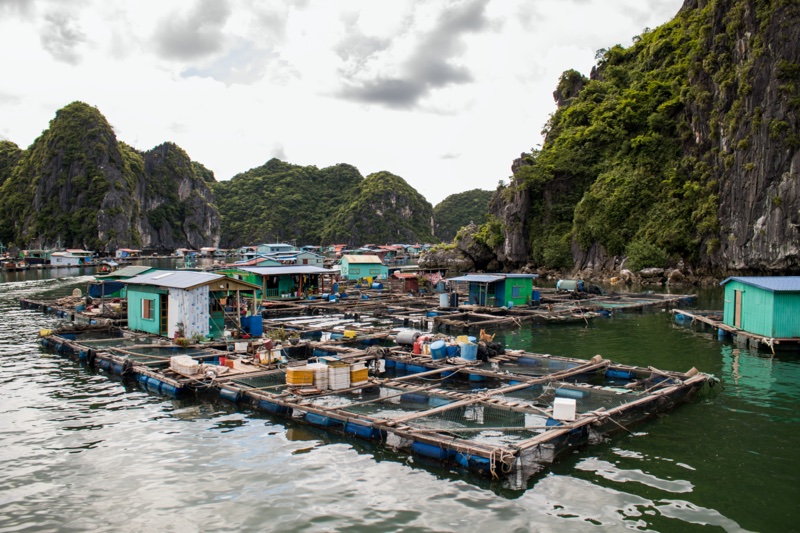 Cai Beo village
Cruising
Along with the popularity of cruise trips on both bays, travelers may be overloaded by a ton of cruise options. On both bays, you can opt for a day boat or overnight one, a budget 3-star cruise to a luxury 5-star one, a traditional-styled or modern designed boat.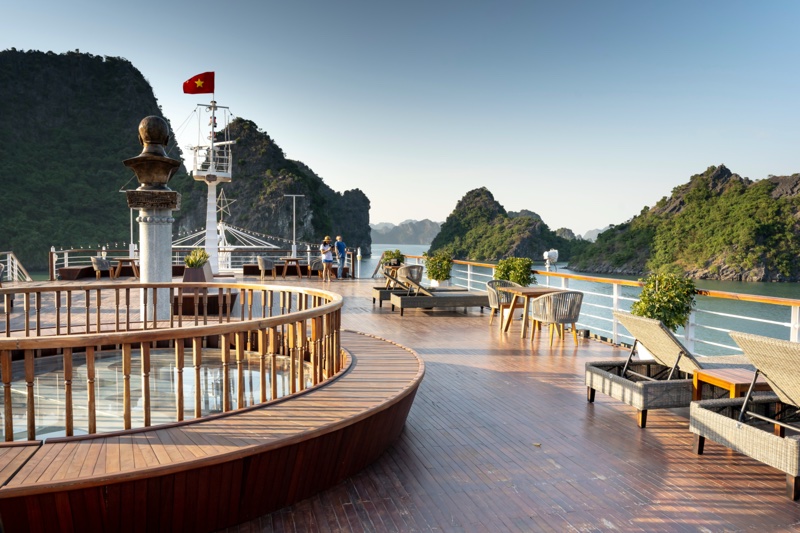 Cruising on Lan Ha Bay
Being early recognized and discovered, Halong Bay has nearly 500 boats and an incredible number of travelers coming every year while there are much fewer overnight boats and only several day-boats on Lan Ha Bay. If you do not mind the crowds and would love to experience the UNESCO World Heritage Site with diversified tourist attractions, Halong Bay will not make you disappointed. 
Otherwise, looking for an exclusive experience in an unspoiled area, a less famous bay but an amazingly peaceful atmosphere, Lan Ha Bay will be the trip of your lifetime. Your choice completely depends on your preference and priority.
To sum it up
If you prefer to see the essential scenes and sights, and prefer your itinerary to be packed with activities, take a trip to Halong Bay.
If you want to just sit back and relax in the heart of natural tranquility, make sure you head to Lan Ha Bay instead.
Conversations (0)
Join the conversation
Conversations
Join the conversation
ALL COMMENTS (0)
There are no comments. Add your comment to start the conversation.
read next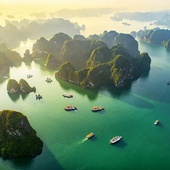 The climate of Ha Long is mainly tropical monsoon with a hot - humid summer in between April and October and a cold – dry winter in the other months.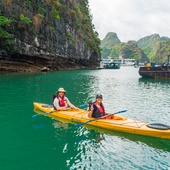 Surrounded by thousands of limestone mountains, Halong creates a charming beauty for the bay and makes it unbelievably unique. Coming to Halong Bay, you will be entering a world of water wonders.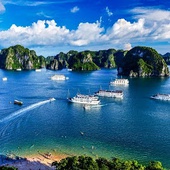 One of the New Seven Wonders of the World, Halong Bay is probably the first destination to come in mind for many tourists when they plan for a vacation in Vietnam. Situated just 165 km or 4 hours of driving from Hanoi, Halong Bay possesses a unique seascape with thousands of limestone karsts, islets and islands rising from sparkling blue waters.