Ben Tre
The homeland of Vietnam's largest coconut farms interlaced by a magnificent network of canals and floating markets on still water.
Brace East to Cuu Long River Delta in Southern Vietnam, hometown to the famous coconut kind, nurture beautiful oasis and canals and act as the cultural cradle to all Westside regions. That is just a few splashes on the surface of Ben Tre, and surely there is still much to discover in this laid back riverside province.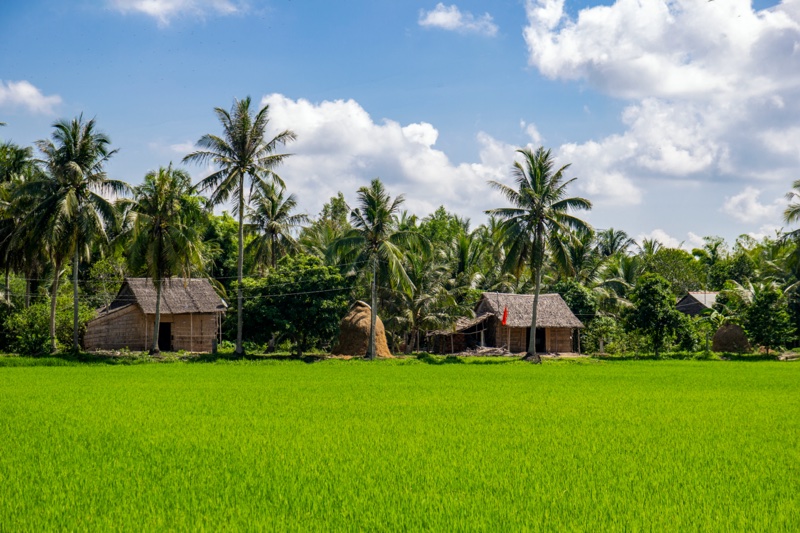 Green rice fields and coconut trees in Ben TreBen Tre is small to the size of one to two-day visits. However, every day is filled with glimmer on-water eco-travel, exciting folk games, and strangely tasted cuisine. One round to the mangroves can also be quite enjoyable. Need not to say, Ben Tre is a boon to the wanderlust world.
Climate and the best time to visit
Like other Mekong delta provinces, Ben Tre embraces mild weather all year round. The average temperature is around 25 degrees Celsius. Tropical wind blowing from the East Sea helps to ease down the scorching heat. No signs of devastating storms, yet many trails of sun paths. There is no need to worry about a vacation cancellation, so picking the best time to visit is only based on your preferred ticks. The land wears new clothes every now and then.
Fancy a fruitful trip, then traveling to Ben Tre during midsummer (June to August), and you will face the greenest plantations you have ever seen.
Mangosteen, longan, rambutan, and especially durian, are a few to name. All can enchant your eyes, and of course, your mouth.
From September to December is the water-rising period. This will be the ideal time for a paddling holiday. Drifting through layers of foliage while floating over the water on a small boat is what your travel-forbear would recommend.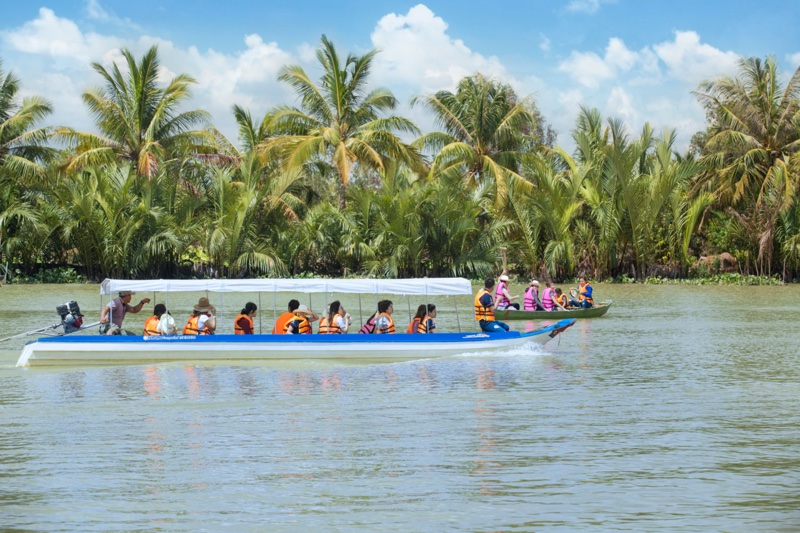 Tourists on boats in Ben Tre
How to get there
Ben Tre is 87 km from Ho Chi Minh City center, traversing Long An and Tien Giang. For Northern and international guests, it is best to catch a flight, train, or long-way bus to Ho Chi Minh City and start your trip from there.
By car and motorbike
The fastest, and supposedly the favorite means would be by private vehicles. It takes 2 hours driving from Sai Gon to this far-flung area. You must cross 1 National Road or Trung Luong Highway, and ride 13km more from Rach Mieu Bridge to reach the land. On the road, travelers are welcomed with countryside views and poetic river traits.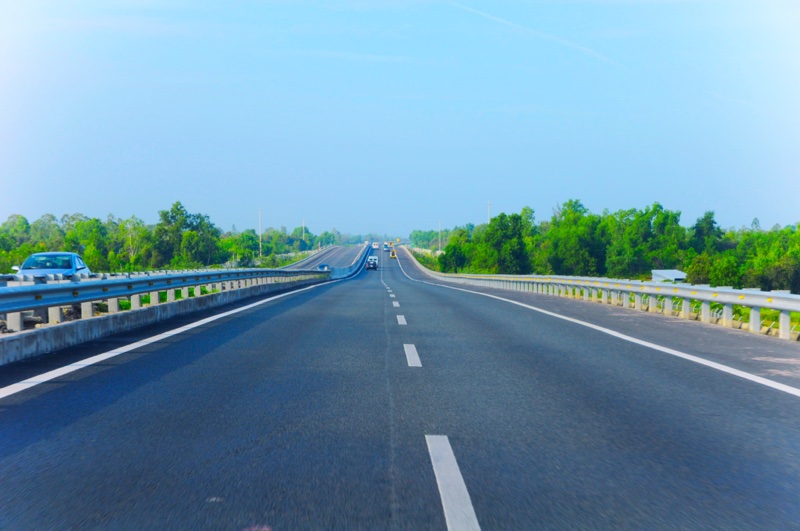 Trung Luong highway
The terrain is quite flat without the existence of hills and high mountains. There mainly are small canals intertwined with paddy fields, which makes a motorbike trip is likely more convenient. Backpackers are recommended.
By bus
Other transportation options include public buses. The transfer is often seen departing from Westside station (395 Kinh Duong Vuong) in Ho Chi Minh City or located pick-up points. The stopping ends consist of Ben Tre, Binh Dai bus station, and other designated destinations across Ben Tre city. Some companies running the service are Kim Hoang, Hiep Thanh, Dong Khoi, Thinh Phat, etc. The ticket price ranges from 70.000 to over 120.000 VND for each turn. This vehicle is comfortable indeed, but it will not provide sightseeing time freedom compared to the above ones.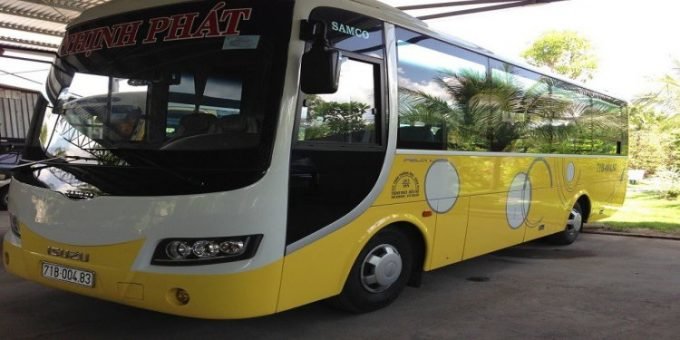 Bus to Ben Tre - Photo: otavietnam.com
Transportation in Ben Tre
High-tech transportation apps are now sweeping the land. You can easily find Grab or GoViet in every corner. To take the initiative in your hand, renting a motorbike in the city center is worth consideration. One-day service can cost 80.000 to 180.000 VND, depending on the vehicle's quality. The companies (Amione, 365 Bike, Bao Duyen, and Hoai Phu) offer free shipment, helmets, raincoats, and one liter of gas. Some of them are Amione, 365 Bike, Bao Duyen, and Hoai Phu. Local hotels and homestays also have a vehicle rental service.
You can easily find Grab in Ben Tre
For large families and groups of friends, taxis and public buses are suitable. Ben Tre buses reach almost every attraction with a 15 minutes round-about turn. One downside is they only work from 5 am till 6 pm. While taxis, even with the higher fare, they present at any place, at any time.
Things to do
Explore ecotourism with Con Quy and Con Phung (Turtle and Phoenix Islands)
Belonging to the group of four mythical creatures islands - others are Dragon and Kylin Island in Tien Giang - Turtle and Phoenix ecotourism Islands in Ben Tre lit up the province with their green haze. Following the river flow travelers can find both of them in the middle of Mekong River branches.
Con Quy is the smallest among the four. Alternative known as Con Cat (Sand Island), the place is situated 23km river-route from Ben Tre city. The untouched wilderness glows from row and row of fruit evergreens, providing an airy and pleasing sight for any visits. Travelers can enjoy multiple active activities such as rowing boats, catching fishes in canals, or conquering the single monkey-bridge. Or as simple as restlessly lying under the tree palms, on the swinging hammocks, and listening to the sound of wind swishing through your ears. You can also hear the sweet melody of Don Ca Tai Tu (Southern traditional singing) echoing from afar. The Turtle Island would play best for those who favor a gentle experience.
On the other hand, Con Phung expectedly wins fame. The island is also called Tan Vinh, a fascinating oasis in the heart of the Tien River. Floating on the river, watching the rich environment and feeling the peaceful vibe in Con Phung may be your lifetime desire. Coming here, many will witness the unique architecture of Coconut Religion, such as Nine Dragon Ground and Peace Towers. The preserved features of traditional coconut candy, rice paper-making also appear strong on this island. Phoenix Island is the coveted one amid the remains.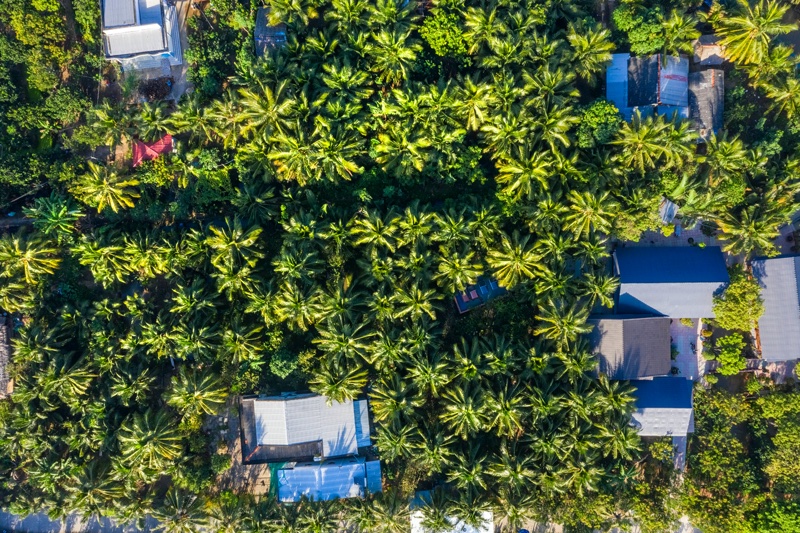 Aerial view of the coconut farms in Con Phung Island
You can not complete the Ben Tre journey without traveling to ecotourism destinations. Con Quy and Con Phung are just two among the large eco-places of Ben Tre. Other names that should be mentioned are Coconut Village, Lan Vuong, Lang Be, Chin Song, Ha Thao, etc.
Visit river delta gardens and plantations
Ben Tre is long famous for its abundance of tropical, shining fruits when summer knocks on the door. Besides natural attractions, the garden and plantations can be the reason for anyone to pick up their Ben Tre travel idea. Rambutan exotic red, star apple sweet green, to durian gloss yellow, there are many colors to seek and various tastes to follow. With a 50.000 to 100.000 VND ticket, guests are welcomed to a limitless course of different fruit tasting. Other than fruit harvesting, picnic, and sightseeing, traditional games and local specialties are hosted and displayed right at the scene. Purchasing one cheap kilo of tasty fruits is also possible.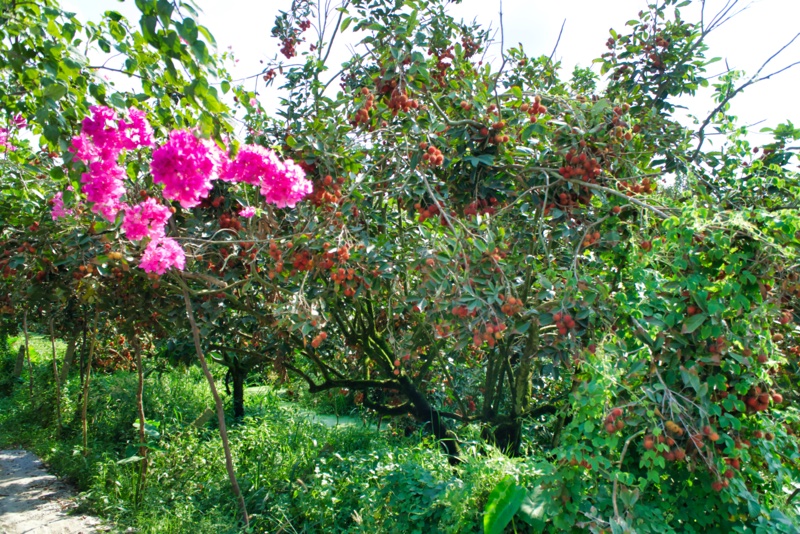 Fruit and vegetable garden in Ben Tre
Some of the popular are:
Cai Mon - Cho Lach, Ben Tre - the biggest and most popular one with all year round fruit supply.
Bao Thach - Chau Thanh, Ben Tre
Que Ta (Our homeland) - Tan Phu, Ben Tre
Hue - Chau Thanh, Ben Tre
Pay tribute to historical and religious sites
The pride of Ben Tre also lay in its colorful history and religious culture. These meaningful sites bear a distinguished trait to others in the same river delta regions. Not too vibrant like the Westside attractions, they resemble a calmer, staider, and Northern architecture style.
For holy places explorers, you can pay a visit to Vien Giac, Vien Minh, Bach Van, Tuyen Linh, and Hoi Ton Temple. For historical lovers, Dong Khoi guerilla site, Nguyen Dinh Chieu tomb, Roman church, Huynh Phu ancient house, Bach Mai old tree, and other brutal wartime monuments should be in the study sources.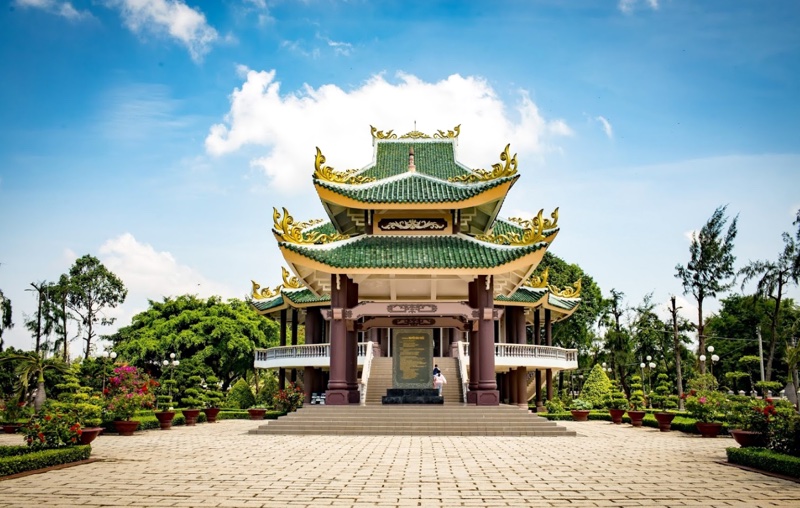 Nguyen Dinh Chieu tomb - Photo: thamhiemmekong.com
Traditional markets and folk craft villages
Tired from those natural charms (which are quite rare), you may find yourself enjoying the bustling atmosphere of traditional markets and craft villages. Travelers are meant to take part in the customs, the culture and also feast on local cuisine, or buy home souvenirs during the weekends.
Ben Tre night market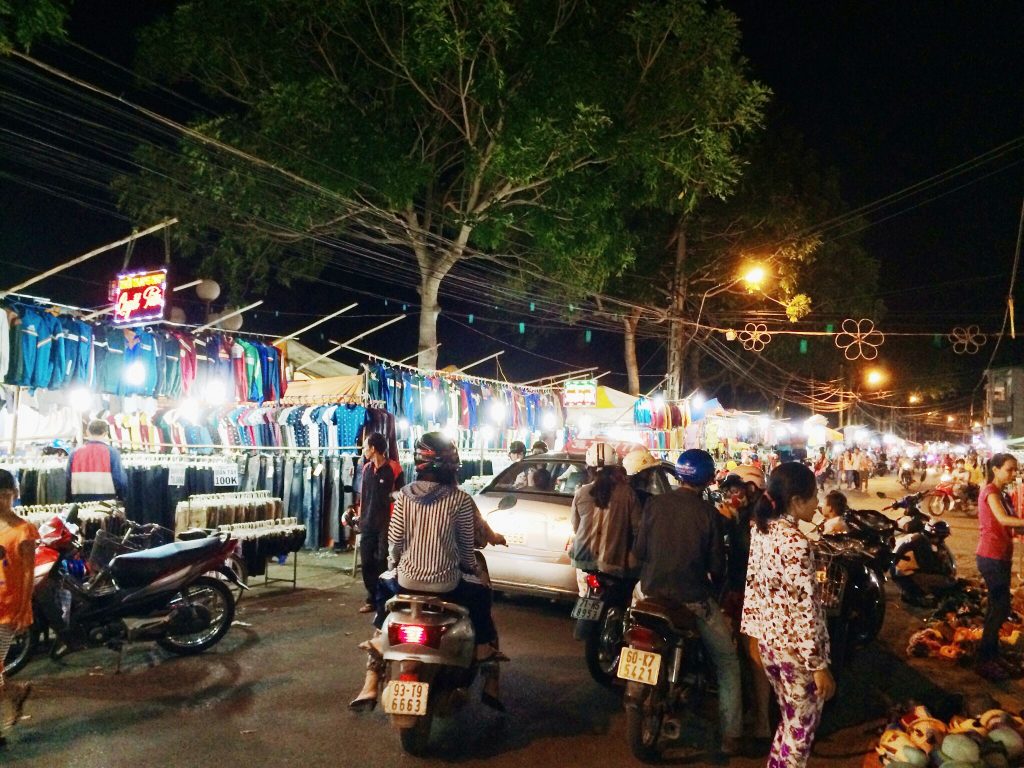 Ben Tre night market - Photo: immivietnamvisa
At the end of Hung Vuong Street, on Ben Tre river bank lies a night market. Filled with many local specialties, foods and drinks, the night market stalls do more than wonders. The market opens from 7 pm till midnight.
Phuoc Long craft village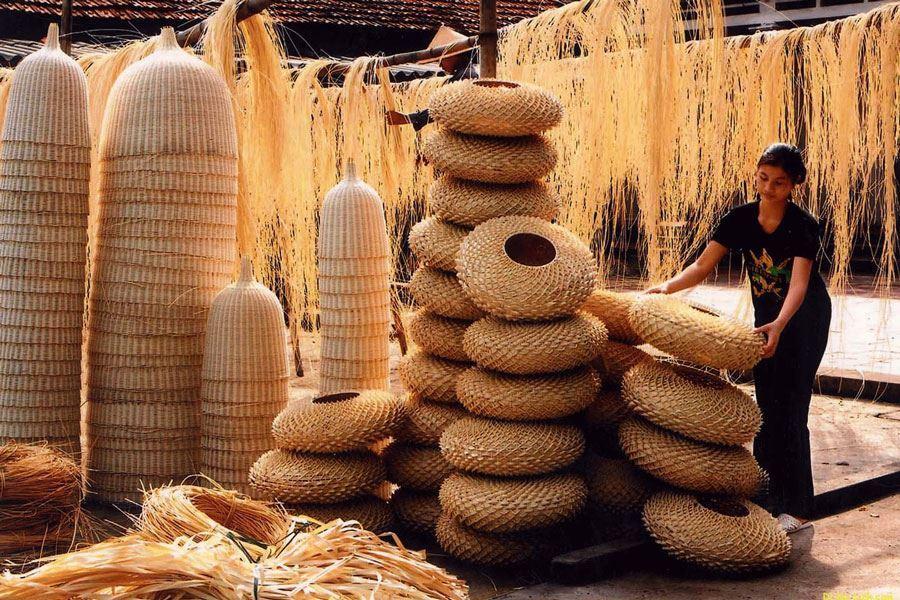 Photo: Saigonriders.com
Born with the concept of preserving coconut use in everyday lives, the village produces hundreds of craft products a day, from an eating bowl to a market basket. Driving to this 20-year-old village is relatively easy. It is situated in Giong Trom district, crossing Ben Tre 2 Bridge, turns right 12km at 887 province Road, the destination is right ahead.
An Hiep mattress-making village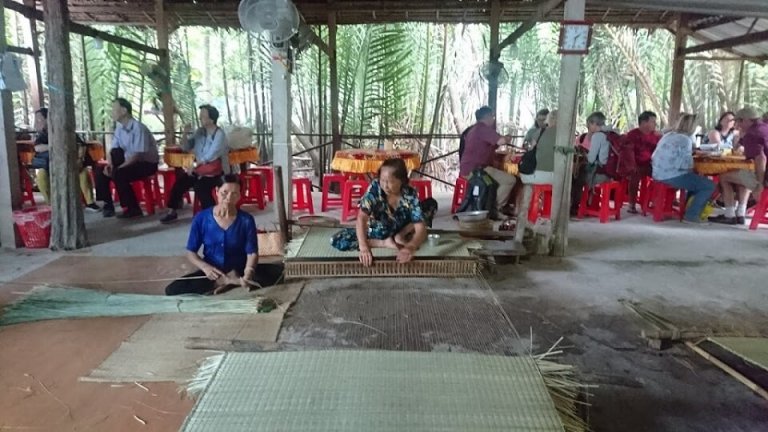 Photo: dulichmuaheviet.com
Follow 60 National Road and turn right at 884 Province Road, you will find An Hiep village of Chau Thanh District. The mattress-making work, which requires persistence and endurance, started early in the village's history and still strikes till this day in every year's end. Hoa Loi water pot village: Due to the coastal location, villagers are prone to invent storing water tools. The pots of this Thach Phu district village are all enormous in size, quality uniformed, and displayed for tourism sale.
Phuoc Tuy bamboo knitting village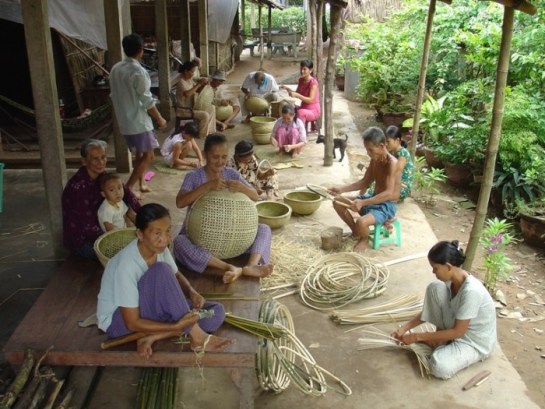 Photo: guidefrancophoneauvietnam
The life of Phuoc Tuy dated back more than 100 years. Every household is filled with knitting works, even the small kids contribute to this large amount of products. The knits serve daily lives and also souvenir purposes.
Go beyond Ben Tre City
Moving out of town to see a wide range of majestic natural scenery. The roads are clean of pollution, the remote areas flood with quietness, that is what you would see.
Cu Lao Bao
The green island is sliced by Ba Lai and Ham Luong River. Life here is idyllic as it is friendly. There are many attractions to spend one day on the island, namely Chung Thuy Lake, Phu Tu shrine, and Nguyen Thi Dinh historical site.
Thua Duc beach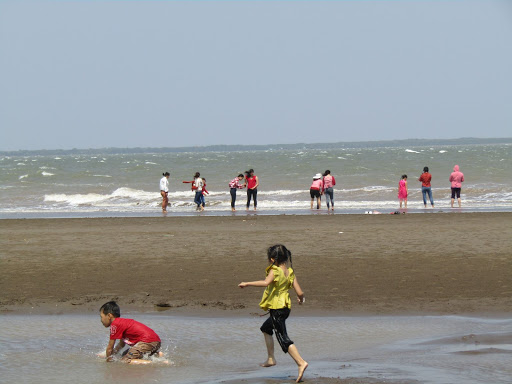 Thua Duc beach - Photo: baodulich.net.vn
Differing from the overcrowded beach of Danang and Nha Trang, Thua Duc beach in Binh Dai District maintains its pristine state, waiting for a pilgrim wake. The blue water reflects the clear sky on its surface, green palms run along the long coastal line, robust seafood dishes with low price and high quality. You can never find such a gentle beauty anywhere else.
Vam Ho bird preservation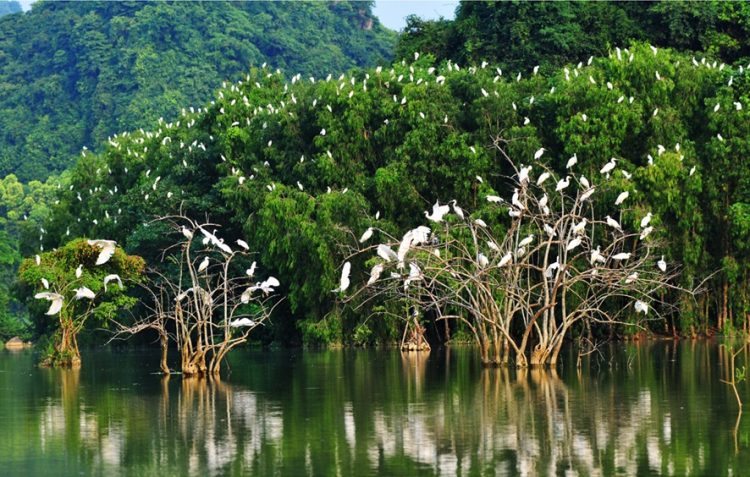 Photo: @dulichbentre
A vast space in Ba Tri district teems with rare evergreens, Vam Ho is also home to 84 types of birds, mainly of stock race. The usual sight is painted with flocks of white stock parking on top of mangrove forests over Ba Lai river.
Where to stay
There are plenty of choices for accommodations in Ben Tre, from a luxury one to a friendly dwelling.
Resorts
Travelers can consider Forever Green, Mango Home Riverside, Ben Tre Riverside resort, etc. Standing beside rivers and among the green gardens, these estates sum up the serene beauty with top-class service and facilities. They also provide tours to the province's major attractions, some are free of charge. Hotels Hotels can match those who enjoy a modern and private stay in the city center. Diamond Stars, Vietnam Australia, Ham Luong, Hung Vuong, and South East Asia Hotel are frequented by many guests a day. They all hold prime locations, and a well-served food and entertainment complex. The price is also more affordable than resorts, but a quality stay is always promised.
Ben Tre Riverside resort
Homestays
To fully experience the stunning beauty hidden inside the seemingly simple coat, visitors are advised to take on a local homestay trip. It brings quite an unforgettable memory to the nature of people and culture of this river land. Jardin Du Mekong, Cocohut, Duyen Que (Countryside Charm) Homestays are some prestigious options for a green journey. The furnishing is eco-friendly, and the decorations are nature-inspired.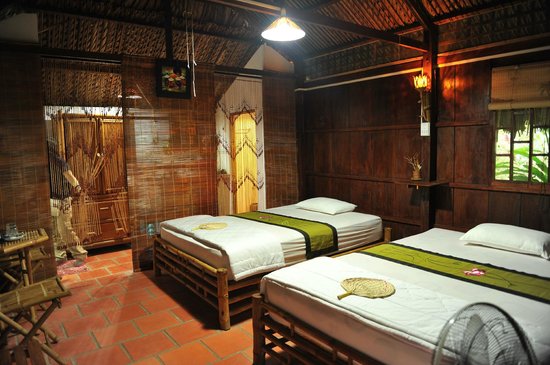 Jardin Du Mekong
Food to enjoy
Duong Dua (Coconut Larvae) is a special dish that is enjoyed by the residents and outside visitors. It may be scary for a first-timer due to the insect look, but people in Ben Tre have long grilled, stir-fried, steamed this delicacy. Duong Dua's main food is coconut flesh, so they are juicy, fatty, and sweet when consumed.
Other dishes made from coconut reach their tastiest peak in Ben Tre. The fruit grown here is rich in flavor and also nutritious, leading the foods thrived from them to hug the same characteristics. Coconut rice, stir-fried beef with coconut milk, coconut water steamed snails, coconut candy, etc. The price for a delicious meal in this land is not too expensive or should be noted cheap for some. There are no money scams in this province, said by previous travelers.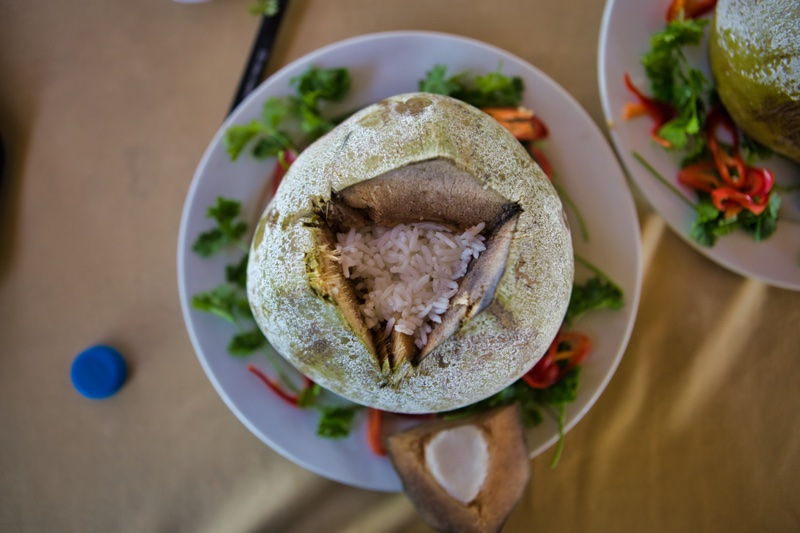 Steamed Rice in Coconut
READ MORE
Weather / Temperature:
27.01°C
Humidity
84%
Wind
2.69 km/h
Sunrise
05:32 AM
Best Of Ben Tre
See, Eat, Sleep, Shop, Stay - The Best of Ben Tre
Frequently asked questions
Where can you buy specialties in Ben Tre?
Known as "Coconut land", Ben Tre has a lot of specialties made from coconut. You can also buy some other specialties for your friends and family members as following:
• Coconut Candy: Kẹo dừa Bà Hai Tỏ at 379C KP3, Nguyen Van Tu, Ben Tre
• My Long Rice Paper: Làng nghề bánh tráng Mỹ Lồng – My Thanh, Giong Trom, Ben Tre
• Son Doc glutinous rice chupatty: Sơn Đốc Market – Hung Nhuong, Giong Trom, Ben Tre
• Coconut oil: Dầu dừa Ngọc Thư – 32 Ap Tich Khanh, Khanh Thanh Tan, Mo Cay Bac, Ben Tre
• Cocunut wine: Rượu dừa Tiến Vua – 250 Thach Thoi, Bao Thuan, Ba Tri, Ben Tre • Banana rice paper: Đặc sản Bến Tre Đức Phát – 175B, highway 60, Chau Thanh, Ben Tre
• Coconut fruit: Mứt dừa Toàn Thắng – 67/1 Ap Thuan Dien, An Hiep, Chau Thanh, Ben Tre
What food should you try in Ben Tre?
Food in Ben Tre is really unique. If you have the chance to come here, you should not miss some interesting and delicious dishes including:
• Cơm dừa (Coconut rice)
• Bánh xèo ốc gạo (Snail pancake)
• Gỏi củ hũ dừa (Coconut core salad)
• Bánh canh bột xắt (a kind of noodle)
• Bì cuốn (Shredded pork rolls)
• Chuối đập (Fattened Banana)
• Kẹo dừa Bến Tre (Coconut candy)
• Đuông dừa (a kind of worm)
What are attractions in Ben Tre?
Ben Tre offers mainly ecotourism and spiritual tourism. Here are some attractions that you can visit when coming here:
• Fruit orchards: Fruit Orchad Bến Tre Cái Mơn, Durian Orchard Bảy Thảo, Fruit Orchad Hùng, Rambutan Orchad Huệ
• Spiritual and historical attractions: Tuyen Linh Pagoda, Nguyen Dinh Chieu's Tomb, Memorial House of Nguyen Thi Dinh, Dong Khoi guerrilla village.
• Ecotourism areas: Rung ngap man (Mangroves), Con Tien, Con Oc, Con Phung, Con Qui, Vam Ho Bird Sanctuary
• Ben Tre Coconut Candy Factory
When is the best time to visit Ben Tre?
Located in the Western part of Vietnam, the weather in Ben Tre is quite comfortable and peaceful so you can visit at any time of the year.
Besides, Ben Tre is well-known for its fruit orchards, thus if you would like to come during the fruit season to see how local people harvest or enjoy fresh fruit right on the farm, you should come from June to August.
How long to go from Hanoi to Ben Tre?
Since there is no airport in Ben Tre, you need to book a flight from Hanoi to Ho Chi Minh City (Tan Son Nhat Airport) which takes around 2 hours. From Tan Son Nhat Airport, it takes you around 2.5 hours more by taxi or bus for a 100km distance to get to Ben Tre city.
Vietnam's Most Popular Destinations