Thanh Luong Cattle Market
The Thanh Luong Cattle Market might be nothing you imagine as a standard trading place.
This special market is not simply a place where you can find oxen and buffaloes but it is also a unique cultural aspect of the Thanh Chuong District in Nghe An Province. Opening on the 2nd, 6th, 9th, 12th, 16th, 19th, 26th, and 29th days of the month, this is a venue that you should not miss at all.
In terms of scope, Thanh Luong Cattle Market is the largest one of its kind in Nghe An. For every trading day, about 350 buffaloes and oxen are traded. However, what will strike you the most is how people manage to carry out such a large number of transactions in this special setting: aflat and blank ground surrounded by fences.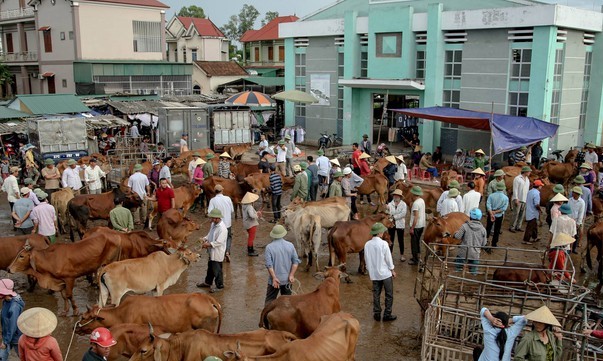 Photo: baonghean.vn 
Unlike the farmers in other communes, Thanh Luong people do not raise the oxen but rather they buy and breed them until they are qualified to put on sale. This fact, however, does not deter the people there to sell the oxen and earn around 5 million VND ($250)per month. Sometimes when luck visits their door, these people can even earn up to 10 million VND ($500) per month.
The big scope of the market allows it to reach out to the venders and sellers from districts other than Thanh Luong. Sometime, there are even people from Ha Tinh Province visiting the Cattle Market. No matter where they come from, these people stick to a golden principle: bargaining all the time! Besides, the buyers usually select cattle by many other criteria: strong legs, round claws, big horns, slime body, and white teeth! Interestingly, even if you give them money, people would never buy any buffalo or ox which has a white tail because they believe that the cattle will bring bad luck, including death, to their family!
Useful Information
Location: Thanh Luong , Thanh Chuong, Nghe An
Best for: All visitors
Entrance: Free
Hours: 2nd, 6th, 9th, 12th, 16th, 19th, 26th, and 29th days of the lunar month
Distance to city center: 38.3km (23.8 mi)
Conversations (0)
Join the conversation
Conversations
Join the conversation
ALL COMMENTS (0)
There are no comments. Add your comment to start the conversation.
read next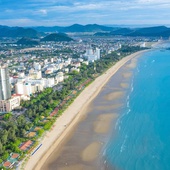 A popular staycation for local visitors, Cua Lo boasts a long stretch of white sand and blue sea.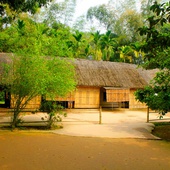 Sen village, popularly known as the birthplace of President Ho Chi Minh, is located at Kim Lien Town, Nam Dan which is about 20km from Vinh City.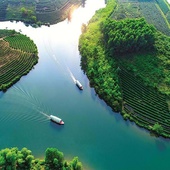 As you set foot on Thanh Chuong Tea Island, you will immediately be lured by the serenity and rustic ambiance embraced by water on the four sides.