Tet Flowers & Plants
Tet holidays are the days of relaxation, happiness and joy. And similar to pine tree for Christmas holiday in the West, Vietnamese also use many kinds of flowers and plants to decorate their house in this special period. Some names can be listed out: Chrysanths, marigold, Mao Ga flower, paper flower, lavender, to name a few. Some people nowadays even use orchid and rose, although this is not yet popular. And above all, there are 3 kinds of plants that can not be missing in Tet holidays: peach flower, ochna integerrima and marumi kumquat.
Flower market
The busy scene of flower market near Tet days can bring on both excitement and nostalgia
Photo @scootersaigontour.com
Peach flower and marumi kumquat are familiar in the North while South people prefer ochna itegerrima for Tet holidays. Another reason is the characteristics of the plants. While marumi kumquat and peach trees grow well in cold weather, ochna integerrima just can survive in tropical lands with lots of sunshine.
People in 2 different parts of Vietnam have various explanations for this tradition. Northern people say that peach flowers blossom in spring – during Tet holidays while most other flowers still stay silent, symbolizing the strong vitality and a brave heart. Moreover, the pink colour of peach flowers shows the love and joy spread among people in this unique time of the year. Peach flower has 2 kinds: light peach with light pink colour and Nhat Tan – Ha Noi's specialty peach with dark pink colour (nearly red).
Peach flower - peaceful and elegant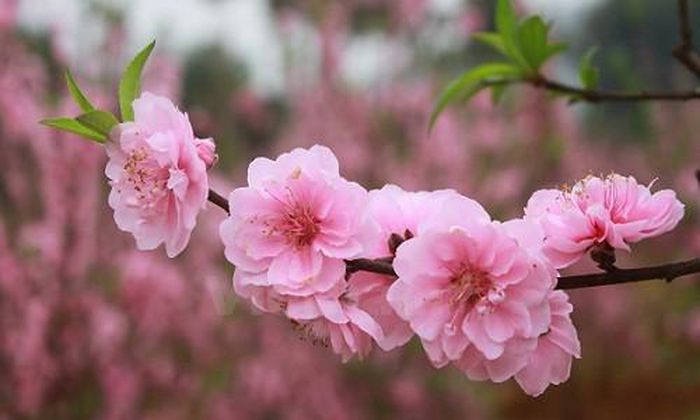 Photo @baomoi.com
Marumi kumquat bears different story. A tree with all 5 characteristics: full of fruits, flowers, leaves, branches and roots is a symbol for wealth and happiness for the new year. The tips for choosing a good plant are generated accordingly: the tree must have both ripe and green fruits, mature leaves and new bud - which represents wealth and luck brought to the family in the new year.
Kumquat - lucky and fruitful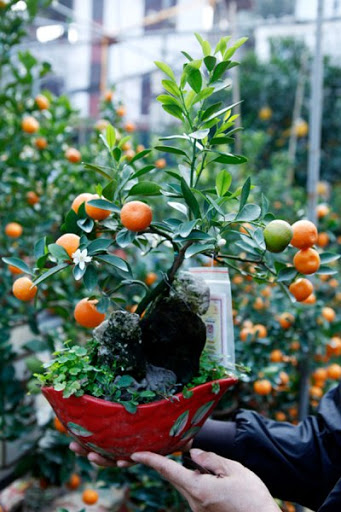 Photo @cayhoacanh.com
The ochna integerrima in the South has another meaning. The golden yellow of the flower means the noble roots of Vietnamese (folktales said that the ancestors of Vietnamese is a couple of dragon and fairy). In addition, the high rate of blossom of the flower in Tet holidays also symbolizes the wealth and passionate love among people.
Hoa mai (ochna integerrima) - bright and shining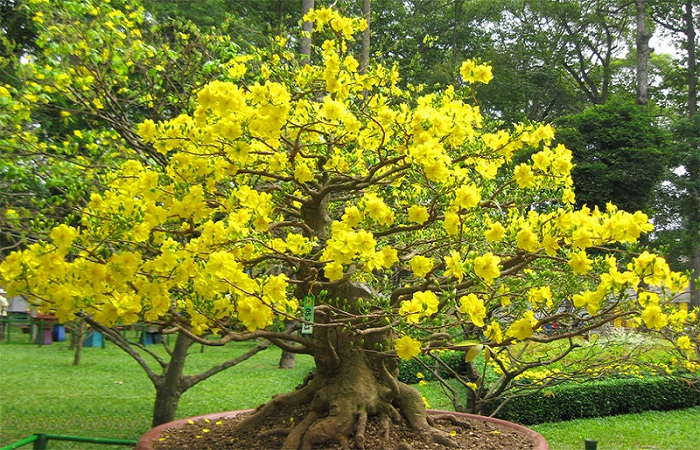 Photo @yeucaycanh.com
Vietnamese usually buy those special plants from lunar mid-December from the flower market (some even try to have peach flower branches/trees from the mountains because of its impressive vitality) and keep them until lunar mid-January of the New Year. Some families keep the branches to the end of the lunar January.
Watch our video: Tet's colours brighten up Northern Highland
Conversations (0)
Join the conversation
Conversations
Join the conversation
ALL COMMENTS (0)
There are no comments. Add your comment to start the conversation.
read next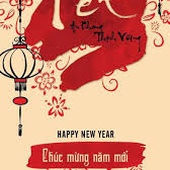 Tet holidays are the moments of happiness and family enjoy, therefore Vietnamese often dedicate the most beautiful words to their family and friends on this occasion.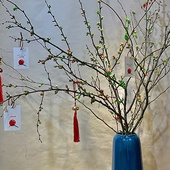 Giving gifts on Tet Festival, which has been long a traditional custom in Vietnam's ancient culture, represents not only the close relationship but also the thorough and subtle of human behaviors. Vietnamese are extremely careful in talking and behaving on the very first days of New Year, as it can determine the good fortune throughout the year.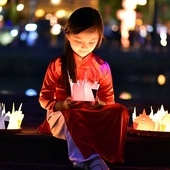 Besides Tet, Tet Nguyen Tieu (First Full Moon of the New Year) is also a good opportunity for foreigners to experience Vietnamese culture thoroughly. Although Tet Nguyen Tieu originates from China, when being spread to Vietnam, Tet Nguyen Tieu has adopted to the particular cultural aspect of VIetnam and plays a significant role in Vietnamese's cultural and religious life.