New Year Wishes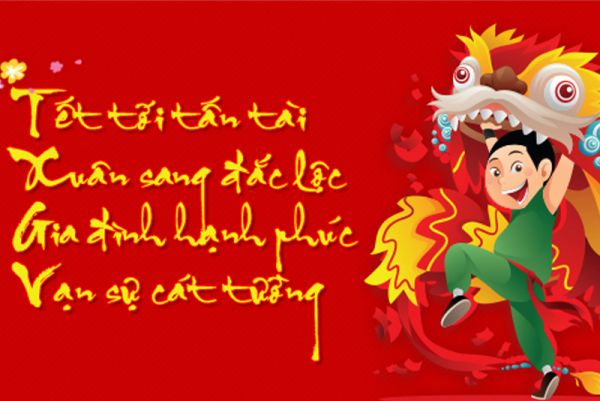 Photo @vietjet.net
Tet holidays are the moments of happiness and family enjoy, therefore Vietnamese often dedicate the most beautiful words to their family and friends on this occasion. Here is the list of the most common ones:
1 - Năm mới dồi dào sức khỏe: I wish you a healthy new year
2 - Năm mới tấn tài tấn lộc: I wish you a wealthy new year
3 - Năm mới thăng quan tiến chức: I wish that you will get promoted in the new year
4 - Năm mới toàn gia bình an: I wish that the new year will bring health to all your family
5 - Năm mới thắng lợi mới: New year, new triumphs (often heard in political speech)
6 - Vạn sự như ý: All wishes come true
7 - Chúc hay ăn chóng lớn: Eat more, grow rapidly (for children)
8 - Chúc mau chóng tìm được người yêu: New lover will come in the new year (for single people)
9 - Tiền vào nhu nước sông Đà, tiền ra nhỏ giọt như cà phê phin: Money influx is as strong as Da's river; expenditure is as little as dripping coffee
Still there are plenty of wishes that people send to each others in Tet holiday, this list is simply an overview. Use them and impress your friends this coming Tet!
Conversations (3)
Join the conversation
Conversations
Join the conversation
ALL COMMENTS (3)
V
Vanessa
It would be nice to have audio version along with the greeting to help the non native speakers learn how to pronounce it correctly.
10 months, 3 weeks ago
23 REPLY
D
Daniel
I always hear sức khỏe dồi dào. Not the other way around. Which is correct?
2 years, 9 months ago
27 REPLY
View previous comments
S
Sam
Both "sức khoẻ dồi dào" and "dồi dào sức khoẻ" have the same meaning "wishing a good health".
2 years, 9 months ago
6
D Daniel replied - 1 reply
read next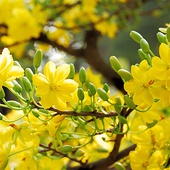 Tet holidays are the days of relaxation, happiness and joy. And similar to pine tree for Christmas holiday in the West, Vietnamese also use many kinds of flowers and plants to decorate their house in this special period.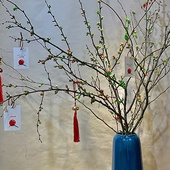 Giving gifts on Tet Festival, which has been long a traditional custom in Vietnam's ancient culture, represents not only the close relationship but also the thorough and subtle of human behaviors. Vietnamese are extremely careful in talking and behaving on the very first days of New Year, as it can determine the good fortune throughout the year.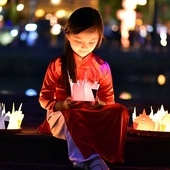 Besides Tet, Tet Nguyen Tieu (First Full Moon of the New Year) is also a good opportunity for foreigners to experience Vietnamese culture thoroughly. Although Tet Nguyen Tieu originates from China, when being spread to Vietnam, Tet Nguyen Tieu has adopted to the particular cultural aspect of VIetnam and plays a significant role in Vietnamese's cultural and religious life.