What Gifts Do Vietnamese Bring For Tet?
Giving gifts on Tet Festival, which has been long a traditional custom in Vietnam's ancient culture, represents not only the close relationship but also the thorough and subtle of human behaviors. Vietnamese are extremely careful in talking and behaving on the very first days of New Year, as it can determine the good fortune throughout the year.
In the past and present
Hundred years ago, Vietnamese, most living in rural areas, had a convention of exchanging agricultural products as the gifts whenever the Lunar New Year came. A pair of sticky rice square cakes, a cock or wine kept in pottery gourd was believed to contained the essence of heaven and earth; thus would show the amiability among families and signified their dream of prosperity and a full future.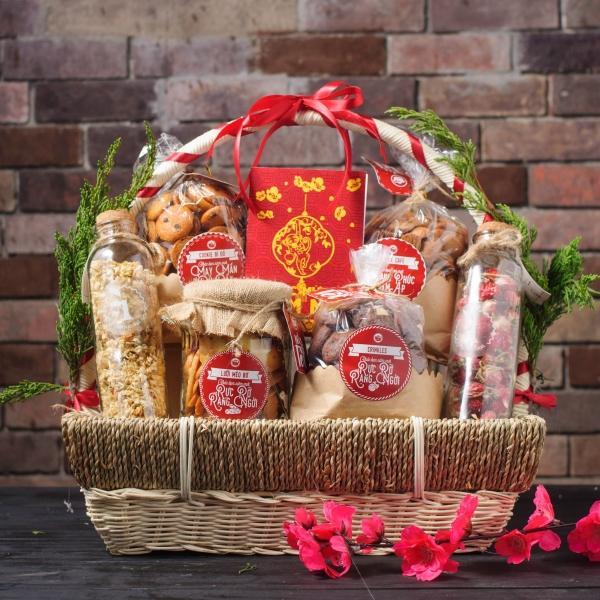 Photo @tavaco.vn
In the past, the tough living conditions made it difficult for people to have new clothes frequently but only on the occasion of New Year. This reason explained why children often gave a new piece of red cloth or velvet scarf for parents, in order to express their respect, gratitude, and the hope for good health.
Over times, giving gifts on Tet Holiday has become a special piece of traditional culture that is well-preserving and passing to the following generations. Since the society is modernized and relationship among people has altered to catch up with the speed of development, giving gifts is not a must for token of exchange anymore, but a part of rules of propriety. Besides the traditional meanings as neighbors, friends and families ties; giving gifts represents the long-lasting corporation between colleagues or business partners as well.
Nowadays, people are willing to pay millions for luxuriously limited "baskets" of gifts, giving to bosses, wishing for support for future career.
What to give in Tet Festival?
Choosing gifts for Tet Festival is definitely not an easy task, due to the complicated norms and religion beliefs. Normally, Vietnamese will avoid giving kittens (as their meow sounds like "ngheo"- poor in Vietnamese), ink (because the color of black is considered bad fortune) and sharp items such as knives and forks. While clothes, scarfs and sticky rice square cakes are still the traditionally meaningful gifts that parents and the elderly often receive from children; there are many modern products that can be used as gifts also.
Here are among the most popular gifts given for Tet Festival:
A branch of peach blossom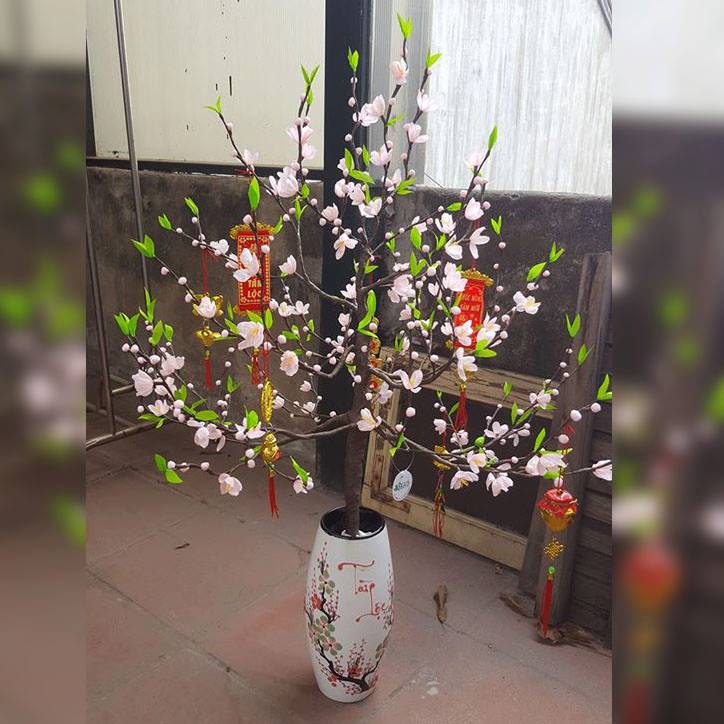 Photo @hoatuoi360.vn
Together with kumquat tree, peach blossom is regarded as the irreplaceable decoration for Tet Festival in Vietnam. Legend has it that peach blossom is the home of two deities who can control evil spirits, thus, a branch of peach blossom in New Year will drive all the ghosts and bad fortune away. There are a few kinds of peach blossom, from the red, pink to the white ones, depending on whether it is grown in mountainous or plain area. In Hanoi, Nhat Tan's flower garden is most famous for carefully-planted peach blossom, while in Moc Chau, we can easily see wildly high peach blossom trees.
Wine and gift baskets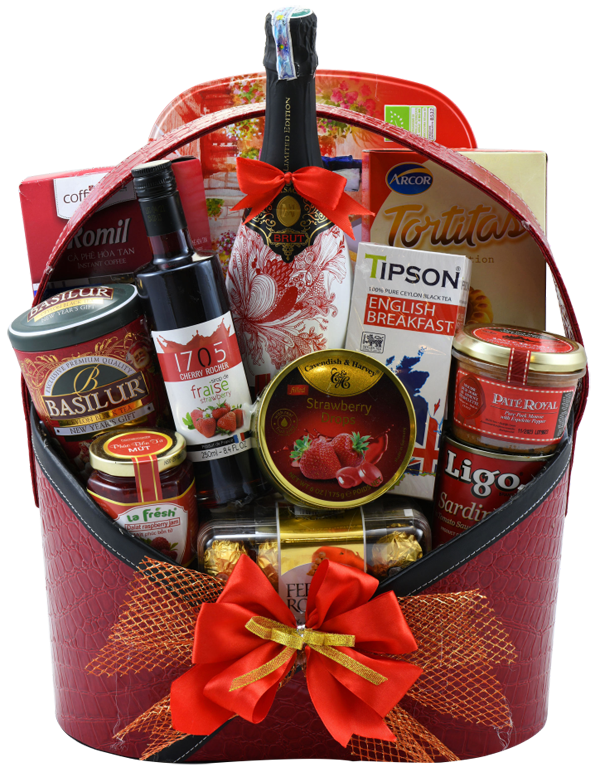 Photo @vnexpress.net
If in the past, wine is kept in pottery gourds, nowadays; those old gourds are replaced by modern wine bottles with well-known brands coming from both local and all over the world. However, the meaning of wine as the gift of New Year has remained unchanged. It takes a lot of time for wine to ferment and distil; so wine is highly appreciated by Vietnamese. Nevertheless, drinking wine can make people feel warm and energetic, which are exactly what people wish for their upcoming year.
If you have a Vietnamese business partner, it is time to further enhance your bonds by sending them a gift basket with branded wine.
Red items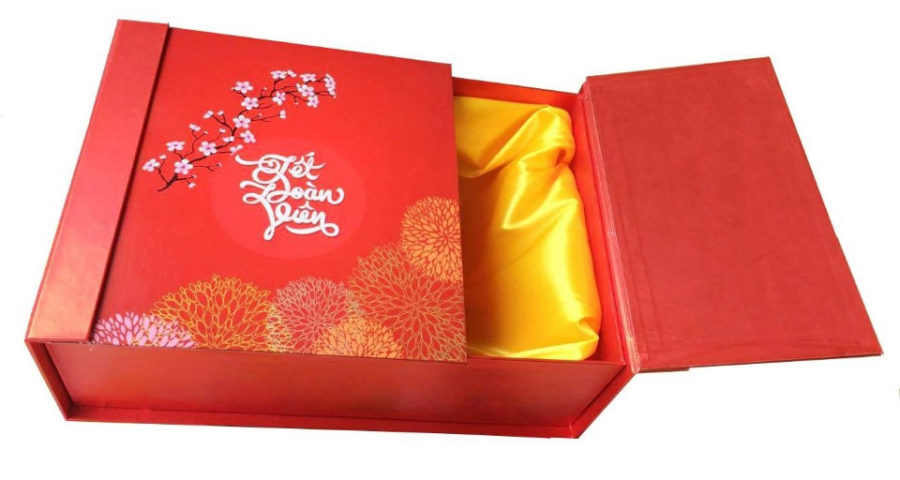 Photo @12trad
Spring is the season of the brightest and most effulgent colors. Especially in Asia's beliefs, red is considered good luck, prosperity, joyfulness and contentment. We can see the red color everywhere, from the ornaments, lucky envelopes, to the clothes of the elderly on the first days of New Year. Coming to Vietnam during the Tet Festival, tourists can see the whole streets covered with the color of red. Whichever gifts you plan to give, place a priority on red and yellow and avoid dark colours. For example, if you want to buy children new clothes, try to pick the most bright coloured ones.
Greeting cards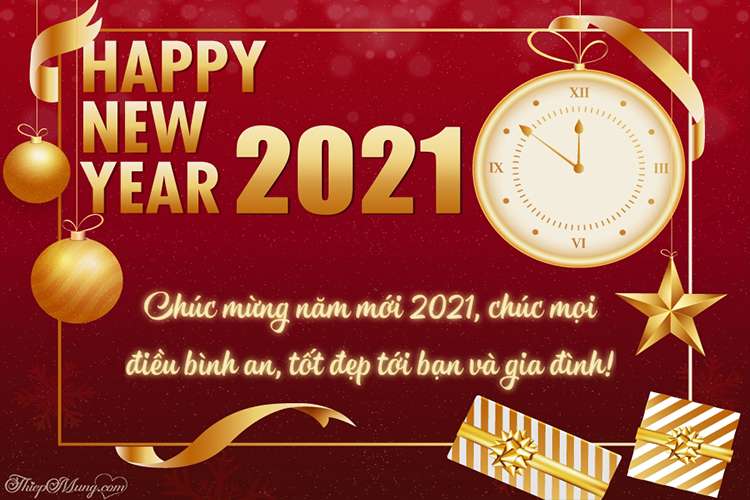 Photo @thiepmung.com
Sending greeting cards is the custom having its roots from the contemporary era. It is fast, convenient, and certainly very suitable for today's busy modern life. If you are a foreigner and confused about the Tet Festival gift a Vietnamese friend, there is nothing better than a greeting card. Typically, Tet Festival's greeting cards are printed with vivid colors like red or yellow, and distinctive images such as apricot and peach blossom, square sticky rice cake, parallel sentences, etc. Common greetings can be told are "Happy New Year", "All wishes come true", and 'I wish you a healthy and wealthy new year!". Around a week before the holiday, at Vietnamese schools, teachers often help pupils making their own handmade cards. Pupils then will bring their cards home and give to show their love to parents and other family's members.
Conversations (1)
Join the conversation
Conversations
Join the conversation
ALL COMMENTS (1)
R
Tom Rodman
What is an appropriate gift to give a Vietnamese Business celebrating one year in business in the United States. A nail salon in Las Vegas Nevada..
7 months ago
0 REPLY
read next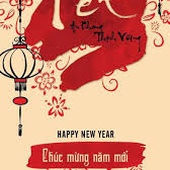 Tet holidays are the moments of happiness and family enjoy, therefore Vietnamese often dedicate the most beautiful words to their family and friends on this occasion.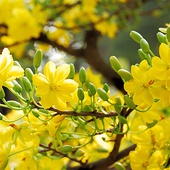 Tet holidays are the days of relaxation, happiness and joy. And similar to pine tree for Christmas holiday in the West, Vietnamese also use many kinds of flowers and plants to decorate their house in this special period.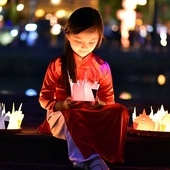 Besides Tet, Tet Nguyen Tieu (First Full Moon of the New Year) is also a good opportunity for foreigners to experience Vietnamese culture thoroughly. Although Tet Nguyen Tieu originates from China, when being spread to Vietnam, Tet Nguyen Tieu has adopted to the particular cultural aspect of VIetnam and plays a significant role in Vietnamese's cultural and religious life.