Tet Nguyen Tieu - First Full Moon Of The Year
Besides Tet, Tet Nguyen Tieu (First Full Moon of the New Year) is also a good opportunity for foreigners to experience Vietnamese culture thoroughly. Although Tet Nguyen Tieu originates from China, when being spread to Vietnam, Tet Nguyen Tieu has adopted to the particular cultural aspect of VIetnam and plays a significant role in Vietnamese's cultural and religious life. Most Vietnamese people believe that the First Full Moon of the New Year is the most important among all full moons throughout the year. On January 15th of Lunar Calendar, people are supposed to go to pagodas and pray for the best things coming to every family members and their beloved friends. It is not uncommon to see people eating vegan food and drinking plain water on the special day. Peaceful mind and lucks for the coming year are the general purposes.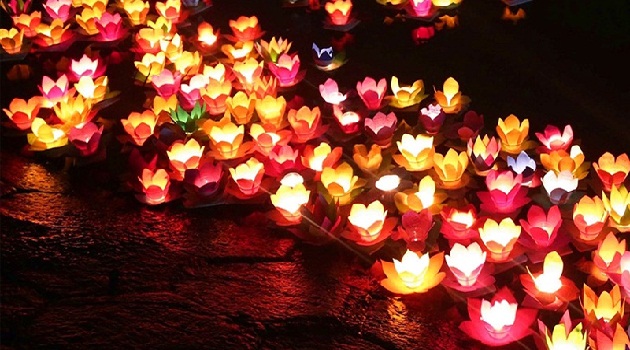 Photo @giadinhvietnam.com
Vegetarian food is commonly enjoyed to purify soul
In Ho Chi Minh City, the Cho Lon in District 5 is the most exciting place to visit during Tet Nguyen Tieu. You may try che troi nuoc, a special kind dessert, the sweet soup with rounded ball made from glutinous rice and sugar sauce, which symbolizes for "Reunion". The Cultural Center of District 5 is often the place where most activities to celebrate Tet Nguyen Tieu take place. By coming over the center from 12th-15th , visitors may get a chance to experience the exciting atmosphere of the Hoa community here. People gather to see the lion-dragon dance show. It is believed the lion-dragon's appearance brings luck, prosperity and success for the New Year. Besides, visitors can enjoy the parades around the streets in District 5 with many people and decorated vehicles, which is somehow like a small street carnival. Please make sure your camera is fully charged so that you can shoot or record any moment you would like. You are surely interested in those activities which you may not find anywhere else at anytime else.
If you want to have a shot of lanterns without traveling to Hoi An which is too far away from Ho Chi Minh City, you may like Tet Nguyen Tieu at the Cultural Center of District 5. Lanterns are decorated and exhibited in a gorgeous way. Along the streets, lanterns are also hung up in rows. That's why visitors who even have been to District 5 before still get amazed at what they are seeing at the moment and wonder if they are traveling to another country.
While District 1 is younger with lots of occidental architecture and sparkling luxurious buildings to welcome Tet, District 5, as time passes by, still remains its oriental beauty of old-styled houses and intrinsic cultural values gathered by the Hoa community living here. Tet Nguyen Tieu, one of the biggest events beside Tet, cannot be missed with any excuse because of the chance to feel and take a breath of a combined Vietnamese-Chinese culture that visitors can hardly find out at any other places.
In general, Tet Nguyen Tieu is celebrated among the Buddhist community, especially in the centre and southern part of Vietnam. Similar to Ho Chi Minh City, if you are in Hue and Danang during the occasion, you will see a grand, though a lot calmer, celebration of Tet Nguyen Tieu. Vegetarianism is widely practiced.
In the Northern part like Thanh Hoa or Hanoi, Tet Nguyen Tieu is more to pray to the ancestors: people will be busy shopping for grocery and paper offerings to present the most beautiful flowers and freshest fruits to put up on the family's altars.
Conversations (0)
Join the conversation
Conversations
Join the conversation
ALL COMMENTS (0)
There are no comments. Add your comment to start the conversation.
read next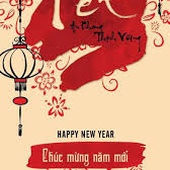 Tet holidays are the moments of happiness and family enjoy, therefore Vietnamese often dedicate the most beautiful words to their family and friends on this occasion.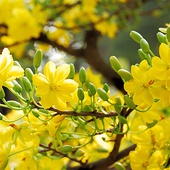 Tet holidays are the days of relaxation, happiness and joy. And similar to pine tree for Christmas holiday in the West, Vietnamese also use many kinds of flowers and plants to decorate their house in this special period.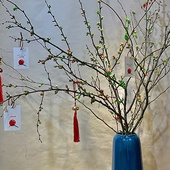 Giving gifts on Tet Festival, which has been long a traditional custom in Vietnam's ancient culture, represents not only the close relationship but also the thorough and subtle of human behaviors. Vietnamese are extremely careful in talking and behaving on the very first days of New Year, as it can determine the good fortune throughout the year.