Madame Hien
The restaurant is located in a beautiful courtyard and features French colonial style.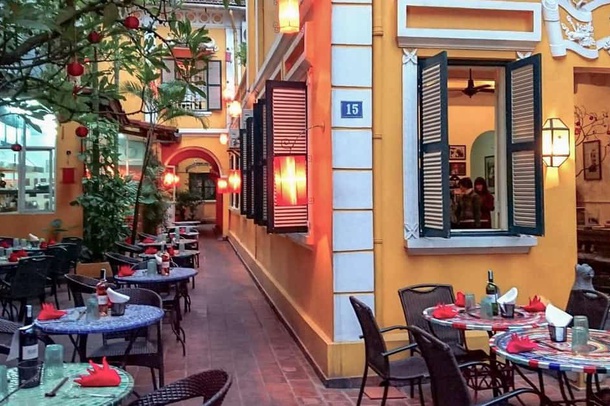 Overview
Located on Chan Cam Street, right inside the heart of Hanoi, Madame Hien is a French antique building designed by the chief architect of the renowned Hanoi Opera House. The restaurant is also the latest venture of the most celebrated French chef in Vietnam – Didier Corlou besides La Verticale.
Stepping inside Madame Hien, customers may immediately feel the distinction of it through a cozy atmosphere created by the art of installation and luxury furniture highlighted by red lanterns around its rooms. The restaurant is also divided into different areas including both enclosed and open-air space which may help people getting out of hyperactivity of Hanoi.
Unlike its brother La Verticale, Madam Hien's menu is not French or a fusion between French and Vietnamese foods but only authentic Vietnamese foods such as Banh Cuon, Pho, Bun, Nem, Com Nieu or grilled piglets, banana-flower salad and lemongrass-duck foie gras.
Direction
Take Hang Bong St first, then turn right to Phu Doan St. Go straight ahead then turn left to Chan Cam St. Madame Hien restaurant is on the right hand side at the beginning of this street.
Facilities & Services
Non-smoking restaurant
Air conditioning
Credit card / Debit card accepted
Take away
Menu & Price
SET LUNCH - 168,000 VND
Starters
Hot pumpkin soup with Halong curry
Green papaya salad with dried beef and peanuts
Three kinds of steamed rolled rice pan cake
Hot and sour ocean soup with red seaweed
Rolled rice pan cake with sautéed beef and herbs
Main courses
Grilled marinated squid with chili sauce
Stewed beef with soft spices serve with bread
Stuffed banana fish with prawn
Marinated barbecued pork "Bun cha"
Hanoi family plate
(Tofu with tomato sauce, braised fish with galangal in clay pot Seasonal vegetable, vegetable broth)
Desserts
Fresh Cheese "Le Corlou" with herbs and soft spices
Traditional caramel cream
Fresh fruit and sorbet
Hot Vietnamese "Che"
Banana cake with sesame ice cream
MADAME HIEN MENU - 355,000 VND
Mushroom soup with herbs
Banana flower salad with peanuts, chicken and mortadella
Hanoi family plate
(Soup, moment dish, rice, vegetable…)
Pan-fried banana with passion sauce, caramel ice-cream

Comments (0)
Your comment...
Conversations
Join the conversation
ALL COMMENTS (0)
There are no comments. Add your comment to start the conversation.