La Badiane
Once coming here, you will have the chance to choose between a wide variety of French food made by professional chef. The restaurant also offers outdoor seats for those who want to enjoy the scence of the busy street.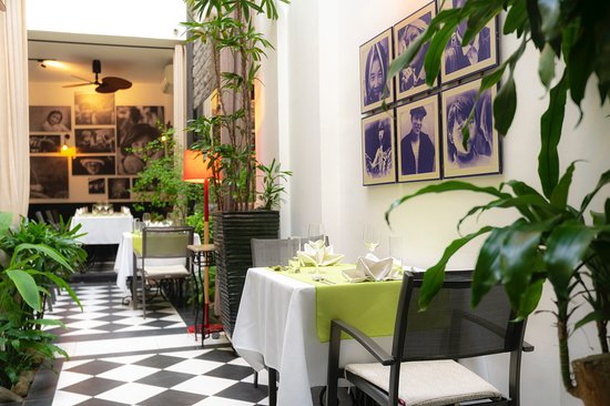 Overview
Inside the hustle and bustle atmosphere of the capital city, there is still a quiet corner named La Badiane. From the entrance of the restaurant one may feel the relaxing glimpse created there.
The pure white color of the restaurant prominently catches customers' attention as well as provides comfortable feelings. Going further is a small hall with full of sunlight in combination with bonsai installed in rows which brings visitors to a natural friendly space.
Badiane is a nice-smelling fruit results from the tropical tree badianier, which is usually used in dry form as an essential ingredient for many delicious dishes. As a result, badiane flower is the main theme and ornament of the restaurant with one flower nicely settled on each table; together with pictures of this special flower hanging on wall beside French sarcastic pictures that push away all the stresses of busy life.
Although La Badiane is a French restaurant, customers can not only select French delicacies but also those of Vietnam and other Western cuisines. Unlike other restaurant, La Badiane doesn't serve individual dishes but offering sets of dishes which are carefully selected for best meals of different appetites and purposes.
Facilities & Services
Non-smoking restaurant
Air conditioning
Credit card / Debit card accepted
Take away
Menu & Price
Starters ($11)
Prawn bisque in Cognac & salmon caviar Chantilly
Crab "remoulade" in dill mimosa on beetroot layer, kumquat dressing & sesame biscuit
Salmon cannelloni stuffed with black olives & feta, pine nuts, smoked paprika & caper dressing
Grilled eggplants & goat cheese rolled in Parma ham, pesto & balsamic sauce
Beef Carpaccio in wasabi & sesame, candied onions in ginger, Parmesan biscuit
Mexican Quesadillas
Goat Cheese Parcels

Mains ($22)
Salmon fillet in herb crust, vegetable lasagna in tomato & galangal, pink peppercorns sauce
Grilled prawns in coriander, avocado in wild pepper oil & passion fruit, ginger & Parmesan biscuit
Grilled red tuna in Thaï spices, crusty sweet mashed potato in pistachio oil, lemongrass & leek emulsion
Duck mushrooms risotto in cauliflower cream & « Boletus nuoc mam » flavored, green asparagus
Australian beef grilled tenderloin, potatoes in Gorgonzola cheese & bacon, red wine sauce
Lamb pastilla with eggplants & red pepper sauce, razel hanut juice & coffee deglaze

Desserts ($10)
Warm strawberries in red wine, thyme perfume & pistachio ice cream
"Crème brûlée" delicacies (peach-thyme, banana-passion, Malibu-coconut)
Mango & apple crumble, candied currant Calvados & cinnamon ice cream
Hot mellow chocolate, hazelnuts & orange peels, Cherry Brandy Chantilly
After-Eight chocolate truffle in Sichuan pepper, hot raspberry sauce
Cheese delicacies (Reblochon, goat cheese cream & gouda) & dry fruits
* Set lunch available starts from $15
Comments (0)
Your comment...
Conversations
Join the conversation
ALL COMMENTS (0)
There are no comments. Add your comment to start the conversation.