Six Senses Ninh Van Bay
5 things that we love most about Six Senses Ninh Van Bay
Refresh with outdoor jungle gym circuit

The resort is accessible by a speedboat ride only

Secluded beachfront villas with private pools in various styles

Laid-back luxury resort set on Vietnam's most beautiful bays

Extraordinary dining experiences by the pool, bay, rocks, or in the wine cave
Overview
Ninh Van Bay - one of the 29 most beautiful bays in the world - is an ideal retreat for those who want to escape the noise and bustle of cities and find a peaceful place - where they can clear the head and immerse into nature.
As a highlight of this charming natural picture, Six Senses Ninh Van Bay Resort is the place owning the purest beauty of the bay with villas made of wood, bamboo, thatched roofs faintly smelling of trees. Opened in 2010 with 58 villas, the resort's spacious area creates favorable conditions for you to comfortably cycle while enjoying extremely peaceful moments here. The surreal beauty, top-notch services, Six Senses Ninh Van Bay Resort deserves to be the most well-known luxury resort of visitors in Ninh Van Bay.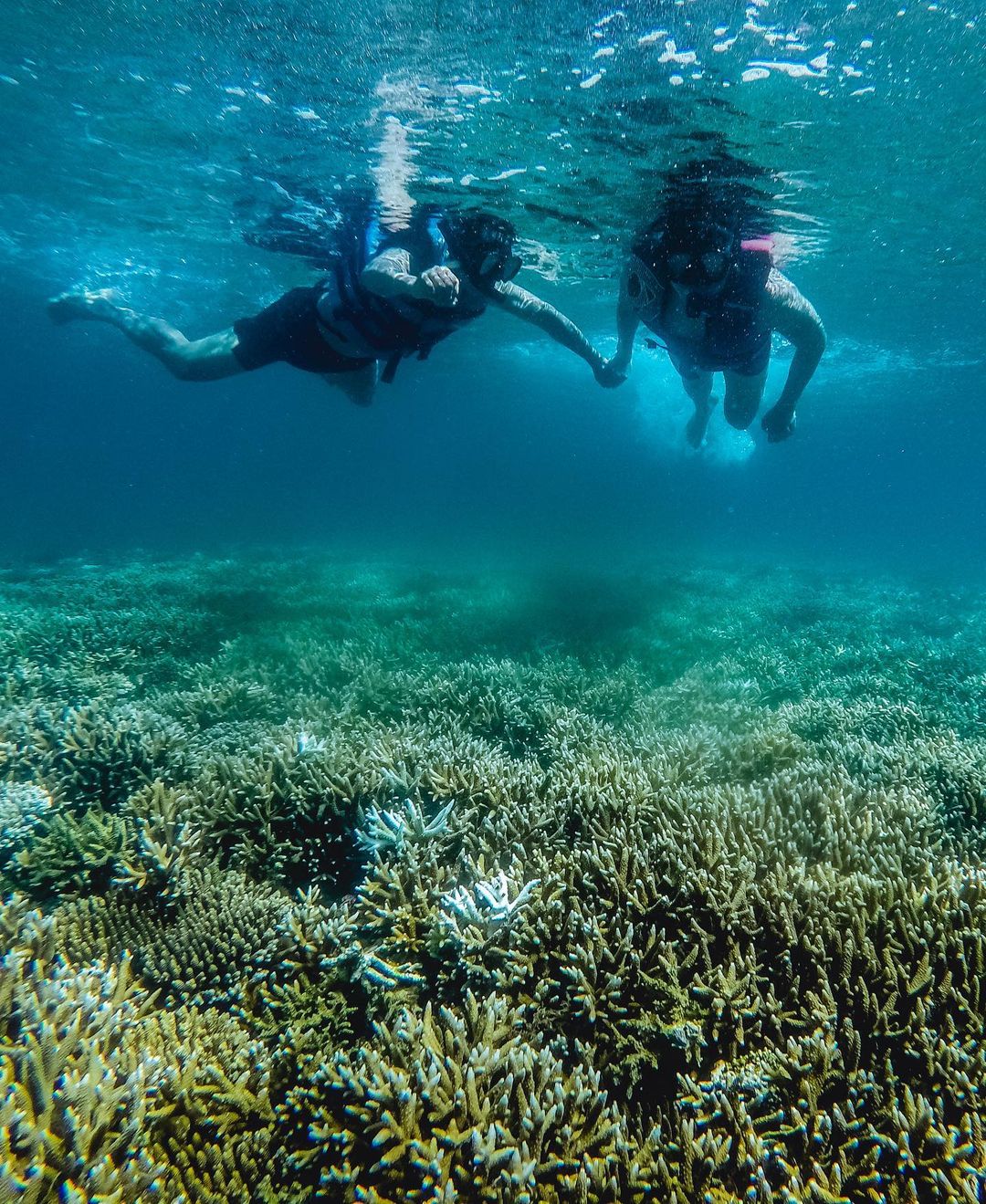 Photo: @sixsensesninhvanbay
Location
Isolated on Ninh Van Bay - about 60 kilometers from Nha Trang City, Six Senses Ninh Van Bay Resort consists of villas hidden under green trees, and large grey rocks, creating a fairyland-like space completely separate from the chaotic and noisy world out there.
Surrounded by water, the resort is only accessible through the waterway after 60 minutes by car from Cam Ranh airport (Khanh Hoa Province) to the Six Senses' lounge located in Nha Trang City, and 20 minutes by boat. Four sides covered with blue sea water, rolling mountains, large rocks and clear sky, the resort is like a peaceful oasis - where life fluctuations cannot reach.
Service & facilities
As a luxury resort, Six Senses offers the most modern services and qualities with a private swimming pool in each villa, private beach area, steam rooms, Vietnamese cooking classes, and the support for entertaining sport activities such as tennis courts, diving accessories, kayaking, windsurfing accessories, etc.
In addition, the resort owns 6 spas designed on rocks next to the orchards, herb gardens, giving visitors the most relaxing moments. The resort contributes to making your trip more enjoyable with free unique services like floating breakfast, massage, tea party, guided meditation, guided mountain climbing, fish and lobster raft visit.
1 swimming pool

Free WiFi

Airport shuttle

Tea/Coffee Maker in All Rooms

Bar

Private beach area

BBQ facilities (Additional charge)

Terrace

Garden

Dry cleaning (Additional charge)

Laundry (Additional charge)

Movie nights

Kids' club

Library

Pool table

Playground

Fishing (Additional charge)

Snack bar

Bar

Restaurant

Yoga classes

Massage (Additional charge)

Spa Additional charge

Fitness center

Outdoor play equipment for kids

Indoor play area
Room & Amenities
58 villas of Six Senses' 9 different room types are scattered on the cliffs, halfway up the hill and along the beach, promising to provide you different exciting experiences. The special feature is that the villa's architecture is based on Vietnamese's old houses with the main material as wood, the main joints linked together by bamboo and the rustic, simple palm-leave-made roofs.
Without cement or ferro-concrete, the villas blend into nature and make you feel like to be a part of it. Each villa is furnished with a separate swimming pool of seawater, specially Villa The Water Reserve has a swimming pool with a water slide like Maldives' resorts.
| Room Type | Maximum | Size |
| --- | --- | --- |
| Hill Top Pool Villa | 3 adults / 2 adults, 2 children | 158 sqm |
| Beachfront Pool Villa | 2 adults, 1 Children3 adults / 2 adults, 2 children | 176 sqm |
| Rock Pool Villa | 3 adults / 2 adults, 1 children | 187 sqm |
| Water Pool Villa | 3 adults / 2 adults, 1 children | 154 sqm |
| Family Beach Pool Villa | 5 adults, 1 child / 4 adults, 2 children | 207 sqm |
| Two-Bedroom Hill Top Pool Villa | 5 adults, 1 child / 4 adults, 2 children | 267 sqm |
| The Rock Retreat | 5 adults/ 4 adults, 1 children | 271 sqm |
| The Water Reserve | 9 adults/ 7 adults, 2 children | 900 sqm |
| Hill Top Reserve | 9 adults/ 7 adults, 2 children | 727 sqm |
Highlights
A tranquil space close to nature, separate from the bustling modern world, has left a strong impression on visitors with Six Senses Ninh Van Bay Resort. The resort is a prominent dot in the charming natural painting of Ninh Van Bay - the perfect product of Mother Nature with clouds, sea, mountains and rocks. Despite being a high-end resort, the resort's design evokes a sense of closeness to nature. The harmonious combination of wood, bamboo and palm leaves brings to life the traditional Vietnamese architecture, and creates a comfortable and airy resort space for visitors. The visitor's impression of Six Senses has not stopped there yet, as the excellent service quality of the resort deserves its high-end title. All your requests are carefully and thoughtfully taken care of by the private butler of each room, so the word of satisfaction cannot fully describe your mood.
Food & Drinks
<p>It is very hard for you to choose what to eat and drink at the resort - a convergence of culinary elite from all over the world with a professional cuisine team and a system of 4 restaurants of distinctive highlights. Dining by the Bay is the resort&#39;s main restaurant serving breakfast buffet with a variety of choices from Asian to European dishes besides drinks and desserts, and all-day dining of a harmonious intersection between Asian - European cuisines. The remaining three restaurants, Dining by the Rock serving a luxurious and romantic dinner, Dining by the Pool - an ideal place for a BBQ buffet, and Dinner in the Wine Cave - an authentic cavern settings for a intimate dinner with Western food, definitely gives you romantic and cozy moments with your loved ones at the resort.</p>
More resorts in Nha Trang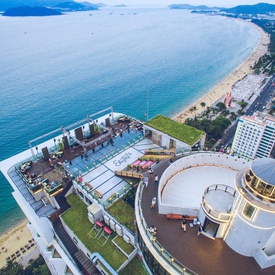 0.41 km ( 0.25 mil) from city center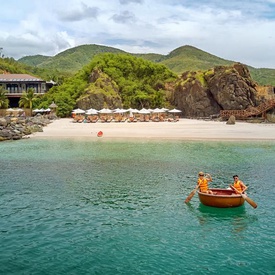 7.43 km ( 4.62 mil) from city center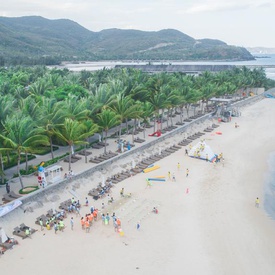 8.39 km ( 5.21 mil) from city center