Amiana Resort Nha Trang
5 things that we love most about Amiana Resort Nha Trang
Massive seawater pool and freshwater infinitive pool

One-of-a-kind dining experience on the lagoon

Free shuttle service to downtown Nha Trang

Eco-friendly rooms and villas

Ultimate indulgence in the natural mud bath, Jacuzzi pools, and herbal spa treatments
Overview
Close to the center of Nha Trang city, Amiana - one of the best resorts in Nha Trang nestled peacefully on the verge of a beautiful bay with majestic blue waters and white sandy beach. Not only offering luxury, high-standard services, Amiana creates a wonderful escape by engaging guests with fresh and pleasant nature as it's believed to be the best treatment over the bustling modern life.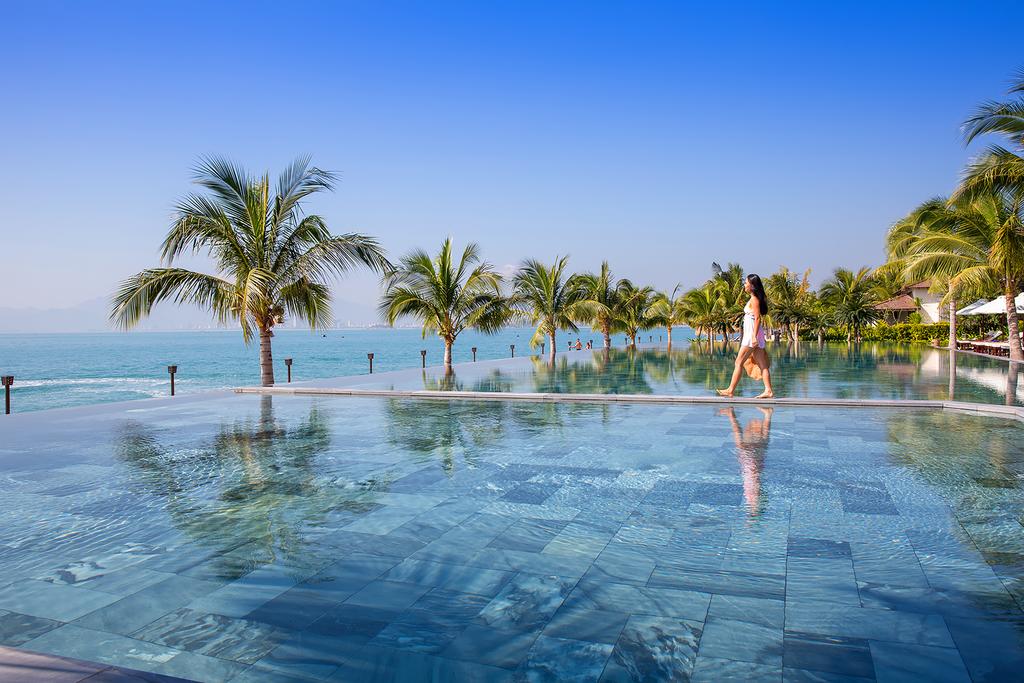 Amiana Resort Nha Trang
All in all, the stunning views, comfortable furniture and lavishing ornamentation are offered at Amiana Resort Nha Trang. Well-equipped interior of Amiana Nha Trang Resort leaves the tourists with a wave of admiration. Visiting alone, with family or as a couple, Amiana Nha Trang is a nice place to spend your holidays.
Hotel Description
The resort is located on Pham Van Dong Street, which is only a 15-minute drive from the city center and about an hour transfering from Cam Ranh International Airport. Built on the land of "Hon Chong – Bai Tien" legend, Amiana Nha Trang separates itself as an oasis, yet it's easy to reach many attractions such as Po Nagar Cham Tower, Dam Market, Vinpearl Land Nha Trang by driving along the wondrous coastal routes.
Service & facilities
Set within a landscaped tropical garden, spacious accommodations at Amiana Resort Nha Trang feature wooden luxury interior with traditional touches of handcrafted details.
There are two massive freshwater infinity pools, a saltwater pool which is even three times larger, and a private lagoon beach, making it a marvelous spotlight of the destination. Amiana Conference Center is proud to be the conference venue with the most beautiful location and views in Vietnam with the breathtaking look over Nha Trang Bay and the city skyline.
You can also feel the ocean breeze from the lounge area Ocean Terrace and Bay Terrace which are used for cocktail hours, barbecue parties and other events. The concierge services are always available to arrange entertainment activities and private excursions, or simply provide bike rental service so that guests can explore the beauty of the surrounding natural landscape. If you want to try the famous mud bathing of Nha Trang, Amiana also offers the favorite award-winning option among several spa and treatment packages, which is the most desired indulgence in the resort.
3 swimming pools

Free WiFi

Beachfront

Family rooms

Airport shuttle

Bar

Terrace

Garden

Kids' club

Cooking class

Karaoke (Additional charge)

Billiards

Children's playground

Games room

Fishing (Additional charge)

On-site coffee house

Bar

Restaurant

Fitness classes

Yoga classes

Spa and wellness centre (Additional charge)

Fitness centre

Sauna (Additional charge)
Room & Amenities
Amiana offers 153 spacious guest rooms in different types to choose, ranging from 48m2 deluxe room to luxurious sea view villa with private swimming pool up to 340m2. All rooms are furnished with interiors made from local materials with meticulous attention to every detail. The glass door provides a scenic view to the garden and beach side, which make you surrounded by the pristine charm of nature. In addition, the property has all the modern amenities you would expect, from the widescreen TV to the handcrafted marble bath that completes the luxury travel.
| Room Type | Maximum | Size |
| --- | --- | --- |
| Deluxe Room | 3 adults / 2 adults, 1 children | 65 sqm |
| Ocean Deluxe Room | 3 adults / 2 adults, 1 children | 70 sqm |
| Ocean Villa | 3 adults / 2 adults, 1 children | 80 sqm |
| 2-Bedroom Family Villa | 6 adults / 4 adults, 2 children | 120 sqm |
| 1-Bedroom Ocean Pool Villa | 3 adults / 2 adults, 1 children | 100 sqm |
| 3-Bedroom Ocean Pool Villa | 6 adults / 6 adults, 2 children | 450 sqm |
Highlights
Famous for one of the largest and most beautiful saltwater pools in Vietnam, measuring 2,500m2, Amiana Resort Nha Trang also owns two other infinity freshwater pool, all fringed by coconut trees and rocky promontory as if it's an oasis – a perfect getaway into the nature. From the swimming pool, you will admire the harmony of the blue color of the turquoise beach blending with a deep clear sky.
Food & Drinks
Amiana Resort Nha Trang presents an extensive culinary feast that satisfies the most discerning diners. Bacaro restaurant incorporates the Asian traditional culture into a diverse menu of international delicacies, which the food is served in small portions that create a widespread dining experience. Likewise, the extravagant seafood buffet will definitely be a favorite haunt for any seafood addict. Whether it's a sumptuous breakfast or a luxurious dinner, you can enjoy your time with loved ones by sharing delicious dishes and amicable atmosphere.
More resorts in Nha Trang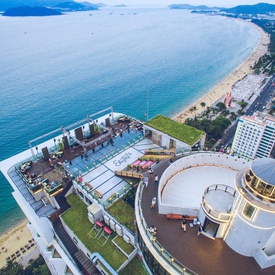 0.41 km ( 0.25 mil) from city center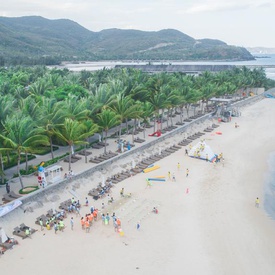 8.39 km ( 5.21 mil) from city center