An Lam Retreats Ninh Van Bay
4 things that we love most about An Lam Retreats Ninh Van Bay
High-end villas fuse with mesmerizing nature

Breathtaking sunset views privately on a catamaran

Fabulous snorkeling and watersports for adventure seekers

Ultimate seclusion in the luxurious resort, tucked down lush foothills
Overview
Forget the hustle and bustle of Nha Trang city hotels - Am Lam Retreats will expose you to a totally different world. The resort is characterized by secluded and rustic wooden accommodation floating on the surface of Ninh Van Bay's turquoise water. Needless to say, An Lam would make a perfect retreat for anyone seeking tranquility in modern life.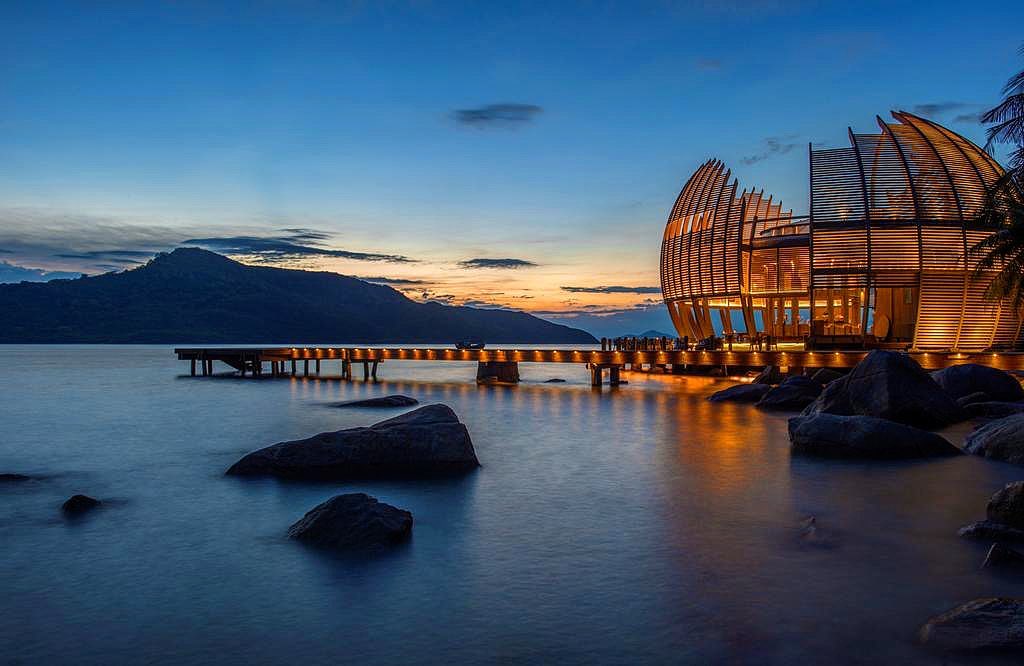 Photo: @luxury.travel.spots
Location
An Lam Retreat is set within Ninh Van Bay, a beautiful spot famous for its tender sand strip, mixing with colossal and majestic rock and primitive forest to create a serene atmosphere. As the place lies on Hon Neo peninsula, guests have to take the resort canoe in 15 minutes to transfer here. The journey is nice and short, but you have to prepare - the best is with a camera - for the great ocean and islands view on the way. The retreat also provides airport pick-up, which is approximately 50 minutes to travel from the airport to the port, to lessen the headache of finding transportation.
Service & facilities
On the first step of checking in, you are served with a welcoming drink inside the blooming lotus shaped restaurant. And continue from then on, visitors will be befriended with top quality service and facilities such as Jungle spa, a fitness center, and a floating restaurant. Everything is at your doorstep.
The Jungle Spa is the highlight of all facilities.
Located in the heart of those tropical trees and next to the waterfalls' calmful sound, the spa provides traditional and natural Vietnamese treatments, combined with modern programs to boost the rejuvenate effect to its limit. Finding deep relaxation time in the outdoor yoga classes, where every single breath is the absorbent of nature quintessence.
1 swimming pool

Free WiFi

Airport shuttle (free)

Bar

Beachfront

Private beach area

BBQ facilities (Additional charge)

Terrace

Garden

Billiards

Fishing

On-site coffee house

Bar

Restaurant

Yoga classes

Spa and wellness centre (Additional charge)

Fitness centre

Sauna

Ironing service (Additional charge)

Dry cleaning (Additional charge)

Laundry (Additional charge)
Room & Amenities
The retreat has 37 luxury villas amidst old green trees, boasting a spacious balcony, veranda, and a private jacuzzi. The decorations are modern but still mixing with the rustic and natural feeling of wooden materials. Row and row of light wooden strips cleanly wrap together; without the existence of a leaf roof, the whole area is still elegant while sticking close to nature.
Jungle Rock Villa: from the name, visitors can easily guess the location of this greenery abode. It nestled inside the primitive jungle with full top-notch amenities, from a working desk, coffee machine, and an outdoor bathtub. You can relax your soul in this wooden furniture and local brocade decoration while viewing the mountains and sea of rocks surrounded.
Bay View Pool Villa: aloof up on the second floor of the two-story condo, this villa houses a magnificent view of Ninh Lan Van bay by an open bathroom, an outdoor pool, and a resting area under the tree shadow.
Ocean View Pool Villa: booking this villa means you can get a panoramic view of the ocean while soaking in a wooden bathtub or the outdoor pool. The accommodation is equipped with a coffee machine, TV and free toiletries.
Treetop Pool Villa: flying above the ground 12m hillside, this villa has transparent glass walls and various poles surrounding the house to enhance the natural feeling. This will be an ideal stay for a fitness addict as you can only open the door after climbing 101 steps of the staircase.
Beachfront Pool Villa: staying next to the rocky beach, with just a few steps, guests can dip their foot in the cool ocean water. If you are too lazy to straighten up your body, a small pool on the terrace overlooking the clear ocean can be your water playing choice. The villa is covered in greens so suit yourself with any kind of swimming. Plus, the villa has two separate lounge rooms, in which one provides an outdoor area for leisure tea and coffee time.
| Room Type | Maximum | Size |
| --- | --- | --- |
| Jungle Rock Villa | 2 adults, 1 Children3 adults / 2 adults, 1 children | 95 sqm |
| Bay View Pool Villa | 3 adults / 2 adults, 1 children | 85 sqm |
| Ocean View Pool Villa | 3 adults / 2 adults, 1 children | 95 sqm |
| Treetop Pool Villa | 3 adults / 2 adults, 1 children | 95 sqm |
| Beachfront Pool Villa | 3 adults / 2 adults, 1 children | 105 sqm |
| Two-Bedroom Beachfront Pool Villa | 6 adults / 4 adults, 2 Children | 577 sqm |
| Three-Bedroom Beachfront Pool Villa | 9 adults / 6 adults, 3 Children | 577 sqm |
Highlights
This overlooking ocean retreat is an adults-only accommodation. It is an ideal place for couples on honeymoon, friends on vacation with a variety of romantic and bonding activities. Guests can book for water sports such as kayaking and fishing, a private time next to the Love pond, a trekking tour along An Lam river, a floating trip on a two-person boat to chase after the sun, or a diving journey under the water to take a glimpse of the marine ecosystem. Better yet, in the morning, floating breakfast is offered by a personal butler for lazy lovebirds who do not want to fly out of their nest.
Food & Drinks
Sen (Lotus) Restaurant, an elegant architect on the shore edge, offers guests fresh seafood, local tastes, and international dishes. A la carte and shoreside BBQ is available anytime you order. The restaurant also has indoor and outdoor areas to pamper visitors' preferences. Enjoy a golden sunset inside or feeling the ocean breeze touch your face on the outside, whichever you may fancy, Sen has places to serve.
Climbing to Sen restaurant's top is the Sen Deck, the place to ease your thirst with exotic cocktails and delicious Cicchetti. You can also come to this roofless lounge in the evening to find a relaxing tea break after a couple of rounds of swimming.
More resorts in Nha Trang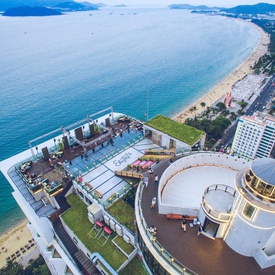 0.41 km ( 0.25 mil) from city center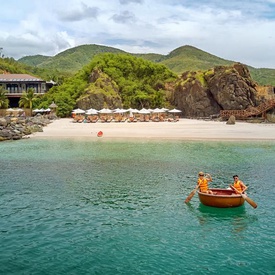 7.43 km ( 4.62 mil) from city center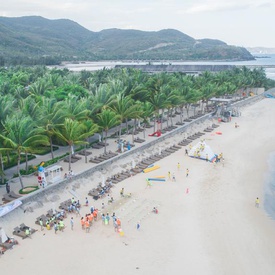 8.39 km ( 5.21 mil) from city center