Ninh Chu
Ninh Chu is a beautiful beach northeast of Phan Rang city, about 1 hour drive from Nha Trang.
Location
Ninh Chu is a beautiful beach northeast of Phan Rang city. It is popular with locals and has not gotten the pulling powers with foreign tourists yet. Thus, for the same reason, the beach can conserve the tranquility and naturally scenic setting. This bite-shaped beach is lined with idyllic poplar trees, possesses golden soft sand and features incredibly blue water as well as refreshing air.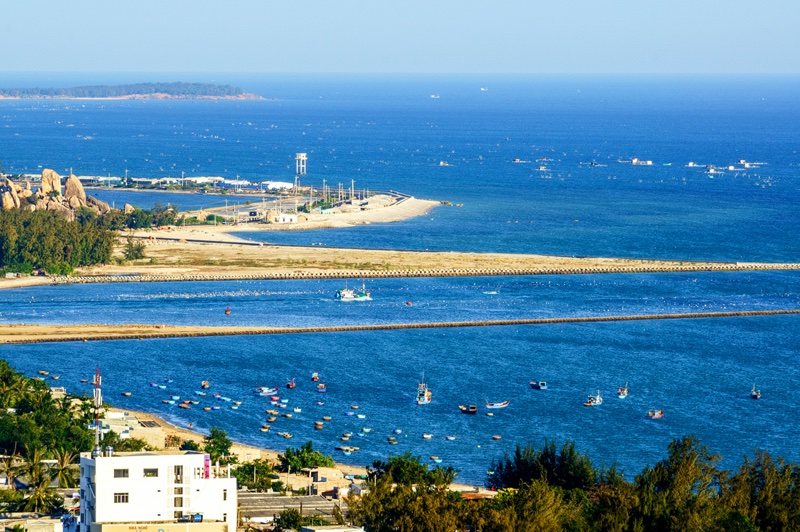 Sea gate Ninh Chu
Things to know before you go 
This 10 km long beach is definitely an attractive alternative to visiting the Charm ruins as the best activity in Phan Rang. It can also be an ideal place for a getaway from the hectic way of life, especially at midweek when the beach is at its calmest with few visitors and perfectly clean water.
Although the beach is relatively less invested than other famous attraction within the area such as Nha Trang and Mui Ne, it is receiving more attention as the next promising tourist destination in the near future. For this reason, there are more and more resorts and five-star hotels springing up. Moreover, entertainment types and facilities on beach are being developed and diversified by large in the recent years. Therefore, Ninh Chu beach will be able to provide both relaxation and vibrancy, meeting any singular demands.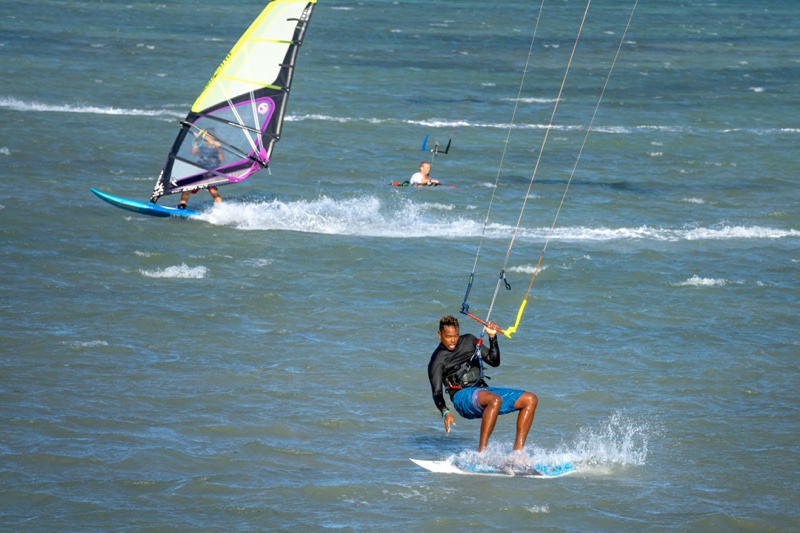 Kite surfing in Ninh Chu beach
How to get there
Ninh Chu beach is part of Phan Rang city. Therefore, the logic behind getting to this beach is to arrive at Phan Rang city first.
By plane
The nearest airport to Phan Rang is Cam Ranh International Airport, which is roughly 60km away from the city center of Phan Rang. You can choose to fly with either Vietnam Airlines or Vietjet Air from Ho Chi Minh and Hanoi. From the airport you can get to the beach by road via the scenic coastal highway 702 by taxi or via a shorter route along Highway 1A. The taxi ride for the later route is roughly 32 USD
By train
There is a train station at Phan Rang city. Thus, most of the trains departing from the Hanoi (60 USD) and the Ho Chi Minh (15USD) will stop at Phan Rang. The train station is just 15 km from the beach and you can easily get a taxi from the station. The taxi rate is at a rough estimate of 7 USD.
By bus
Phan Rang is approximately a six to seven hour drive from Ho Chi Minh at a rate of 10 USD. Getting to Phan Rang from Ha Noi is extremely long hour – around 28 hours and cost around 50 USD. Most bus companies will have options of dropping off at Phan Rang and getting a taxi from the bus station is rather straight forward.
Best time to visit
Ninh Chu is part of the driest region with an annual average temperature of 27 Celsius owing to its tropical monsoon climate. In Phan Rang, the weather doesn't have four seasons such as winter, spring, summer and autumn. Instead, the climate is divided into only two seasons called rainy season from September to November and dry season from December to August. 
Ninh Thuan province, in which Ninh Chu is situated, is definitely not the place with comfortable weather to live in. In fact, it could become extremely hot and dry at certain periods of the year. Therefore, it is advisable that tourists arrange your tour during the cooler months from December to January when the temperature is less extreme.
What is more, from September to November is also the time to be avoided since there will be heavy rainfall and sometimes severe storms. If your travel plan to Ninh Chu is set for the months of September, October and November, please be reminded that stormy weather can be unexpected, which will greatly affect your experience there. Therefore, a good advice is to closely keep abreast of the weather forecast and be flexible to adapt to the constantly changing climatic conditions.
Ninh Chu beach in summer
Useful Information
Location: Ninh Chu, Phan Rang, Vietnam
Best for: Solo, couple, family, group
Entrance: Free
Hours: 08:00am to 20:00pm
Conversations (0)
Join the conversation
Conversations
Join the conversation
ALL COMMENTS (0)
There are no comments. Add your comment to start the conversation.
Other beaches near Nha Trang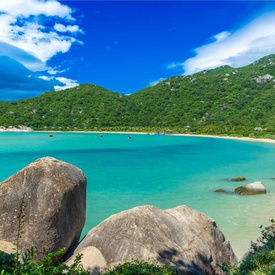 Best time to visit Nha Trang is from February to August during its dry season.
1.72 km ( 1.07 mil)