La Veranda Resort Phu Quoc - M'Gallery
5 things that we love most about La Veranda Resort Phu Quoc - M'Gallery
Feast your eyes on the 1920s French-style mansion on the beach

Diverse accommodations including rooms, suites, and villas of all sizes

Private balcony or terrace in every room

Sumptuous spa and wellness services

Gourmet experiences with Vietnamese and French cuisines
Overview
Set in a passionate revival of a French-colonial mansion, La Veranda Resort is surrounded by lush tropical gardens and flower-lined patios along a stretch of sandy beach in Phu Quoc - Pearl island of South Vietnam. Antique-style rooms with sea or garden views feature retro furnishings created by local artisans; this beautiful boutique resort has a truly nostalgic vibe that will bring you back to the olden days of colonial Indochina.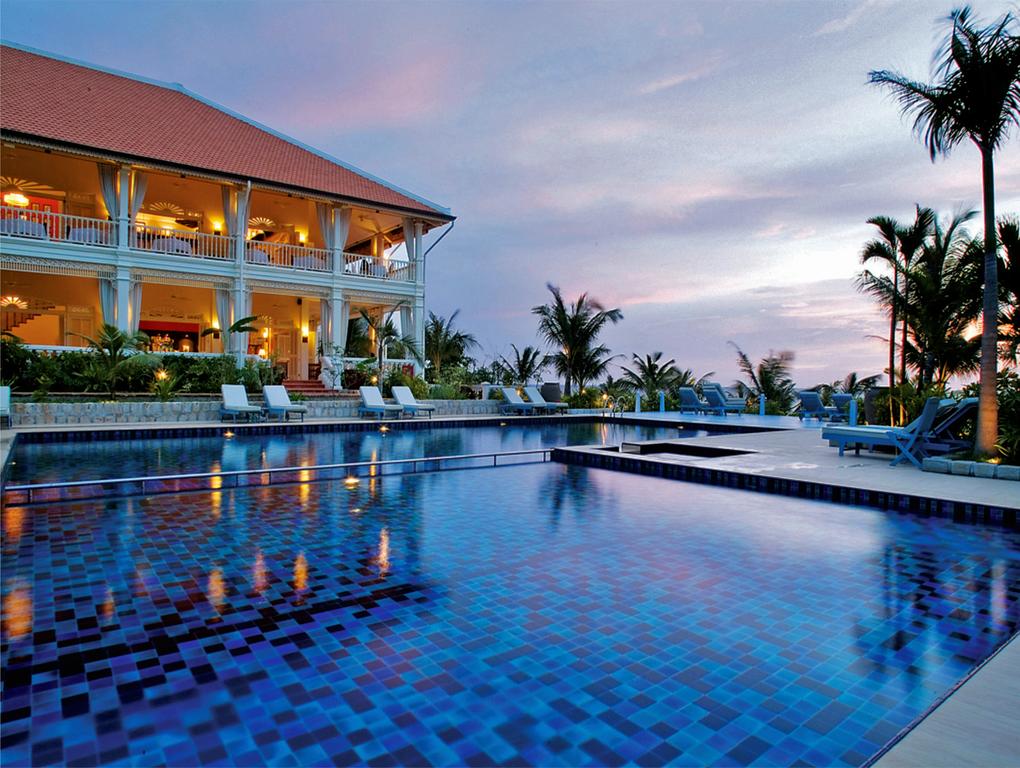 Location
La Veranda Resort is nestled in a quaint alley, right at the center of Duong Dong town, Phu Quoc, where you can admire the crystal blue waters of the Gulf of Thailand at first sight. This beach boutique resort is 35 km away from Phu Quoc International Airport. Hence, the ride only takes ten minutes from the island's airport to the resort's gateway. Phu Quoc Night Market is only a 10-minute walk, so travelers can easily take an excursion to uncover the hidden trait of the island after twilight.
Service & facilities
Taking the first step to this elegant boutique resort, travelers will be welcomed with the touch of flower and herb-scented hand towels, cool bottles of water, and attentive staff dressing in traditional Ao Dai before they arrive in the hotel's luxury suites.
Set in a French-style seaside mansion, every corner of La Verada is inspired by the charming architecture of the 19th-century while still maintaining the 21st-century standards of a luxury 5-star hotel. Elegant suites of room and villas come with leafy gardens and an aquamarine pool. The luxurious over 2000-room property features a long list of amenities including a pampering spa, private aquamarine pool, 24-hour front desk, and even business facilities.
Dining under thousand stars at one of the most renowned resort's al fresco bars and restaurants, with cuisines ranging from scrumptious Vietnamese dishes to premiere steaks seasoned with herbs on the beachside will be one of the most unforgettable experiences in your journey.
1 swimming pool

Beachfront

Airport shuttle (free)

Family rooms

Fitness centre

Bar

Kids' club

Water sport facilities

Cycling

Table tennis

Games room

Restaurant

Free public parking

Fitness centre

Sauna

Laundry
Room & Amenities
La Veranda offers a broad selection of accommodations, from Deluxe Room with a garden view to the luxury Oceanview Villa. Unlike the monochromatic suites at any other massive resort, each room at La Veranda has its own charm and trait to indulge even the most fastidious traveler. The owner of the resort bodily chose the paint colors in each room, which range from soft lilac to creamy yellow or the crystal deep blue of Phu Quoc sea. The peaceful ambiance, retro furnishings created by local artisans, and a dreamy soft bed add to the feel of elegant and ultimate luxury.
This resort features a private terrace to every room, overlooking the pristine beach or lush tropical garden. Sitting on the private terrace overlooking the sparkling water of the Gulf of Thailand, you're sure to be mesmerized by the speechless beauty of the Pearl Island during and even long after your stay. All rooms come with high-speed Wi-Fi, flat-screen televisions, all-day room service, and other amenities that visitors come to expect from 5-star luxury. And every morning, an unexpected sweet treat is delivered to your door, along with a leaflet of La Veranda's special events.
| Room Type | Maximum | Size |
| --- | --- | --- |
| Deluxe Garden | 2 adults / 2 adults, 1 children | 38 sqm |
| Premier Garden | 2 adults / 2 adults, 1 children | 46 sqm |
| Premier Ocean | 2 adults / 2 adults, 1 children | 46 sqm |
| Executive Premier Garden | 3 adults / 3 adults, 1 children | 55 sqm |
| Classic Garden Villa | 3 adults / 3 adults, 1 children | 63 sqm |
| Memorable Premier Ocean | 3 adults / 3 adults, 1 children | 53 sqm |
| Junior Ocean Suite | 3 adults / 3 adults, 1 Children | 73 sqm |
| La Veranda Ocean Villa | 3 adults / 3 adults, 1 Children | 71 sqm |
Highlights
What makes La Veranda outstanding among hundreds of renowned coastal resorts around the country is French colonial architecture that's reminiscent of a European mansion in the 1920s. Subtle and elegant in every single detail, beautiful corners of this hotel may bring you back to the old times.
Another spotlight is renowned wine reception in the on-site garden and special afternoon tea with sweets and savories, which is inspired by the beautiful blue and white vintage teapots that the resort's owner collected over the years. For unwinding and relaxation, guests can go fishing, snorkeling or swimming a few laps in the outdoor private pool.
Bicycle rental service is also available, offering a great option for guests to uncover the resort's surroundings. Being a tropical paradise of golden sunshine and white sandy beach, this boutique hotel is the perfect idea for romantic vacations and intimate weddings.
Food & Drinks
Every day at La Veranda Resort Phu Quoc, you will be offered a different food and beverage experience.
Ranked to be the best restaurant on Phu Quoc Island by Tripadvisor, Pepper Tree Restaurant is definitely the star of the resort for a luxury dining out. This renowned restaurant allures guests with breathtaking panoramic sunset views and the stunning award-winning dishes that will take your fine dining experience to another brand-new level.
Meanwhile, Le Jardin Restaurant is famous for its weekly BBQ nights on the beach, which will feast you on freshly caught seafood that is grilled as ordered. After a long day on the beach, you can head to Le Bar to sip a refreshing cocktail while immersed in live music performances and a tranquil ambiance of this gentleman-style bar.