Nha Trang
Nha Trang nature is endowed with not only for the crystal-like waters and the pristinely white sand of Nha Trang's 6 km beach but also for the many idyllic surrounding islands, which will definitely guarantee you an exotic get-away from the bustling city.
Location
Nha Trang Beach is the most famous beach in Vietnam for both blissful nature and the touristy enthusiastic atmosphere. It takes 1.5 hours to fly to Nha Trang from Hanoi, and a mere 35 minutes from Ho Chi Minh City.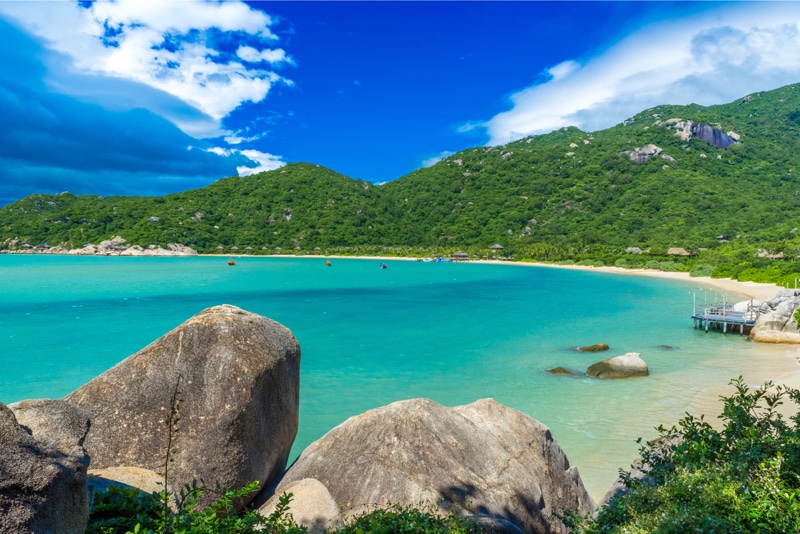 Nha Trang Beach
Things to know before you go
The rather peaceful yet energetic modern city brimming with tall green mountains in the background lie along the gently curved stretch of dazzling white sand . This perfect combination of human construction and natural beauty comes together with the amazingly clear water, colliding with the vast blue sky at the faraway horizon, which makes up the one of most spectacular settings of the country. Owing to the demand for tourism, the beachfront has gone under many makeovers for the past few years, with well looked after pretty parks, interestingly creative sculpture gardens and long lines of neatly prune trees rarely seen anywhere else spread along the shorefront. These parks and gardens serve as an ideal alternative to the beach as a place for a romantic long walk.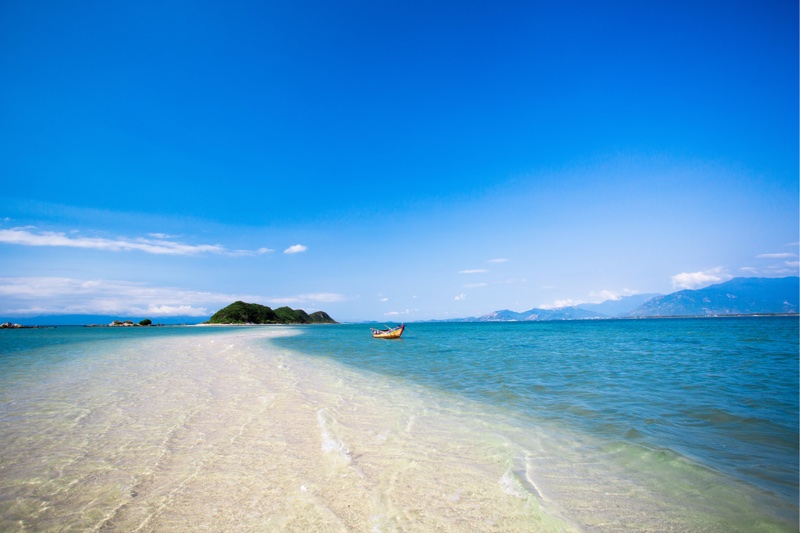 Peaceful beach in Nha Trang
How to get there
Getting to Nha Trang from main cities such as Ha Noi and Ho Chi Minh city is rather straightforward as Nha Trang is a popular destination for both national and international tourist. Tourists have 3 main options, including taking a flight, going by public train or private tourist bus.
By plane
Flying is the most popular option for those who have tight schedule or simply prefer the convenience of flight services. Flying is more expensive in general but can still fluctuate, depending on the companies you are flying with. Vietnam Airlines will charge from US$45 to connect Nha Trang with Ho Chi Minh and from US$42 to connect Nha Trang with Hanoi. If you are tight for time but still want to save money, consider low cost airline such as Vietjet Air.
By train
Although traveling by train means long hour but you can enjoy terrific view from the window. Traveling on the road rather than by air offer you the chance to see the country's beautiful and diverse landscapes unfold before your eyes as the train rumbling from provinces to provinces. The trains from Ha Noi and from Ho Chi Minh city take roughly 23 hours and 8 hours respectively.
By bus
Another option to choose from is by bus. Travelling by bus still offers you the chance to enjoy the landscape. It is usually cheapest option but is often considered not as safe as the train. Therefore, travelling with a well known and trusted company is important. Some of such choices are Sinh Café and Hoang Long.
Best time to visit
You can enjoy your stay at NhaTrang any time during the dry season from Febuary to early October. NhaTrang's weather is generally cool, moderate and has a soothing feeling owing to surrounding water. The temperature is around 25-17 Celsius for the dry seasons except the two hottest months of the year – July and August, when the temperature during the day can climb up to 40-42 Celsius.
The only time to avoid is the rainy season, which often sees heavy rains, violent storms, wind chill and even some risk of typhoon devastation at the heart of the rainy reason. Those who visit Nha Trang during this time of the year are strongly advised to keep abreast of the local weather forecast to make plans accordingly.
As long as you don't travel from October to end of January, you will certainly see the clear blue water as advertised on the tourist brochure. However, summers are a bit hot for many tourists not from tropical countries, especially during the months of July and August. They are, nevertheless, the most suitable months for photography lover, ecotourism, ocean tourism and water sports. Also, if your trip is firmly scheduled for July and August, then you might want to consider Hon Ba as your priority item on the attraction list as the cool climate from the mountain will help you fight back the heat. For those who want to avoid the humidity and the scorching heat, you can visit before the end of Jun when you can still enjoy clear blue sky and crystal-like water.
What is more, if you are into diving, you will want to avoid any time between late October and early January, which is the worst time for diving. For any month, before 1 pm is still the best time to spend on the beach as many may feel uncomfortable with the afternoon sea breezes, which will only back down after dark.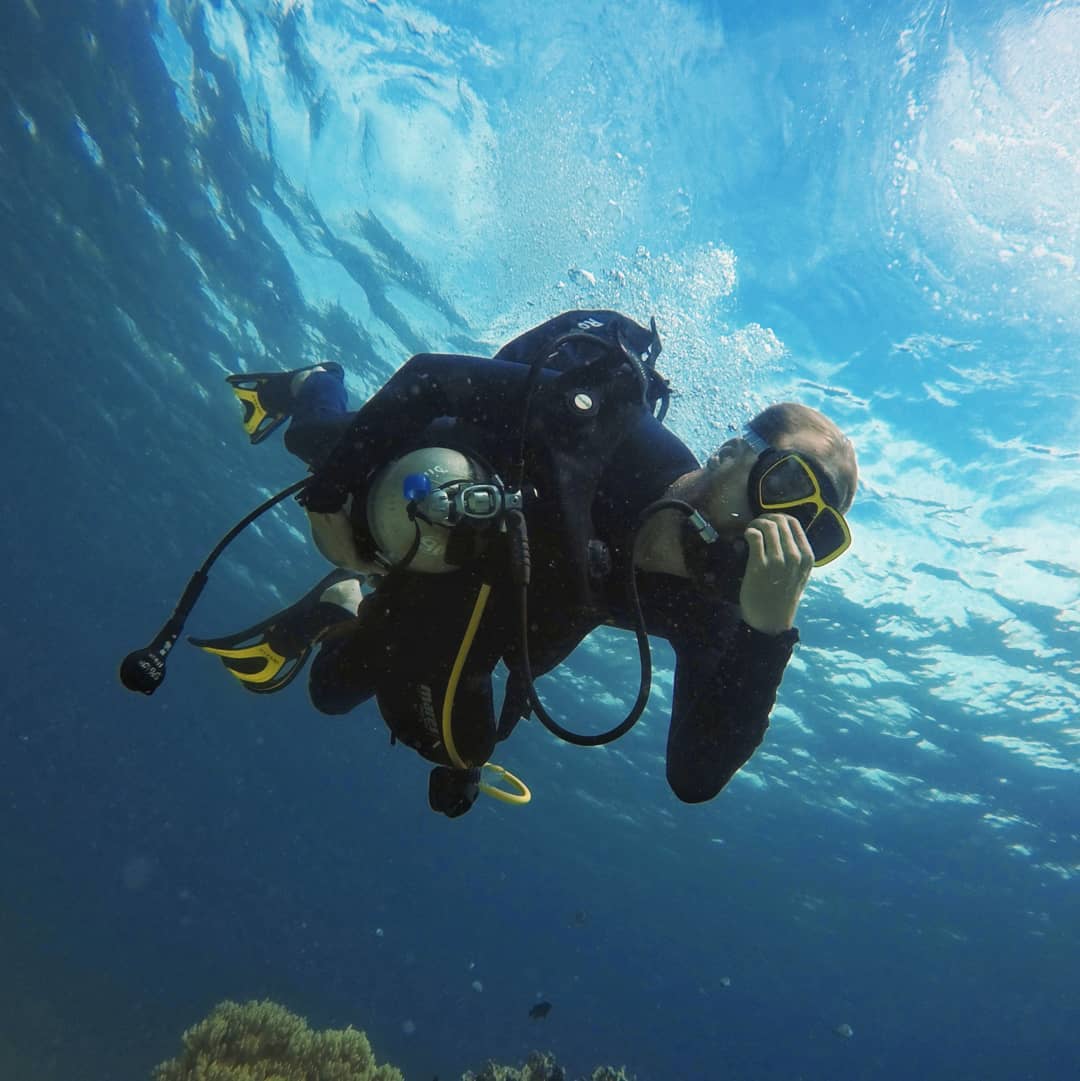 Photo: @gregory_diver
Things to do on Nha Trang beach
Boat cruises
As mentioned earlier, Nha Trang scenic nature is blessed with more than 70 islands, some of which are truly gateway to heaven with their unspoiled idyllic charm. Therefore, taking an island-hopping boat cruise should be a priority on the list. Many of the package tours have trip to the most famous island such as Hon Tre, Hon Mieu and Hon Lao, which surely deserve your visit.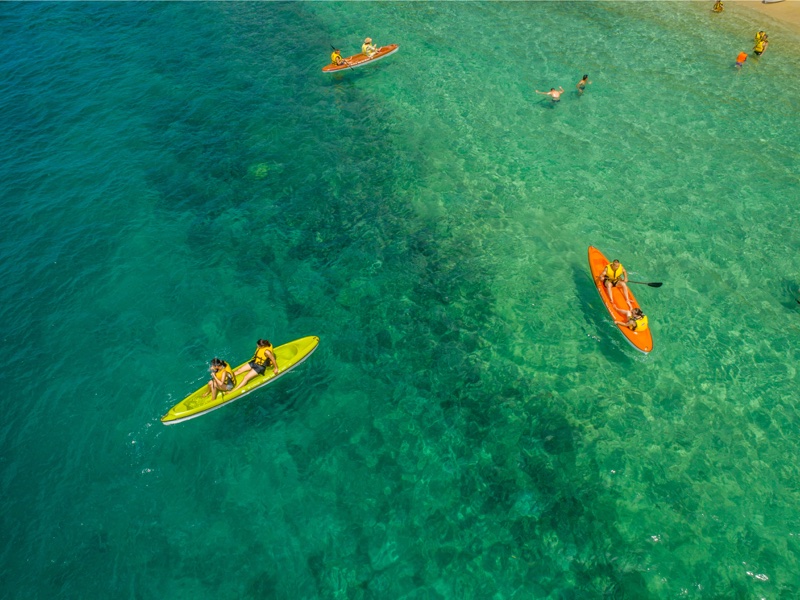 Sport activities in Nha Trang
Diving & Snorkeling
Nha Trang is the premier water sport locale of Vietnam, especially for diving. This is owing to the sea water's visibility up to 30m depending on the weather and the season.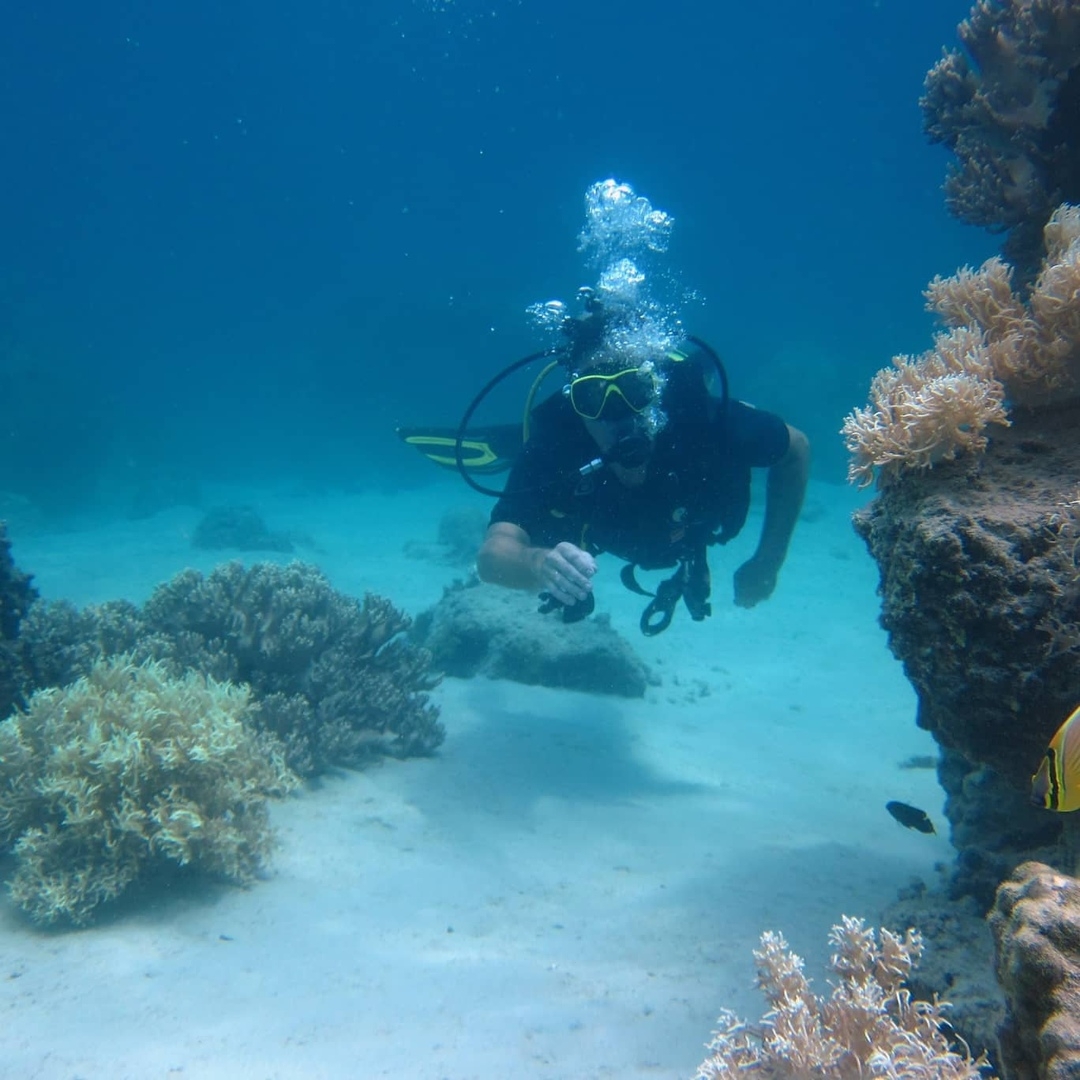 Photo: @diving_country
There are a wide range of dive shops and dive sites within the area to choose from. Many of the dive operators offer diving lessons suitable for all level of experience as well.The lack of ship wrecks to visit is made up for the superb underwater caves to explore and the colorful variety of soft and hard corals as well as the pretty shoal of tiny reef fish.
Amusement park
Right on the beachfront sits the Phu Dong water park. But the most fanciful amusement park status sure belongs to Vinpearl Land – NhaTrang's response to Disneyland. It is, to be exact, an entertainment complex including amusement park, restaurants and resorts but is most well-known for its amusement park. It offers adrenalin raising rides, world-class water park, world's longest over-the-sea cable car and biggest wave pool in Southeast Asia. Most hotels provide services to buy Vinpearl Land tickets but you can also buy the tickets yourself. Contact Vinpearl Land: Tel: 3590111, www.vinpearlland.com;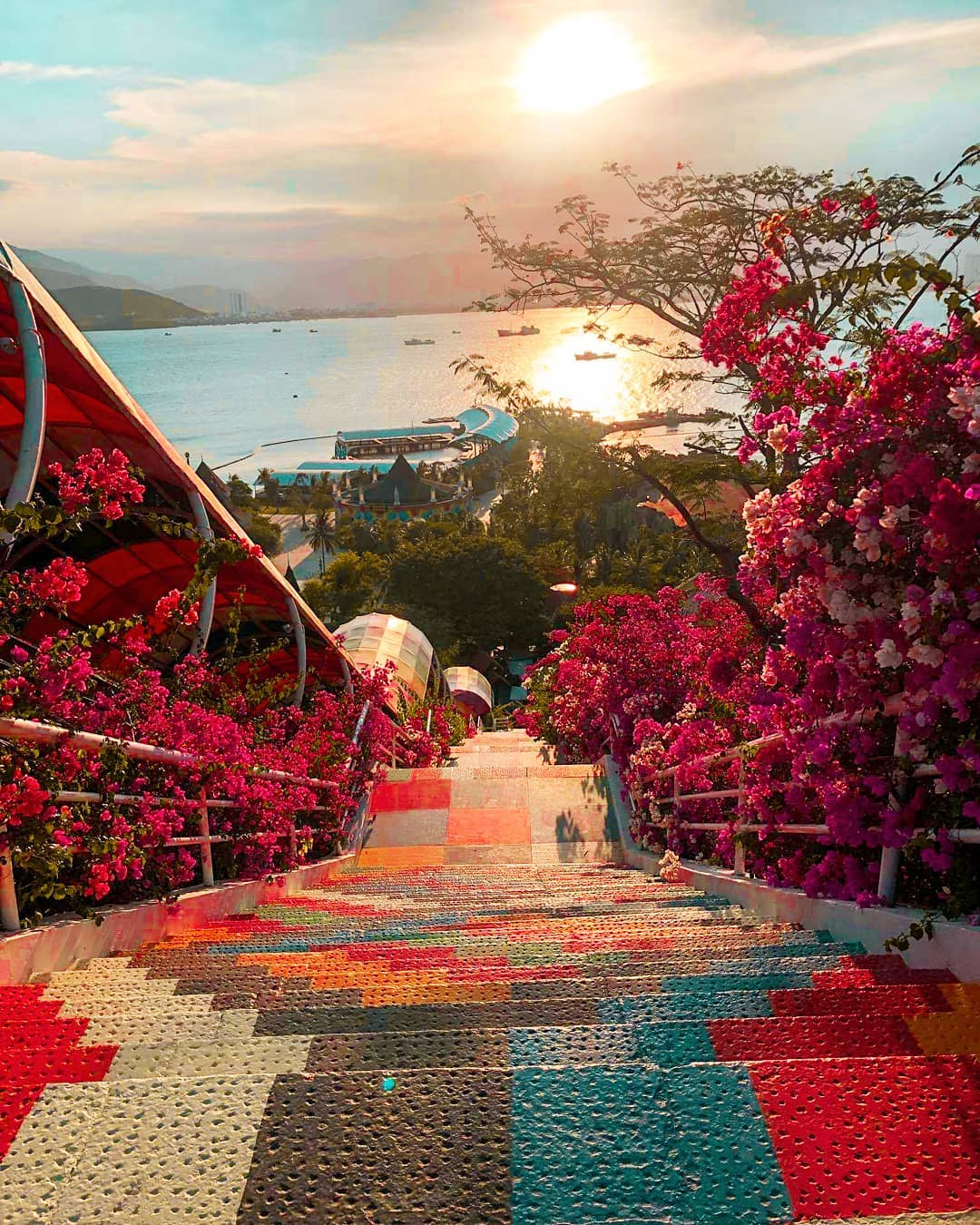 Vinpearl Nha Trang. Photo: @ngaf_nt
Hot air balloon ride
Hot air balloon ride used to be operated on Hon Tam island but was later moved to a new centernear Pham Van Dong Street. The hot air balloon rides are considered safe with standard protective net and handrails so you can perfectly rest you mind to enjoy the terrific panoramic view of the city and marvelous blue bay from height of 150 metres.
Useful Information
Location: Nha Trang Beach
Best for: Solo, couple, family, group
Entrance: Free
Hours: 08:00am to 20:00pm
Conversations (0)
Join the conversation
Conversations
Join the conversation
ALL COMMENTS (0)
There are no comments. Add your comment to start the conversation.
Other beaches near Nha Trang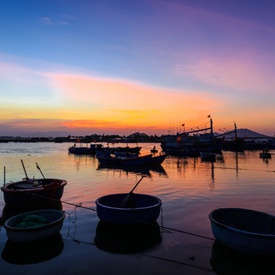 Ninh Chu is a beautiful beach northeast of Phan Rang city, about 1 hour drive from Nha Trang.
74.57 km ( 46.34 mil)