Quy Nhon
Thanks to its well-planed urbanization, smart public infrastructure and litter-free streets, Quy Nhon is an ideal place for people to retire to.
Location
Quy Nhon is a coastal city blessed with a fantastic long stretch of sandy beach, extending from the port in the north to the mountains in the south. The scenic seaside and the tidy streets make it now as nice as Nha Trang with much fewer tourists, which can promise you more peace and space.
The beach is 4 hours north of Nha Trang by car and 1.5 hours from Hanoi by flight.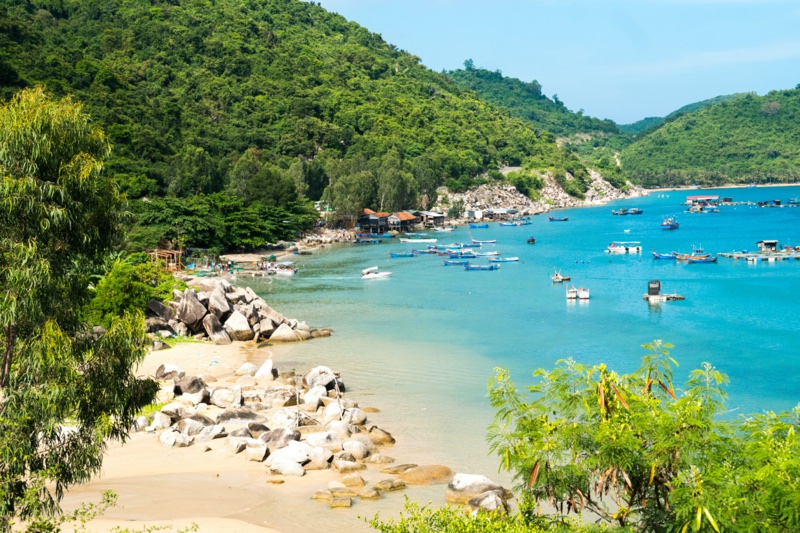 Quy Nhon beach
Things to know before you go
For tourists, the beach is best for unwinding and treating oneself to some luxury. Immersing themselves here, tourists can experience and embrace the slow-paced daily life of local people. Huge boulevards are lined with groves of coconut trees, under which local people practice tai chi every morning. The town has a few attractions to give tourists an excuse for a leisurely walk around tidy, well-kept streets. One of those landmarks is the enormous statue of Tran Hung Dao pointing his finger towards the north, which many tourists choose to climb and then peak out onto the view through the big eyes. 
Further south, there are fewer and fewer residential buildings. From there, it opens up to a park-like promenade and luxurious hotels, which guarantee tourists the best relaxing vacation overwhelmed with spa treatment and nature's peace. The beach there is more romantic, tranquil and hidden from the bustling of the city.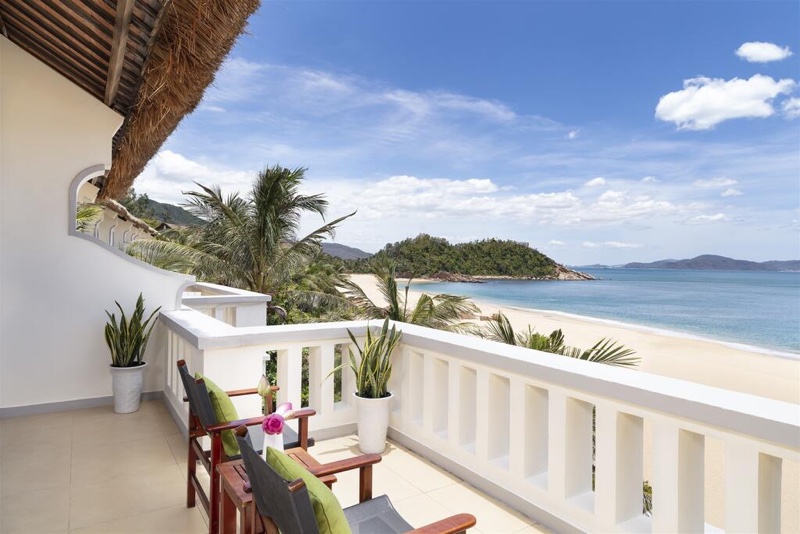 A resort in Quy Nhon
How to get there
Quy Nhon beach is rather straightforward to travel thanks to its characteristics of being a municipal beach.
By plane
There is a domestic airport at Quy Nhon. Thus, reaching here from Ho Chi Minh and Hanoi is totally possible by plane. The plane fare from Ho Chi Minh is around 50 USD for economy class by Vietnam Airlines; the fare from Hanoi is more expensive and priced at 70 USD.
By train
It is also possible to travel by reach to visit Quy Nhon, at a relatively cheaper rate than by air. Another perk of traveling by train is the chance to see the countryside along the way, which is a terrific experience. Train fare depends on type of seat and class you want.
By bus
Vietnam is a country where tourists can easily get to anywhere by cheap commercial buses. However, it has a reputation for not being safe enough. The solution to this problem is to pick a good company. One popular choice is Hoang Long.
Best time to visit
Vietnamese local people usually choose to visit the beach during the summer months, which is probably owing to the high temperature and the summer vacation of the children. During such time, the beach is a little more packed with families and friends getting together to enjoy their time at the beach. But, in a sense, the beach will also become livelier with kids playing cheerfully and adults chatting vigorously. 
However, if you are seeking peace and tranquility, spring and fall might be a better choice for you, when the sea is still calm and the weather is not scorching hot. Traveling to Quy Nhon beach during spring and fall is also the choice for those who cannot cope with the high temperature of 40 Celsius during the summer months. What is more, tourists are recommended not to plan their vacation to Quy Nhon during the winter months, which ranges from October to end of January. This is due to strong wind, rough sea water and occasionally storms or mild typhoons.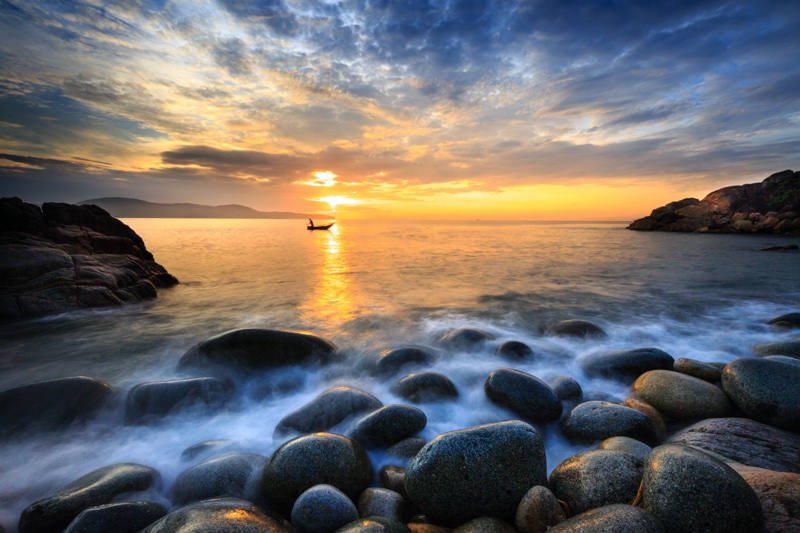 Beautiful beach in Quy Nhon
Useful Information
Location: Quy Nhon, Binh Dinh
Best for: Solo, couple, family, group
Entrance: Free
Hours: 08:00am to 20:00pm
Conversations (0)
Join the conversation
Conversations
Join the conversation
ALL COMMENTS (0)
There are no comments. Add your comment to start the conversation.