Mia Resort Nha Trang
5 things that we love most about Mia Resort Nha Trang
Boutique beachfront resort in contemporary style

Best choice for families and big groups

Private infinitive pool, and BBQ area

Each residence has its own entertainment room

Dining by the sea with premium specialties
Overview
The idyllic Mia Resort lies on the bank of Bai Dong Beach, Nha Trang and has an attractive appeal towards tranquillity lovers.
Mia is designed in complete harmony of the natural environment; the rooftops are furnished with lush garden to add more flavor in the poetic landscape. The rooms are fully furnished with modern style interior and eco-friendly atmosphere. Mia Resort pampers the guests with relaxing massages and luxury amenities. All the rooms have divine outlook of posh gardens, exclusive pools, and exotic ocean waves. The resort features best of Vietnamese food in the top-class and famous restaurants. It is a perfect place to enjoy a ravishing and comfortable stay in Nha Trang.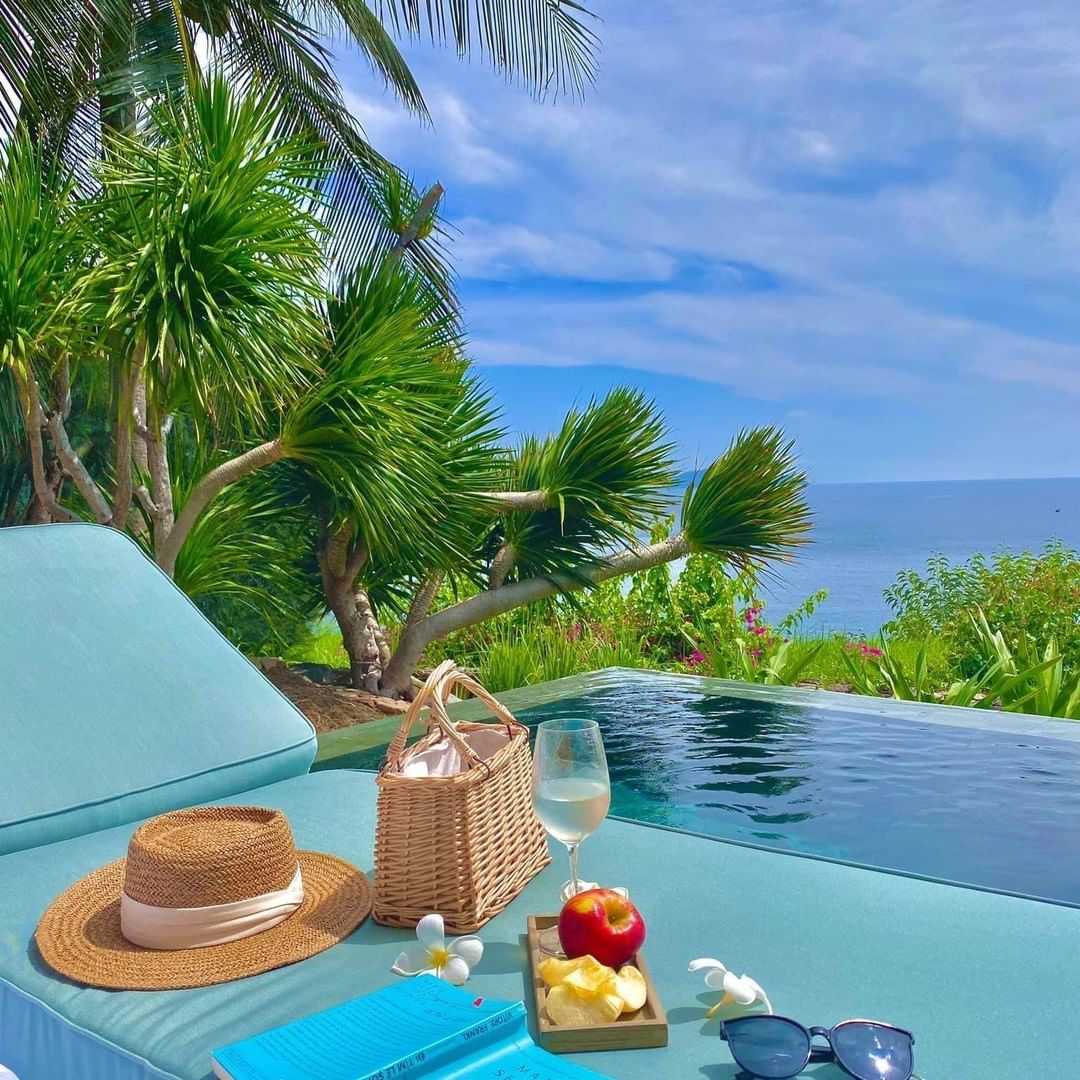 Location
Located on top of a sloppy cliff in Bai Dong Beach, Mia Resort is 20km southward to the Nha Trang city center and about 15km from Cam Ranh airport. The establishment stays on Nguyen Tat Thanh Street - the home of many luxury beach side resorts - the must-crossing-path from the city center to the airport. Although it is quite far from the bustling breath on the look, but for a mood changing, there is still a shuttle bus service or even a cheap taxi route to help you reach modern life.
Service & facilities
Mia Nha Trang welcomes guests with a private beach, infinity swimming pool - children pool is also available, fitness center, spa service, sailing & dive club, and repeated cooking classes.
Unlike beaches in Nha Trang, you can enjoy a morning day basking under the sun without the disturbance of the crowd on the private beach or dipping your foot in the East Sea water in the outdoor pool while admiring the stunning vista of the hills and ocean. Xanh (green) Spa hosts free facial and body massage on a fixed schedule with the aid of skillful hands from the professional spa master.
With care for its guests, the ingredients used in wellness treatments are proud to be extracted from natural plants and flowers. Another killing point besides the high-quality facilities, the staff at Mia is exceptionally enthusiastic, fluent in Vietnamese and English, and is available all the time to provide help to the guests.
1 swimming pool

Free WiFi

Beachfront

Family rooms

Airport shuttle

Bar

BBQ facilities (Additional charge)

Terrace

Garden

Cooking class (Additional charge)

Tennis court

On-site coffee shop

Breakfast in the room

Bar

Restaurant

Free private parking is possible on site

Yoga classes

Massage (Additional charge)

Spa (Additional charge)

Fitness center
Room & Amenities
There are three types of accommodation at Mia: private suite, villa, and condo, all surrounded by manicured grass and plants to maintain utmost privacy.
Room decor is the perfect harmony of minimalist and California beach green style. The rooms are spacious, and you can choose one that overlooks the lush garden, the ocean, or sit right beside the white sand. All the resort rooms are fully equipped with air conditioning, wi-fi, flat-screen TV, and a free beverage corner.
Some villas even "arm" with an outdoor bathing section, a private pool with resting chairs to increase visitors' leisure level. In addition, the resort is working on expanding its space with lots of residences being built.
| Room Type | Maximum | Size |
| --- | --- | --- |
| Garden View Condo | 2 adults / 2 adults, 1 children | 70 sqm |
| Beachfront Condo | 2 adults / 2 adults, 1 children | 70 sqm |
| Family Beachfront Condo | 3 adults / 2 adults, 2 children | 60 sqm70 sqm |
| Garden Villa | 2 adults / 2 adults, 1 children | 175 sqm |
| Beachfront Villa | 2 adults / 2 adults, 1 children | 165 sqm |
| Cliff Villa | 2 adults / 2 adults, 1 children | 145 sqm |
| Two Bedroom Cliff Villa | 4 adults / 4 adults, 2 children | 355 sqm |
Highlights
The resort derives its name from the word sugar cane (mía) in Vietnamese, a friendly word that ignites this beachside accommodation's eco-friendly purpose. Thriving from environmental intention, Mia Nha Trang boasts the "green" principle in all its aspects, from the architecture and facilities to the surrounding.
The beachfront private houses are nestled inside an open space full of lush palms and grass, offering a soothing combination of color with the sea blue. To insulate against Nha Trang scorching sun and hot wind, the top of the villa areas are all covered in high resistance top picked grass, and the interior is all of the natural heat resistance sources.
And in the afternoon, visitors can blend in with the calming sunlight on the verdant ground to participate in the daily fitness and yoga, meditation classes.
A strong bond with nature is guaranteed when residing in this modern yet environmentally friendly resort.
Food & Drinks
Mia Resort provides three luxury yet casual restaurants and bars in the heart of its well-cared gardens. All of them meet with the fusion of traditional Vietnamese and international cuisine.
Sandals Restaurant & Bar
Picking a spot under the grass roof or beside the pool, travelers are promised an abundance of flavor, from local seafood to international grill meats. Guests can laze around and enjoy food and drinks served in this friendly atmosphere.
La Baia Italian Restaurant
Now open to private guests and order in advance is a must, the restaurant brings to Central Vietnam get-away hutch an Italian touch in the evening and a European bittersweet coffee in the morning. When sitting in the restaurant, guests can witness the bay's beauty and the stunning shore as the place opens up to a large outdoor space.
Mojito's Lounge & Bar
Fusion drinks, live music, and the breathtaking view of the beach in front sure please any grumpy personality happens to cross this reception side beverage area.
Besides various tastes of the above dine and wine, the Themed Dinner activity took place on select weeknights to cater to guests' needs for a romantic beachside experience.
More resorts in Nha Trang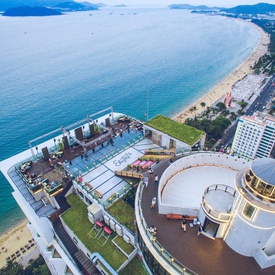 0.41 km ( 0.25 mil) from city center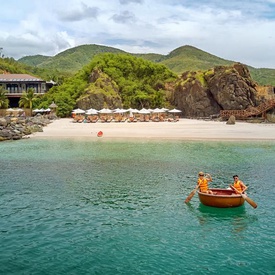 7.43 km ( 4.62 mil) from city center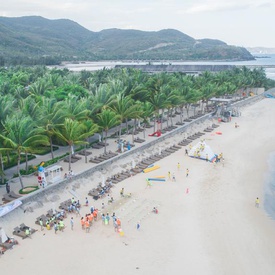 8.39 km ( 5.21 mil) from city center