Hyatt Regency Danang Resort and Spa
4 things that we love most about Hyatt Regency Danang Resort and Spa
A striking outdoor wedding venue and plenty of room for guests

Excellent Mediterranean cuisine at Green House restaurant

Genuinely tranquil escape on one of the most alluring beaches in Vietnam

Contemporary design with a touch of Vietnamese rustic elements
Overview
Extremely luxurious and well-furnished interior of Hyatt Regency leaves the tourists in awe of admiration. The architecture of Hyatt Regency is contemporary with a tint of Asiatic styles and the resort is well-furnished and built keeping in mind the comfort and standard of local as wells as international tourists whether they are single, couples or families.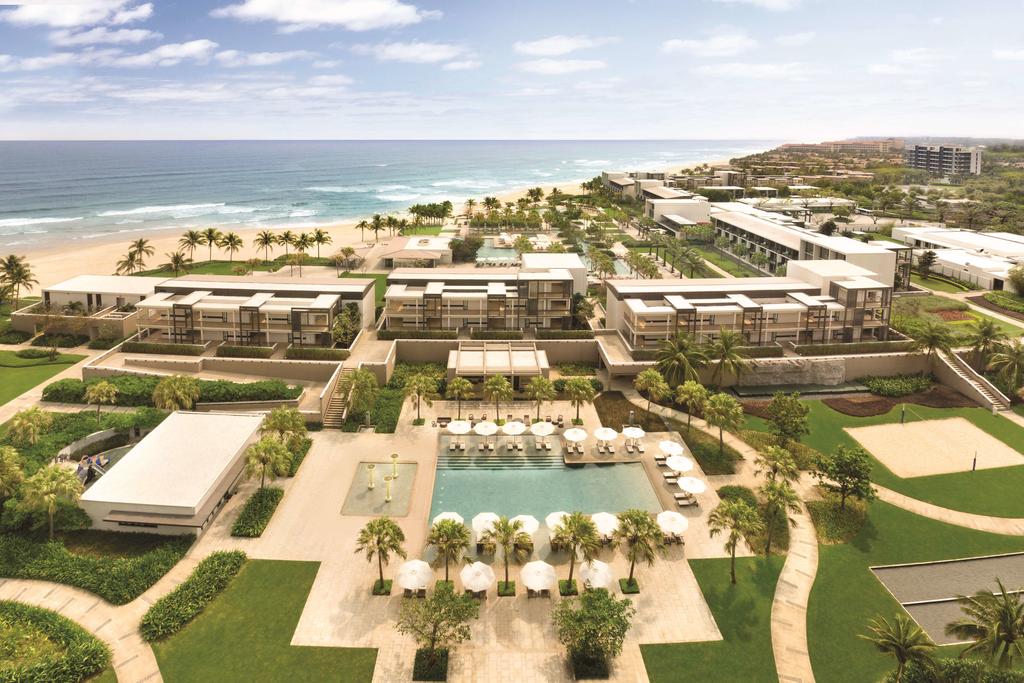 For almost 10 years, Hyatt Regency Danang has built up its solid reputation as one of the most luxury all-inclusive resorts in one of the city's best beaches. Lying on an unspoiled stretch of white sandy Non Nuoc Beach, framed by the renowned Marble Mountains, this 50-acre resort offers the breathtaking views of the vast ocean, Cham Islands and endless tropical forests behind.
Location
The resort is set right along the main road linking Da Nang and ancient town Hoi An. Hence, travelers can take an advantage of its prime location. It only takes a 5-minute ride to get to the famed Marble Mountains as the resort is situated right on its foot. The marvelous Lady Buddha is a 20-minute ride while the famed Hai Van Pass can be reached by a 1-hour ride. Da Nang – the trendy city with dozens of culinary options - is accesible in about 15 to 20 minutes by car. It takes about a half-hour to get to the gorgeous ancient town of Hoi An to indulge in the peaceful ambiance of thousand paper lanterns on the streets. Danang International Airport is a 20-minute drive from the hotel.
Service & facilities
Beyond the finest, Hyatt Regency Danang Resort and Spa offers elegant 5-star accommodation, first-class facilities, and a superb service, catering to families, couples, and business travelers. It features a total of 5 swimming pools, 5 dining venues, and a dozen amenities. Anyone who craves a relaxing beach holiday will discover plenty of activities within the resort's private and luxurious grounds.Daily hassles and worries fade away when you enter the resort's pampering spa. Let the herbal and hot stone massages release you from the stress. Obviously, doing exercises is the best way to keep you healthy.
Knowing that fact, this resort offers a 24-hour fitness center with a various range of cardio and strength-training machines, along with whirlpools, cold plunge pools, steam rooms, and saunas. Already experienced outdoor activities? It's time to give the indoor zone an interest. Here, you can unwind with a broad selection of video games, a pool table, and an area for arts and crafts. The resort indulges sports lovers in a rock-climbing wall, a volleyball court, and a tennis court outdoors. Yoga, morning stretching, meditation sessions on the beach, and cardio activities are all available for customers.
With high-end services and the bevy of attentive staff, you'll never feel stranded here.
5 swimming pools

Free WiFi

Family rooms Spa and wellness centre

Good fitness centre

Tea/coffee maker in all rooms

Bar

Private beach area

BBQ facilities (Additional charge)

Terrace

Garden

Kids' club (Additional charge)

Billiards

Children's playground

Golf course (within 3 km) (Additional charge)

Tennis court

Shuttle service

On-site coffee house

Snack bar

Bar

Restaurant

Free private parking is possible on site

Yoga classes

Fitness

Sauna
Room Types
Hyatt Regency Danang Resort boasts 198 guestrooms and suites, 160 one-to-three-bedroom residences and 22 villas with private pools. Guestrooms comfort you with king beds topped with crisp duvets and four pillows, sofa beds and private terrace overlooking the azure ocean.
Tranquil ambiance makes your stay an ultimate relaxation experience. double the size of a guest room and suites are equipped with bonus amenities such as espresso makers, full fridges, and TV speakers in the bathroom, great for group gatherings or company trips. Residences are situated in several nine-story buildings and feature large bedrooms (range from one to three), a full kitchen, and a separate living room with big windows, aiming at creating a serene and airy living space for families of all sizes.
Ultra-luxury villas are located in a separate area within the grounds, featuring three bedrooms, one of which is intended to be for the nanny or the butler, as it is located outside of the main house. All villas have their own stunning private pool.
| Room Type | Maximum | Size |
| --- | --- | --- |
| 1 King Bed/ 2 Twin Bed Ocean View with/without Club Access | 3 adults / 2 adults, 1 children | 42 sqm |
| 1 Bedroom Residence | 3 adults / 2 adults, 1 children | 65-82 sqm |
| 2 Bedroom Residence | 6 adults / 4 adults, 2 children | 100-126 sqm |
| 3 Bedroom/ 3 Bedroom Ocean View Residence | 9 adults / 6 adults, 3 children | 165-197 sqm |
Highlights
Unique yet modern design is the core of this 5-star resort. In every corner, contemporary-style architecture with a touch of natural woods magnifies traditional Vietnamese elements such as basket-boats-turned-loungers on terraces, large pottery plates from Northern Vietnam, straw lanterns from renowned Hoi An.
Set in the center of the resort's ocean front is a stunning swimming pool where guests can soak in an Olympic-size swimming area or dip their toes in the narrower shallows. The luxury resort offers both upscale and casual dining outlets with views of the ocean, stunning Son Tra Peninsula, Cham Islands and tropical forests behind the property. Main pools are connected with each other via long canals with fountains.
Food & Drinks
Hyatt Regency Danang Resort feasts guests on a range of dining experiences in 3 accommodated restaurants. Enjoy coffee, tea, fruit, and pastries served as a morning buffet at its main restaurant Green House. Breakfast is already included in the room rate. For lunch or romantic dinner, this restaurant serves you up with a subtle menu of stunning Italian decalices. If you are a huge fan of local cuisine, give The Pool House a try. It's also the most casual of all the restaurants on site.
The local chefs shall treat you to the savory Vietnamese and Western dishes such as spring rolls, burgers, sandwiches, and desserts. Last but not least, the Beach House is renowned for its seafood and grill menu served for dinner. Enjoy delicious treats in a sophisticated glass pavilion adorning with painted floor tiles and black wood accents will be a great way to chill out.
Within the retail area of the resort is Baguette - a European-style eatery offering quick breakfast or a light lunch, also familiar to villa and residence owners as a convenience store. Beverages and snacks are available all over the day at Terrasse, located on the lobby level near the reception area. Coming here to relax and play billiards and other games, or you can watch sports, movies, or news.
More resorts in Da Nang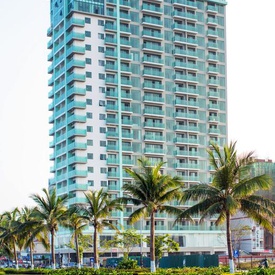 4.82 km ( 2.99 mil) from city center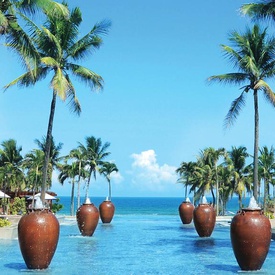 5.37 km ( 3.34 mil) from city center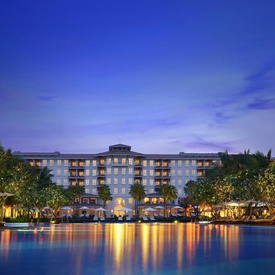 8.66 km ( 5.38 mil) from city center