Cua Dai
Cua Dai Beach is situated on Cam An Ward, roughly 4km away from the centre of Hoi An Town - Quang Nam Province.
Location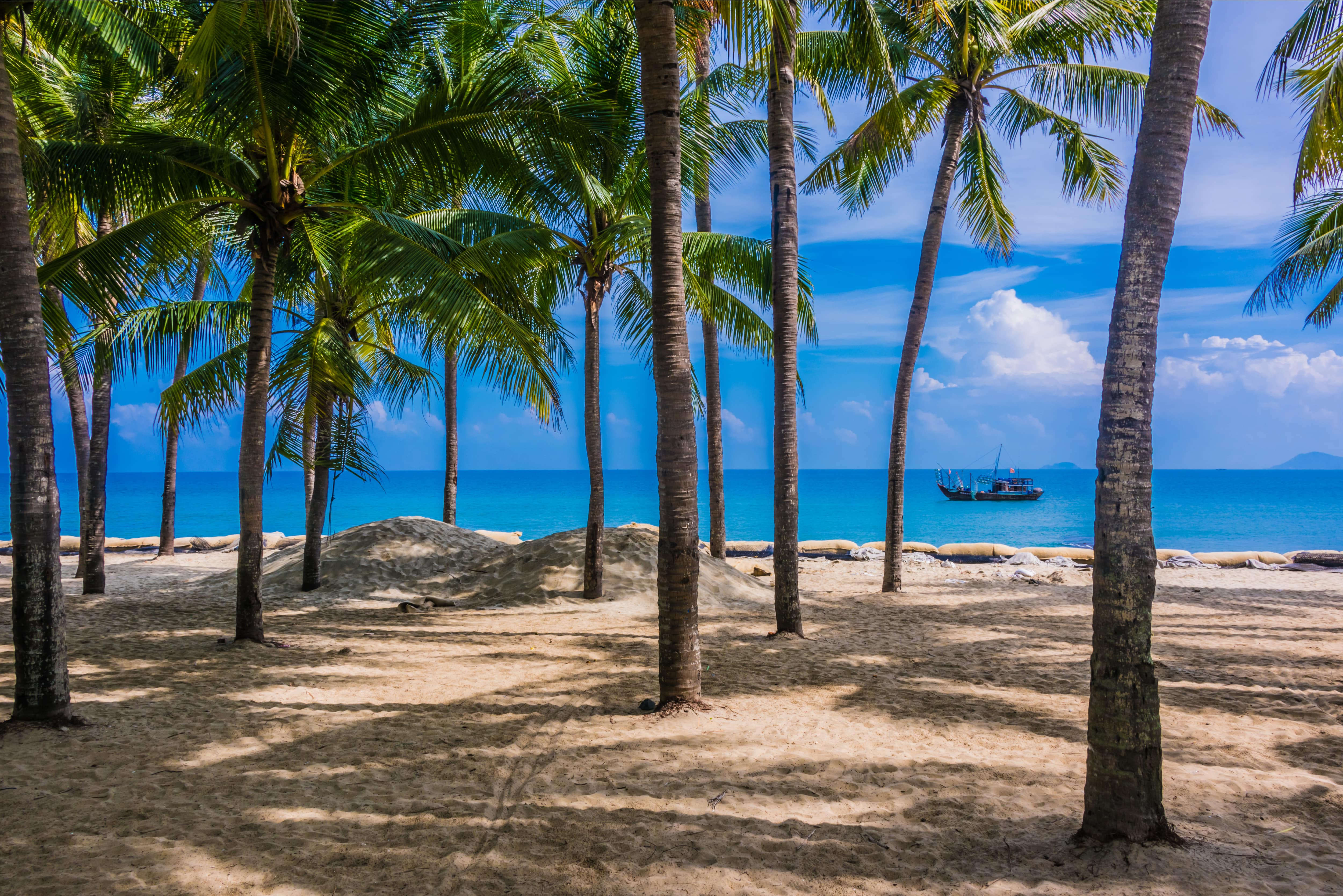 Cua Dai Beach
Cua Dai Beach is situated on Cam An Ward, roughly 4km away from the centre of Hoi An Town - Quang Nam Province. It is always listed as one of top beaches of Vietnam owing to its pristine soft white sand, crystal-clear yet deep blue water, crispy sunshine, cool salty breeze, slightly sloped sea floor and the gentle waves. 
Things to know before you go
Despite being famous and attracting thousands of tourists each year, the beach remains rather unspoiled and undisturbed by the mass tourism. There are a few five-star resorts and hotels nearby as well as the avoidable cluster of seafood restaurants.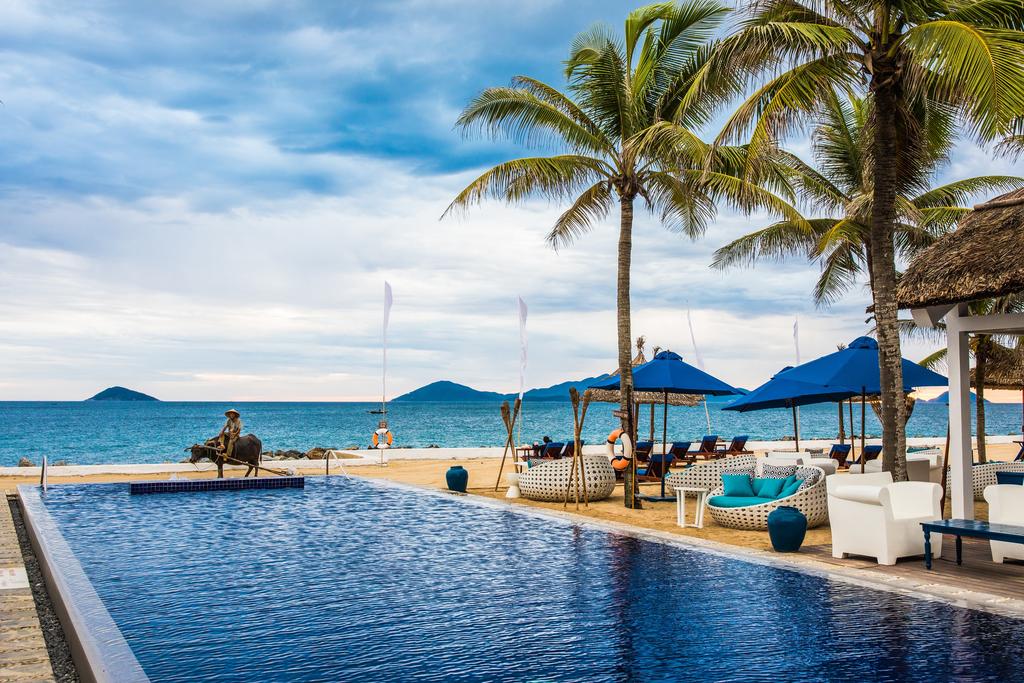 Sunrise Premium Resort & Spa Hoi An
Except for that, the beach is spotlessly clean and natural. However, the beach can get crowded over weekends, so if you are planning to soak up the sun on your own, head towards the beach on week days. Even if you're not a big fan of beaches, a biking trip there will be worthwhile taking into consideration the scenic nature you can spot along the way. Relaxing on the deckchair under the shade of many green palm trees along the coast is enough to recharge your battery from the hectic work. But if you still have energy to spare, you won't be disappointed with the many water sports activities you can take advantage of.
How to get there
As Cua Dai Beach is part of Hoi An city, you must first get to Hoi An city and then take a taxi or even a bike to get to the beach. The beach is just roughly 4 km away from the city centre.
By plane
There aren't any airports at Hoi An, so if you want to travel by plane, taking a flight from either Ho Chi Minh or Ha Noi to Da Nang international airport and then you can either go by bus or taxi to get to Hoi An city. The public bus from Da Nang to Hoi An should not be more than 1USD for one way.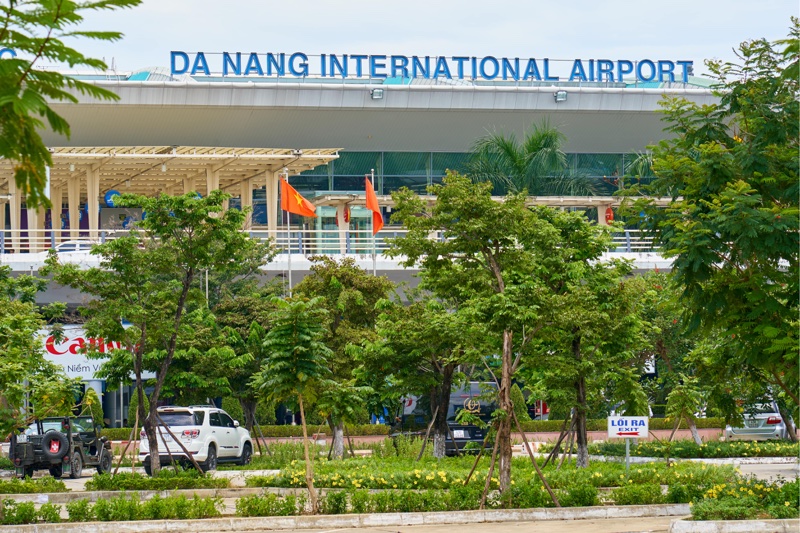 Danang International airport
By train
There aren't any train stations at Hoi An. But if you wish to go by train from Ho Chi Minh or Ha Noi, you can reach Da Nang train station first and from there you can take a bus to Hoi An city. There are two bus type options, which are public bus or tourist bus.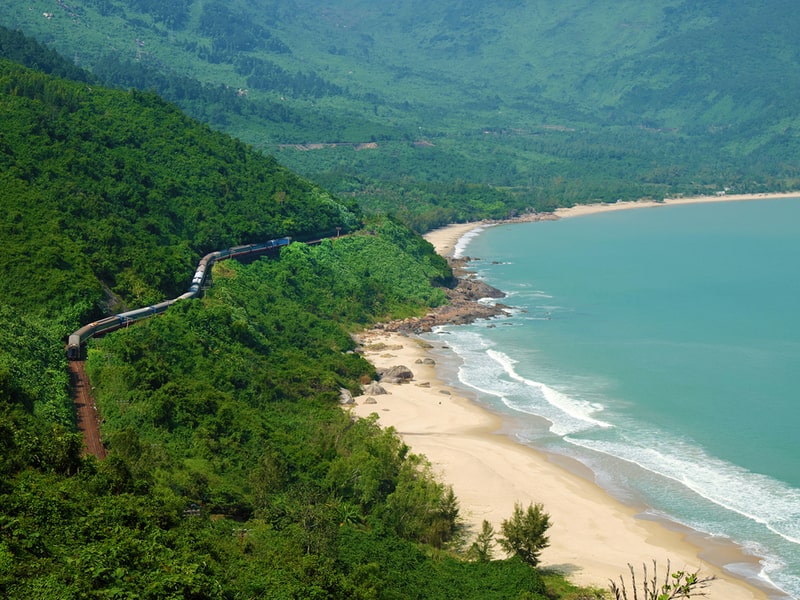 Take a train to Da Nang
By bus
If you don't like the idea of changing transportation, then the only way for you to reach Hoi An is to take the bus. There are several bus departing both from Ha Noi and Ho Chi Minh. Some of the most famous are Sinh Cafe, Hoang Long and Camel Travel.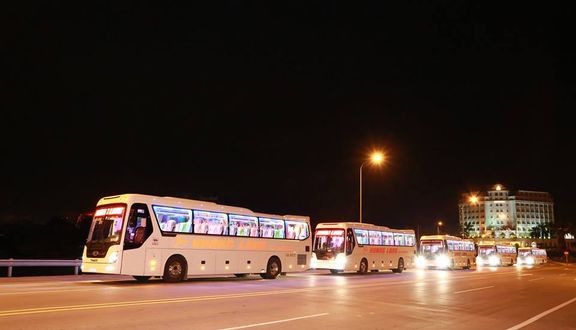 Hoang Long Bus
Best time to visit
Hoi An city possesses a typical tropical climate with average temperature at around 29 Celsius and 2 main seasons: rainy and dry. The heat peaked during the months of June, July and August when the temperature can reach a height of 38 Celsius and drop to a low of 21 Celsius at night. 
From November to January is the coldest period with the temperature dropping to 19 Celsius. Thus, although winter temperature is by no means cold to be avoided, it is still not the period when you can fully enjoy the beach. The rainy season from September to January with heavy shower and the rough waves is to be avoided by all cost. This is the period when typhoon and flood can happen unexpectedly, which will destroy your amazing trip. 
Taking everything into consideration, dry season from February to May is the best time to visit thanks to the mild temperature, low humidity, little rain, and bright sunshine. In addition, the sea will also be at its calmest so you can safely enjoy your swimming and diving. But you should bear in mind that this is also the peak of tourism at Hoi An, and thus might have to forgo the serenity of natural beauty you can enjoy at other times of the year.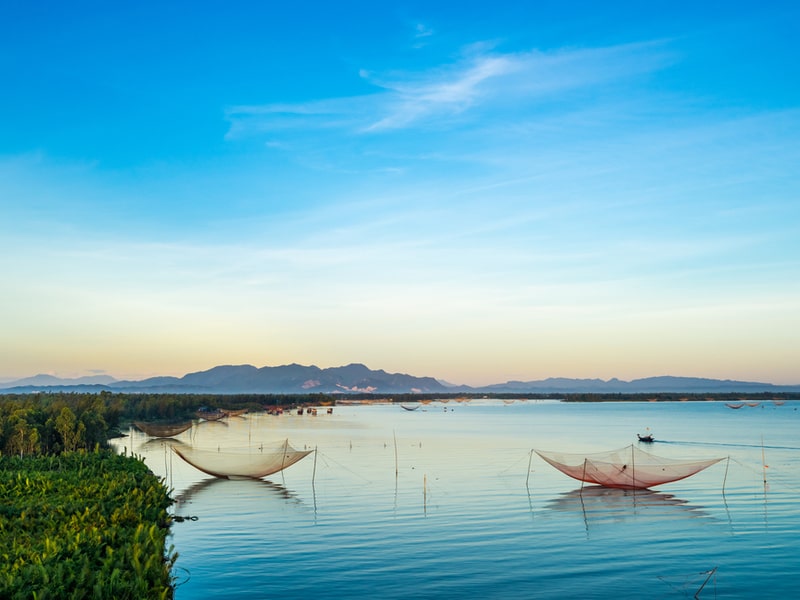 Peaceful morning on Cua Dai Beach
What to do
Diving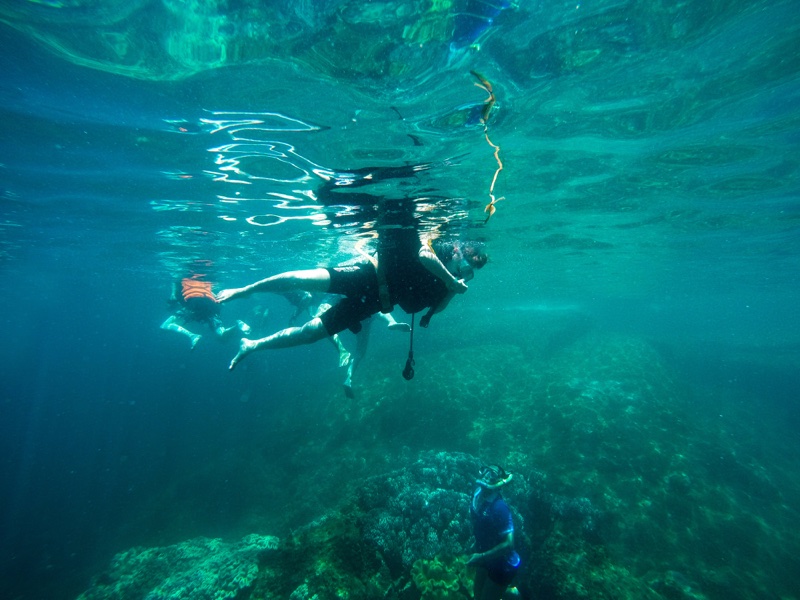 Diving at Cham Island
Scuba diving and snorkeling are extremely terrific with wide ranging variety of colorful coral and shoals of fish as well as abundant other marine life just off the coast of Hoi An. However, most of the diving activities require you to make a trip to Cham islands, where the diving sites are situated.
Blue coral diving: 77 Nguyen Thai Hoc Street, Hoi An, VIetnam; Tel: +84 0510 627 9297
Rainbow divers: 39, Tran Hung Dao, Hoi An Vietnam ; Tel: +84 914 224 102
Cham island Diving Centre: 88 Nguyen Thai Hoc, Hoi An, Vietnam; Tel: + 84 510 391 0782
Off shore fishing tour
If you're into the idea of learning the local ways, you should consider taking on a fishing tour to the sleeping fishing village, which has the official name as Cham islands. You will have the chance to take part in fishing and learn about the a normal day of workload and rituals that every fisherman in Vietnam conducts. Contact us for further tour details.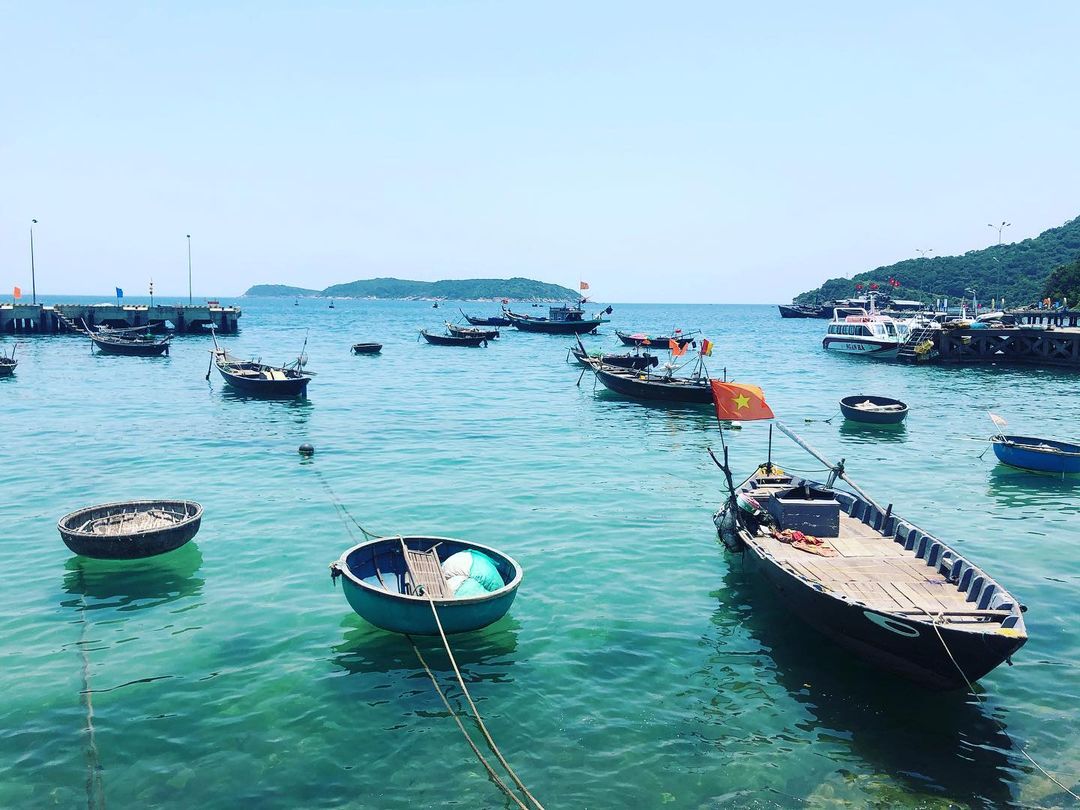 Fishing Boats on Cham Island
Other water sports
Thanks to Hoi An's fame as a top tourist attraction in Vietnam, even though it is a small town it receives huge investment. Thus, thrilling water sports are available and well-developed. There are other options to choose from other than diving and kite surfing such as jet skiing, water skiing, banana boating, canoeing, kayaking, … Owing to the clean soft white sands and deep blue water, spread over a long stretch of beach, Hoi An is considered as an ideal place for adrenaline packed water sports.
Useful Information
Location: Cua Dai, Hoi An, Vietnam
Best for: Solo, couple, family, group
Entrance: Free
Hours: 08:00am to 20:00pm
Conversations (0)
Join the conversation
Conversations
Join the conversation
ALL COMMENTS (0)
There are no comments. Add your comment to start the conversation.
Other beaches near Hoi An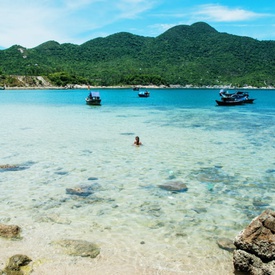 Cham islands, which is locally known as Cu Lao Cham, is about 18 km offshore from Hoi An.
20.69 km ( 12.85 mil)