Beaches near Hoi An
Besides the charm of the ancient town, Hoi An is also an enticing beach destination. Although the water is not as blue as Nha Trang, the sand is not as soft as Phu Quoc, Hoi An's beach is calm, quiet and alluring in its own way. Hoi An's resorts and hotels are also gentle like its people: you will get to experience a whole new style of beach holiday by stay here. If you have time, make sure you take a day trip to Cham island, for its unspoiled landscape that can find no match in the rest of Vietnam. There are several beaches near Hoi An such as Cua Dai beach, An Bang Beach, Cham Island beach and Danang beach is just 20 minutes away.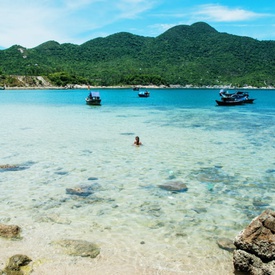 1.
Location: Cu Lao Cham, Quang Nam, Vietnam
Distance from Hoi An: 20.69 km ( 12.85 mil)
Transfer time: 0.41 h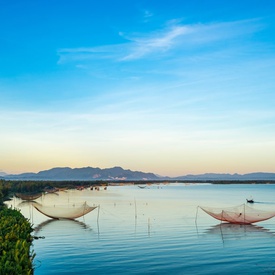 2.
Location: Cua Dai, Hoi An, Vietnam
Distance from Hoi An: 4.92 km ( 3.05 mil)
Transfer time: 0.10 h