Furama Danang Beach Resort
4 things that we love most about Furama Danang Beach Resort
East-meets-West culinary delights

Cultural-themed parties and activities

Second-to-none helicopter tour to admire Danang's landscape from above

World-class resort featuring traditional architecture fused with French colonial style
Overview
Furama Danang is a prestigious resort in Central Vietnam that frequented many visits of international royalty, world-class personalities, and of course, the locals. The resort is well known for its 5-star service and the beautiful beach it possessed. Coming here, every soul will be catered with the calming sound of the sea, the activeness of the sport, and last but not least, the greatness of culinary.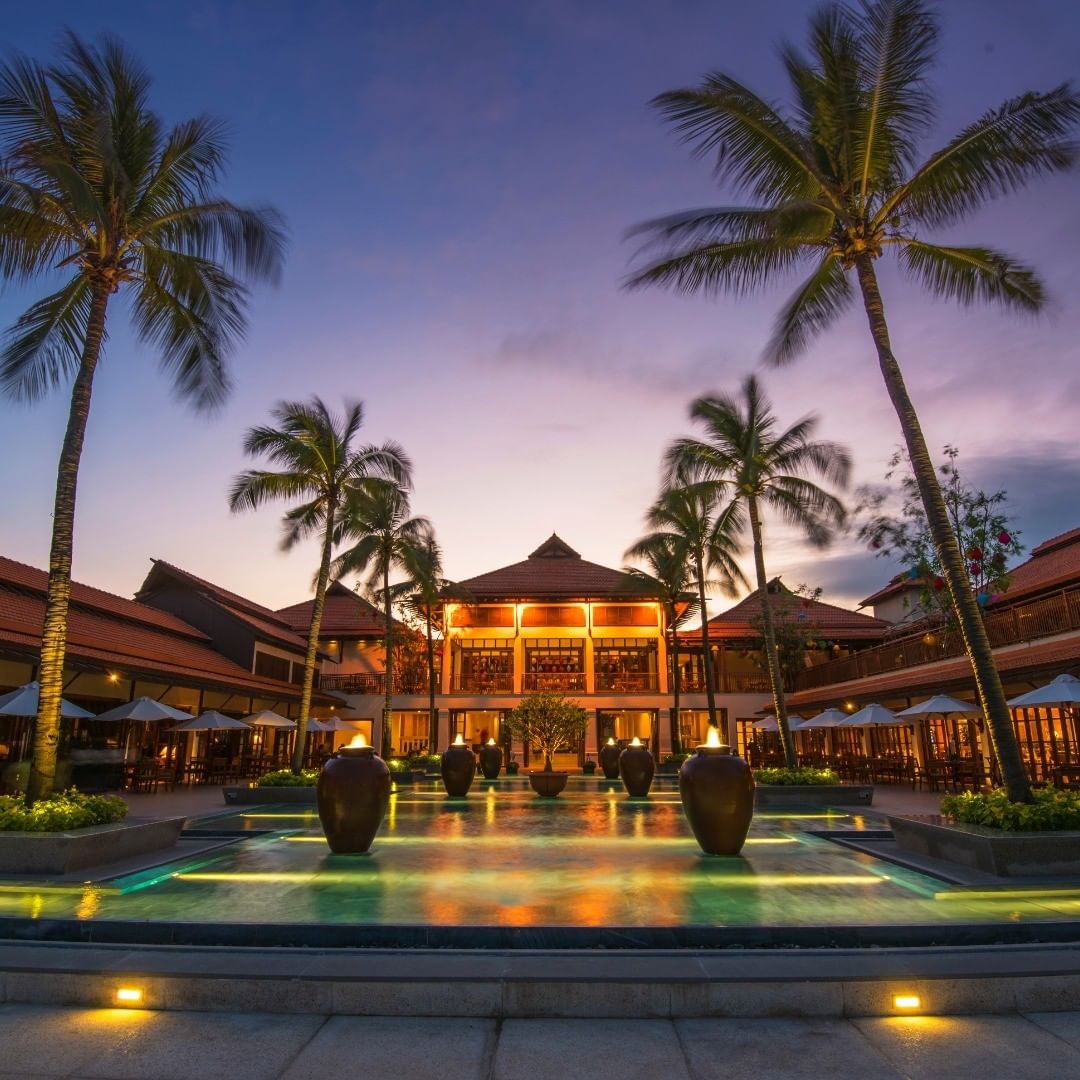 Photo: @dcmstudios.architects
Winner of several national as well as international awards, Furama Resort indeed leaves a lasting impression on the memory of its inhouse guests.
Location
Furama has the advantage of the central location on Vo Nguyen Giap street, the middle of vibrant Danang beach city. One slice of this estate wallows in view of Bac My An beach. Just open your door, and you will face the vast ocean and the peaceful strip.
The resort is only 5km from Danang international airport, along with the private pick-up service, the commute part is more convenient than ever. 10 minutes to Han River and Cham museum, 30 minutes to Hoi An, the surrounding attractions are also within reach of Furama. Nestled among the waving green coconut, the yellow sand, and the wide blue yonder, Furama Danang is genuinely the prime oasis for an idyllic beachside jaunt.
Service & facilities
Owning a series of outstanding service and facilities, from three large pools - one of which is an infinity pool, a spa house, golf club, water sports center, casino to a playground for children, Furama remains the best resort for enthusiastic travelers in Danang.
Furama has the first diving club in the whole Danang, offering professional classes from PADI instructors. Visitors will be able to participate in myriad water sports such as snorkeling, windsurfing, or simply admiring the stunning coral reefs and flows of fishes.
Guests can also leisurely start their day by stopping by 18 holes Montgomerie Links golf course. One side is the view of Danang beach, and the other is Ngu Hanh Son Mountain. You are playing and also paying respect to the natural wonderland.
Finish your sweating sport, what is better than some relaxing moments at the organic spa. The Furama Spa has specific packages for wellness treatments by booking in advance.
2 swimming pools

Free WiFi

Airport shuttle

Family rooms

Beachfront Bar

Sun deck

Private beach area

BBQ facilities (Additional charge)

Terrace

Garden

Kids' club

Casino

Game room

Fishing Off-site Additional charge

Golf course (within 2 miles)(Additional charge)

On-site coffee shop

Bar

Restaurant

Spa Additional charge

Fitness center

Sauna
Room & Amenities
Furama Danang impresses visitors with the elegant appeal of the traditional Cham architect plus the ancient French style. 196 rooms and 76 villas stand side by side to boost the serene feeling of a village surrounded by water. There are Suite rooms, Studio Suite, Deluxe, Superior, President Suite, and Garden or Pool View villas with full modern amenities and outdoor terrace providing sight of the ocean.
The rooms are designed with wooden furnish and elegant beige colors. The space in all rooms is large to lure in the natural light while still ensuring privacy. And especially for President Suite, the high-class room of Furama, one step into the room and you will immediately feel the breath of the ancient Hue dynasty; one step outside to the large veranda is the panoramic view of Bac My An Beach and all surrounding.
Depending on the types, one villa can sleep from two to eight persons. Manicured lawn and a large swimming pool around the villas are suitable for an afternoon walk and a morning dip. Families and friends get-away are highly recommended.
Although putting into operation from times ago, the amenities still catch up with the trend and are able to provide guests with the best experience.
| Room Type | Maximum | Size |
| --- | --- | --- |
| Ocean Suite | 2 adults / 2 adults, 1 children | 85.8 sqm |
| Ocean Studio Suite | 2 adults / 2 adults, 1 children | 40.1 sqm |
| Ocean Deluxe | 2 adults / 2 adults, 1 children | 43.7 sqm |
| Lagoon Superior | 2 adults / 2 adults, 1 children | 40.1 sqm |
| Garden Superior | 2 adults / 2 adults, 1 children | 40.1 sqm |
| Garden Deluxe | 2 adults / 2 adults, 1 children | 43.7 sqm |
| Presidential Suite | 3 adults / 2 adults, 1 children | 130 sqm |
| Beach Front Villa | 12 adults / 8 adults, 4 Children | 300 sqm |
| Pool Villa | 6 adults / 4 adults, 2 Children | 320 sqm |
Highlights
Furama is the strong evidence of a culinary resort. It has been called and treated as such since the first days of existence, and to maintain that fame, the place has gathered five restaurants and bar lounges with a unique blend of traditional Vietnamese and international flavors. Besides the seafood dishes that are commonly seen in every beachside accommodation, there is also a Kobe imported beef cuisine served in on-site restaurants.
Food & Drinks
Cafe Indochine: seafood and steak menu and maybe a buffet in the evening is what beachfront Cafe Indochine has to offer in this French colonial period inspired architect.
Don Cipriani's Restaurant: getting lost in the space of Italian interior design and great European dishes prepared by experienced chefs from local ingredients. The restaurant also stretches to the poolside to blow calm wind to the fine dining.
Danaksara Restaurant: traditional Central Vietnamese dishes are served under familiar names but with a twist decoration.
Hai Van Lounge: enjoy local and imported wine, cocktails, and snacks in the tranquil beat of the Jazz band in the evening. The afternoon is the time for a tea party and pastries buffet. You can choose to sit by the green bushes, leisurely on the infinity pool chairs, or a soft beanbag in the open beach area. The Ocean Terrace: another choice for seaside drinking, the Terrace is opened within a short distance of the accommodation. Visitors can enjoy their charming night under the stars with other 59 guests while sipping light beverages.
More resorts in Da Nang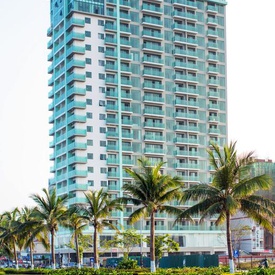 4.82 km ( 2.99 mil) from city center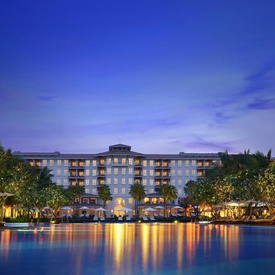 8.66 km ( 5.38 mil) from city center