New puppet show for a glimpse of Vietnamese culture
Vietnam Puppet Theater will introduce a new show to tourists with the name "Trang" (The Moon). This will also flaunt the premiere of a unique puppet show acted on a large stage.
The moon symbol has winded through many literature and music pieces of Vietnamese authors. In the eerie night, everything is covered with a thin coat of light while people enjoy the soothing halo. By borrowing the intimate image and combining contemporary puppetry with traditional music, the Vietnam Puppet Theater board hopes to bring more than just an entertainment show.
The story does not root from any single tale. Instead it is more of a moving slideshow of Vietnam's national identity. With the moon as a leading thread, the puppet show takes you from the Northern idyllic paddy fields, the Central lotus dance, to the Southern river life.
Various ethnic groups' cultural characteristics overflow during the showtime, promising a fun yet meaningful experience for even international visitors.
The performance features different genres of puppetry, water, land, and human actions. A smallest-detailed dedication to colors and shapes can grant the new "moon" a great future among other amusements.
Comments (0)
Your comment...
Conversations
Join the conversation
ALL COMMENTS (0)
There are no comments. Add your comment to start the conversation.
read next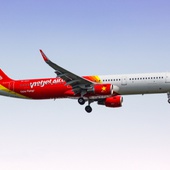 From late February to March 31st, Vietjet Air - one of Vietnam's cost-saving airlines - has offered a special gift for passengers.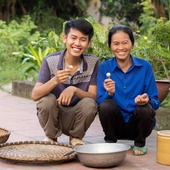 Right before Tet - the Lunar New Year, a video of making traditional Vietnamese Chung Cake (Bánh Chưng) from YouTube channel "Ẩm Thực Mẹ Làm" (Mom Cooks) has been shared on the 86-million subscriber channel of the world biggest online video-sharing platform.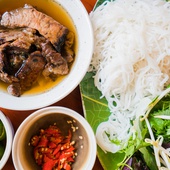 The ABC News of Australia has spoken of Hanoi as one of the ideal places to travel after the pandemic, mainly thanks to its undeniable street food cuisine.