10 Best & Most Popular Seafood Dishes You Can Find In Any Vietnam Beaches
Vietnam is favored by Mother Nature in many ways: a lyrical natural beauty from mountains, highlands, rivers, seas to islands, which inherently brings to the local menu a great variety of exotic fruits, herbs, spices and seafood. Vietnam's marine tourism is highly appreciated by both local and inbound visitors. Numerous well-known beautiful beaches such as Nha Trang, An Bang, Ho Coc, My Khe welcome millions of travelers looking for relaxation every year. Though the crystal clear water and the long stretch of white sand are undoubtedly the selling-point, it would be a big miss if you skip the local specialty: seafood. Get to know Vietnam one step deeper with the list of 10 best and most popular seafood, offered in all major beach destination and spark some appetite you may have never encountered before.
Crab
Crab is a typical seafood of any beach, and also one of the most loved seafood on visitors' trips to the beach. On Vietnamese seaside regions, crab dishes are always prioritized on the most visible pages of the restaurants' menus, or you can also easily catch crab stalls at local markets or supermarkets. Freshly caught crabs are transferred directly from fishing boats to small businesses or restaurants, so crabs here are fresher than elsewhere. Visitors can enjoy crab dishes, or buy the freshest crabs to take home or give to relatives and friends as gifts.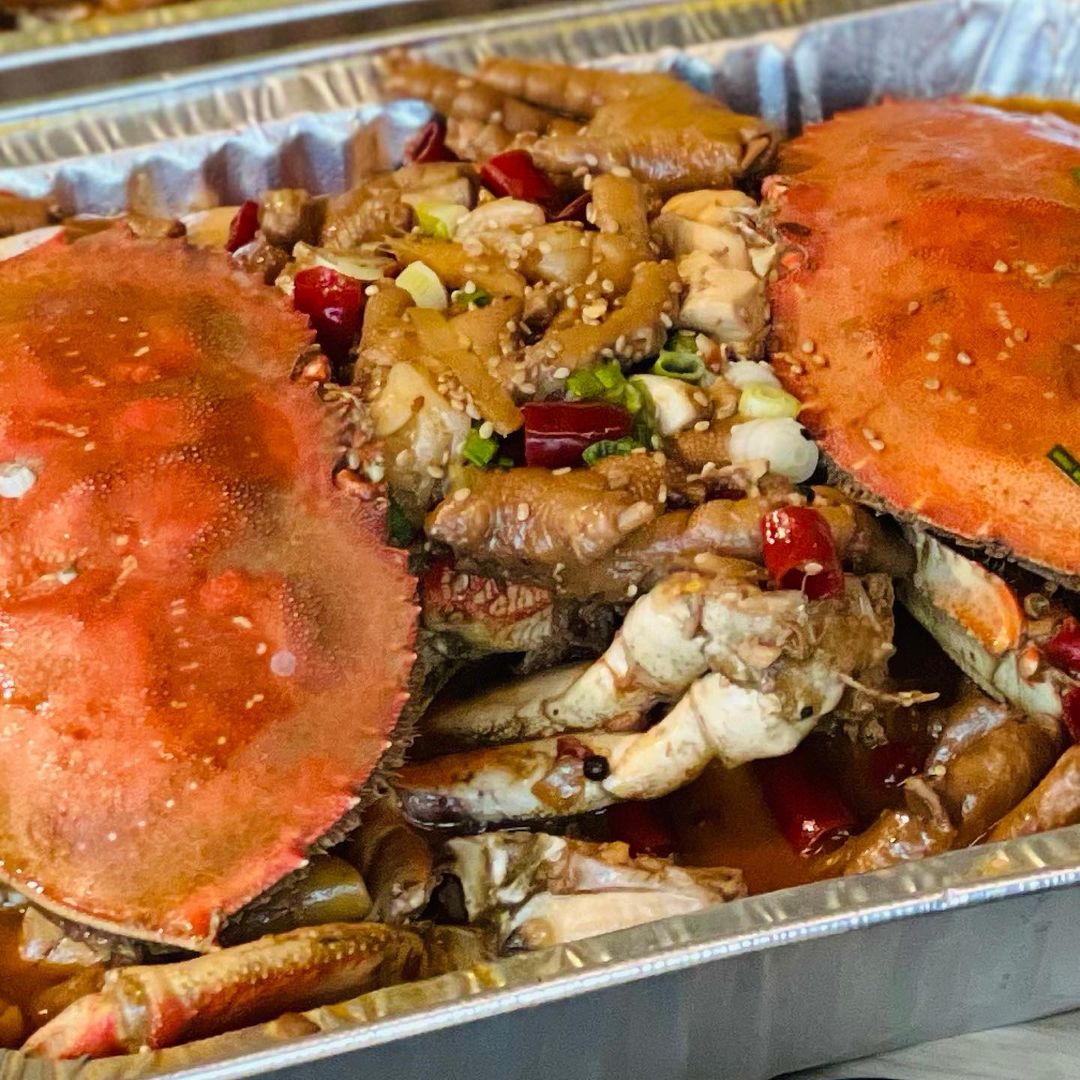 Photo: @easi_ca
Crab-made dishes are diverse such as steamed crab, salt roasted crab, tamarind roasted crab, crab salad, crab soup, crab hot pot, etc. It's so great to enjoy the tasty, mild sweet and fresh crab dish while watching the sunset. This is definitely one of must-try things to visitors when traveling to Vietnamese beaches.
Sentinel crab
Sentinel crab is one of the most popular types of seafood in Vietnam, and is easily seen at any marine tourist destination in Vietnam. The shape of sentinel crabs has similarities with crabs, so lots of people easily confuse them together. However, raw sentinel crabs are prominent with mossy color and white blobs, while raw crabs have copper yellow color. Besides, sentinel crabs' pincers are much smaller and longer than those of crabs, their abdomen is milky color and stiffer. Besides, sentinel crabs' taste is less sweet and has a characteristic strong smell.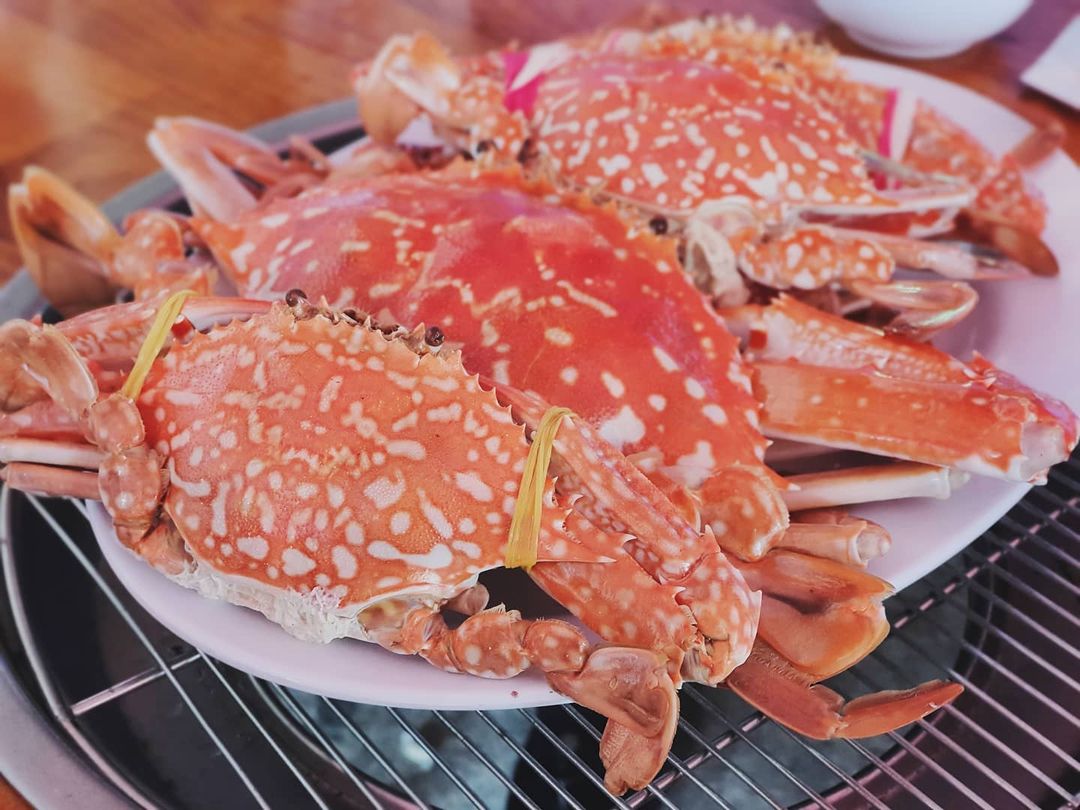 Photo: @vian.b
Sentinel crabs are much cheaper than crabs, that's why they are very popular with the locals. They are sold widely in seafood markets as well as supermarkets. The strong aroma of sentinel crabs reminds you of the salty smell of seawater and sea breeze, so many visitors - who want to save the sea smell through the sense of taste - love them. Sentinel crabs are also processed in various ways to bring different experiences to enjoyers such as boiled/steamed sentinel crabs with beer and lemongrass, sweet and sour fried sentinel crab, spicy fried sentinel crabs, sentinel crab soup with water spinach.
Mantis shrimp
Traveling to Vietnamese beaches, you cannot help but notice the popularity of mantis shrimp in the coastal areas. Mantis shrimp has a similar shape to shrimp, long-round body, and many milky white blobs on the back. It is loved for its chewy, sweet taste, and a sea-strong aroma - different from the usual shrimps, lobsters or sugpo prawns. You can easily find fresh raw mantis shrimps at seafood markets or roadside seafood stalls. In addition to crabs, sentinel crabs, mantis shrimp is also a type of seafood loved much by locals and travelers for its unique and rich taste.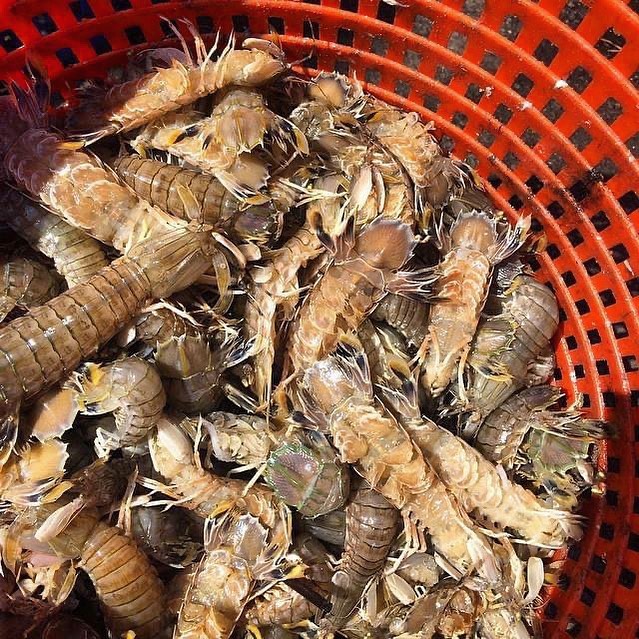 Photo: @deadfishguy
There are different ways of processing mantis shrimps but still retain their original taste such as boiled/steamed mantis shrimp with beer, salt-roasted mantis shrimp, mantis shrimp soup, or grilled mantis shrimp with chili-salt. In particular, if you travel in the central coastal provinces, you cannot ignore the specialty of fried mantis shrimp with tamarind - a blend of the mantis shrimp's sweetness and the tamarind's sourness.
Shrimp
Referring to Vietnamese seafood, it is impossible to ignore shrimp - the type of seafood that has contributed to making Vietnam's export industry increasingly develop. Favored by Mother Nature, with a coastline of 3,260 kilometers and tropical monsoon climate, Vietnam has a suitable environment for the growth and reproduction of shrimp species, therefore, shrimps in Vietnam are diverse with many species such as sugpo prawn, white shrimp, lobster, pink shrimp. They are caught by fishermen and transported directly to restaurants, seafood markets or small traders. Shrimps are possibly a familiar dish in your daily life, but enjoying a dish made from the freshest shrimps while watching the clear blue sea is a delightful experience that you must try when traveling to beaches in Vietnam.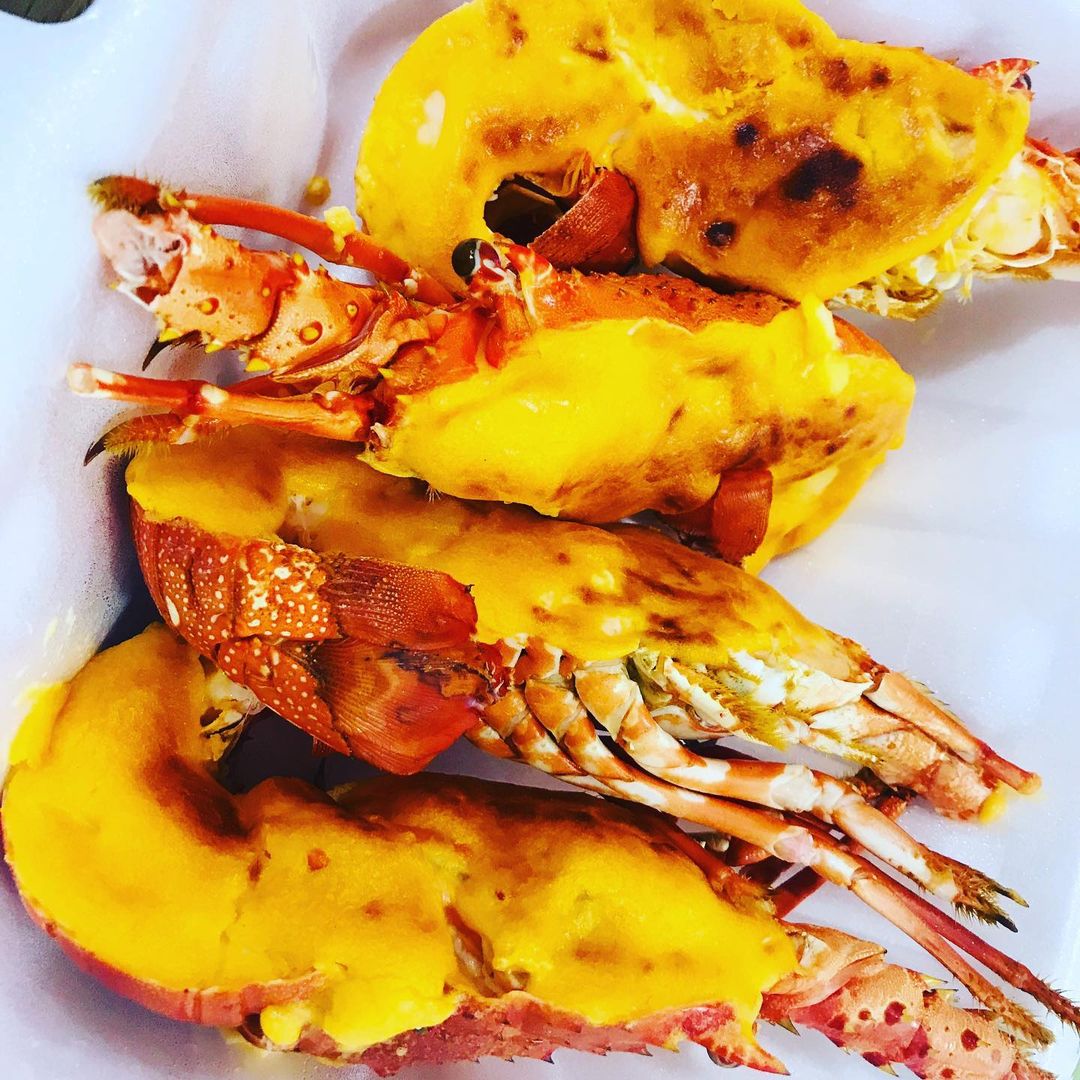 Photo: @haisan_hoanggia
Because of no intermediary parties, shrimps on the coastal areas are sold at affordable prices. Many visitors choose the freshest shrimps for home processing or shrimp products as gifts for relatives and friends. As well as the variety of shrimp species, the way to cook shrimps is also extremely diverse with steamed shrimp, shrimp salad, fried shrimp with garlic and butter, fried shrimp, dried shrimp.
Squid
Thanks to the favorable climate, squid is one of the abundantly developed seafood species in Vietnam. Among them, the squid species that are popular and loved by many locals and visitors are squids - that are popular in markets and supermarkets for an inexpensive price, bigfin reef squid - the ingredient for gourmet dishes, and dried squid, squid egg - a premium squid type with chewy squid taste and mushy eggs. The period from March to May is the season of squids when they are varied with tastes best of the year.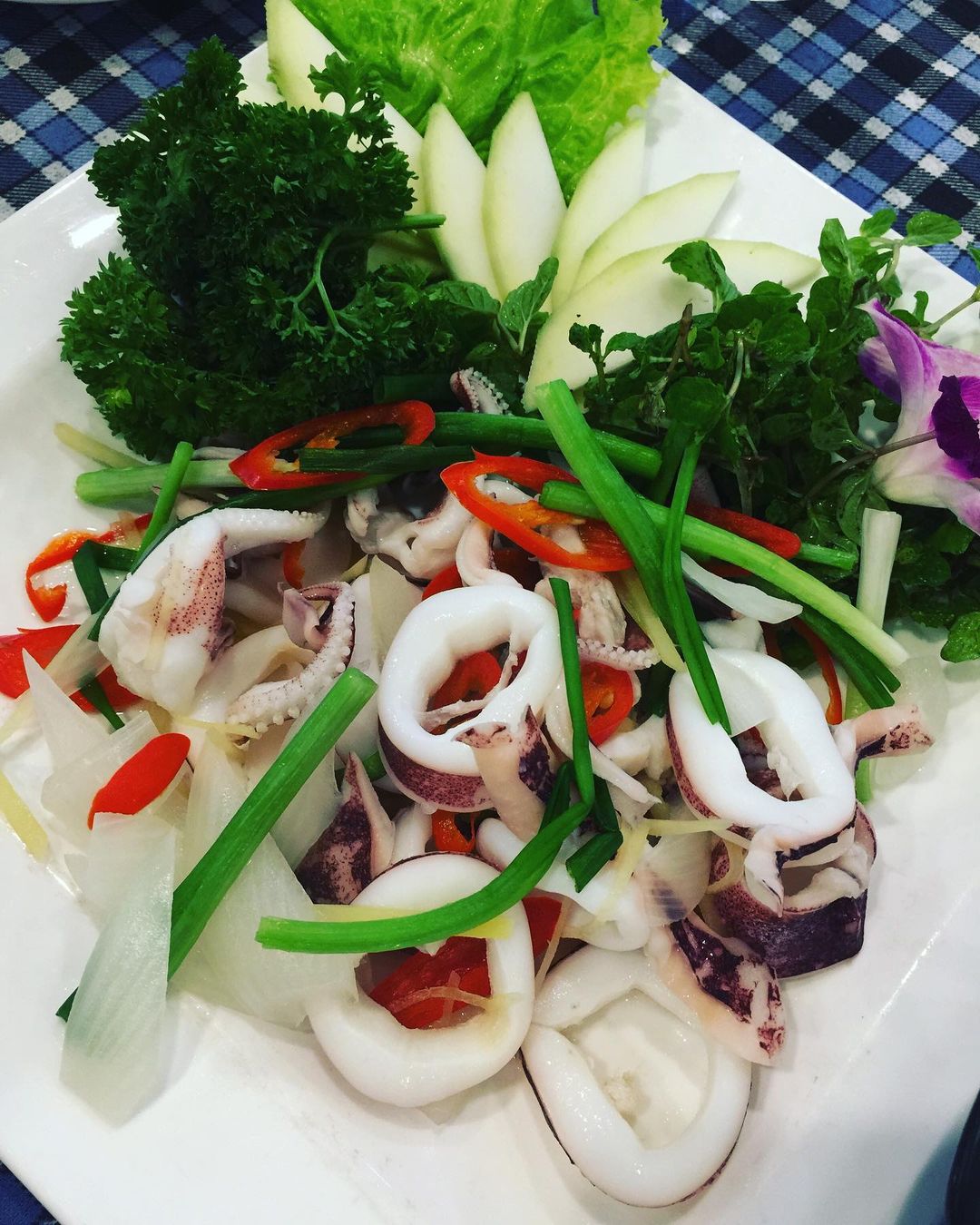 Photo: @thuthanh2102
When traveling to Vietnamese coastal provinces, you may find the appearance of squids in most restaurants with menus filled with a variety of squid-made dishes, or in markets and supermarkets. Some squid-made dishes have even become specialties such as Ha Long's squid pies, Ca Mau's cuttlefish egg cake, Da Nang's fried squid with tamarind or Binh Thuan's dried squid. These are suggestions for you to have great gifts for relatives and friends after your trip to the beach in Vietnam.
Hard clam
Referring to Vietnamese seafoods, hard clams - one of the popular and loved seafood in Vietnam - cannot be ignored. Hard clams are a soft-bodied species with white or light yellow colored bivalve shells. They live mainly in tropical waters, so the coast of Vietnam is a suitable place for them to breed and grow. They appear almost all year round so you can easily catch them at seafood markets at any time.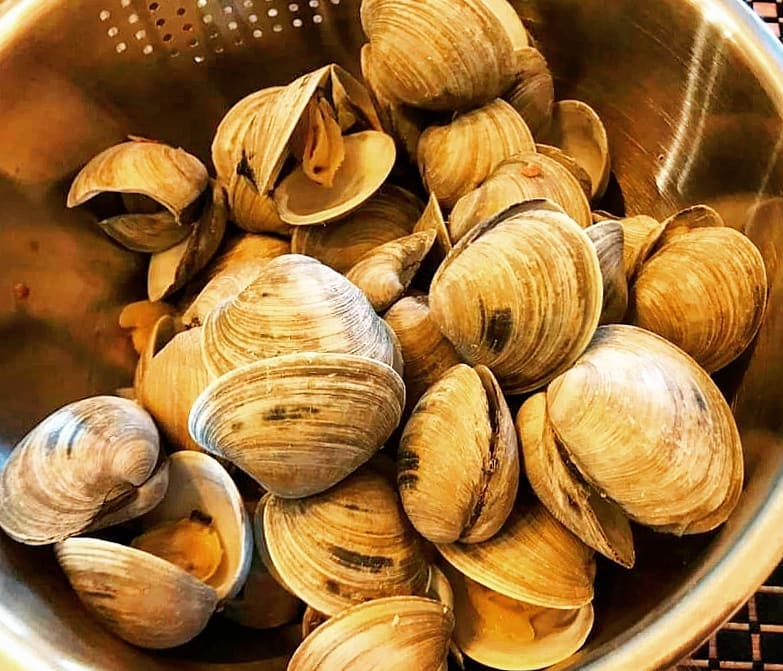 Photo: @ka.lyn.on.me.inc
Hard clams have a soft and chewy sweet taste, while their juice is pleasant sweet, that's why they've become a favorite dish of many visitors and locals. Hard clams are used in many dishes to take advantage of their unique sweetness, such as steamed hard clam with pineapple, stir-fried hard clam with garlic and butter, hard clam soup, hard clam soup with vegetables or in hot-pot dishes. The price of hard clams is also not expensive at all, so you can comfortably enjoy hard clam dishes after joyfully playing on the beach.
Jellyfish
From the North to the South, any coastal area of Vietnam has the appearance of jellyfish, especially in the summer - the time when the jellyfish season begins. Jellyfish has transparent, watery trailing tentacles and is floating in the sea. You may accidentally catch a jellyfish drifting in while you are walking on the beach. However, because of being poisonous, jellyfish must be carefully processed before becoming an irresistible dish for both locals and visitors.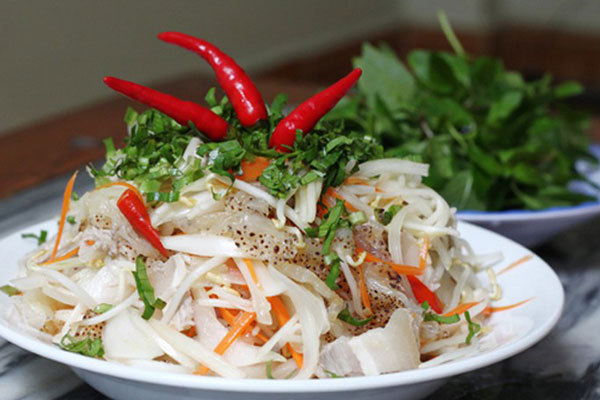 Photo: cet.edu.vn
With a crisp, slightly sweet taste, jellyfish is used a lot for salad dishes such as jellyfish salad with meat and shrimp, jellyfish salad, jellyfish salad with cucumber, or jellyfish noodle, jellyfish hotpot, stir-fried jellyfish with beef. As a unique and inexpensive type of seafood, preliminarily processed jellyfish is widely available in seafood markets or supermarkets. On a cool day when you suddenly want to eat jellyfish, you can find bags of processed jellyfish or a plate of jellyfish salad full of ingredients and spices on sale at supermarket stalls.
Razor clam 
Razor clam is a type of seafood that leaves a strong impression on visitors from the first time because of its long nail-like shape. This type of seafood is very popular in coastal areas because of its rich aroma with the sea flavor and affordable price. Razor clams are exploited all year round, but at the beginning of the rainy season (around May-June) is the time when razor clams have the strongest and most delicious taste. So if you want to enjoy the best plate of razor clams, you should travel that time. Because of their popularity, razor clams are widely sold in markets, or roadside stalls. They also appear in the menus of both high-end and low-end restaurants.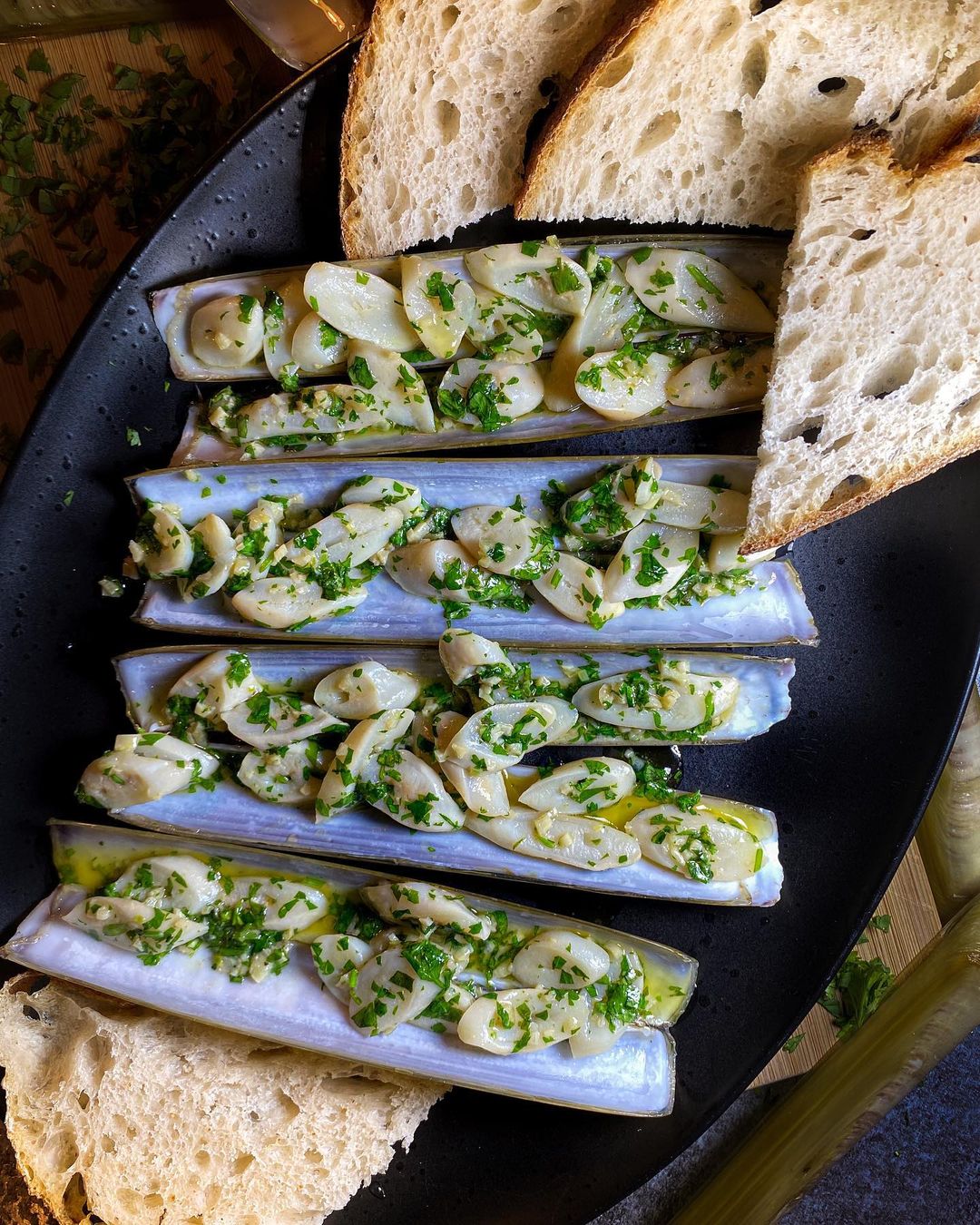 Photo: @anabananacooks
Razor clams are used to process a variety of dishes such as steamed razor clam, fried razor clam with tamarind, razor clam salad, stir-fried razor clam with perilla. You should not ignore such an inexpensive and unique dish on your beach trip.
Sweet snail
Sweet snail is a seafood you cannot miss while traveling in Vietnam's beach. It is considered the "Queen of snails" with the appearance in restaurants as a high-class dish, and leaves the eaters with a lasting impression from the first try. Raw sweet snail has a yellow and dotted brown shell that looks very eye-catching, and emits a natural and attractive aroma. After being steamed without adding any spices, it smells like pandan leaves, and galangal. Its taste is crunchy, sweet and chewy. Therefore, its price on the market is quite high, in return you can feel relaxed and refreshed by its coolness and softness - what makes the trademark of sweet snail. Nowadays, sweet snails are grown extensively to meet the culinary needs of people as well as export demand, so you can easily find them at any seafood market or store.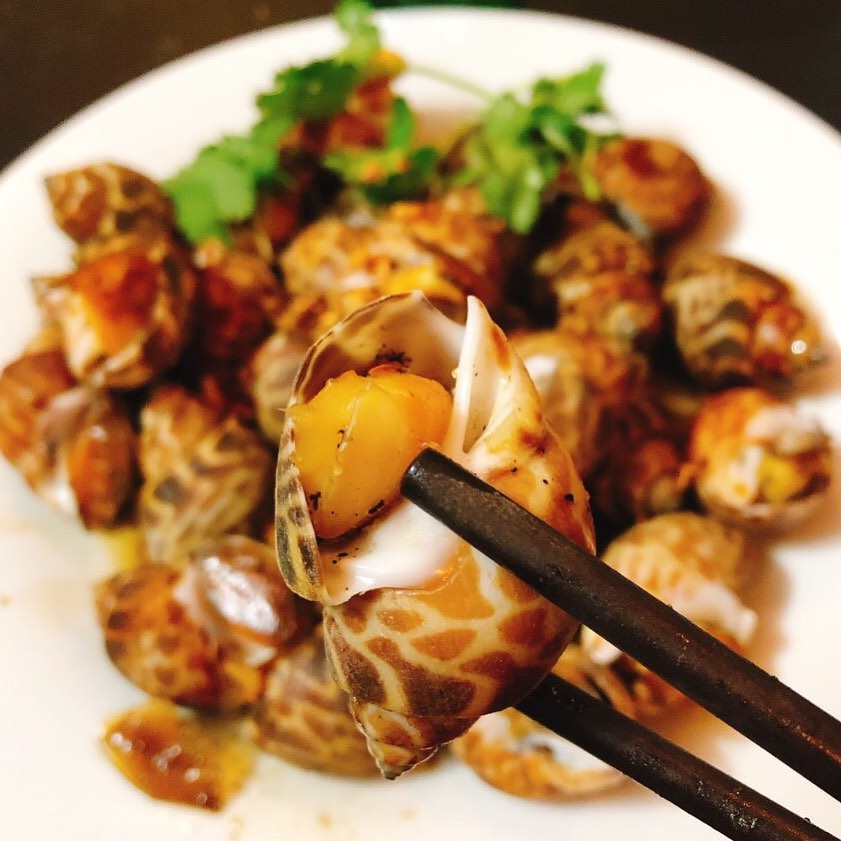 Photo: @hieusterr
With their unique aroma and rich unique taste, sweet snails are used to process many different dishes such as steamed/boiled sweet snail, stir-fried sweet snail with tamarind, fried sweet snail with salt, stir-fried sweet snail with corn, stir-fried sweet snail with lemongrass and chili. You should not miss such a unique seafood dish with special taste when traveling to Vietnamese beaches, especially Phu Quoc - where sweet snail is extremely famous as a specialty.
Scallop
Scallops are a nutritious and popular seafood in many coastal regions of Vietnam, especially, they are also considered a specialty of Phan Thiet and Phu Quoc. Their shells have en éventail shape, while the flesh has milky-white color. Scallops captivate diners with the wild sweet and aroma of butter - a combination of milk and sea flavor. Besides being used fresh, frozen scallops are also popular in the markets because they can be preserved for a long time without changing their original taste. Therefore, you can easily find fresh scallops at seafood stalls or seafood markets, or frozen scallops at supermarkets or specialty stores.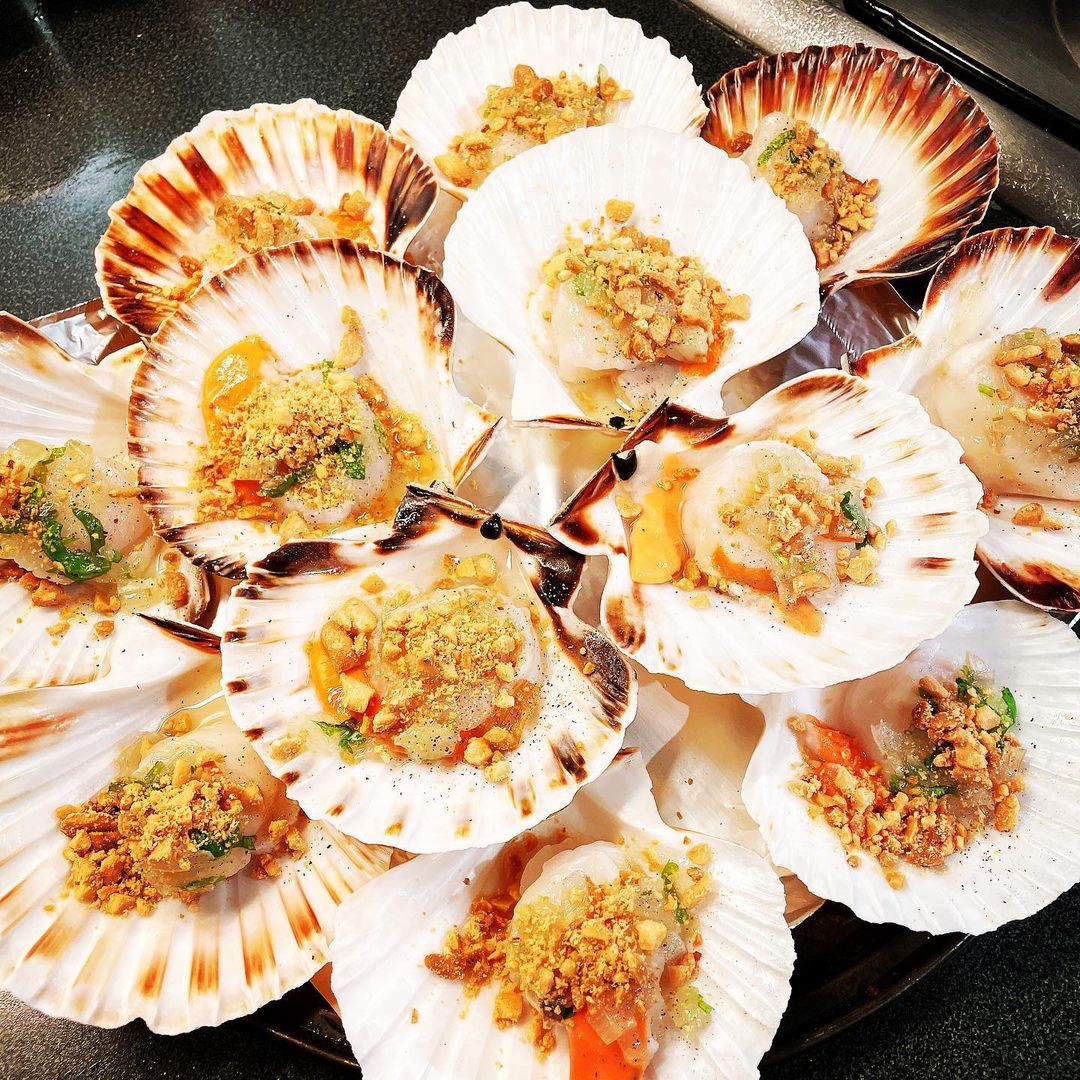 Photo: @lina_linh83
With a pleasant unique taste, scallops are eaten raw as sashimi or processed to make a number of dishes such as stir-fried scallop with butter, grilled scallops with onion, grilled scallops with cheese, scallop porridge, or stir-fried scallops with vegetables. It is great to enjoy a plate of scallops full of subtle sea flavor while sipping a glass of wine and watching the sunset on the sea.
Conversations (0)
Join the conversation
Conversations
Join the conversation
ALL COMMENTS (0)
There are no comments. Add your comment to start the conversation.
read next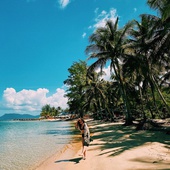 For anyone who is looking for a memorable quick getaway from Hanoi, read on to find out some hassle-free coastal destinations which will give you that refreshing reset you've been craving!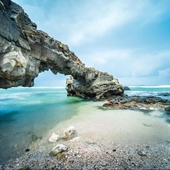 Vietnam has more than 4000 islands and islets, each with its own mysterious glamour. Island-hopping may well just be the future of beach tourism.