Lufthansa Airlines
Lufthansa Airlines - Flight To Vietnam
Lufthansa, the flag carrier of Germany and largest airline in Europe, has several flights to Vietnam, with a transit in Bangkok. Flights by Lufthansa from Bangkok to Tan Son Nhat Airport take place on every Tuesday, Friday and Sunday at 15.15 (local time).

Lufthansa Air Craft - Photo: Lufthansa Group

The lowest fare for one adult on Economy class is 201.06 Euro for one way trip and 316.58 Euro for round trip.
In addition, Lufthansa offers one indirect flight from Frankfurt to Ho Chi Minh City on Monday, Thursday and Saturday.  This flight departs at 22.45 (Frankfurt time) with the lowest price of ticket is 2,303.81 Euro for one-way trip and for 2,770.13 Euro round trip.
Baggage Allowance
Hand baggage
On the normal Economy class of Lufthansa, your are permitted to carry only one piece of baggage but on the Business and First Class, you are allowed two pieces. The piece of baggage is restricted in size and weight, with the total weight less than 8kg and the total sum of the dimensions less than 115cm. However, if you carry on foldable garment bags, your bags must have the sum of dimensions less than 126cm. Personal items such as laptop/ tablet PC, mobile phone/ entertainment devices, purses/ small handbags and instant food are free to be brought in the cabin.
Checked baggage
The free checked baggage that is allowed on the flights of Lufthansa is measured in the two ways. The first one is weight concept which limits the total weight of the baggage. On economy class, the passengers can have totally 20kg of checked baggage without being charged, and this number for business and first class is 30kg and 40 kg respectively. On the other hand, pieces concept is applied for long haul flights to restrict the number of luggage pieces that one passenger can check without fee. On the economy class, the passengers are allowed to have one piece of free baggage with the weight less than 23kg, while passengers on Business and First class can have two pieces with the maximum weight of 32kg for each piece. If you travel with one infant under age of 2, you can have one more piece of luggage with the maximum weight of 23kg and one collapsible buggy.
Lufthansa Business Class
Before getting in the flights, passengers of Business class are offered a luxury lounge at the airport with internet access, tasty meals and beverage, private works desk and shower room. The services on Business cabin are also more convenient and in higher quality than Economy class. The seat on this class can be easily transformed to a 2m bed with massages system, so passengers can feel more pleasing and have a good sleep during the flight. Moreover, the luxury meals are provided to the Business passengers with different premium dishes from all over the world. In addition, the passengers have chances to enter and use one of the most interesting media worlds with latest music, movies, radio, games and even linguistic courses to help them to learn other languages. Additionally, another private lounge is offered to the passengers at the arrival airport to relax after the flight.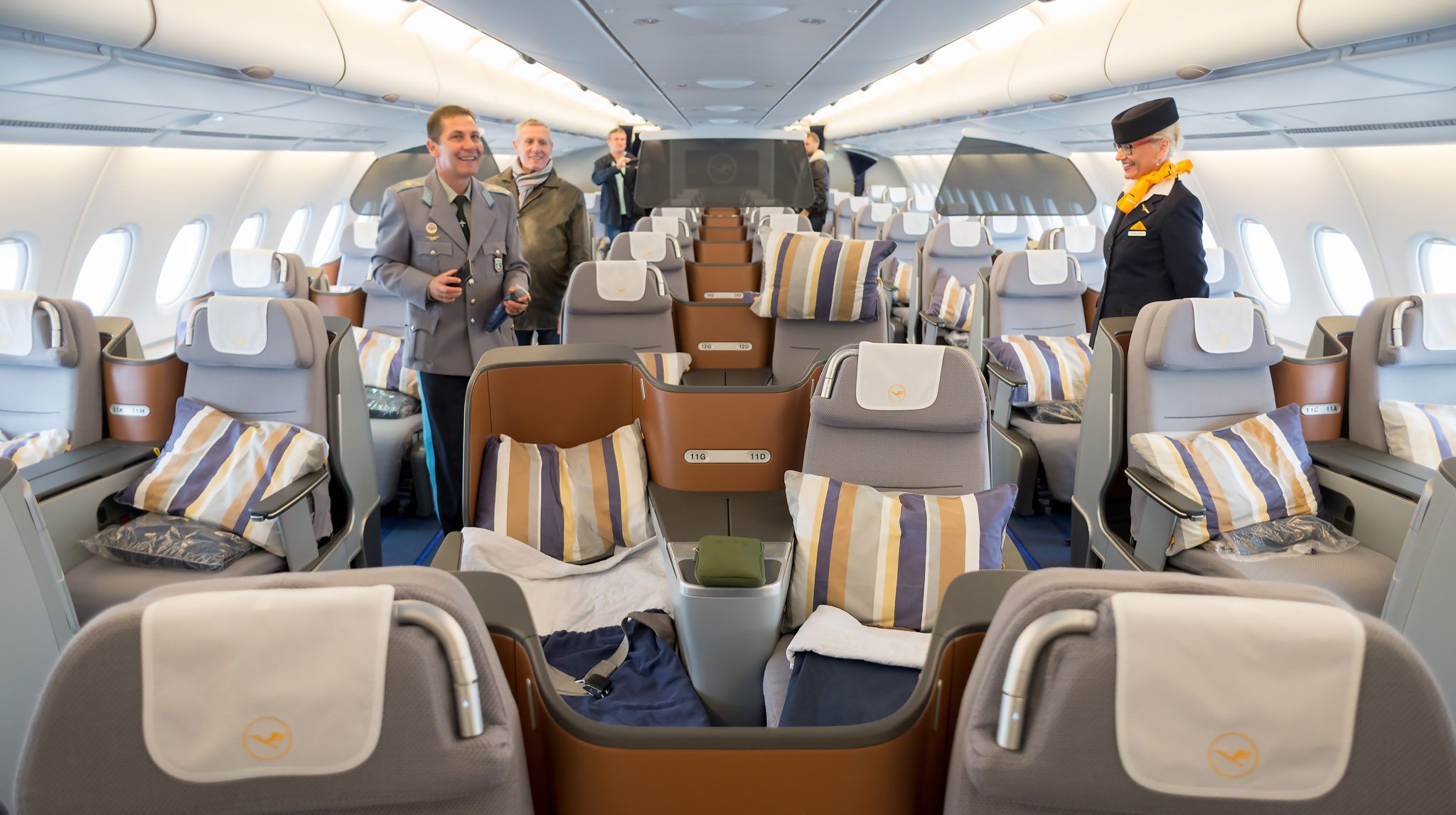 Photo: printerset.com
Inflight Meals
Deserving its fame of being the number one airline in Germany, Lufthansa offers passengers the highest service quality in which in-flight meals are main focuses. Categorized menus of the airline can be described as excellent from First Class and Business Class to Economy Class.
The cooking team of Lufthansa, named Star Chefs, comprised of world class chefs uniting from different gastronomies to satisfy the diverse demands of all passengers around the world. Furthermore, the Lufthansa is proudly to be the only airline to inspire new chefs each two months to create a completely new menu with the purpose to deliver exclusive and varied service.
On flights departs from Germany to other countries, the twins chefs Thomas and Mathias Suhring who have lots of experiences as head chefs of major hotels and restaurant around the world will be in charge with Asian and Western culinary styles. On the opposite routes, passengers even have wider choices among Korean, Chinese, German and USA's delicacies.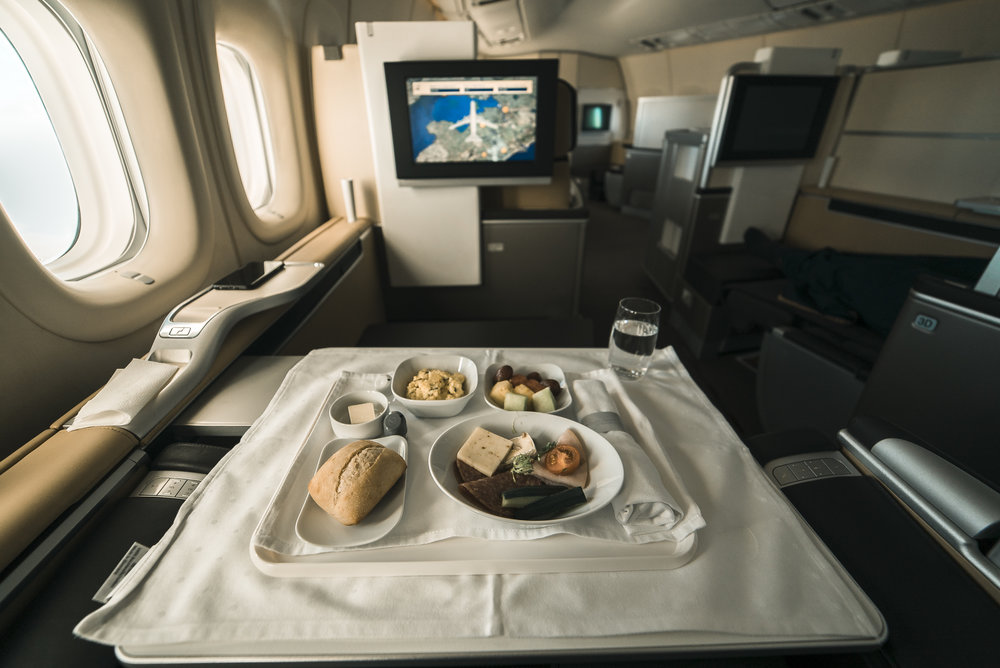 Photo: capturelimitted.com 
Some examples of the airline's dishes are Wiener Schnitzel, Konigsberg meatballs, fried fillet salmon with Hollandaise sauce or trout with almond butter.
Lufthansa Airline's wine list may be even more impressive that it serve at least 2.6 million liters of wine annually. In 2009, the airline was honorably awarded for "Most Consistent Wine List" by Business Travel Wine Award. Those achievements can be attributed to around 10 meeting a year a committee of external and internal wine experts, leaded by the world champion wine expert Markus Del Monego.
Up until now, Lufthansa Airline has barely received any negative feedback from passengers while almost every review or comment on travel websites like TripAdvisor or Airlinequality.com are praises.
Safety Record
It can be said that Lufthansa has a poor safety record in the past, especially when it began to operate, but in recent year, the safety of this airlines has been improved significantly. In the present, this airline is on the top safest airlines in Europe and the world. During their 67 years of operation, the most serious incident could be the crash of Flight 540 on 20 November 1974. This accident occurred right after taking off from Nairobi and took the lives of 59 passengers. Moreover, another fatal accident happened on 28 January 1966, when a Convair CV 440 of Lufthansa Airlines has crash the runway in Bremen, Germany, and led to the death of all 46 passengers and crew members.
Contact
Lufthansa in Vietnam has a call center and no physical office address.
Contact number: 028 3829 8529
Email: Lufthansa.vn@dlh.de
Hours: 8:30 - 17:00, closed on Saturday, Sunday and Holiday
Conversations (0)
Join the conversation
Conversations
Join the conversation
ALL COMMENTS (0)
There are no comments. Add your comment to start the conversation.
read next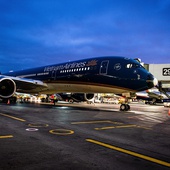 All you need to know about Vietnam's flag carrier airline.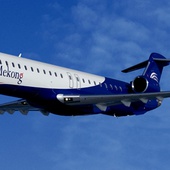 After 2 years in operation serving Vietnam's domestic air route, Air Mekong suspended all services in 2013.