Vietnam Airlines
All you need to know about Vietnam's flag carrier airline
About Vietnam Airlines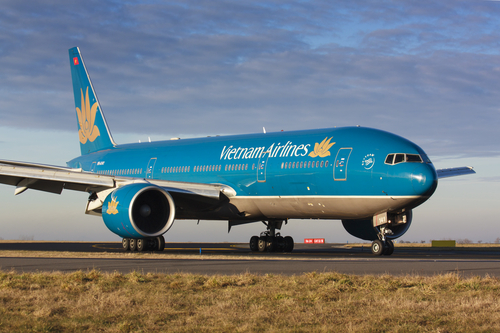 Photo by Rebius
Vietnam Airlines is the national flag carrier of Vietnam, offering an extensive flight network both nationally and internationally.
Year Founded: April 1993

Logo: Golden Lotus Chairman: Mr. Duong Tri Thanh (Jun 1, 2016–)

Fleet: Boing 777, 787; Airbus 330; 320 -321; 350-900; Fokker 70, ATR 72

Alliance: Skyteam

Vietnam Airlines dominates most domestic flight routes of Vietnam as well as running direct flights from Vietnam to other Asian capitals. From Europe, Vietnam Airlines has direct flights between Paris, London or Frankfurt and the two international airports in Vietnam.
International Routes
See Vietnam Airlines route map.
Domestic Routes
For domestic flights, Vietnam Airlines' fleet connects most important tourist destinations such as Hanoi, Hue, Da Nang, Dalat, Nha Trang and Ho Chi Minh City. Some simply cannot afford the time luxury of travelling by train while you can fly from Hanoi to Ho Chi Minh City for $100 one way? (A train ticket on similar route that offers comfort will cost you the same amount).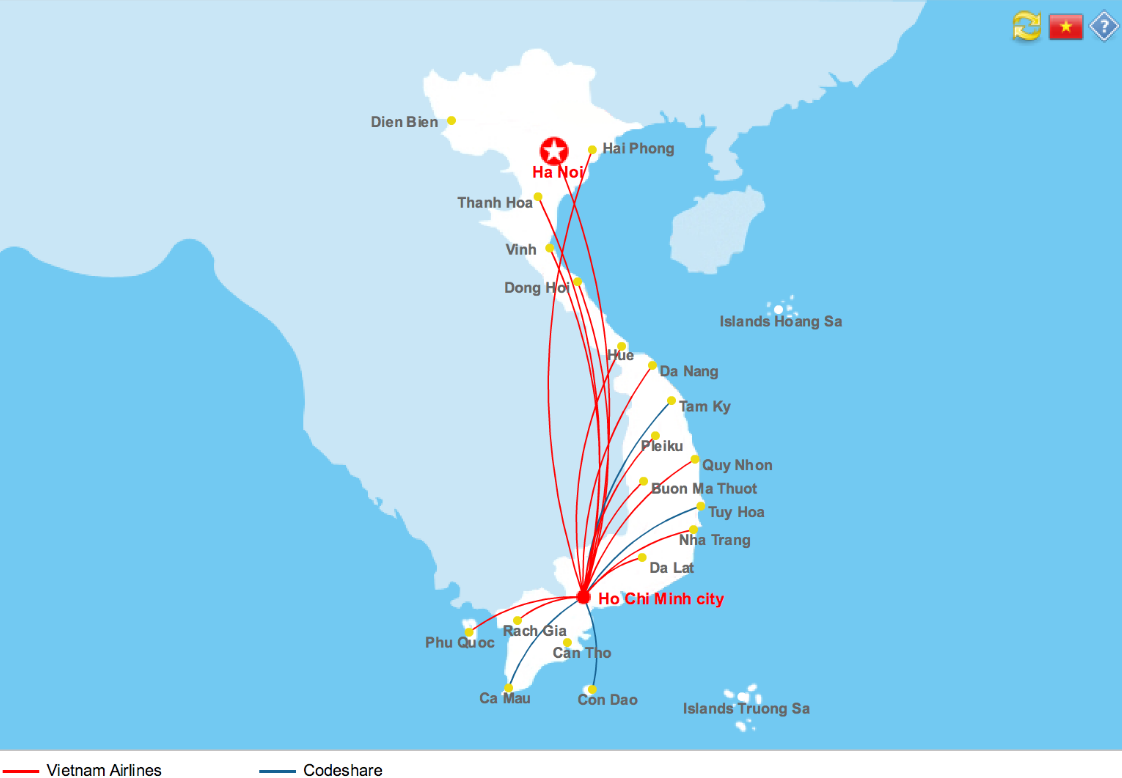 Vietnam Airlines Route Map. Source: VietnamAirlines.com 
Frequent Flyer Program
In June 2010, Vietnam Airlines join Sky Team, a renowned airline alliance, together with Delta Airlines, Aeroflot, AirFrance and Korean Air. Vietnam Airlines is also the only one in Vietnam with a frequent flyer program - the Golden Lotus Plus though this program does not allow airmiles count from other purchase like Aeroplan or Asiamiles.
Besides the consistent quality and good safety record, Vietnam Airlines is also known for its travel discounted program. For example, a round trip ticket from Hanoi to Singapore with airport transfer and two night stay in a 3-star hotel will cost you $250 on Free & Easy promotion. Check the Promotions section on Vietnam Airlines website frequently to find the best deals.
Vietnam Airlines Baggage Allowance
Vietnam Airlines baggage allowance specification is as below:


Economy Class
Business Class
Checked Luggage Weight
(Asia*)
20kg
30kg
Checked Luggage Weight
(Japan)
30kg
40kg
Checked Luggage Weight
(Australia, Europe, Middle East)
40kg
60kg
Checked Luggage Weight(Americas)
23kg x 2 pcs
23kg x 2 pcs
Carry On Luggage
7kg x 1 pc
7kg x 2 pcs
Checked Luggage
Flights within Asia, including domestic flights, have a restriction on check luggage- the combination of which cannot exceed 20kg for Economy class and 30kg for Business class. Flights to and from Europe and Australia apply similar restrictions, with Economy class luggage not exceeding 30kg and for Business class not exceeding 40kg. Flights to and from North, Central and South America allow passengers to carry at most 2 pieces of luggage of 23kg each, for both Economy and Business Class.
Hand Luggage
Passengers can carry onboard a free item (for Economy class) and two free items (for Business class) that do not exceed 7kg of weight and the sum of three dimensions should be 115 cm at most. Other items that can be carried onboard besides this free item include a handbag, pocket book, lady purse, coat, umbrella, walking stick, laptop computer, collapsible wheel chair or a small camera.
Excess Baggage
Domestic flights have very cheap rate for excess baggage fee: $2 per kg extra. International flights to and from Asia, Europe and Australia charge passenger $20 per kg of excess in weight. International flights to and from North, Central and South America charge passengers $50 for each piece weighing between 23 and 32kg or $150 for an additional piece of luggage.
See more on Vietnam Airlines page or see the Airlines Luggage Comparison Chart
Vietnam Airlines Business Class
Vietnam Airlines offer Business class option with added benefits such as pre-flight business lounge, premium inflight meal and attendant service. The seat is by and large comfortable but for short haul domestic flight, it does not have the best value for the money paid.
For long haul flights, the level of comfort and luggage allowance can be significantly higher compared with Economy class. However, there is still a lot of space for improvement for Vietnam Airlines Business Class to match the equivalent services of other airlines.
Inflight Meals
Vietnam Airlines has acceptable meal service during the flight. Vietnam Airlines has an advantage in its seats which are very flush and comfortable. Besides, the cabin crew is said to be so kind and helpful to passengers. They are willing to help you when asked. Having shrimp for main dish is recommended when flying with Vietnam Airlines. The shrimps are fresh and tasty. Another strong point in meal service on Vietnam Airlines is its Muslim meals. Special diet and menu for Muslim people is always available on Vietnam Airlines.
However, the food is not very tasty in comparison with other airlines. Sandwiches taste weird to some passengers. Bread rolls, sometimes, are too tough to eat. You may need to think twice if you are not a happy person with hard bread. Also, Vietnam Airlines doesn't have very good short flight service. To be more specific, in domestic flight or short international flight, snacks are served with water; passengers have no other choices of drinks.
Vietnam Airlines Safety Records
Vietnam Airlines has one of the lowest numbers of bad records with regard to safety issues. There have not been any fatal accidents since 1997 and the fleet has constantly improved ever since.
Recent incidents only involve some emergency landings due to technical problems or petty jokes about bomb threat. On the database of the Aviation Safety Network, Vietnam Airlines has had only 6 occurrences since the 1990s and only two cases involve fatalities.
These jokes were later treated as serious offense. The good safety record of Vietnam Airlines may be explained by its prestige as Vietnamese national airlines and also its main operation of shorter haul flights compared with other national airlines such as Cathay Pacific or Air France. The longest route that Vietnam Airlines currently fly to is from Vietnam to Paris and London.
In 2006, Vietnam Airlines was awarded with the Operational Safety Audit Certificate by IATA - a safety standard set applied to all international airlines. The award also grants Vietnam Airlines a membership position in the prestigious IATA of the same year.
Conversations (1)
Join the conversation
Conversations
Join the conversation
ALL COMMENTS (1)
E
Sofiya Enikeeva
Hi guys. Just wanted to ask, whether it's possible to travel with a pet to Hanoi from HCMC. The pet (a cat below 3 kilograms) doesn't have a microchip and I didn't make her the passport (yet). Is it possible to transport the cat as checked baggage?
2 years, 4 months ago
0 REPLY
read next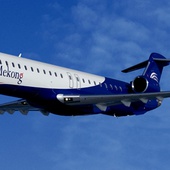 After 2 years in operation serving Vietnam's domestic air route, Air Mekong suspended all services in 2013.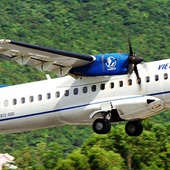 VASCO Air - Vietnam Air Services Company - is a subsidiary of Vietnam Airlines.