Air France
Air France - Flights to Vietnam
Air France is French flag carrier listed among the largest airlines in the world, headquartered in Tremblay-en-France (Northern Paris). The air carrier is also one of the key members and founders of SkyTeam – the third largest air alliance of the world.

Air France Craft - Photo: all.accor.com 
Founded: 7 October 1933
Logo: Red stripe, stylized as AIRFRANCE
Fleet: 253 in service, 33 orders
Alliance: SkyTeam
Subsidiaries: BritAir, CityJet, Régional, Transavia.com France
Air France has only very few flights to Vietnam, and they are all direct flights. All of these flights depart Paris and serve only certain days of the week.
From Paris to Hanoi, there are two options for travellers. One flight departs at 14.00 (local time) every Monday, Wednesday, Thursday and Saturday; and another one takes off from Paris at 14.10 (local time) every Sunday. The average fares of these flights, excluding tax and surcharges, are about 1,100 USD for a round trip ticket.
On the other hand, Air France also provide two direct flights from Paris to Ho Chi Minh City: one departs at 23.20 (local time) every Tuesday, Thursday, Saturday, and one takes off at 13.25 every Friday and Sunday. Detailed schedule and ticket price can be found on Air France website.
Baggage Allowance
Cabin Baggage
Air France allows each passenger to carry one piece of baggage with the total weight less than 12kg if they are on Economy class; and if the passengers are on higher classes including Premium Economy, Business and First classes, they are permitted to carry one more additional piece with the total weight of all pieces under 18kg.
Moreover, the limitation in sum of the three dimensions for each piece of carry on luggage is 115cm. If passengers travel with one children under 2 years old, they can bring one more additional baggage with the maximum weight of 12kg and sum of three dimensions of 115cm. Accessories such as laptop/mobile phone, handbag/purse or instant food are free to carry on board.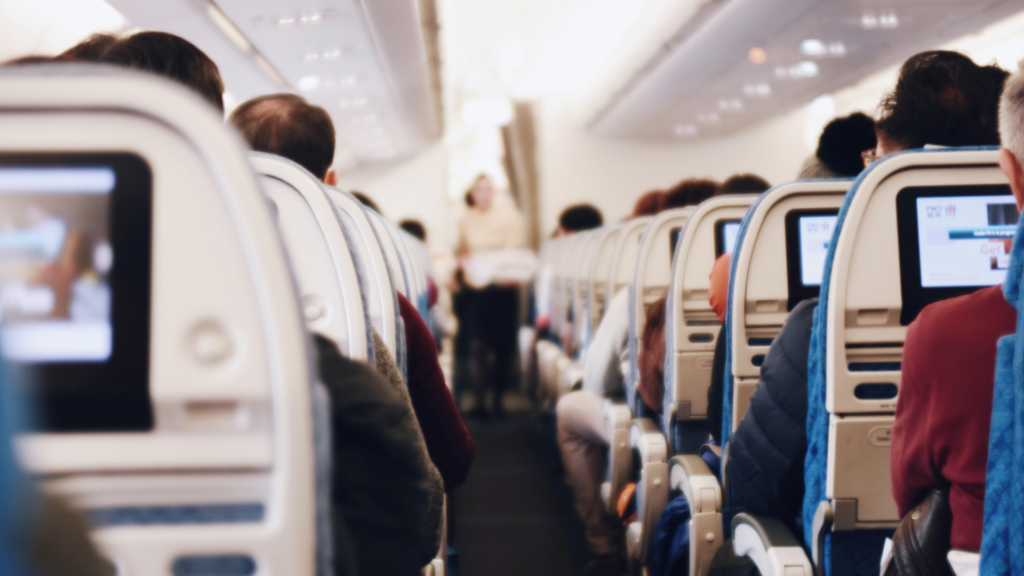 Photo by @airfrance
Checked Baggage
If you are travelling on the Economy class, you can only carry one baggage piece with the weight of 23kg at no extra charge. For Business and First Class, you are allowed to carry 2 and 3 baggage items respectively without being charged extra.
The restricted weight for each piece of baggage on Premium Economy is 23 kg while this number on Business and First class is 32 kg. Also, your pieces must have the sum of dimension less than 158cm. If your baggage breaches the limitation, you have to pay extra fee for that excessive luggage. The fee varies from 55 Euro to 100 Euro depending on different distances and regions.
Business Class
Business class (or Affaires) on Air France planes offers the passengers more luxury and convenient services as if those of a top hotel. Before the flights, Business passengers have a private lounge at the airport to relax and wait for the departure with internet access, drinks, meals and shower room.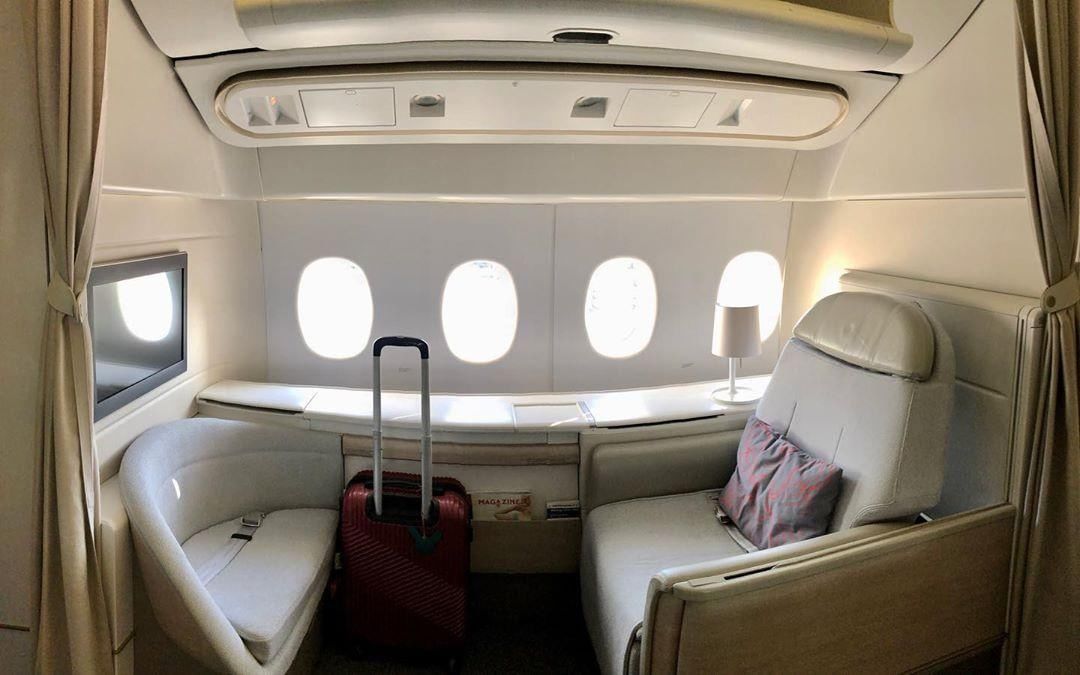 Photo by @airfrance
On the aircraft, Business class travellers have comfortable seats which can be transformed into a pleasing and soft bed for sleeping. Each seat also contains power outlet to plug in laptop; personal telephone to make calls via satellite; a small entertainment complex with touch screen, music, videos and radio.
Moreover, the meal on Business Class of Air France is also very well served, both in quality and services. Especially for long haul flights from Paris to Hanoi or Ho Chi Minh City, travelling on a Business class at Air France really makes a difference.
Inflight Meals
Air France Airlines is said to have good service with the friendly and dedicated staff. Attendants are smiling while helping passengers out. About the meal service, Air France Airlines has various options for business class all of which are exquisite food. Air France has a big advantage in French styled- food, such as: cheese and wine. Lots of passengers like goat cheese best. Others give compliments on tasty salmon, tender beef and veal. Besides, Air France Airlines has excellent vegetarian food.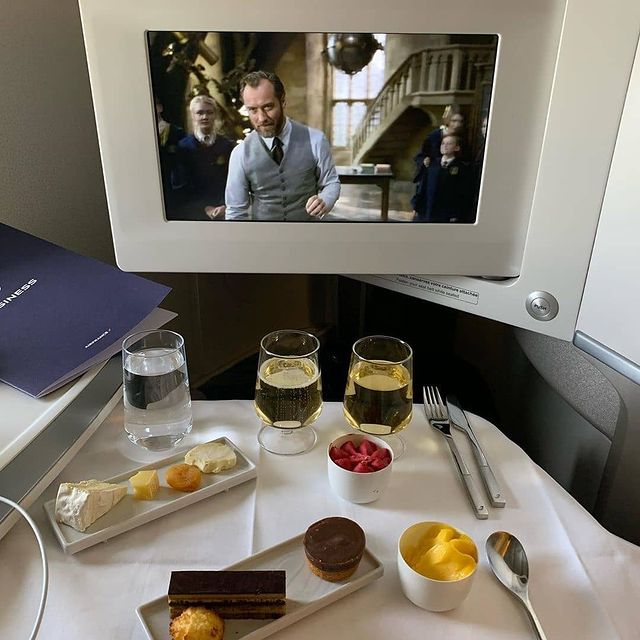 Photo by @airfrance
However, Air France Airlines has some remaining weak points. Food portions, sometimes, are too small to feed passengers. Some still feel hungry after a meal. Besides, people do not have various options for snacks, just biscuits and coffee. Bread is a little bit oily and tough. Last but not least, for the same service and food quality, some claim that they would have been charged less if they chose another airlines instead of Air France Airlines.
Safety Record
Compared to other airlines, Air France had very few cases of accidents but those cases have taken many lives of passengers. The route connecting France with Asia Pacific region has seen little issue.
Contact
Hanoi: (024) 3825-3484
Ho Chi Minh City: (028) 3829-0981
Email: mail.hcm@airfrance.fr
Conversations (0)
Join the conversation
Conversations
Join the conversation
ALL COMMENTS (0)
There are no comments. Add your comment to start the conversation.
read next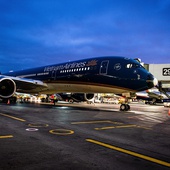 All you need to know about Vietnam's flag carrier airline.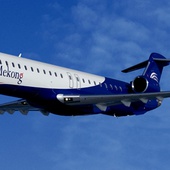 After 2 years in operation serving Vietnam's domestic air route, Air Mekong suspended all services in 2013.