Tet in Ho Chi Minh City - What to do?
Tet celebration in Vietnam starts on the 1st day of Lunar calendar and usually lasts for 3 days. Before Tet holidays, people start having days off from December 26th to tidy up and decorate their houses. The work schedule are normally back to track at January 5th of Lunar Calendar.
Tet in Ho Chi Minh City is mostly the same as many other cities in Vietnam. On the day before the New Year's Eve, every family cleans their houses to make sure everything look polished and new at the beginning of a new year. Then they decorate the houses with beautiful flowers, fruits and candies to serve guests visiting during holidays. On the New Year's Eve, family members usually gather, enjoy traditional food like sticky rice cake and wait for the moment of the new year to come. Some family goes to the firework display places to enjoy the festive atmosphere with other people around. In Ho Chi Minh City, the firework show usually takes place in District 1 and other historical places.
On the first day of the New Year, adults usually give the younger ones "lucky-money" as a way to give them luck and pray for them. In exchange, the young also says good wishes to adults which are the hopes for them in New Year (read more about Vietnam New Year wishes here). People also go to pagodas on the 1st day of the New Year to pray for luck, happiness and safety for themselves and family. The popular pagodas that most people usually visit during Tet holidays are Vinh Nghiem Pagoda, Hoang Phap Pagoda and Giac Lam Pagoda.
What to do if you are in Ho Chi Minh City for Tet holiday
Watch Flower Displays
During Tet holidays, there are many places that you can visit and things to enjoy in Ho Chi Minh City. You can pay a visit to Nguyen Hue Flower Street in District 1. This is where a special event is held every year to celebrate Lunar New Year: Different kinds of flowers from many regions of the country are brought to Ho Chi Minh City and arranged into beautiful shapes. The theme is different each year based on the animal of the year according to Chinese Zodiac (2012 will be the year of Dragon).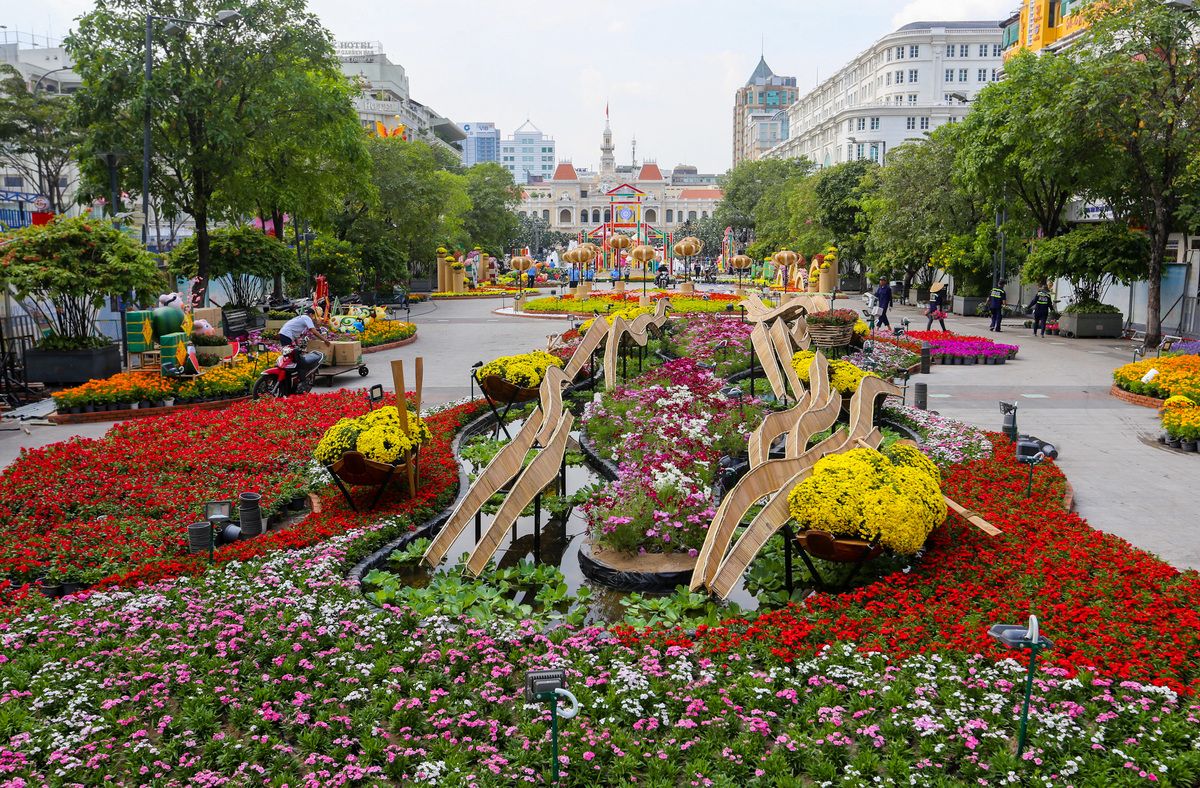 Photo @vnexpress.net
You can walk along Nguyen Hue street, have a look at those beautiful rare flowers and admire the skillful hands of the artist who make all of these things. It is like you are walking in the kingdom of flowers or experiencing beautiful sceneries of Vietnam made by flowers.
Tao Dan Park also has a flower exhibition during Tet holidays. Many flowers that win the competition are gathered here for viewers to enjoy. You can find many surprisingly beautiful flowers and enjoy the game shows and music concerts here too (read more about Vietnamese traditional flower for Tet holiday).
Entertainment Parks
Photo instagram @fraserhospitality
Many parks in Ho Chi Minh City like Dam Sen Park, Suoi Tien Park is also a great choice to spend your holidays. There are a lot of activities held in these parks during the holidays like the festivals where you can play many games and the music shows that happen every night. Especially if you travel in a family with kids, they will surely enjoy the colorful decoration and festive atmosphere at these theme parks.
Door shows at hotels
On Tet Holiday, the center of Ho Chi Minh City is not only filled with colorful Nguyen Hue Flower Street, but is also entertained by great doorshows. These shows are held in front of hotels in Saigontourist's sytem, including: Rex, Majestic, Continental, Grand, Sheraton, Caravelle, Bông Sen, Palace, Kim Đô, Oscar. People can expect to see drum performances, dragon dance, a human and tree, outdoor concerts, model-shaping dance, pantomimes, magic tricks, juggling, flamenco music, classical music prformances, comics, window show puppet performances, circus acts, vaudeville, folk games, etc. This year, doorshows will take place from 20 to 26 Jan 2012. Remember to be downtown in the afternoon if you happen to come to Ho Chi Minh City this Tet Festival, to witness some dangerous, funny and unique performances.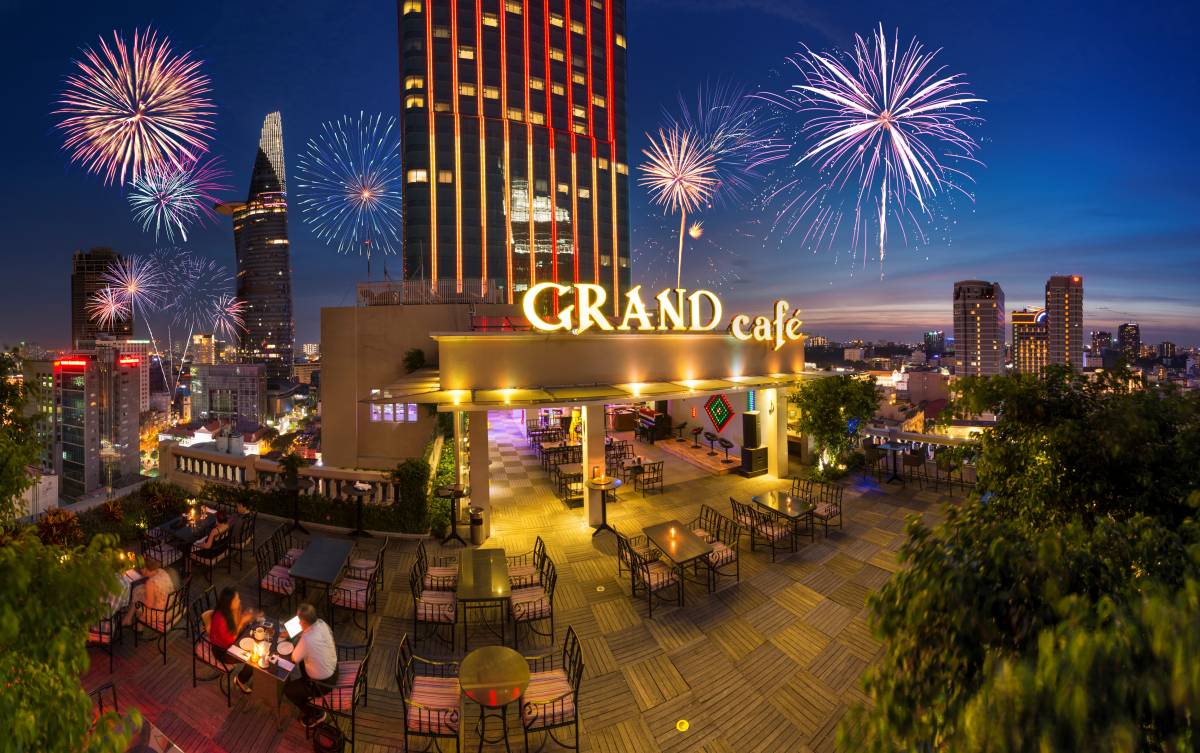 Photo @hotelgrandsaigon.com
Door shows locations:
Rex Hotel 141 (Nguyen Hue St., Dist. 1)
Majestic Hotel (1 Dong Khoi St., Dist. 1)
Grand Hotel (8 Dong Khoi St., Dist. 1)
Bong Sen (117 Dong Khoi St., Dist. 1)
Continental Hotel (132 Dong Khoi St., Dist. 1)
Kim Do Hotel (133 Nguyen Hue St., Dist. 1)
Palace Hotel (56 Nguyen Hue St., Dist. 1)
Oscar Hotel (68A Nguyen Hue St., Dist. 1)
Caravelle Hotel (19 Lam Son Square, Dist. 1)
Visit Cho Lon (District 5)
As Tet comes to every house's door, Cho Lon is most crowded and beautiful in a year, putting on a new red coat from street to street, shop to shop. Being the trade center of the city and the home for decoration materials, ChoLon is the first place to feel the atmosphere of Tet Holiday. Hoa people have well-maintained a lot of traditional original customs of Tet Holiday, as well as adopted some of Vietnamese people, thus making Tet in Cho Lon very lively and interesting to see. Tourists can take a tour visiting the area by pedicabs.
Visit pagodas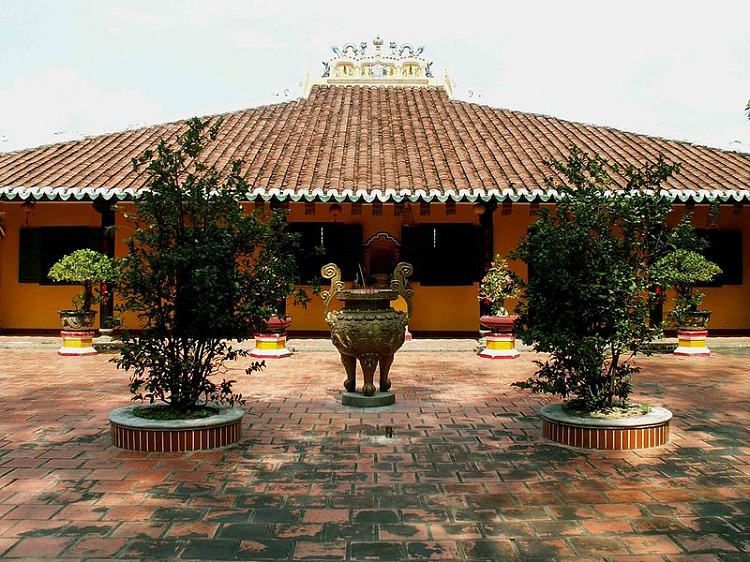 Photo @dulichdaiduong.vn
For Vietnamese people, going to pagodas on Tet is indispensable part of the holiday. Therefore, it's recommended for tourists to drop at some popular pagodas, suggested in the list below:
Vinh Nghiem (339 Nam Ky Khoi Nghia St., District 3)
Hoang Phap (Tan Hiep Ward, Hoc Mon District)
Giac Lam (118 Lac Long Quan St., Tan Binh District)
Phuoc Hai (73 Mai Thi Luu St., District 1)
Khmer (1985B Hong Lac St., Tan Binh District).
Here you can join the crowd of people praying for luck, happiness and joyfulness for themselves and their families in the upcoming year. On this occasion when pagodas are filled with flocks of pilgrims, tourists can enjoy the tranquil atmosphere mixed with charming and mysterious aroma of intense sticks.
Conversations (0)
Join the conversation
Conversations
Join the conversation
ALL COMMENTS (0)
There are no comments. Add your comment to start the conversation.
read next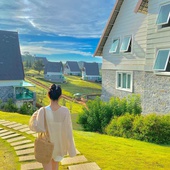 More often than not, in foreigner's eyes, Tet is often written off as a time to travel to Vietnam. It's better to think again.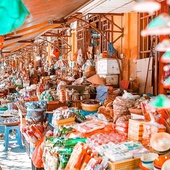 As Tet holiday is the most important period of a year to Vietnamese, just like Christmas and New Year to Weterners, there are some notices for travellers who want to travel to Hoi An during this holiday to avoid unpleasant things happen.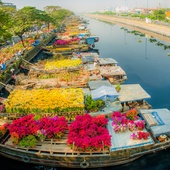 In order to have the best Tet experience in Ho Chi Minh city, read these useful tips shared by locals and experienced travellers to ensure a smooth trip during the holidays.