Tet- A Unique Vietnam's Celebration
Vietnamese Tet, an eventful holiday in Vietnamese culture, often takes place during the first week of the new year in Lunar Calendar. Lots of foreigners consider Vietnamese Tet as the Chinese New Year and call it by the faux name. To foreigners, there seems to be a thin line in differentiating Tet and Chinese New Year. Most Vietnamese people, however, refer to the holiday as Tet with all of their pride.
Tet shares with Chinese New Year the same day of celebrating which is calculated based on the Lunar Calendar. In fact, not only Vietnam but several other countries also share the holiday: Japan, Korea, Mongolia and Bhutan. Vietnamese Tet is also a time for reunion and celebration of relationships. Tet for Vietnamese is a precious chance for family members and friends to get together, share experience and feelings and enjoy the companionship.
Though Vietnamese and Chinese people share a few similarities in celebrating the Lunar New Year, Tet still remains in Vietnamese people's souls as a unique tradition and a national pride.
Unique cuisines for Tet celebration
In Vietnamese language, Tet comes more often with the verb "eat" (An Tet) than any other words. Food in Tet plays a vital role in making Tet more enjoyable. Banh Chung - Banh Day, which appeared long time ago, are considered symbols of Tet and no where to be found in any other countries' new year occasion.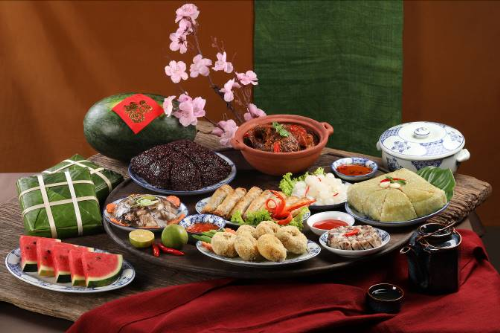 Photo @vimexfood.com
The glutinous rice well mixed with seasoned pork in Banh Chung and the plain appearance but delicious taste in Banh Day ensures to spread Vietnamese spirit in reunion meals on the special occasion. The making of Banh Chung itself is a process that can sparks up conversation and makes relationships more close-kitted.
Besides, there are several dishes in Vietnamese gastronomy that visitors may not find at any other countries, such as: Chan gio ninh mang (Pork's leg stewed with bamboo sprouts), Xoi (sticky rice), Banh Tet (in the Central and the South), Boiled Chicken. The authentic food made during Tet holiday partially contributes to bringing a Vietnamese taste in the Lunar New Year.
Read more about What Vietnamese Eat during Tet
Unique Atmosphere
The second thing that makes Tet stand out from other countries' New Year celebrations is the atmosphere itself. Simply one cannot understand it until one feel it. When it comes to Tet, ladies in Ao dai will be be seen on the streets and their outfits will come in various cheerful colors. Everyone dresses up like no other occasion in the year.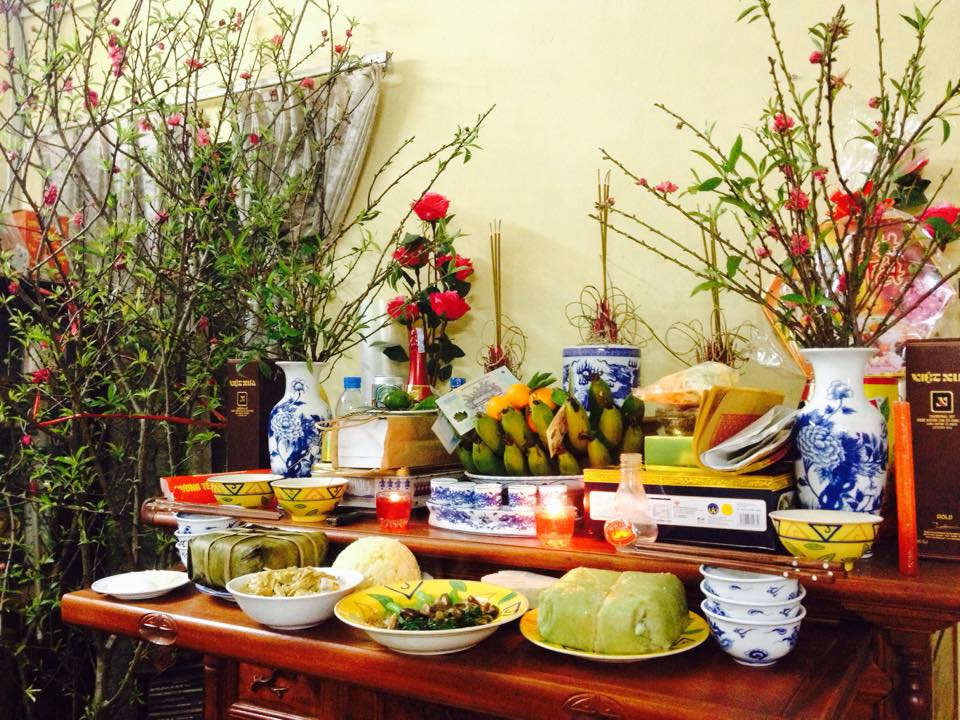 Photo @hoianfoodtour.com
People get together and send each other best wishes in Vietnamese, such as "Van su tot lanh"(Wish you all the best), "An khang thinh vuong" (Wish you happiness and prosperity). Vietnamese songs with fast tempos and exciting melody are broadcast on televisions or can be heard when you walk along the streets.
Calligraphy for Tet holiday
Roadsides from cities to countrysides will experience a total transformation: the red color will be omnipresent, wishing everyone a new lucky year. Flowers will grow as spring comes to the country and all families will have their own ornament trees such as peach tree or apricot flower. Even when you come to Vietnamese community area in the States, Canada or Australia, you can easily tell it is different from the China town you knew before.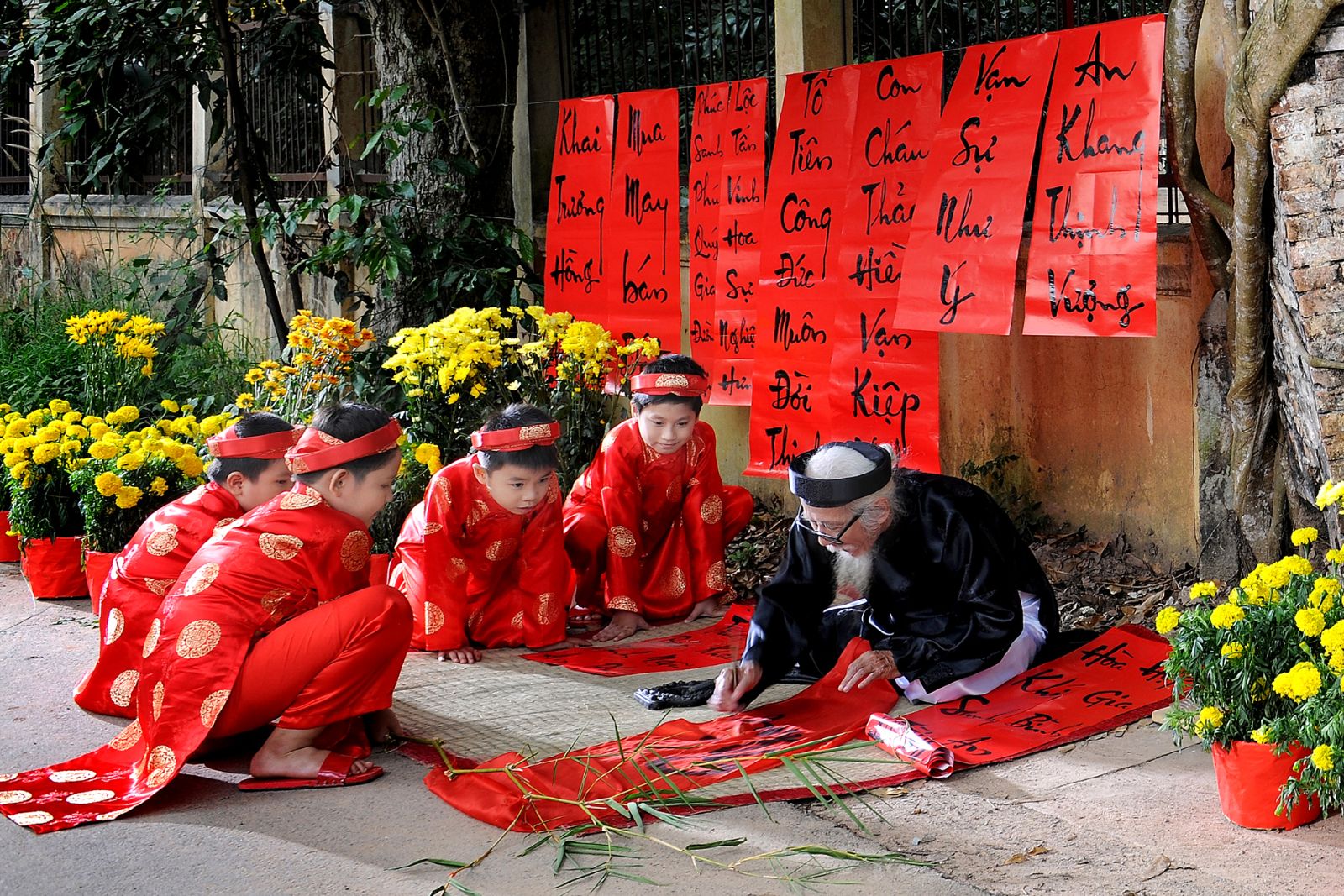 Photo @hoianfoodtour.com
Unique spirit Vietnamese Tet is famous for its emphasis on reunion and showing gratitude to the older people. In the South of Vietnam, the first day of Tet is dedicated to the paternal side of the family: father and his relatives, the second day is for maternal side: mother and her relatives and the third day is for teachers and friends. In the North of Vietnam, most family spend their first two days to visit the closest families and relatives, while many return to the countryside where their grandparents grew up.
Tet is and will always remain a sacred occasion for Vietnamese to pay tributes for the old year and express new hope for the new year, a time where families and friends are placed of utmost importance and everything else comes aside. If you visit Vietnam during this occasion you will see how.
Conversations (0)
Join the conversation
Conversations
Join the conversation
ALL COMMENTS (0)
There are no comments. Add your comment to start the conversation.
read next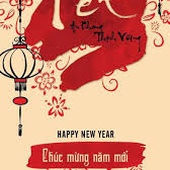 Tet holidays are the moments of happiness and family enjoy, therefore Vietnamese often dedicate the most beautiful words to their family and friends on this occasion.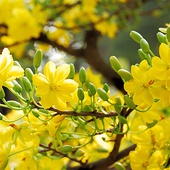 Tet holidays are the days of relaxation, happiness and joy. And similar to pine tree for Christmas holiday in the West, Vietnamese also use many kinds of flowers and plants to decorate their house in this special period.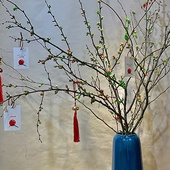 Giving gifts on Tet Festival, which has been long a traditional custom in Vietnam's ancient culture, represents not only the close relationship but also the thorough and subtle of human behaviors. Vietnamese are extremely careful in talking and behaving on the very first days of New Year, as it can determine the good fortune throughout the year.