Angsana Lang Co Resort
5 things that we love most about Angsana Lang Co Resort
Chic retreat with a 18-hole golf course

Hiking trail and watersports are available for active guests

Boat excursion in the resort canal

Leisure stay with all-inclusive package

Classic Vietnamese low-rise architecture for a home-from-home feeling
Overview
Featuring 229 chic rooms and suits with classy modern design and unparalleled comfort, Angsana Resort ranked 2nd place among the Top 20 Best Resorts in Asia 2019 by Readers Choice Awards. Sprawling on a pristine beach in the Gulf of Lang Co, it showcases the speechless beauty of the endless turquoise ocean and the rocky Truong Son mountain range. Ideal for anyone seeking a beach getaway with their beloveds, this resort ensures a memorable vacation hardly found anywhere else.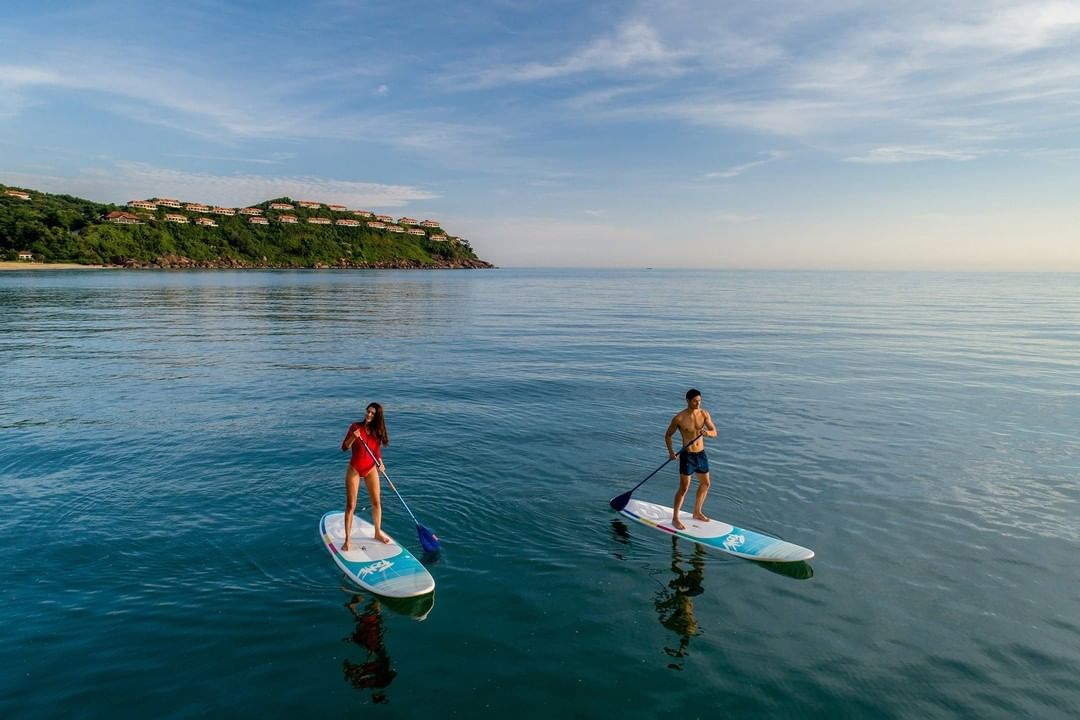 Location
Situated on a private beach embracing the stunning bay, Angsana Lang Co Resort takes inspiration from Central Vietnam's striking culture and heritage. Taking a vacation at the resort, you can explore three amazing UNESCO World Heritage Sites. Hoi An Ancient Town, The Imperial Citadel of Hue and My Son Sanctuary is about 1 hour and 15 minutes driving away. Angsana Lang Co is 55 km away from Da Nang International Airport while the distance from Hue International Airport is 45 km. From both places, it takes approximately one hour drive to get to the resort.
Service & facilities
Over 100 of the 229 stylish guestrooms and suites come with their own private pool overlooking the unrivalled sandy beach. As a full-service hotel in an integrated resort complex, Angsana features countless high-end facilities, dining options and recreational activities to meet guests' demands.
From the lagoon-style pool and inspired handicraft classes to the energizing water sports or a charge on a famed golf course designed by Sir Nick Faldo, your vacation experiences are more diverse and fascinating than ever. With an ideal location, Angsana also is an excellent base to explore Central Vietnam's cultural treasures as Hoi An or My Son. At the end of yet another beautiful day, take a stroll to the award-winning Angsana Spa Lang Co to unwind and relax with signature hydrotherapies and body treats.
2 swimming pools

Bar

Beachfront

Private beach area

Picnic area

Outdoor furniture

BBQ facilities (Additional charge)

Garden

Kids' club

Water sports facilities (on site) (Additional charge)

Fishing (Additional charge)

Golf course (within 2 miles) (Additional charge)

Tennis court

Yoga classes

Fitness

Massage Additional charge

Spa Additional charge

Sauna

On-site coffee shop

Bar

Restaurant

Free public parking is possible on site
Room & Amenities
With a contemporary-style design concept, Angsana Lang Co offers a total of 229 luxury rooms and suites in different styles, varying to demand and interest. The Deluxe rooms are modern and chic with emerald mountain views while Premier rooms boast private pools and balconies overlooking the lagoon or vast ocean. If you are looking for the ultimate in accommodation, Loft Suite would be the best pick on the list. Pure paradise corner, high up in the resort with sprawling vista and enormous ceiling windows, it embraces a tranquil yet chic vibe that contributes to a bright living space.
| Room Type | Maximum | Size |
| --- | --- | --- |
| Garden Balcony Grand | 2 adults / 2 adults, 1 children | 52 sqm |
| Sea-view Junior Pool Suite King | 2 adults / 2 adults, 1 children | 53 sqm |
| Sea-view Junior Pool Suite Twin | 2 adults / 2 adults, 1 children | 60 sqm |
| Courtyard One Bedroom Suite | 3 adults / 2 adults, 1 Children | 90-102 sqm |
| Beachfront One Bedroom Suite | 3 adults / 2 adults, 1 Children | 90-102 sqm |
| Seaview One Bedroom Suite | 3 adults / 2 adults, 1 Children | 90-102 sqm |
| Courtyard Pool Suite Two Bedroom | 4 adults / 4 adults, 2 children | 159 sqm |
| Beachfront Pool Suite Two Bedroom | 4 adults / 4 adults, 2 children | 159 sqm |
| Skypool Seaview Two Bedroom Loft | 4 adults / 4 adults, 2 children | 179 sqm |
| Angsana Skypool Seaview Two Bedroom Loft | 5 adults / 4 adults, 2 children | 179 sqm |
Highlights
The local fisherman village nearby the hotel is undoubtedly an ideal place for thrill-seekers. Travelers can visit the village via the resort's Jetski Safari Private Tour to get an insight into the local's culture and lifestyle. Not only a perfect private hideaway, but Angsana Lang Co is also a great base to discover the wilderness of tropical jungles in Truong Son mountain range. Immerse in nature with a long hike amidst endless emerald forests somehow is a way of refreshing and healing for adventurous souls.
Food & Drinks
From international delicacies to authentic Vietnamese and Southeast Asian cuisines, the resort's restaurants and bars bring you some of the finest dining to discover. Offering a range of the best cuisines of the Indo-China region, the Market Place restaurant stands out for serving stunning-casual breakfast and a diverse menu for lunch and dinner, giving you a unique culinary experience with its beautiful Vietnamese-accented décor. The seafront restaurant Moomba is the perfect vantage place to watch the sunset with a cocktail before dinner. Local chefs bring out the best of authentic Central Vietnamese and Southeast Asian seafood.
Rice Bowl, as its name suggests, is the great spot dedicated to the humble rice grain, where you can find the most local delicious rice dishes and some sushi bites. Then you can head to the sophisticated Rice Bar situated within to sip some shots of richly flavored rice brandies. Savoring an aperitif before dinner or chill out with friends and family at The Upper Deck Bar – the resort's rooftop terrace bar featuring marvelous panoramic views of the sea and Truong Son mountain range. Guests also have access to all restaurants the luxury on the Banyan Tree resort nearby as both of them are parts of Laguna Lang Co complex.