A guide to Christmas in Hanoi 2011
Christmas is coming to town in Hanoi, along with truly freezing weather Hanoians are expecting for their winter season.
Christmas is coming to town in Hanoi, along with truly freezing weather Hanoians are expecting for their winter season. Although Christmas is not an official holiday for Vietnamese, but this has still been a popular occasion for people to get on the road and enjoy uproarious atmosphere here, especially in recent years when the economy catches up with cities worldwide. This is a sign of merge between Western and Eastern culture in Vietnam, as well as internationalizing trend in Vietnam's society.
Good thing to foreigners and expats in Hanoi is that big Christmas events are now not only organized at some grand churches in the city, but also held by numerous organizations and entertaining destinations. Check the information below for some ideal events in Hanoi to participate in at this Christmas (this guide will be updated daily so bookmark this page to stay tuned!):
16 DECEMBER
---
Aussie Xmas Bash at The American Club (19-21 Hai Ba Trung)
Get a loud night of Christmas atmosphere and live music performed by bands Always, Zamina and DJ Vaughn. Fare is VND 100,000 (USD4.8) for members (AusCham, Dragons, Swans and VGAC) and VND 120,000 (USD5.8) for non-member, including one free drink, Photos with Santa, Christmas cakes and food. The event is held by Australian Chamber of Commerce, KOTO, Vietnamese Graduates from Australia Club, Hanoi Dragons RUFC, Synergy Music Production and Vietnam Swans.

See full poster of Aussie Xmas Bash here.
17 & 21 DECEMBER 
---
Ginger bread house workshop at Hanoi Cooking Center (44 Chau Long)
This is one of the best things you can offer to your beloved child if your family is in Hanoi this Christmas: give them an opportunity to make, and laugh while making, the gingerbread house in Hanoi. Hanoi Cooking Center is holding gingerbread house short class with all the warmth of the winter holiday. 

It costs only VND350,000 for your kid to join and VND 230,000 to bring a kit home. 

 
19 DECEMBER 
---
Christmas Concert at Hanoi Opera House (1 Trang Tien)
On December 19th, Hanoi Opera House will host a Christmas concert, featuring famous music pieces by Mozart, Chopin, Verdi, Romance, Rondo, to name  a few.

Tickets can be purchased by emailing ticketvn@gmail.com or at the Opera House, starting from VND 150,000 (USD 7.5).

Read further information about Christmas Concert at Hanoi Opera House.

 
23 DECEMBER
---
Red & White Christmas Party at Handi Resco Tower (521 Kim Ma Street)
A fabulous Christmas Party organized by Event Club, associated with other students clubs, at RMIT University Hanoi. The event creates not only a unique Noel night with intimate atmosphere, but also a romantic party with main theme of a beautiful love story.

Organized by RMIT University students club.

Read Vietnam Online News of the Red and White Christmas Party at RMIT.
24 DECEMBER
---
Blue Dragon Fundraising BBQ (Garden Mall and Sky Cafe)
The Garden Shopping Center  and Sky Cafe will be holding a BBQ fundraiser to support the charity foundation Blue Dragon. Proceeds will go to street kids and disadvantaged one so that they can be sent to school for education and training. 

Make sure you are there!

 

 
24& 25 DECEMBER
---
Purple Christmas Dinner with Brazilian Cuisines at Au Lac Do Brazil (6A Cao Ba Quat)
Au Lac Do Brazil is holding special dinner with authentic Churrasco and Bossa Nova music for December 24th and 25th. Dinner price is at 890,000 ++ for adults and 590,000++ for children (Christmas dinner) and 750,000 ++ for adults and 400,000 ++ for children (Christmas Day meal).

Both outlets at 6A Cao Ba Quat in Hanoi and in Phu My Hung resident area of Ho Chi Minh City are holding the same Purple party. 

 
Are you organizing a Christmas event in Hanoi? Share with us your events! Our email is: editors@vietnamonline.com and we appreciate all your contributions!
Read more:
How Vietnamese celebrate Christmas
5 places to spend your next Christmas eve in Hanoi
Guide to Christmas 2011 in Ho Chi Minh City
Comments (0)
Your comment...
Conversations
Join the conversation
ALL COMMENTS (0)
There are no comments. Add your comment to start the conversation.
read next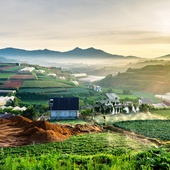 Located in the Southern Central Highlands of Vietnam, Dalat, also known as City of Flower, is consistently listed as one of the greenest tourist sites in Vietnam thanks to its poetic scenery, ancient French colonial villas, the fresh air, the beautiful waterfalls, and lakes sit in a lush emerald valley.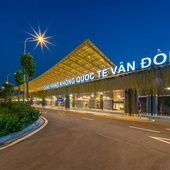 Quang Ninh restarted tourist activities within the province on 2nd March, 2021, as the province has gone through 20 days without community transmission.