Buffalo Fighting Festival in Phu Ninh
To preserve and consolidate the cultural values of the nation, the government has restored a traditional event in Phu Ninh Village, Phu Tho Province called the Buffalo Fighting Tournament after 60 years of oblivion
To preserve and consolidate the cultural values of the nation, the government has restored a traditional event in Phu Ninh Village, Phu Tho Province called the Buffalo Fighting Tournament after 60 years of oblivion. This special tournament is nowadays regarded as a festival and organized on the 14th and 15th day of the second month of a lunar year.
The Buffalo Fighting Festival has a history that is dated back to the time of the Hung Kings. At that time, there was a market in Phu Ninh called Ham Rong Market, which is only held twice every year. When the generals of Hung King were hunting, they saw 2 tigers fighting each other. To save the people around that area from being in danger, the general killed the 2 tigers. Later on, as a token of respect, people built Ham Rong Market and gather there twice a year. However, they not only traded in the market but also organized a buffalo fighting festival.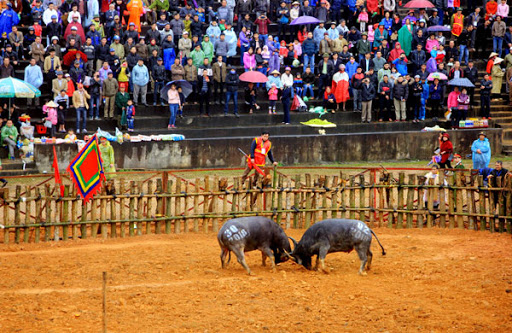 Photo: phutho.gov.vn
The festival embraces many aspects of the agricultural life in Phu Ninh. Thus, the buffalos participating in this event are taken care of very carefully as if they are the members of the family. There are 4 villages taking part in the festival: Cao, Phu Man, Ngoc Tru, and Ngoc Khoi. Each of them chooses a strong and black male buffalo to raise and prepare for the tournament. When the day of the festival comes, people wash the buffalos and let them drink half a liter of water. On the 5th day, the buffalos are arranged into 2 pairs. The 2 "losers" will be killed to make a feast for everyone, and the 2 "winners" will continue to fight on the 10th day.
When they are done cooking the buffalo meat, people put the food on banana leaves instead of plates, and then they place it at the middle of the market to start the worshiping ceremony. After that, all villagers will celebrate right on the spot!
Conversations (0)
Join the conversation
Conversations
Join the conversation
ALL COMMENTS (0)
There are no comments. Add your comment to start the conversation.
read next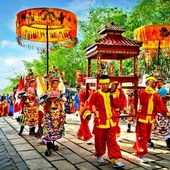 Ancestral death anniversary of Hung Kings, in other words, Hung King Temple festival has become one of the greatest national festivals in Viet Nam for a long time.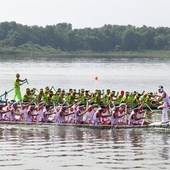 In the Vietnamese language, Bach Hac means "the White Crane". With its façade overlooking the Lo River, the temple is on a peaceful hill in Bach Hac district of Viet Tri City.