Festival Hue: Revive The Folk Traditions
In every Hue Festival, the city seeks to encourage the celebration of these traditional practices and customs, by holding a lot of events to revive and enliven these invisible and intangible values.
No matter how much Hue has been shaped by the imperial past or even by the modernization of the 21st century, it remains a city of simplicity, of childhood memory and folk life tradition. In every Hue Festival, the city seeks to encourage the celebration of these traditional practices and customs, by holding a lot of events to revive and enliven these invisible and intangible values. It's not only a performance or a revival but a reminder of how people have lived, worked and enjoyed life, as well.
Kite-flying Festival
During one week of the biannual Festival, Hue's sky is beautifully colorized by gently flying objects called kite. Kite – flying is a popular activity among children in Vietnam, with kites of various colors and shapes. Throughout the sunny and windy summer days, it's easy to catch the sight of Ngo Mon Square becoming the kite-flying land.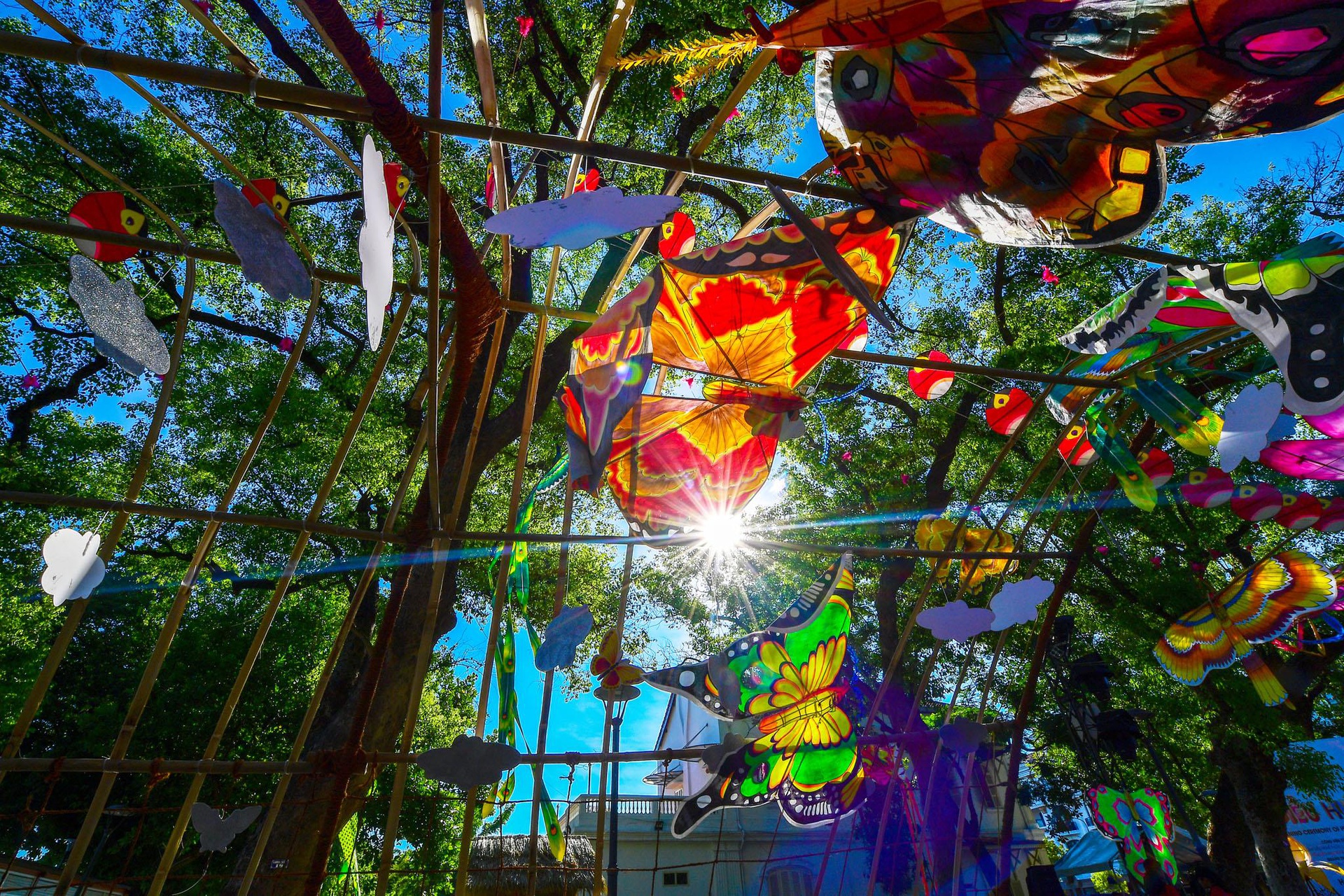 Hue's kite running fest brings back childhood memories for many

This is also a chance to show visitors the height of kite-making and flying skills of Hue people. Tourists will surely be fascinated by special kites of artisans such as a 100m dragon kite, or flying a kite themselves.
Thanh Toan Village Market Fair
Thanh Toan Village Market Fair is where people can witness a market functioning as a communal gathering place. Open up next to the well-known Thanh Toan Roofed Tile Bridge, this market sells regional products and Hue popular dishes. A visit to the nearby museum of agricultural tools gives an insight into the farming life and wet rice civilization vividly through tools such as: ploughs, sickles, hoes, rice-hulling mills, rattan and bamboo woven souvenir gifts.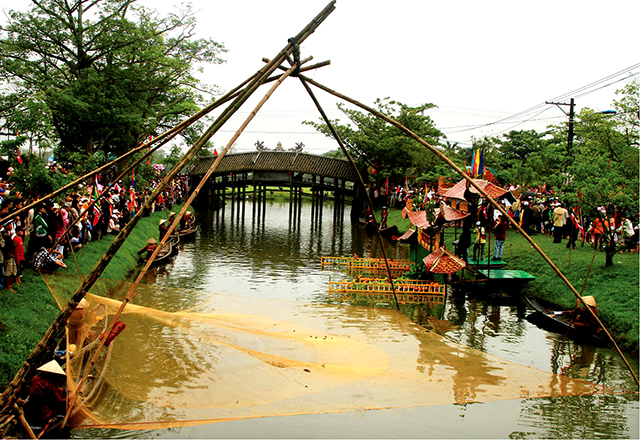 Thanh Toan bridge a gathering space for villagers

The most exciting part that "Rural market on festive days" offers is game. Here the spirit of social gathering at the village market is best expressed, with children, men and ladies playing "bai choi" (singing while playing card), "co nguoi" (human chess), "da ga" (cockfighting), etc.
Paper flower making - Thanh Tien Village
The next two destinations designated to rekindle nostalgia, are Thanh Tien and Phuoc Tich Village. The former one is famous for its craft of making paper flower. Seeing these colorful elegant flowers, people can't help reminding themselves of the special atmosphere before Tet - when these flowers fill up every road and every house. It's the connection with traditional folk belief that keeps paper flowers alive until today under the harsh competition from plastic flowers.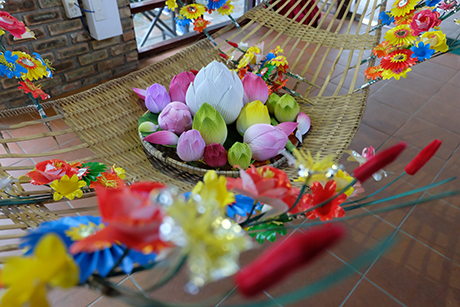 Thanh Tien Village famous for paper craft

The paper flowers arranged by painter Than Van Huy's in his own garden during Hue Festivals may be a better choice for tourists who prefer a small art space in common daily life.
Ancient village of Phuoc Tich
The last is Phuoc Tich Old Village, which is a big astonishment to experts. There are 27 old houses that have survived rain, harsh sunshine, poverty and historical changes. The museum of "ruong" houses (typically Vietnamese house architecture), in addition to its historical and architectural values, is also an address to learn how life in the countryside used to be.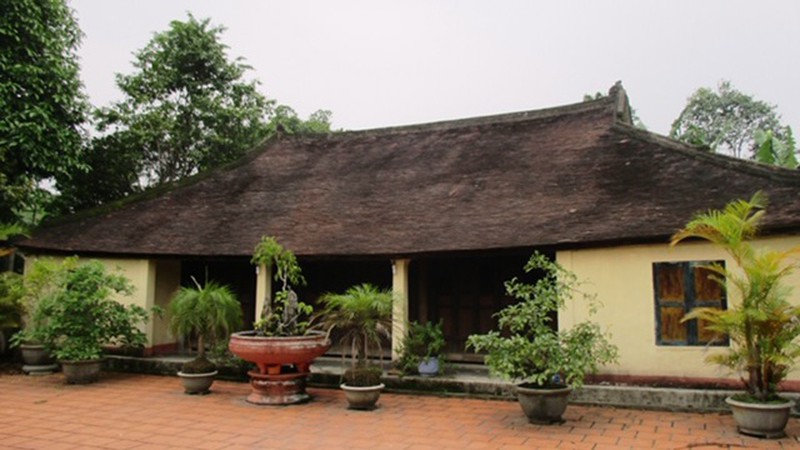 Phuoc Tich village showcases Hue's architecture

If Hoi An was a commercial port town in the early 16th century, Phuoc Tich is a perfect model of a village in Northern Central Vietnam, composed of communal houses, pagodas, temples, clans' altar houses, village wells, century-old trees and gardens.
Just like the spirit of folk life values, most of these programs are free, which mean tourists can join without entrance fee. While staying in Hue during Festival times, don't miss the chance to observe the true soul of Vietnamese people, of the countryside with rice paddy fields, and of villages where people live in harmony with nature and with each other.
Conversations (0)
Join the conversation
Conversations
Join the conversation
ALL COMMENTS (0)
There are no comments. Add your comment to start the conversation.
read next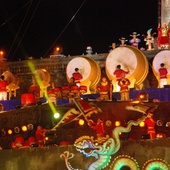 Without doubt, the biennial Hue Festival is one of the most awaited events of Hue, of the Central Region and of the whole Vietnam. Every time it comes, Hue Festival triggers a feeling of pride for Vietnamese, curiosity for foreign tourists, and excitement for both.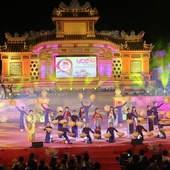 While Hue always exudes arrogance and serenity embodied since the glory days of the former ancient capital, young and dynamic visitors can still be spoilt for fascinating things to do during the Biennial Hue Festival.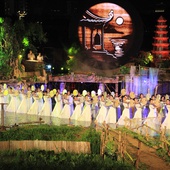 Hue Festival, with participation of 40 international art troupes, including a big number of traditional ones from 30 countries, promises to give tourists golden chances to appreciate different traditions through numerous art performances of varied origins, styles and genres: from East to West, court to folk, music, dance, drama to costume exhibit.