10 Best Boutiques For Shopping in Hoi An
Fusion architecture designs, yellow walls or colorful lanterns make Hoi An become special and unique. Among the must-dos while in town, one can never understate the pleasure for shopping. In fact, Hoi An boasts the best of shopping in Vietnam, with many coffee houses, art galleries or boutique shops crowding the downtown area. Below is a list 10 best places to stop by for your shopping venture.
Aobaba Hoi An
Aobaba Hoi An is a well-known family-run tailoring boutique in Hoi An with its large textile product collection and impeccable tailoring services. This is also one of the most loved boutique stores in Hoi An by domestic and foreign tourists.
At Aobaba, you can choose fashion items from the to-date catalog - a collection of ready-to-wear clothes meticulously sewn with a variety of designs and styles, or request a tailor to make according to your template based on the professional tailor's advice to create an outfit which is both fashionable, unique and personalized. In particular, your measurements are kept for 3 years at the store, so you can request to tailor your favorite designs during that time.
In addition, the service quality of the store's staff has received many good reviews from visitors. At Aobaba, you receive enthusiastic consultants, sincere advice, and agility in working style. Therefore, Aobaba is an ideal shopping and tailoring spot for you to own the most unique and quality outfits.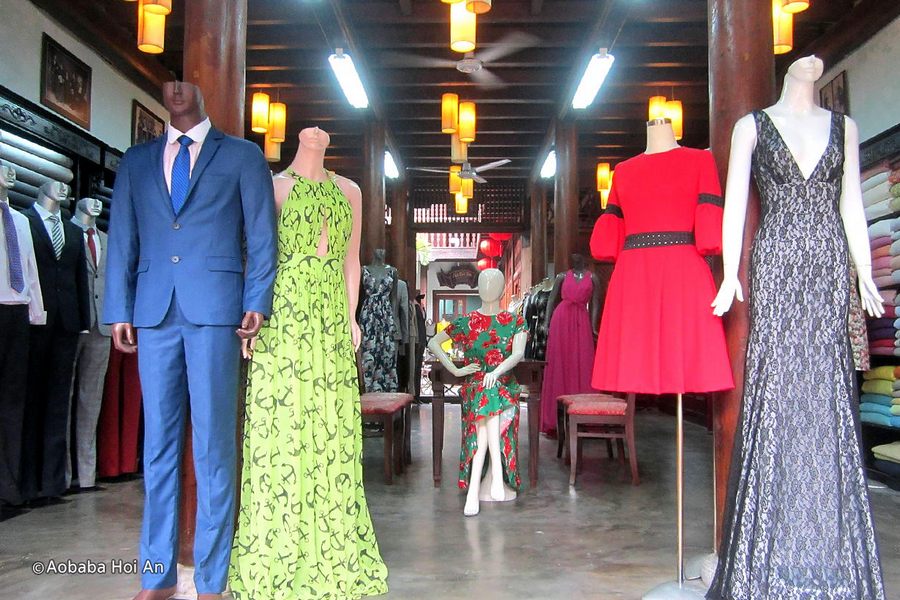 Photo: gudevietnam.org
Address: No.148, Tran Phu Street, Minh An Ward, Hoi An
Opening hours: 8:00 – 21:30
Pho-La Boutique
It is flawed if Pho-La Boutique is not on the list of the best boutique shops in Hoi An. This is the ideal shopping address for women when traveling to Hoi An with a variety of models from boutique style to European style.
From a distance, you can easily recognize Pho-La Boutique with its open space and design based on the two main colors blue - yellow creating a spacious, cozy, comfortable space with typical features of Hoi An. The shop's products are unique and varied from designs to colors with stylish dresses, sexy colorful camisoles, dynamic T-shirts, shorts full of personality, thereby giving you a youthful, dynamic and comfortable style. Pho-La Boutique is a suitable shopping destination for you if you do not know what to wear on Hoi An trip because the shop's items are easy to match and suitable for the atmosphere of Hoi An, or convenient for the beach trip.
If you are wondering about the clothes for a trip to Hoi An, Pho-La Boutique can help you to solve the problem with unique and outstanding outfits full of Hoi An vibe.
Address: No.11, Tran Phu Street, Minh An Ward, Hoi An
Opening hours: 8:00 – 17:30 from Monday to Friday
Hot Chilli
Don't miss Hot Chilli if you're looking for something for a cocktail party or beach trip with friends and relatives. With the notion of free-spirit, the store products contain liberality, youthfulness and modernity.
Inspired by ancient art forms and handcrafted with 100% natural cotton, Hot Chilli's items are created with the best quality based on today's latest printing technology, thereby bringing uniqueness and comfort and boldness for customers. The shop gives you a wide options of dresses, menswear, shoes, tops, yoga clothes and accessories. In particular, the price here is quite low compared to the quality of the product - which are hand-painted, designed, made and printed in-house with high-quality materials, so Hot Chilli is always the ideal shopping spot for domestic and foreign visitors, especially the avid traveler, the bohemian and the wild people.
Besides, the professionalism and psychology of the shop staff is worth receiving many compliments when helping visitors enjoy the shopping moments with a happy and satisfied mood. With uniqueness and boldness, Hot Chilli promises to awaken your adventurous spirit in every trip.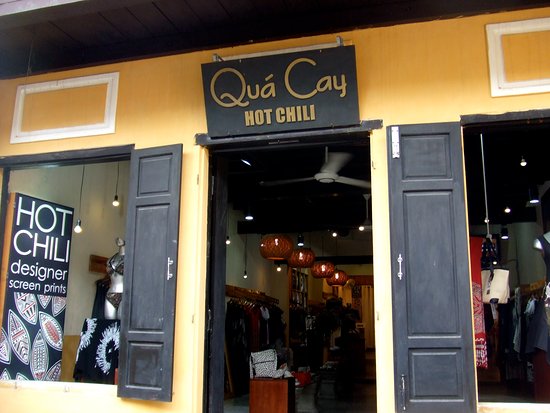 Photo: tripadvisor.com
Address: No.86, Nguyen Thai Hoc Street, Minh An Ward, Hoi An
Opening hours: 9:00 – 22:00
Metiseko
As one of the most stylish shops in Hoi An, Metiseko captivates visitors from the first sight by its unique, ancient architecture with the harmonious combination between the East and the West features. You should not miss this place if you are looking for a shop for delicate, minimalist but luxurious clothing items.
The store's unique original fabric designs for both men and women, which are made with organic cotton and natural silk, are inspired by Vietnamese folklore and landscapes such as lotus, bamboo, water lilies or lanterns, thereby creating a rich and colorful world of Metiseko with products from dreamy to crazy, from breakthrough to delicate.
Items such as clothes, accessories, jewelry, towels, quilts, pillow cases, bags, belts and kinds of fabric are all available at the store, thereby giving you a sophisticated fashionable experience and a discovery journey of Vietnamese folk culture. The items at the shop are all high-end, so the price can be a bit high, however, beauty comes with a price.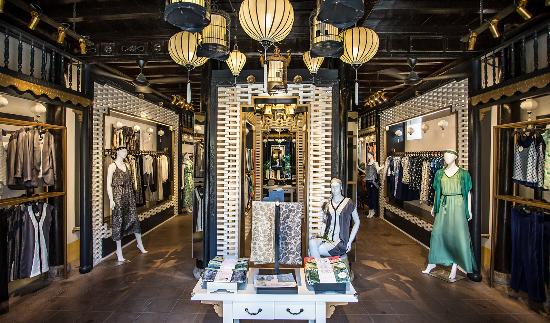 Photo: trippadvisor.com
Address: No.142, Tran Phu Street, Minh An Ward, Hoi An
Opening hours: 8:30 – 21:30
O'Thala
As the brainchild of Louise Bach Mogensen - a Danish designer, O'Thala is a place where you can find high-quality items suitable for both casual and formal occasions.
O'Thala - the brand name with the meaning of returning to your ancestral home - is considered as one of the most innovative shops in Hoi An. Its designs are inspired by sleek Scandinavian design lines when combining intricate design details and patterns provided by cultural heritages from around the world through the use of embroidery and beading techniques - the cultural heritage of Hoi An and Central area of Vietnam. Therefore, O'Thala not only brings you beautiful pieces for your wardrobe, but also is an inspiration for your journey.
The store's products look unique, interesting, elegant yet daring, modern yet familiar. At O'Thala, you have a variety of choices with jumpsuits, long dresses, pants, short dresses, tops, blouses, accessories, etc. to form your own unique and convenient fashion style at every occasion. Be prepared to spend all your money on the unique and nice outfits of O'Thala.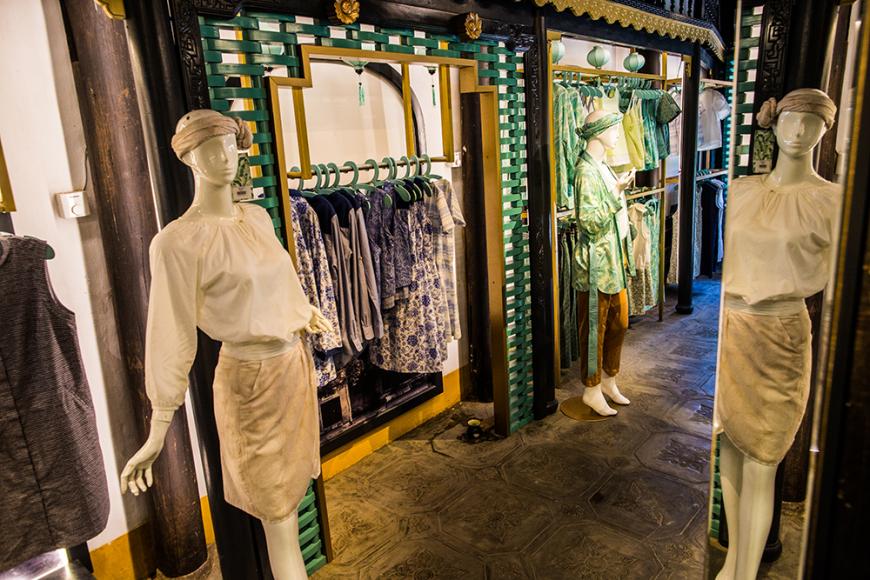 Photo: LVtravel.com
Address: No.41, Nguyen Thai Hoc Street, Minh An Ward, Hoi An
Opening hours: 9:00 – 21:30
Copenhagen Delights
If you travel with your family to Hoi An but are confused about what to prepare for your child, Copenhagen Delights is the best solution for your children with bright clothes that match the atmosphere of Hoi An.
Despite being a Western clothes brand, Copenhagen Delights blends in the antiquity of Hoi An with its ancient architecture, deep tones as the main theme, and is adorned with lanterns, creating a cozy and friendly space. The shop's staff have also received many compliments from visitors with their enthusiasm and friendliness when giving consultation to customers.
Copenhagen Delights specializes in children's clothing from 0-12 years old as well as toys, pillows, quilts and other homeware. The store's products are made from 100% natural fibres such as cotton, silk, and linen with bright colors, thereby helping children look more active and comfortable. In particular, the elegant colors of clothing are suitable for Hoi An - an ancient city full of yellow color. You can also wear in harmony with your kid's clothes with the shop's adult clothing stalls like menswear, skirts, tops, accessories, and pajamas. Copenhagen Delights not only gives you good quality satisfaction at an affordable price, but also makes your family trip more meaningful.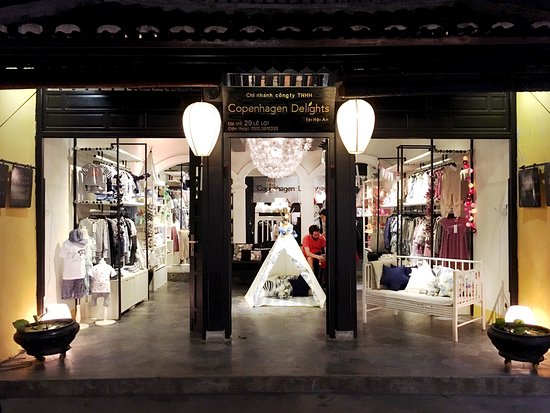 Photo: trippadvisor.com
Address: No.29, Le Loi Street, Minh An Ward, Hoi An
Opening hours: 9:30 – 21:30
Ginkgo
You should not miss Ginkgo on your shopping journey in Hoi An. This is a place that promises to make you impressed with T-shirts - which have unique designs and motifs bearing Vietnamese culture.
Founded by a French traveler, Ginkgo becomes unique and different from other T-shirt shops thanks to its creative motifs - inspired by the Vietnamese landscape and local culture. They may be a basket full of fruits on a vendor's shoulder, pedestrians waiting at a busy intersection, motorcycles on the street, electric poles interlaced with electric wires, or colorful lanterns. The specialties in the embroidery pattern combined with the super soft fabric materials have helped Ginkgo to be loved by both domestic and foreign visitors. In addition, Ginkgo impresses with the eco-friendly making process from beginning to end.
Besides its signature item as T-shirts, the store also offers a wide range of choices for pants, dresses, skirts, shorts, and accessories. Ginkgo has 3 stores in Hoi An, so you can freely choose fashion items which are both beautiful and artistic.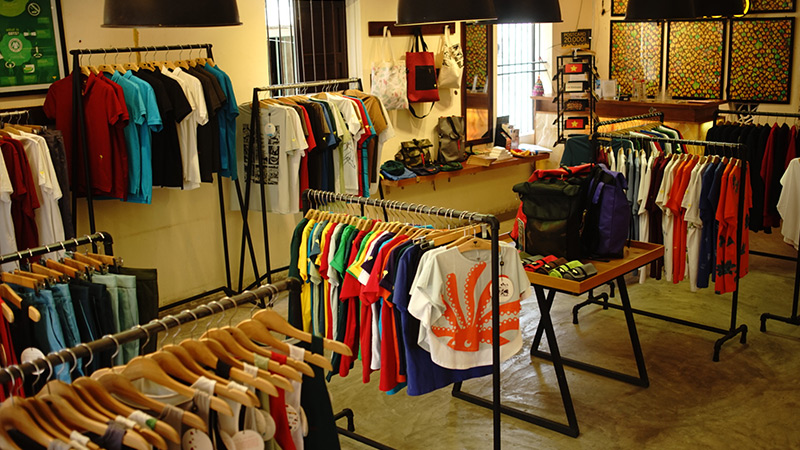 Photo: api.citypassguide.com
Address: 105, Tran Phu Street, Hoi An
Opening hours: 8:00 – 22:00
OCHE Boutique
As a Vietnamese brand with international level, OCHE Boutique is an attractive destination for tourists with fashion items that always catch up with world fashion trends. Inspired by Asia and its traditions, clothes at OCHE Boutique promises to give you the difference, personalization and elegance.
Both ready-to-wear and made-to-measure clothes are available at the shop, so you'll be sure to find the suitable one. Especially, if you have a new idea and need to change, a team of professional tailors of the store will make an alteration to ready-made items, and bring you a fashionable, unique outfit that is true to your personality. Therefore, the items at OCHE Boutique can satisfy any sense of fashion, from easy to fastidious, from sexy to discreet, from elegant to daring.
The professionalism and enthusiasm of the shop staff when giving you a consultant is also a plus point, making visitors have a good impression of it. Therefore, OCHE Boutique is an ideal shopping destination for you when visiting the ancient city of Hoi An.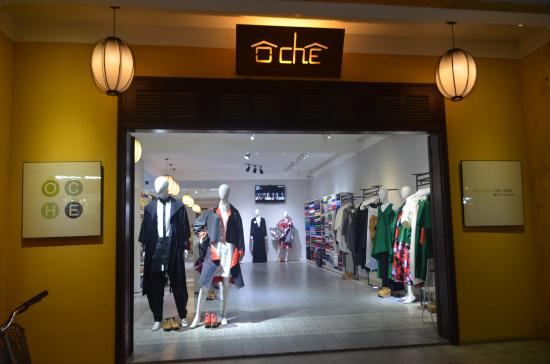 Photo: tripadvisior.com
Address: No.20, Tran Hung Dao Street, Minh An Ward, Hoi An
Opening hours: 8:00 – 21:30
Yaly Couture
The tailoring culture has become a unique characteristic of Hoi An - a factor that helps to attract many domestic and foreign tourists to this ancient city. When referring to the tailor shop, Yaly Couture cannot be missed. The shop has become a well-known shopping and tailoring destination with 3 beautiful boutiques in Hoi An.
With the professionalism and delicate tailoring skills of the tailoring team, challenges such as embroidery, bead work, sequins or multiple layers of fabric are all handled smoothly and perfectly at Yaly Couture. The shop's products are made from the best fabric materials like silks, cottons, cashmeres, top end wools. So the suits that Yaly Couture provides you are not only the costumes, but the soul of Hoi An artisans, and the typical local beauty. A plus point for Yaly Couture is the enthusiastic and friendly service attitude of its staff. You will be consulted, and accompanied throughout the process of making products, answered questions and given sincere advice, so customers walking out of the store are in a satisfied and happy mood.

Photo: Tripadvior.com
Address: 47, Nguyen Thai Hoc Street, Minh An Ward, Hoi An
Opening hours: 8:00 – 21:30
Bibi Silk
Bibi Silk is one of the most recommended tailoring boutiques by locals and foreign visitors. This is a small, independent but famous shop in Hoi An with diverse designs, good clothing quality and excellent service quality.
With more than 20 years of experience, Bibi Silk has built a solid reputation when bringing satisfaction to thousands of customers at an inexpensive price. You can buy ready-to-wear clothes at the store with a variety of designs - or ask the shop's tailor to an outfit. Using quality fabric materials such as wool, cotton, silk, and linen, Bibi Silk can meet all the requests from western designs to traditional Vietnamese designs. When you want to reproduce a brand item, you need a suit for a meeting, you need a formal dress for a party, or you need an "Ao dai" as a souvenir in your Vietnam trip, Bibi Silk can help you to solve all the problems perfectly and professionally.
Besides good product quality, Bibi Silk has also received satisfaction from all visitors thanks to its professional, friendly and agile service attitude. Therefore, Bibi Silk has become one of the most reliable shopping and tailoring boutiques in Hoi An.

Photo by @Cris Phan Hoang 
Address: No.67, Phan Chu Trinh Street, Minh An Ward, Hoi An
Opening hours: 8:00 – 21:00
Conversations (0)
Join the conversation
Conversations
Join the conversation
ALL COMMENTS (0)
There are no comments. Add your comment to start the conversation.
read next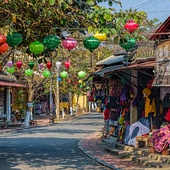 Once you leave, the image of Hoi An keeps lingering on your mind with each mossy house you passed by, each smiling Vietnamese you came across, and each delicate souvenir you bring home. To many, Hoi An probably deserves a World Shopping Site if there is such a title.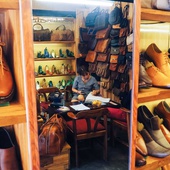 In Hoi An, shoes shops catch your eyes on every corner. They provide you with a massive catalogue and you would certainly feel confused.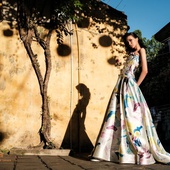 One of Hoi An's many specialties is its exquisite tailor houses which can give you same day bespoken costumes with amazing quality and at an incredibly low price. Check out our best recommendation for tailor houses in Hoi An.