7 Most Authentic Local Tastes You Must Try in Hoi An
A note on Hoi An culinary
Hoi An is not only famous for its ancient town and the peaceful river illuminated by colorful lanterns, but it is also widely known as the culinary paradise of Central Vietnam. The food and drink in Hoi An is a perfect combination of many cultures, Asias or European traits, each with their own unique representation in Hoi An dishes.
Just through names like Cao Lau, Mi Quang, Banh Dap, Nuoc Mot, visitors from around the country can feel their stomachs stumble. In addition to the hard-to-resist flavor, Hoi An's food and drink show its makers' painstaking care through the elegant and harmonious decoration. Every dish is delicious to savor and beautiful to watch and deserves the money you spend.
If you have just a few days to budget for Hoi An, make sure you include at least one of the following in your culinary adventure. Most authentic local tastes you must try in Hoi An.
Nuoc Mot
Here is the all-time favorite drink to ease the heat of the summer and to bring warmth to the winter of Hoi An people: Nuoc Mot (Mot water). You will see many people, both locals and tourists hold in their hand a cup of tea decorated with a pink lotus petal and tea leaf, it is definitely the famous Nuoc Mot.
The main ingredients of Nuoc Mot are herbs such as chamomile, monk fruit, green tea leaves, cinnamon, licorice, cinnamon stick, and lemongrass. All are boiled with a certain amount of water, then remove the pulp to produce a delicious herbal tea.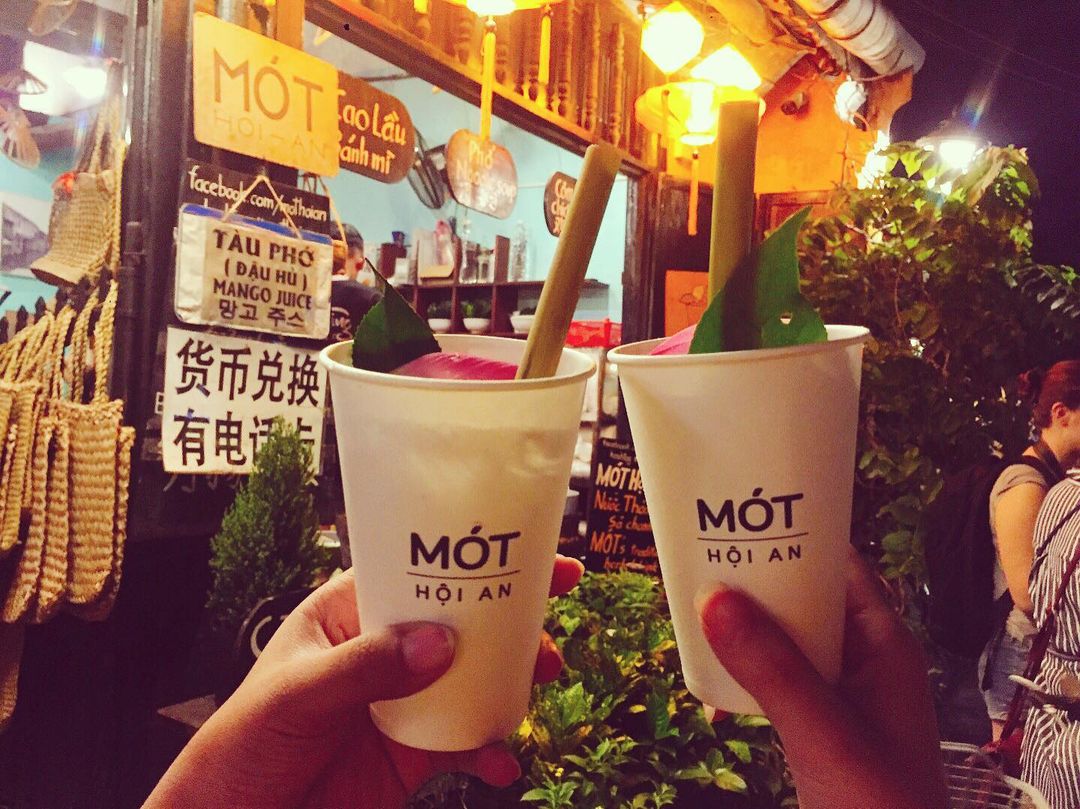 Photo: @toithichdoanngon
This tea was invented by a Hoi An man a couple of years ago. At first, visitors may be confused with this drink's name as Mot sounded like the word mat (cool) in Vietnamese. But in fact, Mot is just the owner's home name and gradually used by the locals to call this herbal tea. A cup of Mot tea costs 12,000 VND, too cheap for a drink that is both beautiful and has good effects. Finishing a cup of this tea will only make you want to order more. The taste is just easy to crush.
The first and, of course, the most authentic Mot tea shop is located at 150 Tran Phu, in the ancient town's center with the name Mot Hoi An. The stall provides indoor seats, but surprisingly, visitors prefer to buy takeaway, sipping the herbal tea while walking around the old streets. The beverage store opens around the afternoon until 10 pm every day, so you can comfortably come and enjoy this drink at any time.
Cao Lau
The second on the list is definitely Cao Lau. Visitors can easily find its existence in almost every street in Hoi An ancient town and the new city, both in luxury restaurants or street vendors. Cao Lau is the soul of Hoi An people and will stay this way forever.
So what is Cao Lau? It is a kind of Vietnamese dry noodle and is often served in a small bowl. The most authentic noodle has a bright yellow color, as the rice flour is mixed with firewood ash to create a sweet flavor. Poached bean sprouts and raw vegetables lay underneath, then the thin golden noodle, some thick slices of char siu, a flink of crispy pork skin, and one small scoop of sweet char siu broth (and sometimes a big shrimp) to round up. The popular dish has finished. When eating, the noodle is chewy, and the flavor is the sum-up of sour, bitter, and sweet. For a strong taste person, you can also put in some chili flakes to add spiciness to the dish. They will blend in nicely and create a simple but harmonious overall flavor, making you crave more even though you just finish a bowl.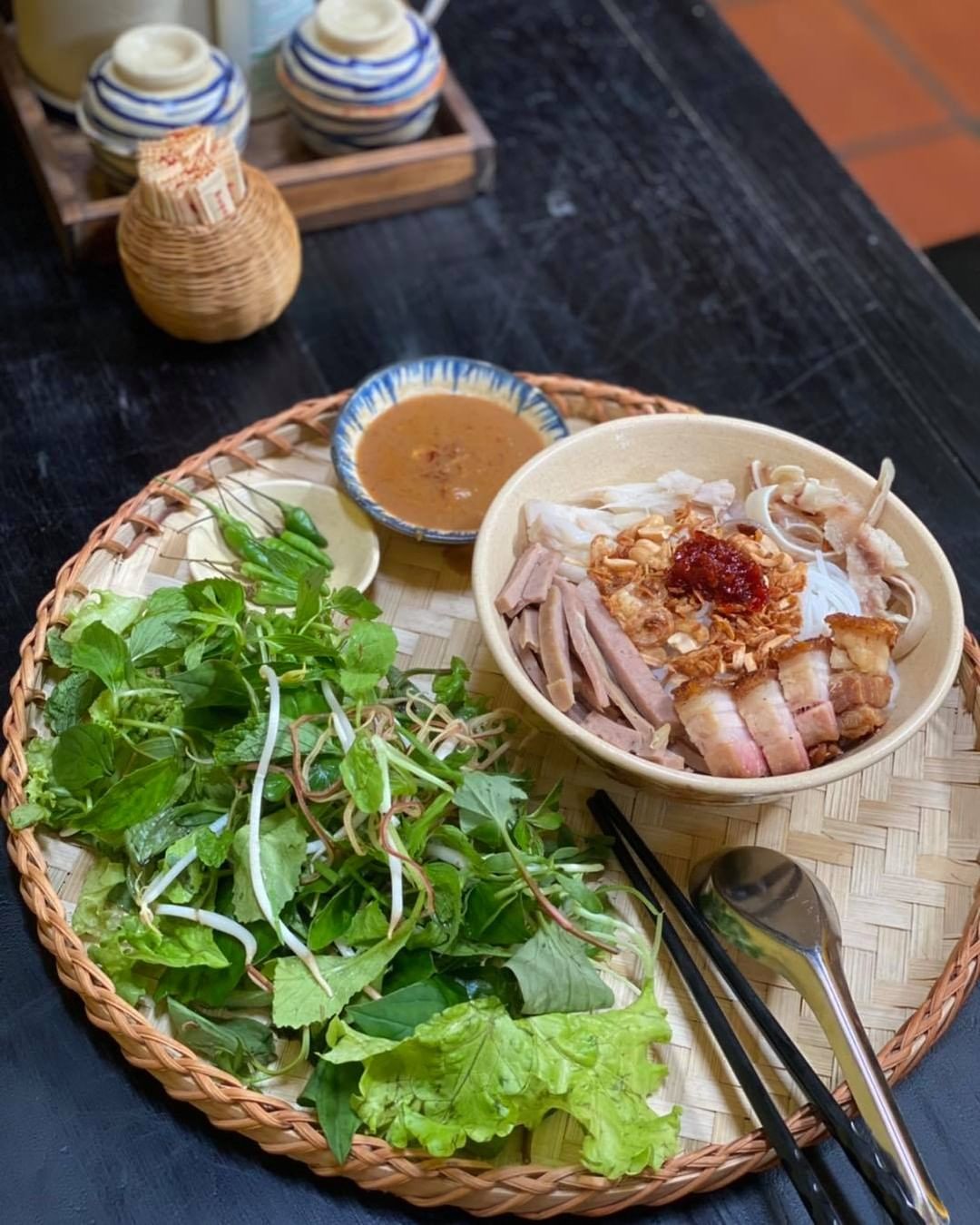 Photo: @bep_monngonxuquang
There are a few long history local eateries that offer this fantastic dish at a reasonable price. Just for 25.000 - 50.000 VND, you can have yourself a nice bowl of Cao Lau. The small restaurants mainly nestle in the busy streets of the ancient town. And they are often crowded around lunch and late in the afternoon when people start to look for their dining destination.
Thanh Cao Lau - 26 Thai Phien, Hoi An
Cao Lau Ong Hai - Hoi An fabric market
Cao Lau Ba Be - local market on Tran Phu street, Hoi An
Com Ga Hoi An
The third local taste you must try when coming to this prestigious town is Com Ga Hoi An (Hoi An chicken rice). There are plenty of reasons to lose your heart for this classic Hoi An specialty, but the special one is thanks to Hoi An people's sophistication. Eating a dish both delicious and eye-catching is the authentic Hoi An quality.
The rice for cooking this dish is sticky and fragrant rice, carefully selected by its maker. It is then turmeric marinated and cooked in the chicken broth to create a nice golden color and a luscious taste. The broiled chicken is bone removed, shredded into small pieces, and mixed with onion (sometimes with fried scallion), pepper, and Vietnamese coriander. The skin is glossary golden and chewy to eat. The whole dish looks beautiful with the three colors, chicken white, rice yellow, and vegetable green. Some restaurants serve the dish with sweet, sour, and spicy papaya salad and an extra bowl of soup filled with chicken heart, liver, and kidney.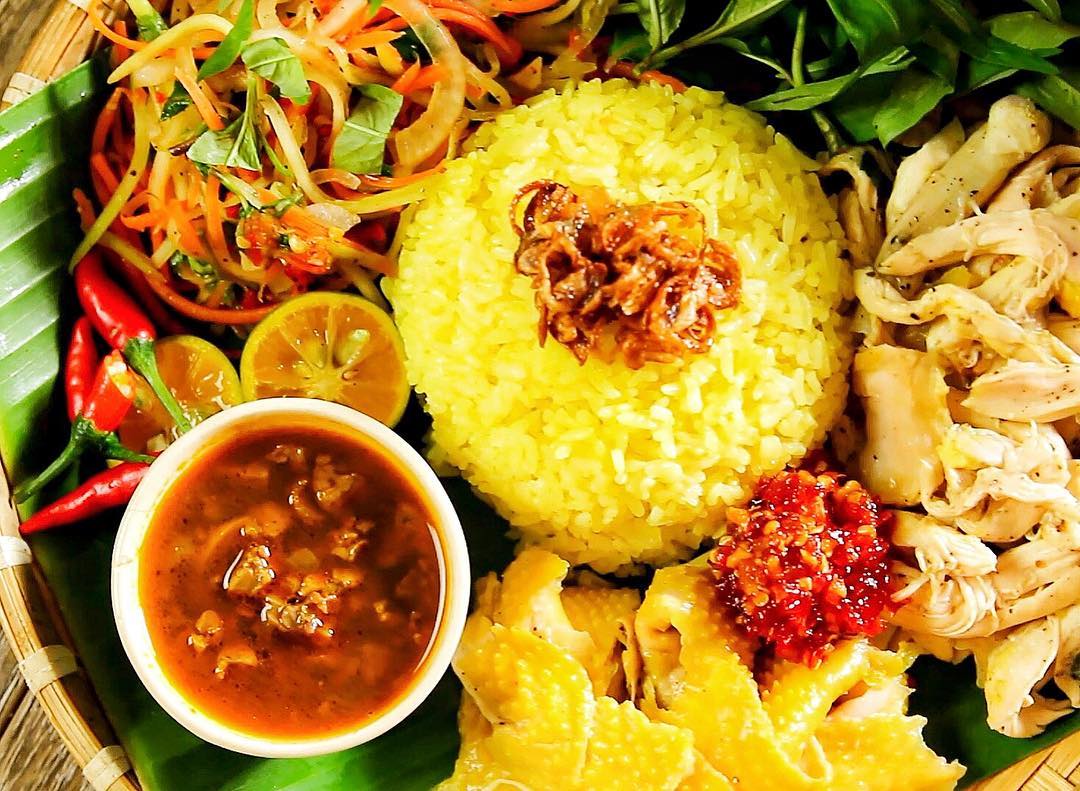 Photo: @cooky.vn
Ba Buoi Chicken Rice, located at 22 Phan Chau Trinh, is the best place to eat chicken rice in Hoi An. The name has been seen in Hoi An since the 50s of the 20th century. Previously, this dish was sold by Mrs. Buoi on a street shack in the market. Now the shop has moved to a larger restaurant and is managed by her two children. The restaurant is open from 11 am to 7 pm every day, with prices ranging from 35.000 to 50.000 VND for one portion.
For alternative options (if Ba Buoi restaurant is overcrowded), visitors can pass by the below eateries. They are not long-standing like Ba Buoi, but the delicious flavor still can be guaranteed.
Ba Nga chicken rice - 8 Phan Chu Trinh, Hoi An
Huong chicken rice - 56 Le Loi, Hoi An
Mi Quang
If you are already in Hoi An, it would be a mistake not to try Mi Quang (Quang Nam noodle). Simple yet delicious, this signature dish has entered Hoi An gourmet meal. Usually compared to Cao Lau, an internationally influenced dish, due to their similarity in look and cooking process, but Mi Quang is pure Vietnamese food.
This dish includes rice noodles, poached eggs, shrimp, meat, raw vegetables, a few grilled rice paper pieces, and warm broth. The broth or as the locals used to call nuoc leo, is made from boiling shrimp, pork, chicken or sometimes from snakehead fish or beef. The ingredients vary but the most frequently seen is made from shrimp and chicken. The broth does not need to be rich in color. However, clear and sweet is a must. Another thing is that Mi Quang's broth will not be as filled fully as Pho or other noodles, just enough to mix the noodles and toppings.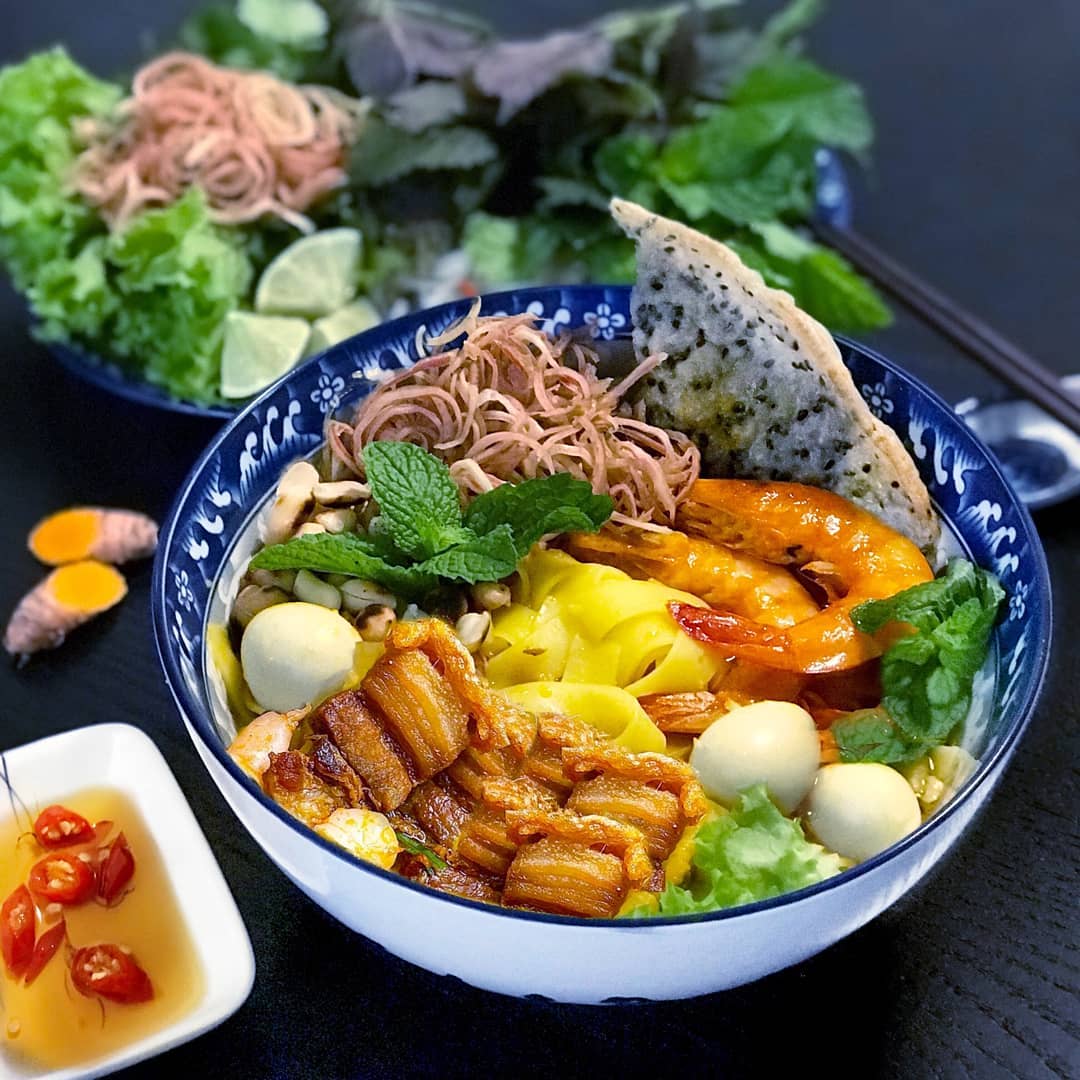 Photo: @eatwithly
The noodles are made from milled rice flour, milky white, soft, and chewy. It will be thinly coated and cut into long strings. When mixing together all the ingredients, the rice noodles' aroma blends well with the sweet broth and the bitterness of raw vegetables such as fish mint, basil, cilantro, savory, etc.
Mi Quang is genuinely an excellent dish, but where to savor the authentic taste, here are some recommendations.
Mi Quang Ong Hai - 6A Truong Minh Luong, Hoi An
Mi Quang Ba Linh - 137 Phan Chau Trinh, Hoi An
Mi Quang Phu Chiem - 14 Phan Thanh, Hoi An
Banh Dap
Banh Dap (cracker) is one of the Central people's typical snacks and Hoi An's. It is a harmonious combination of two kinds of rice paper, the grilled and the wet one, and other ingredients to create a unique flavor. The cracker is often eaten with hen (corbicula) and dipped in a special sauce to enrich the taste.
Banh Dap has two main layers. The outer is the crispy grilled rice paper, and the inner one is a thin coat of wet rice paper, topped with fried scallions oil, shrimp powder, minced meat, or smashed green beans. When eating, people will use both of their hands to clap the two layers sticking together. This action is called dap in Vietnamese, explaining the origin of the name of the popular dish. Banh Dap must be thin to have the best flavor.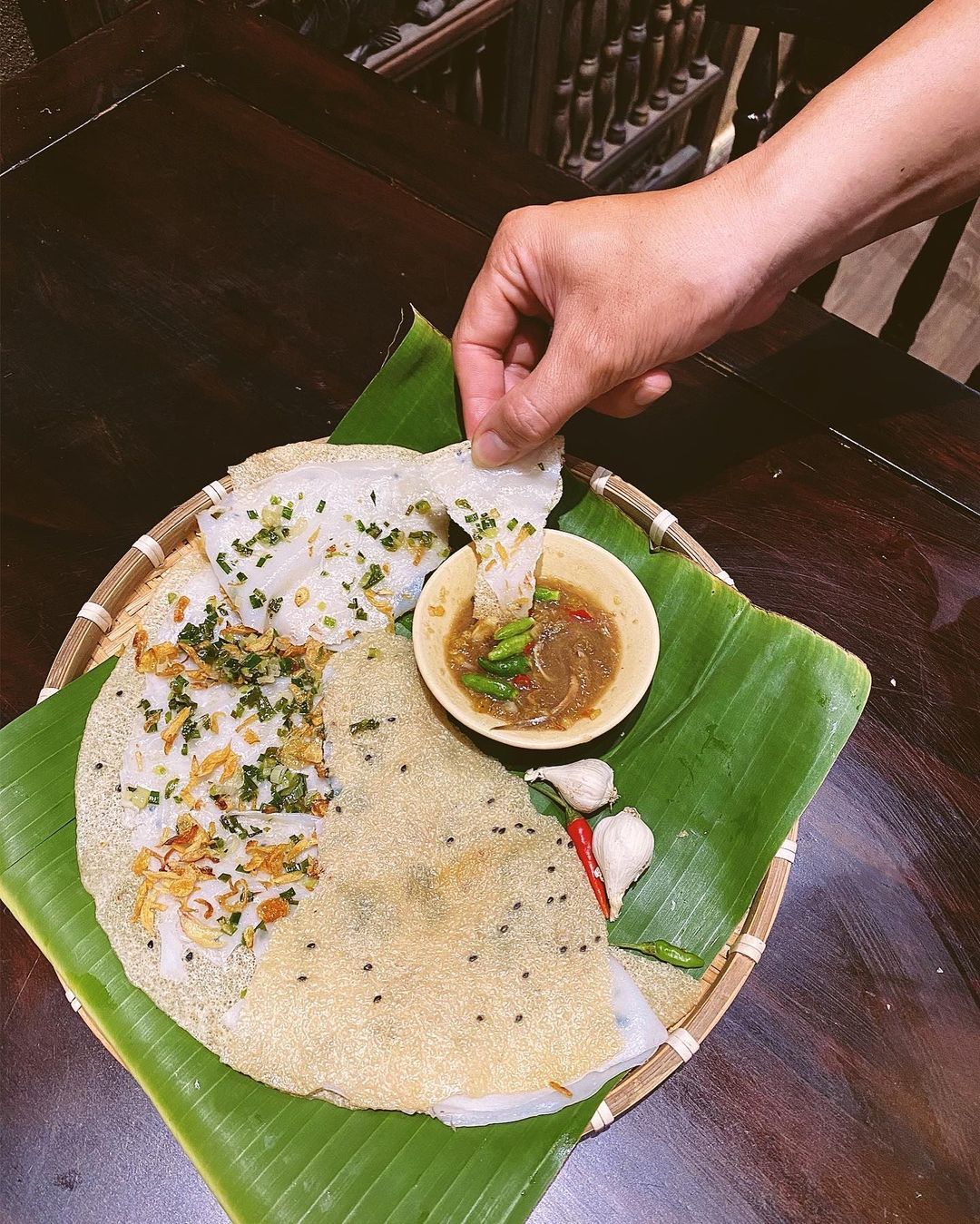 Photo: @buncatran
The fresh corbicula is stir-fried with spices, Vietnamese coriander, onion, golden fried scallion, peanuts, and chili sauce until they have a light smell. The dipping sauce is raw fish sauce mixed with sugar, fried scallion, minced pineapple, garlic, and greenhorn pepper. The making process is simple, but it is surprisingly delicious. You can find Banh Dap in every street stalls near Hoai river or Hoi An market, but the most original location must be Ba Gia stall in Village 1, Cam Nam commune in Hoi An. The stall has sold Banh Dap for a very long time with a fair price, only from 20.000 VND per dish.
Banh Bao and Banh Vac
Traveling to Hoi An, you will certainly not be able to ignore Banh Bao and Banh Vac (Hoi An steamed dumplings) - two of Hoi An's exclusive delicacies. They look simple, but the making process needs extreme meticulousness. Each crystal white dumpling is cleverly shaped, worthy of the nickname "white rose dumpling".
Although they are two different dumplings, but with a relatively similar making way, Banh Bao and Banh Vac are often sold together and displayed on the same dish. The look of the two Banh resembles Chinese dumplings, but the taste is far more sophisticated.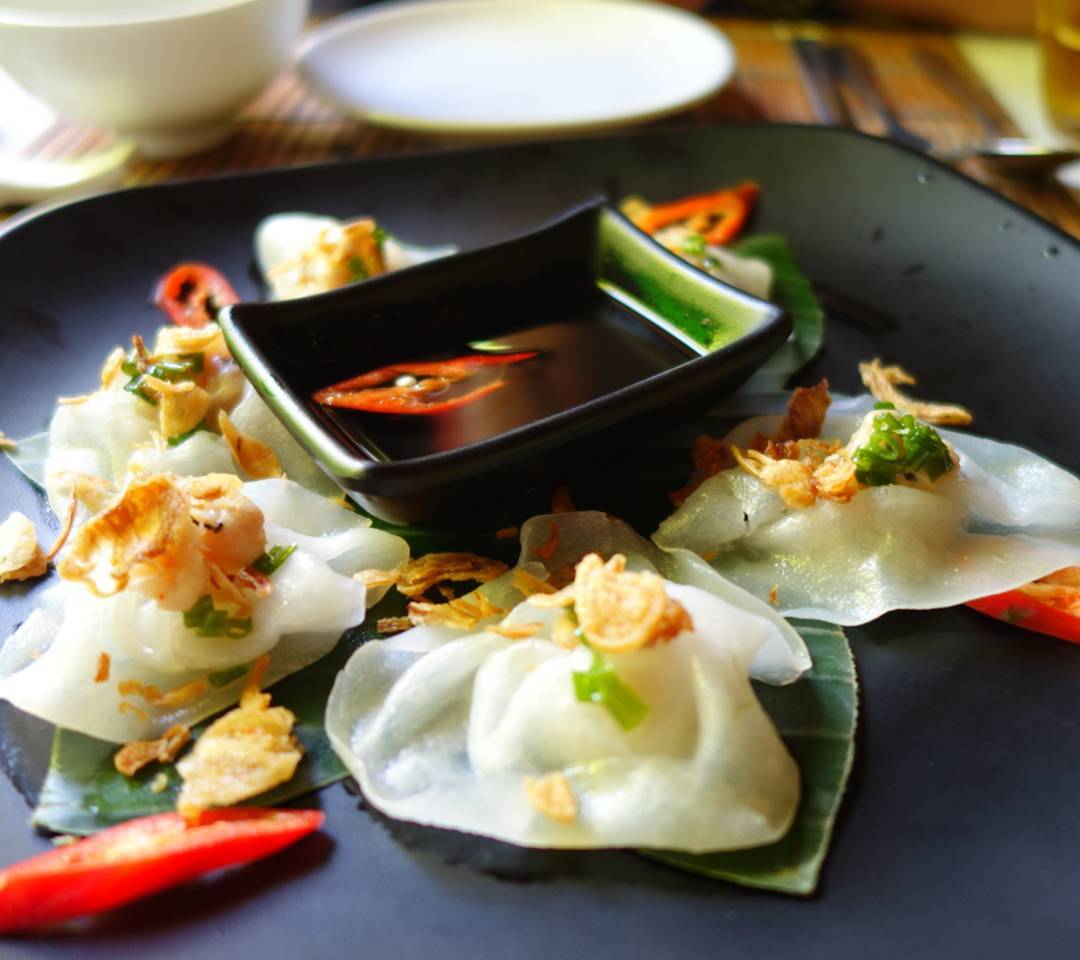 Photo: @paulbaoluo84
The clear outer layer uses minced rice flour to shape. The rice must be white, sticky, and has a light fragrance type of rice. The filling of Banh Bao includes pork, sliced mushrooms, and tiny chopped green onions. Banh Vac's is made from crushed shrimp, pepper, scallion, lemongrass, and garlic. Each type of dumpling will be seasoned with esoteric spices. Perhaps this mystery ingredient is why eating Banh Bao, and Banh vac is only delicious in Hoi An. The dish is then served on a large plate, sprinkled with fried scallion, and dipped in sweet and sour sauce.
There are many places to eat these two in Hoi An, but you should visit the Hoa Hong Trang restaurant at 533 Hai Ba Trung to enjoy this dish to the fullest and obtain a chance to see the making process your own eyes. On a rainy afternoon, enjoying a plate of steamy Banh Bao and Banh Vac, watching the old street lights up is nothing more than poetic.
Banh Mi Hoi An
Last but not least on the list is Banh Mi. Banh Mi is not hard to find food in Vietnam, but Hoi An Banh Mi still has its own characteristic that no other lands have. You should definitely try a loaf of Banh Mi when traveling Hoi An. Even though the filling is still pate, char siu, pork rolls, raw herbs, but the way of making and especially the sauce, has made the dish more appealing than its rivals. The international press has even repeatedly called Banh Mi Hoi An the best Banh Mi in Vietnam.
The char siu meat inside Banh Mi Hoi An must be tender and juicy. The pate has many ingredients with a complicated cooking process. The meat rolls, ham, golden fried eggs are covered in a thin coat of yellow butter. All together contribute to the name of the worldwide dish.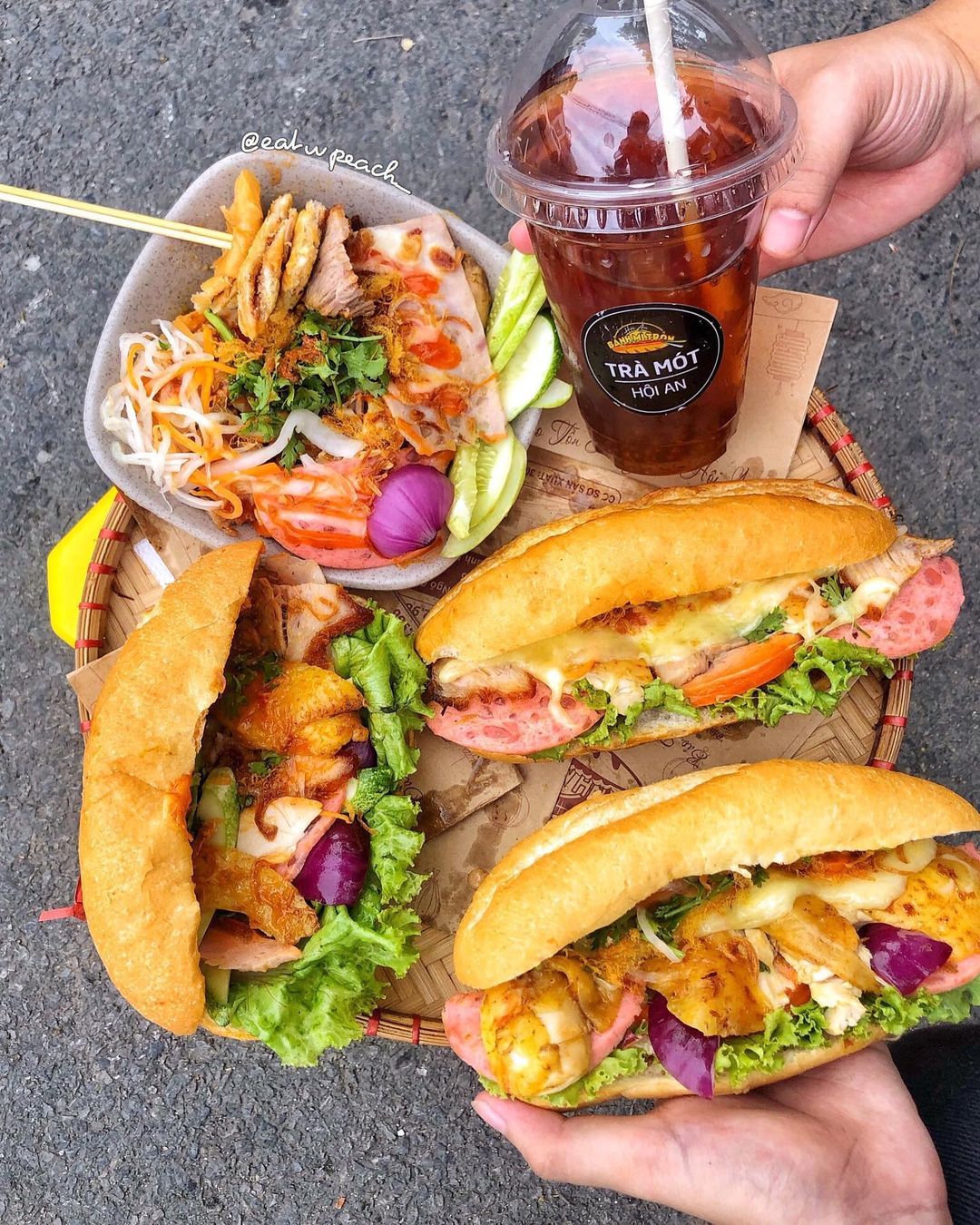 Photo: @eatwpeach_
Years and years passing by, many Banh Mi stalls still exist in Hoi An, and are always welcomed by the locals and tourists. The stalls often open at breaking dawn every day, but it still gets busy after just 10 to 15 minutes. However, you do not have to wait long for a loaf of Banh Mi as the stuffings are always beforehand prepared, and the service speed is always fast.
Besides Banh Mi Phuong, located at 2B Phan Chau Trinh, has already roamed with fame and opened many chain stores, Banh Mi Madam Khanh is another address you should stop by if you want to taste a unique taste of Banh Mi Hoi An. Many guests who have taken a bite of this place Banh mi, have praised the owner with the name Banh Mi Queen. The small stall stays at 115 Tran Cao Van Street, a little bit far from the ancient town. Banh Mi here is always fresh out of the batch, the outer part is crispy, yet the inner is still soft. One loaf of this Asia sandwich can cost from 30.000 VND.
Conversations (0)
Join the conversation
Conversations
Join the conversation
ALL COMMENTS (0)
There are no comments. Add your comment to start the conversation.
read next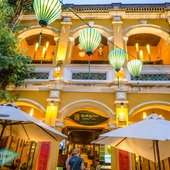 Find felow is list of restaurants in Hoi An that our staffs try and recommend.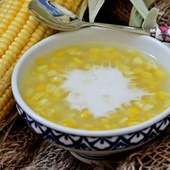 Wandering the streets of Hoi An Ancient Town, you will be warmly welcomed with compelling historical stories, exquisite cultural traditions, and scrumptious assortment of local cuisine.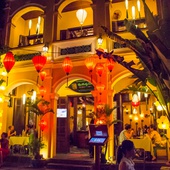 Hoi An is home to some of Vietnam's best delicacies, not to mention the beautiful boutiques restaurants that serve them. Dining in Hoi An is not just about filling your stomach but a whole travel experience in and of itself. If you have more than a couple of days to spend in this ancient town, make sure to include at least 1 of the below list for a comforting dinner.