9 Best Places For A Hoi An Authentic Dinner
Hoi An embraces beautiful landscape, spectacular monuments, extraordinary culture, sophisticated cuisine and local hospitality, which are pretty much everything you could expect from a travel destination. With regard to local cuisine, Hoi An is home to some of Vietnam's best delicacies, not to mention the beautiful boutiques restaurants that serve them. Dining in Hoi An is not just about filling your stomach but a whole travel experience in and of itself. If you have more than a couple of days to spend in this ancient town, make sure to include at least 1 of the below list for a comforting dinner.
Com ga Ba Buoi
Visiting Hoi An, you should not miss the opportunity to try the famous chicken rice dish with a unique taste representing the local culture. Hoi An chicken rice has different characteristics than chicken rice in many places. All ingredients are local specialties, which create distinctive taste that is barely replicated anywhere else. 
The shredded chicken is spread on a plate of rice with onion and herbal slices, sprinkled with salt and pepper. Established for about 70 years from a street food stall, nowadays, Com Ga Ba Buoi Restaurant can be found in a typical ancient house of Hoi An, with yellow walls, wooden signage and all the remaining antique details. It is always on top of tourist bucket lists, so if you want to try this delicacy, don't visit the restaurant too late as it's always sold out before the closing time.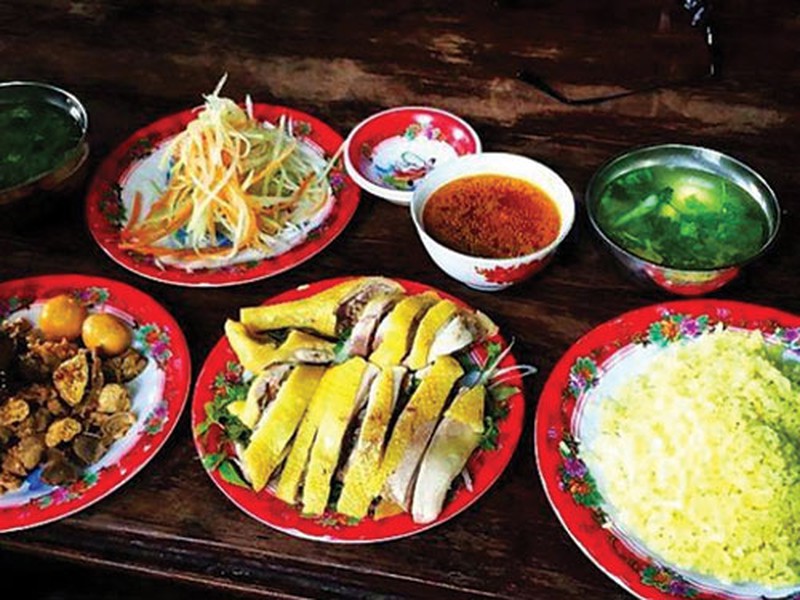 Photo: thanhnien.vn
Address: 22 Phan Chu Trinh Street, Minh An Ward, Hoi An
Opening hours: 10.30AM – 2.30PM, 5.00PM – 9.00PM
Tra Que Garden
Tra Que Garden is one of the most well-known dining destinations in Hoi An for its top notch menu and superior service. Featuring all local dishes and many other highlights of Vietnamese traditional cuisine, what makes this place a noteworthy choice is the sustainable vision embraced in every dish, every person of Tra Que Garden.
All ingredients are from local sources, especially veggies and herbs are directly grown in Tra Que organic farm which provide abundant resources for stumptuous vegetarian options. Beside enjoying the refreshing feast, diners may join the available cooking class to make your own Vietnamese bites and learn more about Vietnamese herbs by visiting the Tra Que farm, which is just steps away from your dining table.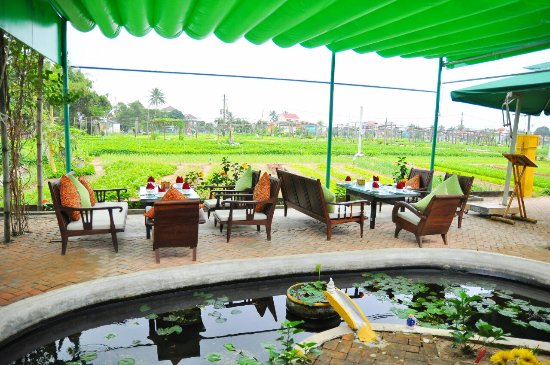 Photo: tripadvior.com
Address: Tra Que Hamlet, Hai Ba Trung Street, Cam Ha Ward, Hoi An
Opening hours: 11.00AM – 4.00PM
Miss Ly Cafeteria
Miss Ly Cafeteria is a family-owned restaurant opened for more than 20 in Hoi An ancient town. It's always among the top-list choices to experience authentic taste of Hoi An cuisine. With the simple, vintage look and welcoming atmosphere, the eatery always succeeds in approaching curious guests passing by. 
Serving most of Vietnamese casual plates at a competitive price, Miss Ly Cafeteria became many people's favourite dining spot, especially thanks to its famous Cao Lau (Hoi An pork and won-ton noodles) and white rose dumplings.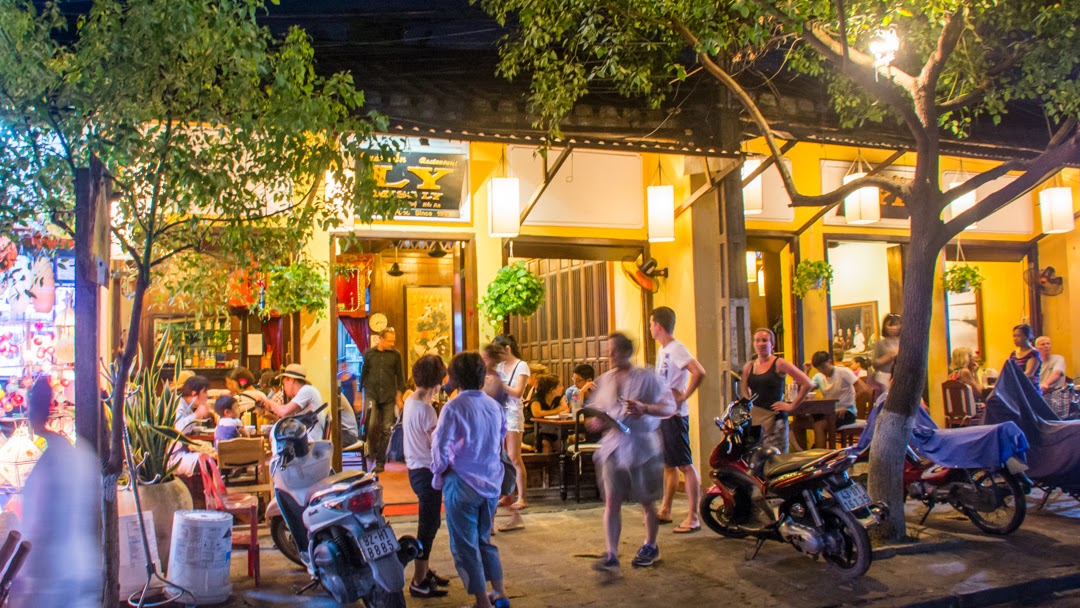 Photo: danaghoian.com 
Address: 22 Nguyen Hue Street, Cam Chau Ward, Hoi An
Opening hours: 11.00AM – 9.00PM
Le Fe Dining Place
Le Fe Dining Place is designed on a traditional Vietnamese house, immersing in the ancient town of Hoi An. The first highlight of Le Fe Dining Place to impress any visitors is a small, faded wooden signage. However, different from the timeworn outlook, you will be amazed at a contemporary spacious space when stepping inside. 
Founded in 2012, Le Fe Dining Place used to be a coffee shop, which was later renovated into a casual dining restaurant, serving delicate Vietnamese cuisine with some unique fusion touches. Several diners, if they could, did not hesitate to give this restaurant more than 5 stars because of its delectable menu, amicable atmosphere, and high-standard hospitality.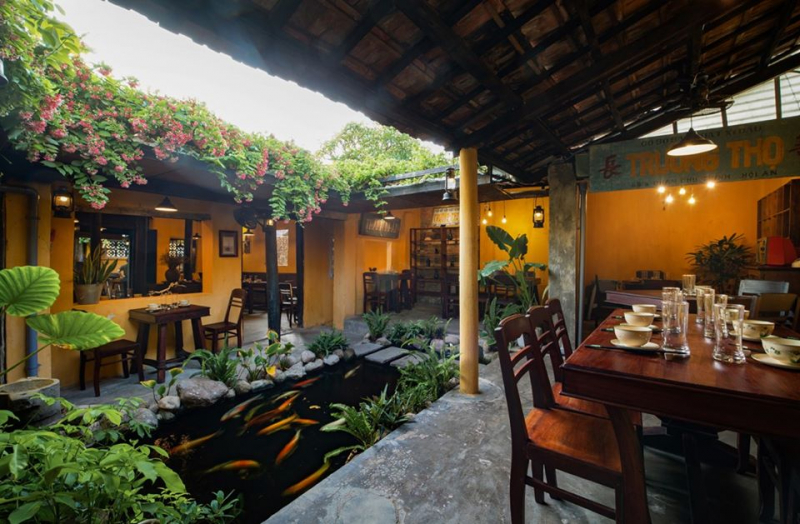 Photo: toplist.vn
Address: 69/3 Phan Chu Trinh Street, Minh An Ward, Hoi An
Opening hours: 10.00AM – 2.00PM, 5.00PM – 10.00PM
Morning Glory Original
Located right at the heart of Hoi An ancient town, Morning Glory Original usually earns millions of visits by its simplicity. The menu is extensive but features very basic daily Vietnamese dishes such as spring rolls, stir-fried morning glory, braised meat, Vietnamese Banh Mi, noodles, etc. You can ask for a typical Vietnamese family meal and the cook will serve you a 3-course dish with meat, vegetable, soup and hot steamed rice. The restaurant itself is also simply arranged with nearly no change in the building structure and the interiors are collected within the local suppliers. Perhaps this simplicity has created the most intimate charm of visiting a neighbor to join their dinner that attracts any guest passing by this house.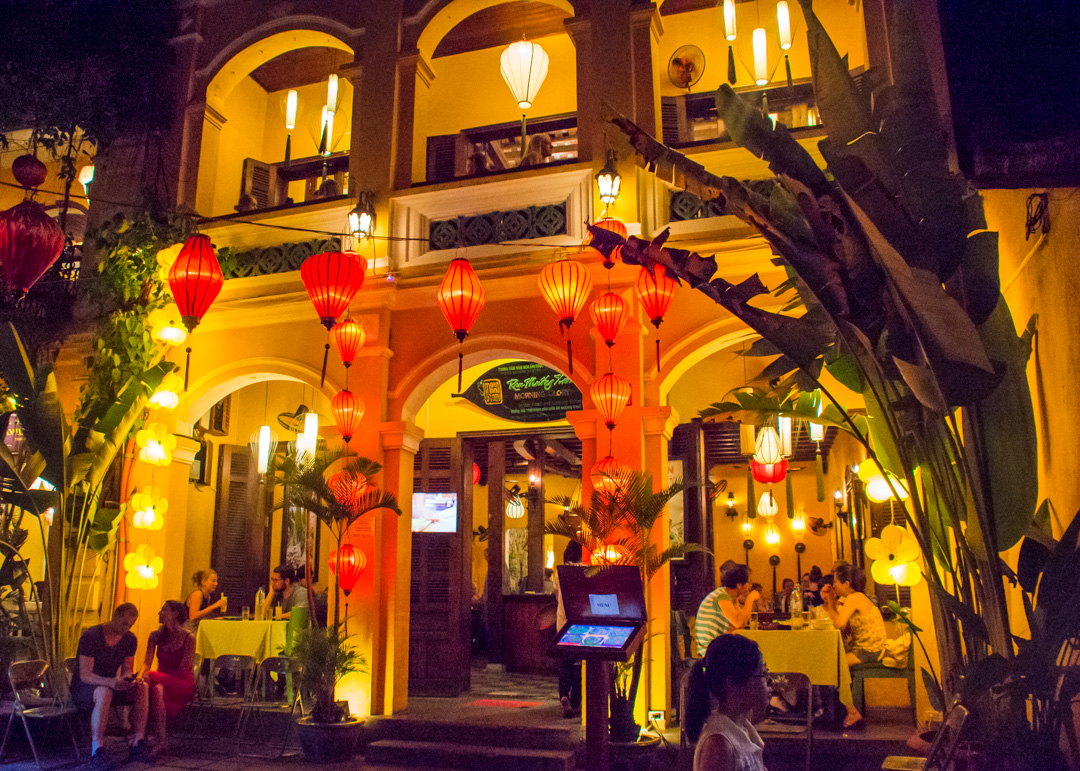 Photo: flying.com 
Address: 106 Nguyen Thai Hoc Street, Minh An Ward, Hoi An
Opening hours: 11.00AM – 11.00PM
Nhan's Kitchen
People coming to Nhan's Kitchen to dine are both locals and tourists all over the world. Serving as a fusion restaurant, it offers a great assortment of Vietnamese cuisine and world special highlights. However, the most wanted signature is Italian pizza, which has built the restaurant's reputation. Pizzas are freshly made with crispy crust and rich fillings of diverse flavours. Nhan and Rebecca, the owners, put all their passion and generosity to the restaurant to deliver extreme friendliness and intimacy to any customer.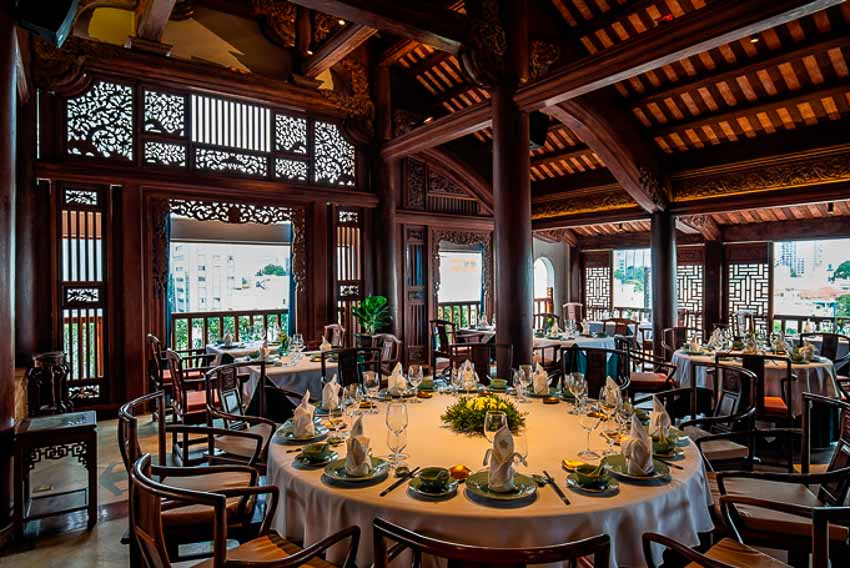 Photo: doanhnhanplus.vn
Address: 167 Tran Nhan Tong Street, Cam Chau Ward, Hoi An
Opening hours: 11.30AM – 9.00PM
Little Faifo
If you choose to dine at Little Faifo, both your sense of taste and visuality will experience a truly decent feast. The restaurant offers a unique culinary journey, guiding you from the ancient to the modern time by chef's ingenious recreation of famous traditional recipes with a creative contemporary twist. This is also the home of a collection of traditional and inspiring ceramic and oil paintings, exhibited as a unique highlight in interior design to honor the ancient features in Hoi An's pavilion through two generations. If you still wonder about the local cuisine charm, Little Faifo will definitely enlighten you with its refinement.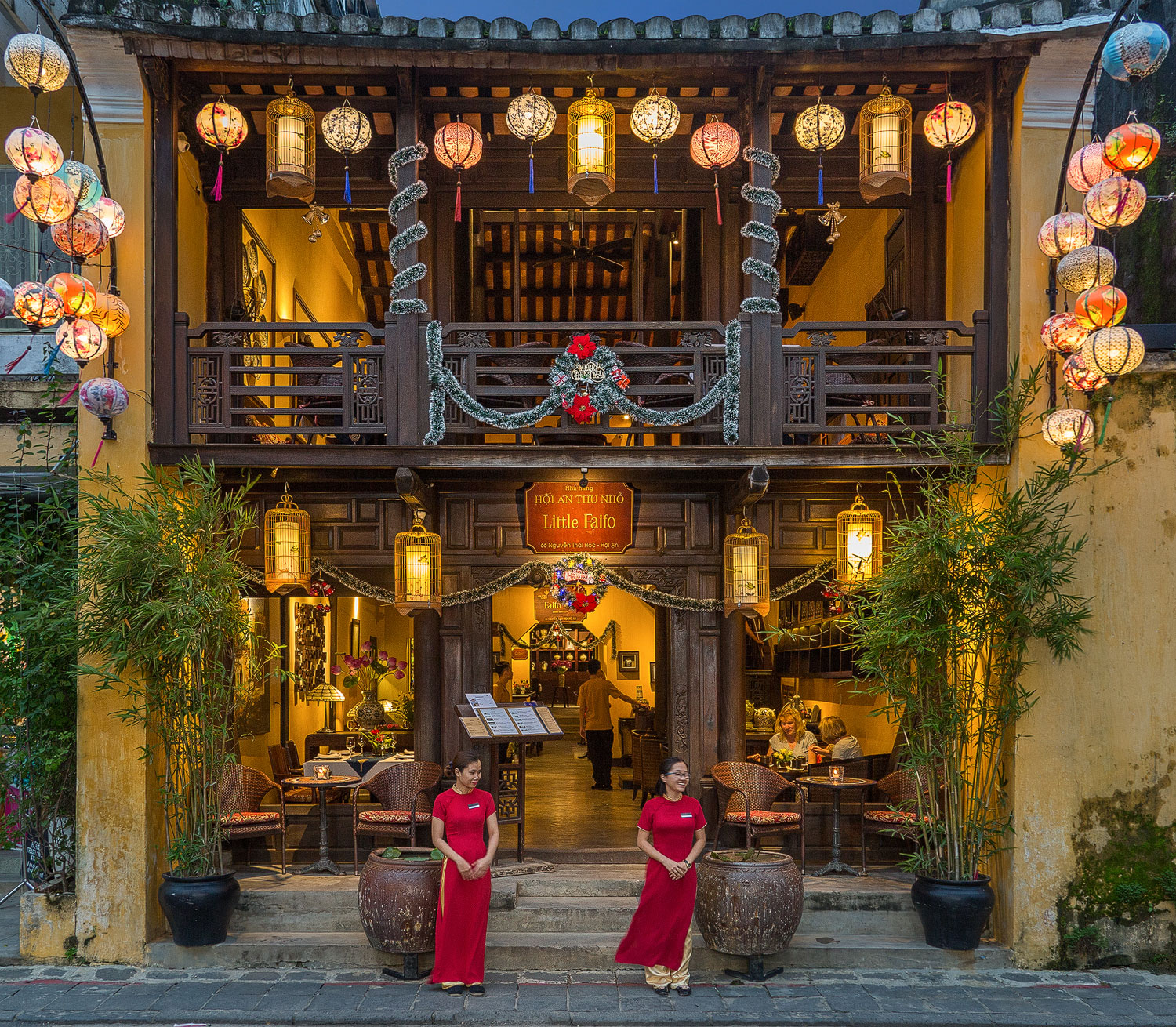 Photo: photoassianandbeyoun.com
Address: 66 Nguyen Thai Hoc Street, Minh An Ward, Hoi An
Opening hours: 9.00AM – 10.00PM
Minh Hien Vegetarian
Minh Hien Vegetarian Restaurant is preferred by many vegetarian lovers, especially foreign tourists and expats visiting Hoi An. The food at the restaurant is familiar but it is well made. You can find here the enticing vegan version of many traditional dishes, with surprisingly delicious taste. In particular, the prices for vegetarian dishes of all styles at this vegetarian restaurant are very affordable, which is also a perfect plus for Minh Hien. This place is decorated with ceiling bookshelves, containing many Buddhism and vegetarianism books that you can borrow and relax in such a calm and tranquil area.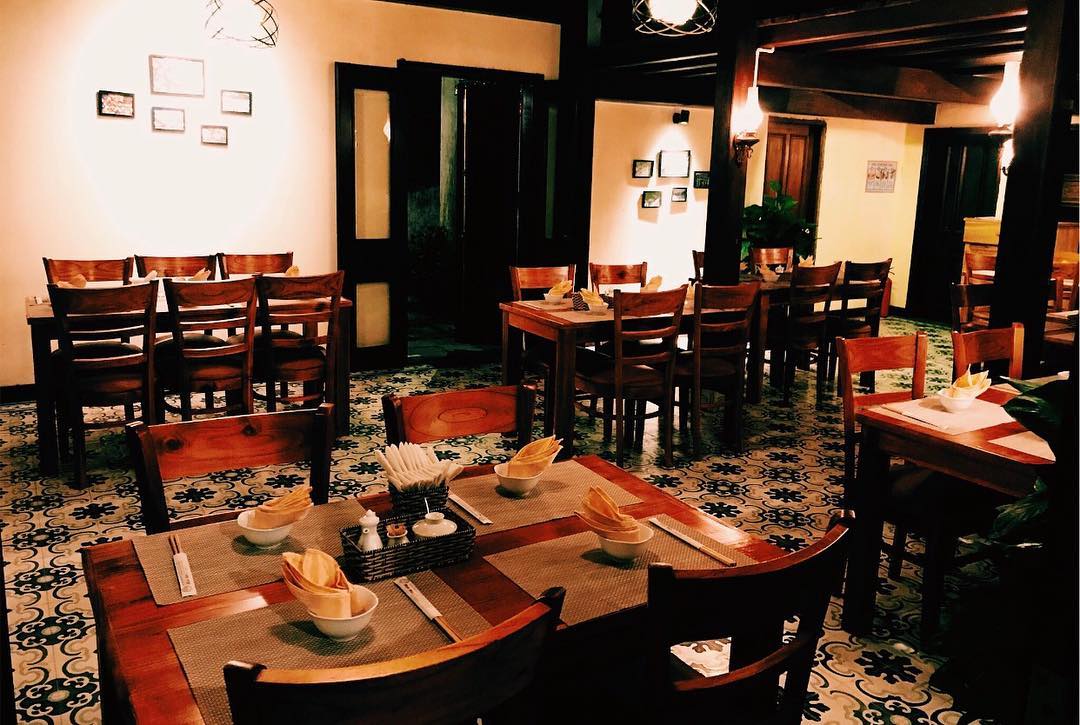 Photo by @minhhienvegetarian
Address: 50 Tran Cao Van Street, Minh An Ward, Hoi An
Opening hours: 12.00PM – 8.30PM
Nostalife
Nostalife restaurant is situated in a narrow alley on Nguyen Phuc Chu street, yet attracts a lot of diners because of the enticing flavors from every dish. You can find here an assortment of local cuisine, with most recommended options including pork skewers, grilled fish, Vietnamese pancake and noodles, etc. The price for a delightful meal is decent despite its huge portion. The restaurant is designed in a classic style with a warm yellow tone. Walk inside, you will see gorgeous exhibitions of water color paintings and colorful lanterns. This is an ideal place to both enjoy the moment and keep it through scenic photos!
Address: 33/1 Nguyen Phuc Chu Road, An Hoi Ward, Hoi An
Opening hours: 112.00PM – 9.30PM
Conversations (0)
Join the conversation
Conversations
Join the conversation
ALL COMMENTS (0)
There are no comments. Add your comment to start the conversation.
read next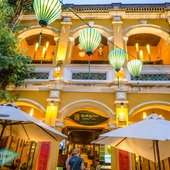 Find felow is list of restaurants in Hoi An that our staffs try and recommend.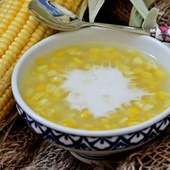 Wandering the streets of Hoi An Ancient Town, you will be warmly welcomed with compelling historical stories, exquisite cultural traditions, and scrumptious assortment of local cuisine.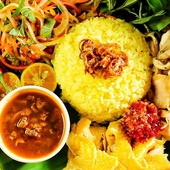 An old port town influenced by Vietnamese, Japanese and Chinese culture, Hoi An is special in every of its little detail. Hoi An's food is probably the most pronounced in its myriad of charm, offering mouth-watering range of rice and noodle fusion dish. Try these 5 dishes and experience a flavor of Hoi An.