Craving Desserts? Hoi An's 6 Best Sweet Treats
Wandering the streets of Hoi An Ancient Town, you will be warmly welcomed with compelling historical stories, exquisite cultural traditions, and scrumptious assortment of local cuisine. What to eat in Hoi An? It's a simple question but difficult to answer. In the journey of enjoying Hoi An delicious dishes, not only the savory delicacies but also sweet treats will unpretentiously please all gourmands. If you have the opportunity to travel to Hoi An, try to at least get a taste of these local delights.
Che Bap (Corn Sweet Soup)
Con Sweet Soup is not only found in Hoi An but other cities throughout the country as well. However, this remains the favourite desserts for both locals and tourists in Hoi An. What makes it special is the corn which is grown along the riverside in Cam Nam region, with the fertile alluvium that creates the outstanding sweetness and fragrance. Corn is cooked well to the great level of creamy, mushy texture and the corn juice enlightened its natural aroma.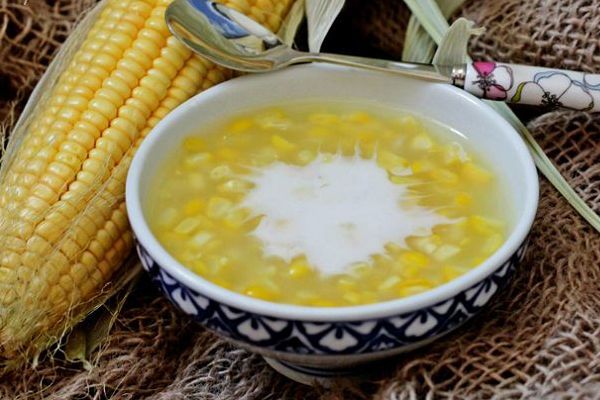 Photo: thuthan.vn
Corn sweet soup is traditionally served in a small bowl, filled with ice on balmy summer day. Other vendors may enrich the palate by adding coconut cream, pearl tapioca and sprinkling shredded coconut/sweet roasted coconut on top. The combination of corn and coconut brings the richness of creamy taste and smooth texture to the next level, with the crunchy coconut popping up in your mouth creating an amusing experience that you can't help but just enjoy.
Tao Pho (Sweet Tofu Pudding)
Similar to the previous one, Tao Pho, or Sweet Tofu Pudding, is one of the most favourite desserts of people staying in Hoi An. If you look at the appearance, you will see that it is similar to jasmine sugar water tofu or coconut milk tofu in Saigon or Hanoi. But the savvy local gourmet will definitely tell you the difference. Unlike the rich flavour of brown sugar syrup of Saigon tofu or the mildness with jasmine fragrance that is only available in Hanoi, you can find the balance in the Hoi An Sweet Tofu Pudding.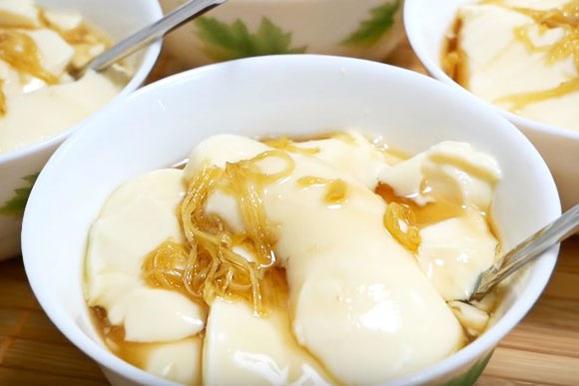 Photo: thuthan.vn
The soy bean curd is silky and creamy, dipped in palm sugar and ginger syrup. You can try this dessert hot or cold, with the option of adding pearl tapioca, jelly or coconut milk. You can find tofu at some eateries or right along the walking street, where the street vendors carry their own "portable restaurant" on their shoulders.
Che Troi Nuoc Thit Heo (Sweet & Savory Rice Ball Soup)
Pork in a sweet dessert? It sounds strange to many people, but do not hesitate to try this special dish when you visit Hoi An. Sweet rice ball soup is a traditional dessert that can be found throughout the country, but there are also different adaptations with slight changes. The most recognized version is made of sticky rice flour covering the sweet mung bean paste inside.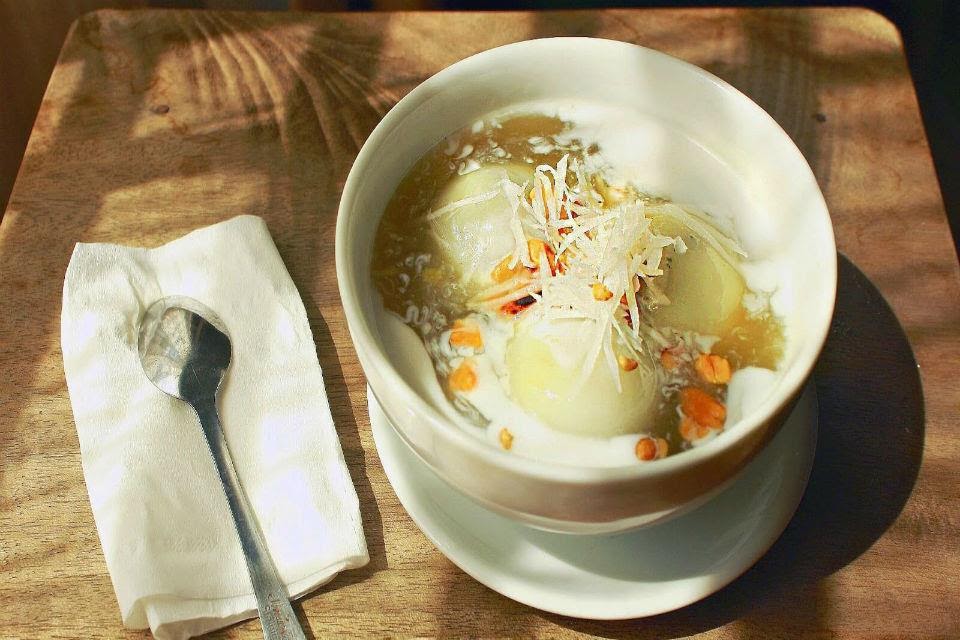 Photo: mytour.com
Hoi An rice ball soup must be the most distinctive version with the savory flavor of pork filled inside instead of the traditional mung bean filling. If you try it for the first time, you might feel very strange because of the salty rice ball in sweet soup? But let your taste buds guide you. The soft snowy white crust has a viscous consistency when you eat, accompanied with the cozy, sweet ginger sugar syrup, coconut cream and chopped peanut. This sweet & savory rice ball soup is best to be served hot on winter days, which creates one of a kind experience for any visitor to Hoi An.
Banh Xoai (Mango Cake)
This is a street snack that you can find at any street in Hoi An Town, which is a part of local people's vivid childhood. You will find the funny thing when trying this cake is that everything is not what it seems to be. Dissimilar as the name suggested, there is nothing with mango. In the old days, this treat was shaped like mango, which is oval with a bit of heart-shaped edge. Each cake looks like a lovely little mango, with a pure white outer shell, faintly fragrant with new rice aroma.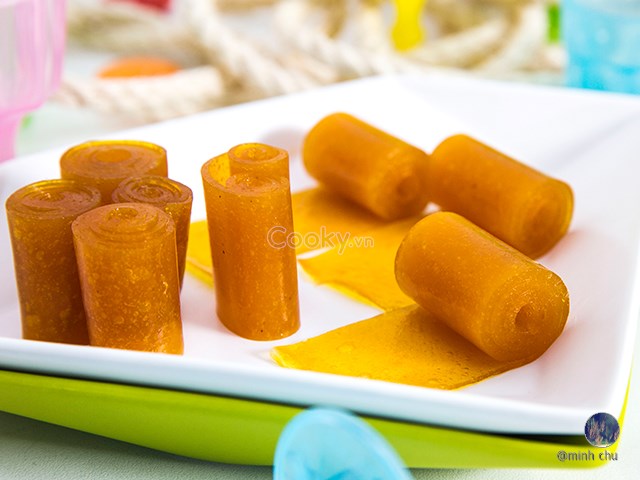 Photo: cooky.vn
The filling consists of peanuts, crushed sesame seeds, sandy sugar and pea butter, mixed together to prevent the sugar from thawing while still keeping the seeds. It is not a luxury delicacy, but when holding a mango cake, you can feel sophistication between the sweetness of sugar mixed with mild and nutty flavor of sesame and a little spicy and fragrant smell of ginger. It is simple to list out all ingredients, but, according to the oldest cooks, making a perfect mango cake is the matter of practicing and improving through many times to create such tiny delights.
Xi Ma (Black Sesame Soup)
In Hoi An Old Town, Mr. Thieu is probably the most famous man, known as the person who kept part of Hoi An culture for many years with a strange and delicious recipe. In his 80-year career, he had served this sweet treat to millions of guests, from nearby neighbors to foreign tourists. Though Mr. Thieu is retired due to his health, the recipe is inherited to his children and introduced to more and more people nowadays.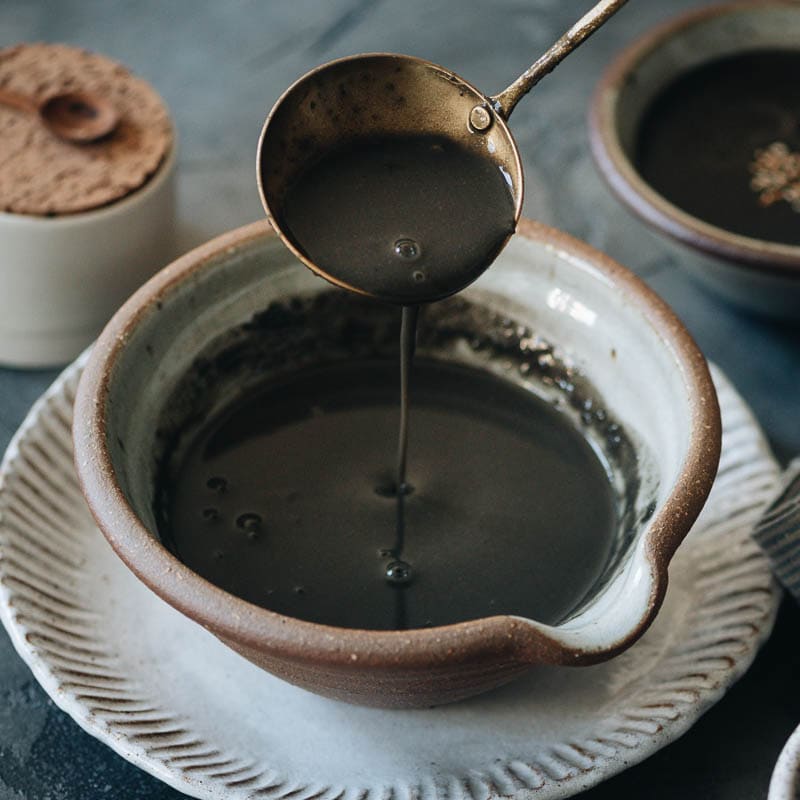 Photo: cookbook.com 
The main element is black sesame, beside some other locally available ingredients such as tapioca flour, potato powder, apricot vegetables, cheeks, and some herbs, which is a mystery only the old man and his "successors" know. Black sesame is soaked and pureed, then cooked with other ingredients to create a rich, creamy, sweet paste. Xi Ma is served in a tiny porcelain bowl. You will immediately taste the sweetness on the tip of your tongue and the smell of herbal medicines at the same time.
Xi Ma is only sold in the morning, so you will find many people in the neighborhood visiting the food stall early to buy it for their children as a healthy dessert. Visitors to Hoi An must go early to have a chance to eat the famous soup in town, or after a while in the morning, the huge pot of Xi Ma would be over.
Banh Dau Xanh (Mung Bean Cake)
If you come to Hoi An without taking a sip of green tea and enjoying the renowned mung bean cake, your trip won't be completed. Mung bean cake is a familiar dish of Vietnamese people in all three regions, but each version has its own taste and story, and so does Hoi An mung bean cake. Since ancient times, mung bean cake has been an exquisite dish to serve the king and his imperial family. Made with mung beans, glutinous rice and sugar, but this cake has a completely different style and taste.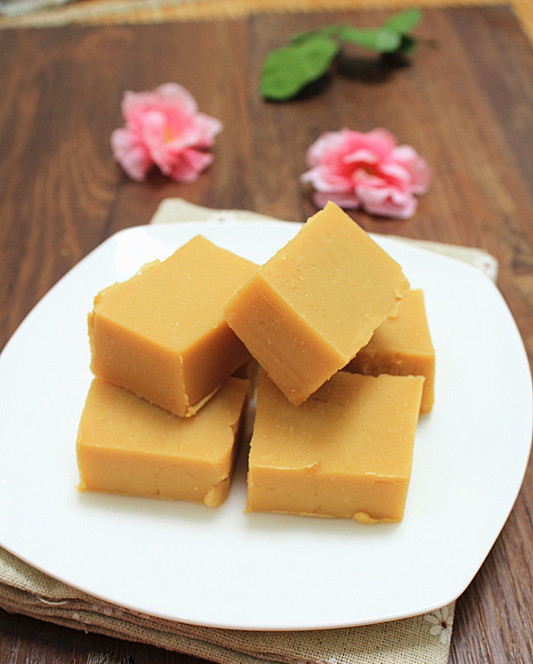 Photo: vi.wikipedia.org
Many long-established bakeries maintain the different techniques and secrets to create their own unique. When the bean paste is compressed into shape, it is not steamed but baked, which results in a crunchy finish. Therefore, unlike the silky feeling when you taste the northern mung bean cake, this is a totally brand-new, exciting outburst of flavor. Mung bean cake is best paired with lotus tea or lemongrass tea. The mildness of green tea balances the sweetness of mung bean cake, while their aromas are undoubtedly harmonious. 
Sitting in an ancient house, enjoying the tranquility and timeless beauty of the old town while enjoying the imperial delights is one of the best experiences that you can only have in Hoi An.
Conversations (0)
Join the conversation
Conversations
Join the conversation
ALL COMMENTS (0)
There are no comments. Add your comment to start the conversation.
read next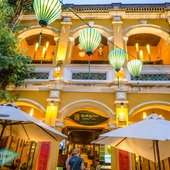 Find felow is list of restaurants in Hoi An that our staffs try and recommend.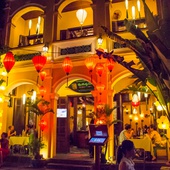 Hoi An is home to some of Vietnam's best delicacies, not to mention the beautiful boutiques restaurants that serve them. Dining in Hoi An is not just about filling your stomach but a whole travel experience in and of itself. If you have more than a couple of days to spend in this ancient town, make sure to include at least 1 of the below list for a comforting dinner.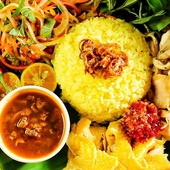 An old port town influenced by Vietnamese, Japanese and Chinese culture, Hoi An is special in every of its little detail. Hoi An's food is probably the most pronounced in its myriad of charm, offering mouth-watering range of rice and noodle fusion dish. Try these 5 dishes and experience a flavor of Hoi An.