Halong's Must Try Food
Whenever visiting any tourism destination in any country in the world, most travelers spend a considerable amount of time exploring and enjoying the wild wonders of cuisines there. Visitors to Ha Long possibly are not an exception, and they would definitely be surprised by the incredible gastronomy of this charming bay.
Sea snails – a half of Ha Long's cuisine
It might be a little overstated to say that half of Ha Long cuisines are dishes made from sea snails, but this is to emphasize the significant contribution of this irresistible dish to Ha Long gastronomy.
There is no precise estimation on how many types of sea snails are edible in this beautiful bay. Huan, a local fisher said that he had seen about 20 kinds of see snails so far. The fisherman continued his story about sea snails by listing their name respectively, however, after three repeating times, this unprofessional tour-guide decided to try out directly that extraordinary creature would be the best way to "taste" Ha Long.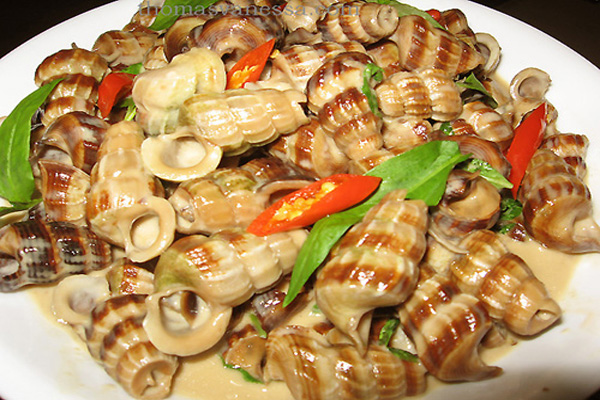 Halong's famous creeper snails

Cao Xanh market and Bai Chay market are the most popular spots where sea snails are supposed to be sold with the best quality. Wandering around Bai Chay, which is crowded with people eating on the sidewalks, every one can see a panel with the title: "Ha Long snail super market" that excitingly catches visitors' eyes. Having a look through the restaurants' menus, visitors would surely be surprised at the diversity of sea snails here.
With only one bowl of sauce made from fish-sauce, ginger, peppers and lemongrass, each type of snails with different unique flavors and different ways to enjoy would make anyone's mouth water. Eaters enjoying snails are advised to drink hard beverages such as alcohol to avoid stomachache.
The other half of Halong's cuisines: seafood derivatives
Visitors must be excited when served special liquor named "Ngán - Arca Wine" ("Ngán" is a species of Veneridae). This special drink is actually a mixture of typically Vietnamese rice wine and "Ngán" blood, which is supposed to benefit men's sexual ability. After the mixture is completed, the wine transforms into a light red color with totally a different flavor. Spirit followers cannot wait to drink it, to feel an immediate absorbent into their bodies.
Another well-known alcohol named "Hoanh Bo" should definitely not be missed when visiting Ha Long. With low volume of alcoholic, the liquor is not tough to conquer, yet some people who consumes too much Hoanh Bo need 2-3 days to sober.
Ha Long is also famous for squid-sausages, which is told to be delicious and fragrant only when processed by restaurants here. The food is a fusion of hashed squid and mysterious spices that only the chefs know, molded into round pieces and then fried in boiling oil. This special dish can be found anywhere along the shore from Quang Ninh to Hai Phong, but nowhere has the same level of deliciousness like in Ha Long.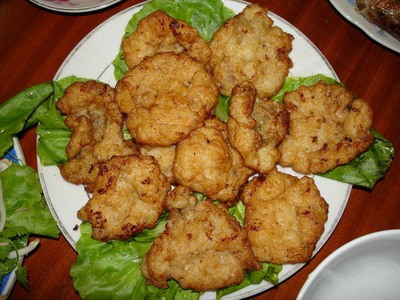 Squid Sausage - a famous specialty

The diversity of shrimps, from the luxurious one like lobsters to the other common shrimps, is another outstanding feature of cuisine in Ha Long. To many local people, a dish of streamed shrimps, served with salt dip and a dish of freshly spicy vegetables, is an ideal meal for a joyful friendly union.
Conversations (0)
Join the conversation
Conversations
Join the conversation
ALL COMMENTS (0)
There are no comments. Add your comment to start the conversation.
read next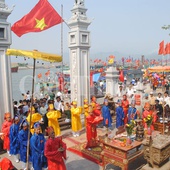 Con Temple Festival is an annual events organized on the 22nd and the 23rd of February.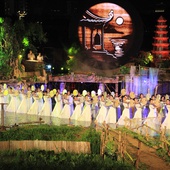 Hue Festival, with participation of 40 international art troupes, including a big number of traditional ones from 30 countries, promises to give tourists golden chances to appreciate different traditions through numerous art performances of varied origins, styles and genres: from East to West, court to folk, music, dance, drama to costume exhibit.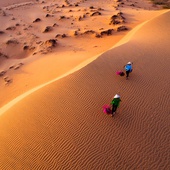 When is the best time to travel to Mui Ne? Have a look at this article to find more details about weather in Mui Ne and plan your best trip ahead.