Family Vacation in Phu Quoc? Your Top 7 Resort Choices
Phu Quoc, one of many tropical paradises in Vietnam, is undoubtedly the best getaway to unwind yourself from the city chaos. Besides delivering the precious indulgence and refreshment to individuals, Phu Quoc is an ingenious choice to bond on a family vacation. The Pearl Island offers great crystal turquoise beaches with dazzling patches of sand fringing around pockets of evergreen tropical jungle, serene fishing villages and eye-opening historical monuments, delightful recreation activities and excellent services, not to mention sumptuous assortment of seafood and local specialties. As you plan an enjoyable holiday for all family members, check out these most outstanding accommodations with convenient facilities and engaging activities which are appropriate for all ages and family types.
VinOasis Phu Quoc
Belong to the renowned 5-star VinPearl resort & hotel chain, but the brand new VinOasis Phu Quoc has far more exciting things for you to discover. Connected to other attractions of VinPearl entertaining system including VinPearl Land, VinPearl Safari and VinPearl Golf, VinOasis has drawn more attention to become one of the most busiest accommodations in the island. 
 Oasis Phu Quoc
Located at the Long Beach, the northern part of Phu Quoc, VinOasis offers a massive range of service and activity such as kids club, sport and gym studio, beauty spa. Only take you a few minutes walking to experience all complementary services and utilities that definitely engage every family member. More than special, this is the only premise that contains a private water park with multiple exciting features for your family to have a blast on this holiday.
Location: Bai Dai Beach, Ganh Dau Commune, Ganh Dau, Phu Quoc Island, Vietnam
Mango Bay Resort
With a pleasant location, stretching in front of the endless romantic beach, surrounded by more than 20 hectares of green trees Mango Bay Phu Quoc Resort is embraced by a wide-open, peaceful atmosphere among beautiful nature. The outdoor bar is also a highlight as it is one of the best places to enjoy sunset in Phu Quoc with decent food and drink selection.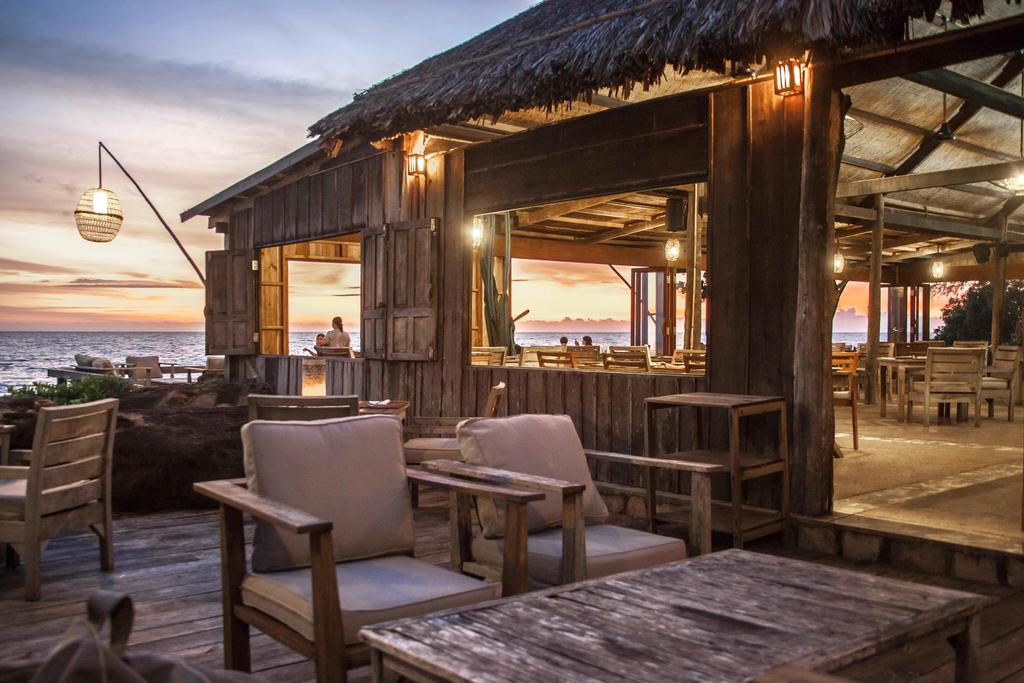 Mango Bay Resort
For families with small kids, it can't be more relaxing for parents to enjoy the tranquility and relaxation while still keeping an eye on their children with dozens of beachfront activities such as kayak, kite flying, snorkeling, etc. All equipments are available in kid sizes so that there's no limitation for children to explore the beauty of this oasis. Mango Bay Resort is the first resort operated with an environment friendly notion in Phu Quoc, reducing energy and plastic usage at its best for a genuine nature fusion experience. These practices also have a positive impact on children's cognition on preservation effort towards our planet.
Location: Ong Lang Beach, Phu Quoc Island Vietnam
Intercontinental Phu Quoc Long Beach Resort
With the pristine white sand and fancy massive swimming pools, the resort also has a variety of daily exploration that fits all family members - perfect for those looking for an exciting and memorable getaway. Not only a tantalizing array of food that satisfies the most picky diners, several sports and table games keep your energy burnt all the time.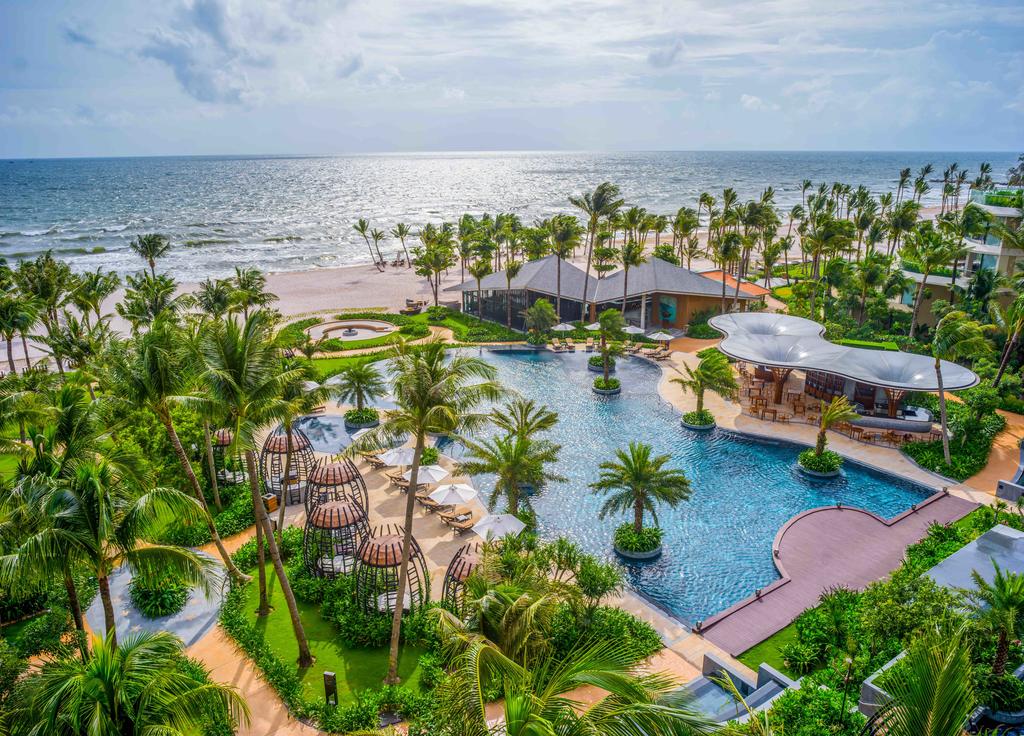 InterContinental Phu Quoc Long Beach Resort 
You can probably ask for free kayak, snorkeling, surfing equipment as well as immerse in a giant infinity pool. For special little guests, plenty of games are operated by friendly staff in Planet Trekkers, an indoor playground or experience cooking class "Kids Can Cook" where they can observe living seafood and learn how to cook simple yet delicious dishes. The babysitting service also gives parents some relaxing moments beside adventurous pastimes with their family.
Location: Bai Truong, Duong To, Phu Quoc Island 920000 Vietnam
La Veranda Resort
La Veranda Resort is located at one of the most ideal spot with easy access to the private beach and covered by lots of green trees, which create a constantly refreshing and peaceful atmosphere. The sophisticated decoration details such as handmade flower tiles, French-styled canopy beds, inspirational works of art, and unique collectible items give each room a delightful blend of classic elegance and traditional Vietnamese style.
La Veranda Resort Phu Quoc
Its romantic vibe might seem to suit couples, but it is not until you and your family explore all the facilities that keep everyone entertained for hours. Kid club opens daily with a big set of table tennis, many games and toys, while the spacious outdoor area provides great space for field activities. It is also very thoughtful that the resort makes even the little guests feel special with little slippers and sweet treats everyday.
Location: Tran Hung Dao Street, Duong Dong, Phu Quoc Island, Vietnam
Rocks Beach Boutique
The boutique resort is located on the southeast verge of Phu Quoc Island. Comprising 4 bungalows, Rocks Beach Boutique ensures the ultimate tranquility and privacy for big family gatherings. From the very first greetings till the moment you leave, the team will ensure your enjoyment with personalized services and supportive reactions.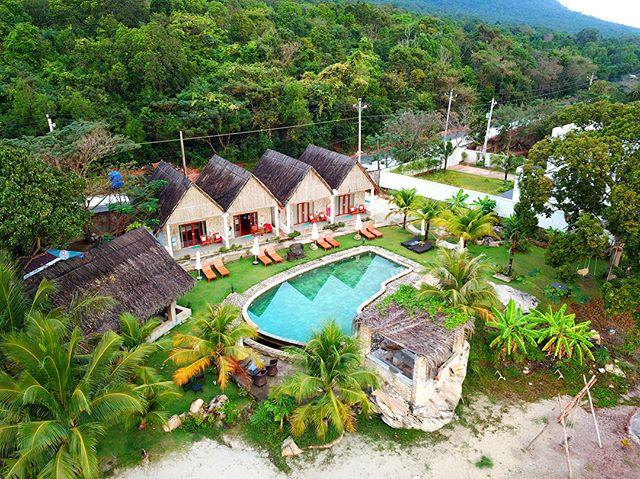 Rocks Beach Boutique Bungalows
Due to the limited capacity, you may have all the area on your own, including bar lounge, restaurant catering both Western and local food, BBQ facilities and modern pool and unspoilt private beach which is just perfect enough for a family get-together party. In addition, if you require any assistance, the family-run resort always shares their willingness to give you the best advice as well as customization to arrange your dream vacation.
Location: Group 5, Cay Sao Village, Ham Ninh, Phu Quoc Island, Vietnam
JW Marriott Phu Quoc Emerald Bay Resort & Spa
Renowned as one of the most beautiful resorts with gorgeous architecture, this is a top-notch place for a holiday in style. Located in the south of Phu Quoc Island, next to the Kem beach, calm with smooth white sand and romantic coconut trees, JW Marriott Phu Quoc Emerald Bay Resort offers an absolutely private relaxation with smooth white sand and extensive line of coconut trees.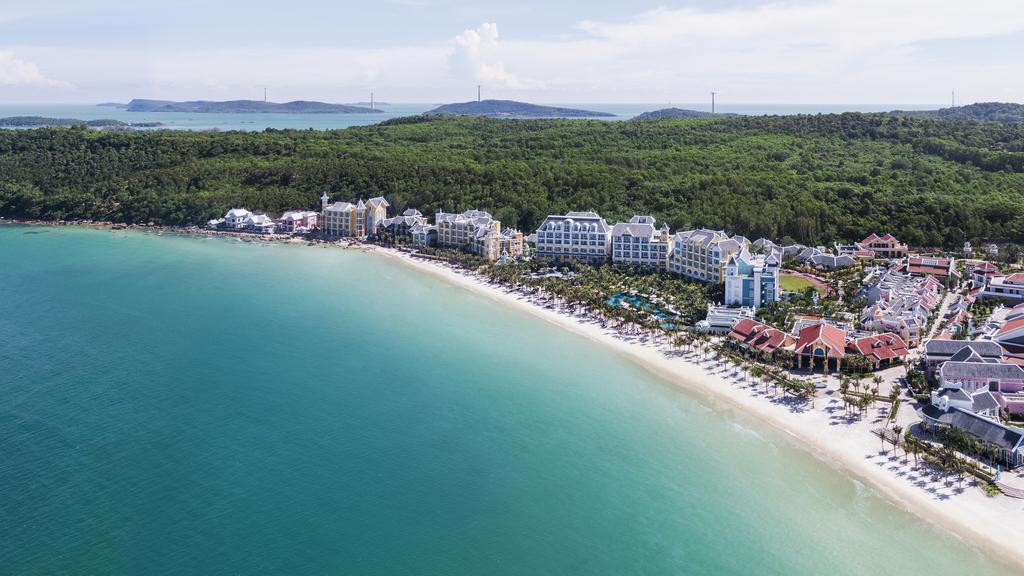 JW Marriott Phu Quoc Emerald Bay Resort & Spa
Apart from the majestic landscape and design, outdoor services can be arranged at exclusively high standards. You and your family can take on a group kayaking, snorkeling or biking along the endless beach. Meanwhile, the spacious playground for children is modernly equipped with exciting activities such as indoor slides and ball pit. Also, there are different artistic classes available throughout the week and magic shows at night time that bring lots of excitement and joy for children.
Location: Kem Beach, Phu Quoc District Khem Beach, An Thoi Town, An Thoi, Phu Quoc Island Vietnam
Cassia Cottage
If you are looking for a natural indulgence to escape the city bustlings, Cassia Cottage can be more perfect. This is truly a tranquil oasis that stands out from all other properties on Phu Quoc Island. The separate bungalows and villas imitate the image of peaceful countryside mansions, which integrate with the palm-fringed beach and primitive natural beauty.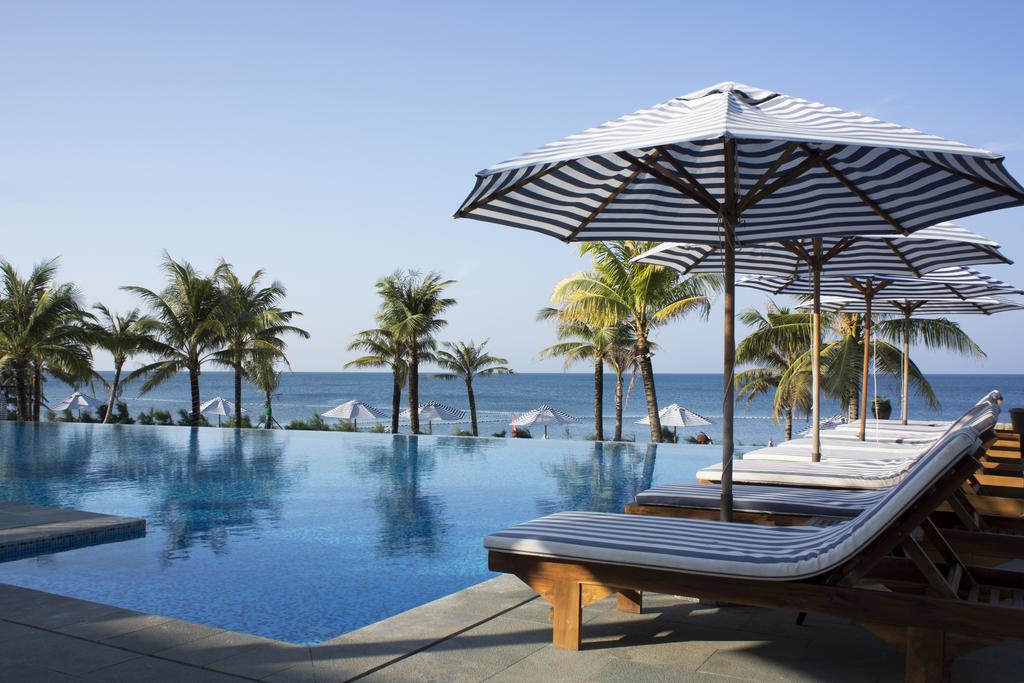 Cassia Cottage
Cassia Cottage is totally a family-friendly place as children's preferences are strongly concerned. The food menu is varied with tasty kid options and happy drinks are available beside the adult's cocktail list. The infinity pool is also divided into different parts, of which the children can enjoy watery games safely. Friendly staff would be very helpful to keep an eye on your kids while you are having yourself a refreshing treatment. This is totally a detox vacation to enjoy fresh air, delicious food, lovely nature and keep your family away from TV and video games for a while.
Location: KP 7 – Duong Dong, Phu Quoc Island, Vietnam
Conversations (0)
Join the conversation
Conversations
Join the conversation
ALL COMMENTS (0)
There are no comments. Add your comment to start the conversation.
read next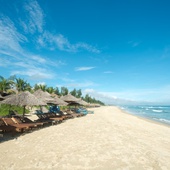 Renowned for unrivaled white-sandy beaches and friendly services, Vietnam boasts a brilliant spot for holidays.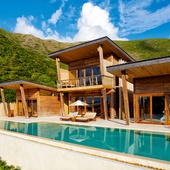 Mass tourism is on the rise. Thus, the desire for ultra-comfort and out-of-the-way lodgings increasingly becomes popular among holidaymakers. With this in mind, a variety of hi-end resorts in Vietnam have been celebrated in many famous travel magazines as high-quality yet great remote escapes for travelers over the world. The list below compiles 10 best off-the-beaten-path beach luxury resorts you will love.