Habeco Beer
HABECO - or Hanoi Beer Company - is a state-owned beer producer that is widely preferred in the North and Centre of Vietnam. Products of HABECO are popular due to its unique taste as well as a diverse range of products. HABECO is currently offering many kinds of beer, including: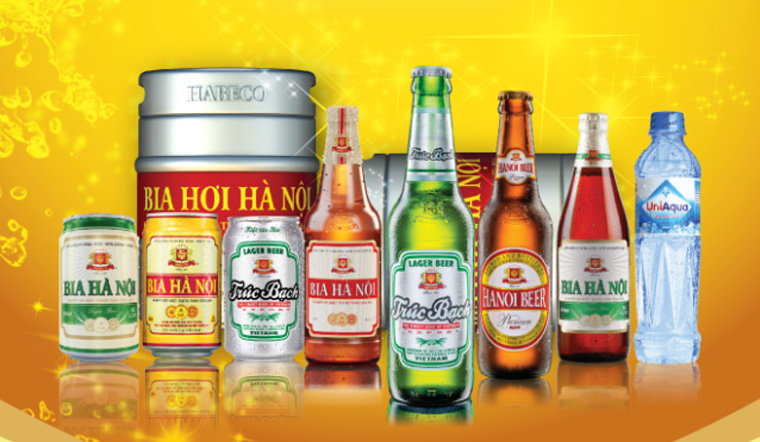 Photo: bạchoaxanh.com
Draft Beer: Also called Bia Hoi, this kind of beer is a famous product of HABECO for a long time. HABECO Bia Hoi is often cool, fresh and pure with a natural flavour. Draught beer of HABECO is being sold under three types: 50litre and 30litre keg (mostly for beer restaurants ) and 2litre keg (for individuals use). The price for these products are roundly 450,000 VND (22.5USD) for 50litre and 30litrs keg, while the price for 2litre keg is around 35,000 (1.75USD) per keg.
Bottled Beer: This is a recently released products of HABECO. It has higher sanitary condition than Bia Hoi but the fact that it is bottled might turn Bia Hoi fans off, for it is no longer fresh to taste. Bottled beers of HABECO are now packaged in two types of bottle: 450ml and 330ml with the prices fluctuating betwen 9,000 VND and 15,000 VND (0.45 to 0.75 USD) per bottle. If you buy a keg of 20 bottle, the price is much lower at roughly 195,000 to 220,000 VND (9.5 to 11 USD) per keg.
Canned beer: Canned beer of HABECO is getting popular, though Heineken still dominates the domestic market. This beer has the same quality as other products of HABECO, but it is more portable since it is light and easy to carry around. The price for each box of 24 canned beers is approximately 200,000 to 210,000 VND (10 to 11 USD) or 8,500 – 10,000 VND (0.44 – 0.49 USD) per retail can.
Comments (0)
Your comment...
Conversations
Join the conversation
ALL COMMENTS (0)
There are no comments. Add your comment to start the conversation.