Xuan Thuy National Park
Xuan Thuy National Park was recognized by UNESCO as the core zone of the World Biosphere Reserve in the Red River Delta in 2004. The 12,000ha area preserves the typical ecosystem of the Red River Delta with about 300 species of plants and more than 1000 animal species, including insects, birds, mammals, and sea creatures. This place is considered as the stopover for international migratory birds with more than 200 species, boasting a majestic scenery in every migratory season.
What to see
Visiting Xuan Thuy National Park, you will be surrounded by the eternal clear sky and immense natural landscape while watching the birds all flying around or looking for prey on the water. Every year, as the migratory season begins, birds migrating to avoid the cold from the North choose Xuan Thuy National Park as their stop during the whole winter. Among more than 200 bird species present in the national park, there are many species listed in the Red List such as black-faced spoonbill, Nordmann's greenshank, painted stork, etc. At the same place, an abundant amount of sea animals including shrimps, fish, crabs, and clams is a rich resource of food for birds and humans as well. In addition, more than 120 pieces of plants create a massive mangrove forest, contributing to the biodiversity in the area.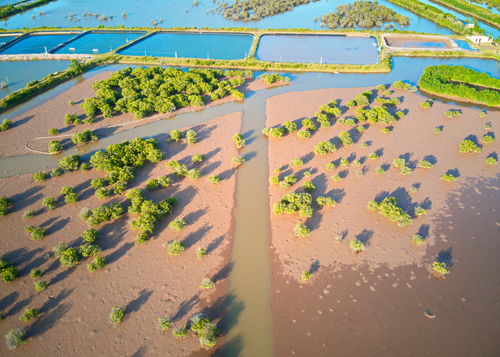 The park is divided into 3 main functions: the ecotourism area that enable visitors to discover wildlife and nature, the preservation area where rare species are strictly protected with authorized entry, and the admission & service area where tourists can find dining and stayover services.
Things to do
Go for a hike 
You will probably start your exploration with a long trail. Right at the beginning you might already feel the incredible natural habitats with dozens types of birds like gulls, stork, crane flying over your head or roosting for food in the shallow. You can ask for assistance to reach Con Ngan Island to have the ideal view over the surroundings.
Take a boat trip
To go deeper in the park, tourists can take a boat trip to watch the wildlife along the water. All boats are equipped with life jackets to ensure tourist safety. The best moment to wander around the national park is in the evening to watch the sunset and immerse in the great nature. Visitors can choose among different routes, whether to have a short trip with very basic observation or the bird routes where visitors explore nature, observe birds and admire the unique landscapes of wetland reserves.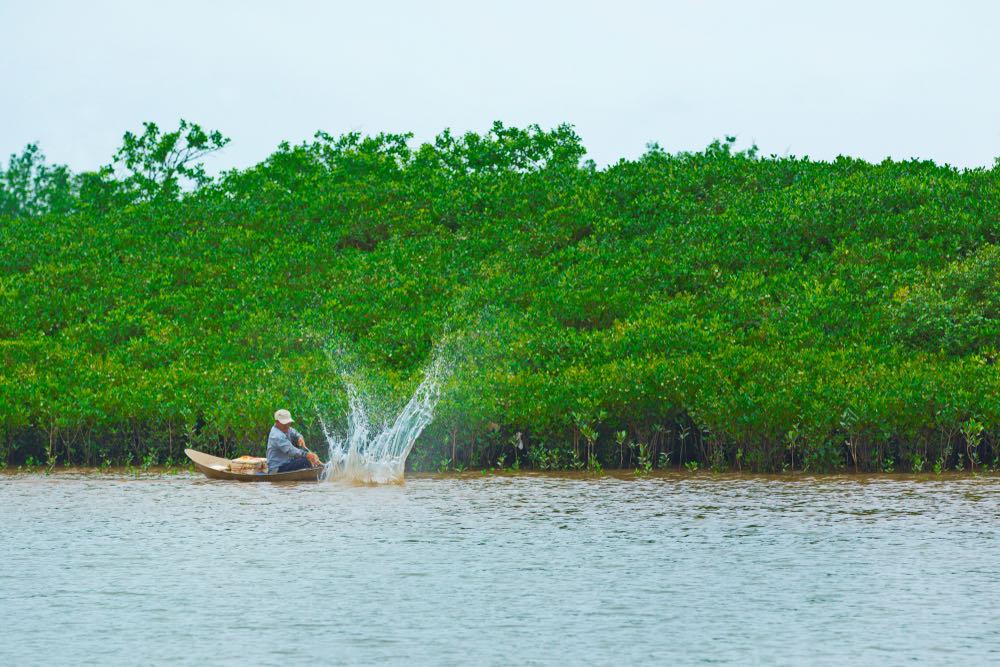 A fisherman catching fish in Xuan Thuy natural reserve area - Photo: David Nguyen VN / Shutterstock.com

Go clam digging
In Xuan Thuy region, there are many clam fields where local people mainly work to collect clams, which is one of the best specialties in Nam Dinh. You can experience the local life by spending the early morning, as the tide lowers, to follow resident fishermen and women and try to collect clams and oysters on the sandbank. There are many more impressive activities within the villages to explore if you have more time, such as drying fish, making salt or brewing rice liquor.
Best time to visit
The best time to visit this place is also the bird's migratory season, which usually lasts for a few months from October to March – April of the following year. During this time, the number of birds in Xuan Thuy National Park increases dramatically due to their stopovers, contributing to the breathtaking sight and vibrant atmosphere of the park. If you aim to observe particular species, research their migration details to plan your trip since there are both early and late migrants that stay during different periods.
The early summer is also a good time to visit as the sky is clear and surrounding scenery is at its most flourishing. You will appreciate the sea breeze and tree shadow that cool down the heat from your walk.
How to get there
Xuan Thuy National Park is located in Giao Thuy District, Nam Dinh City, which is about 150km from Hanoi city center. Traveling by land is the most common and reasonable means of transportation. From Hanoi, you can either book a private car through local service providers or buy tickets for coach/shuttle bus to Nam Dinh. 
The price for a Hanoi – Nam Dinh round trip is approximately $95 - $100 for 4 maximum passengers, while it is more economical to take coach/shuttle bus at $4 - $9.
If you prefer flexibility during the trip, you can hire a motorbike and ride on your own. By riding your own vehicle, the walking distance can be removed and you can go straight to the destination. Following the Expressway 01, from Hanoi, it takes about 3 hours to reach Nam Dinh and then follow Route 21A to Xuan Thuy National Park. The rental price varies upon your personal requests regarding the number of days, types of vehicles, etc.
Moving by train is also a great idea to spend your time enjoying the rural scenery on the way. There are many trains that go between Hanoi and Nam Dinh everyday at a reasonable price ($4 - $7). After reaching the city station, it takes you another 50km driving to get to the national park, by taxi or motorbike taxi.
Ticket details
Xuan Thuy National Park offers complimentary entry for visitors. You can take a walk around on your own to enjoy the untouched beauty of nature.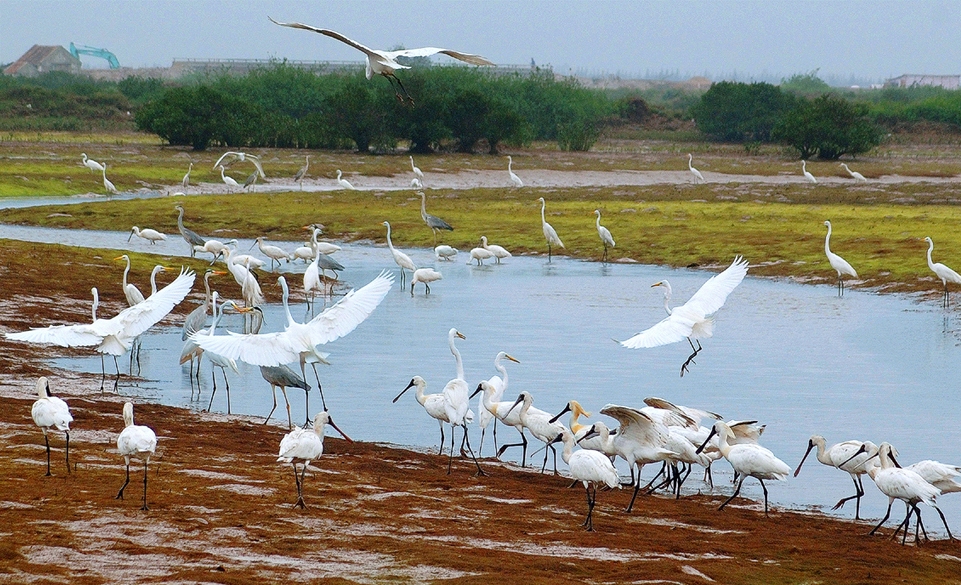 Bird watching in Xuan Thuy national park - Photo: lendang.vn

However, to experience at the fullest, it is highly recommended that you book a tour guide who has vast experience in the area as well as understand well the fauna habitat, so that they get you to specific spots with optimal chances to observe rare species. The price for personal guidance is about VND300,000 – VND500,000 ($13 - $22).
Besides, if you try the boat tour along the water to discover more, there are different options of boat that suit big or small groups of visitors, ranging from VND1,200,000 ($52) to VND4,000,000 ($173.6).
Useful Information
Location: Xuan Thuy National Park
Best for: Family, group of friends, solo traveler
Entrance: Free
Hours: 8-5:00PM, daily
Distance to city center: 44.3km (27.5 mi)
Conversations (0)
Join the conversation
Conversations
Join the conversation
ALL COMMENTS (0)
There are no comments. Add your comment to start the conversation.
read next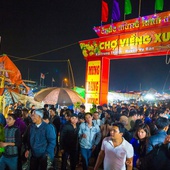 Lunar New Year perhaps consists of various traditions and festivals in Vietnam. Standing out from several spring activities is Vieng market, a unique market in Nam Dinh.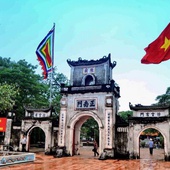 Tran Temple in Nam Dinh is a famous destination, where kings of the Tran Dynasty and their mandarins are worshiped.
Thing Long is a new beach in Hai Hau, Nam Dinh that has only recently become popular.