Vieng Market
Whatever you buy is a good fortune
Lunar New Year perhaps consists of various traditions and festivals in Vietnam. Standing out from several spring activities is Vieng market, a unique market in Nam Dinh, where people come to get spiritual belief in the form of tangible goods exchange. The amusing thing is that you won't find any bargain, but the whole market is packed with smiles and contentment.
Where is Vieng market?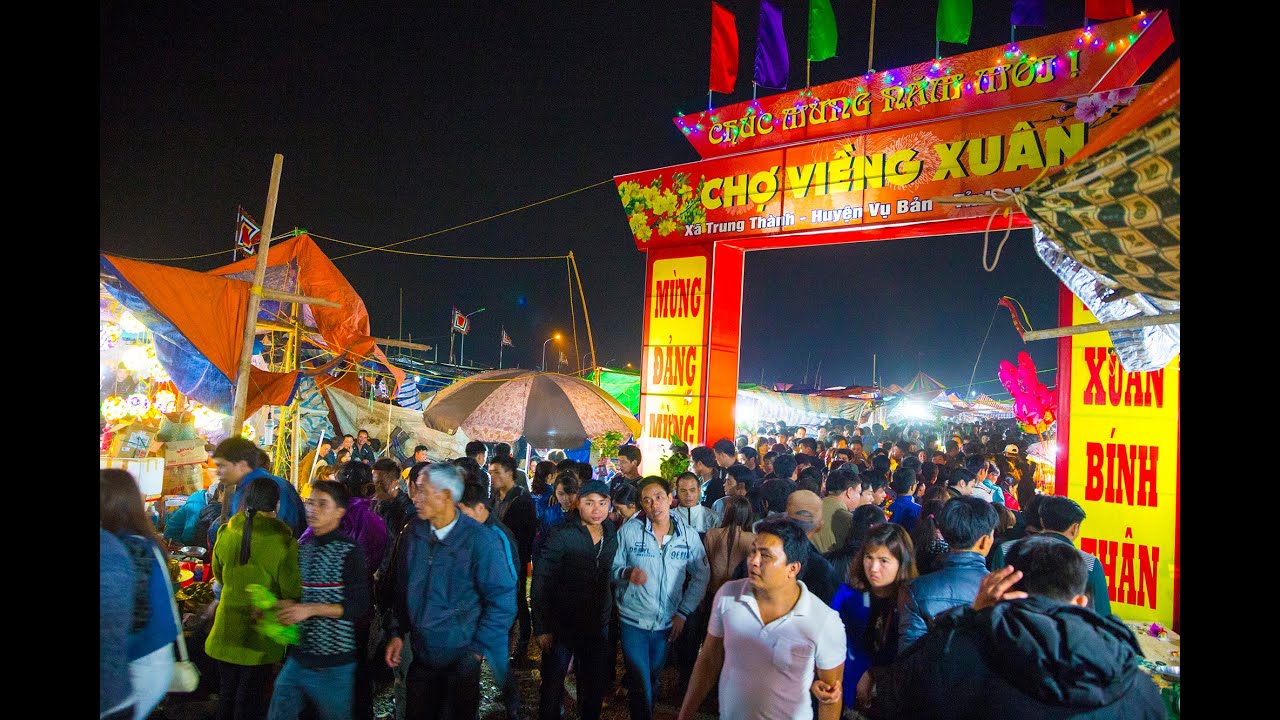 Photo : baotintuc.vn
Originated from Nam Dinh Province, Vieng market spread into two different areas, yet remains its exclusiveness within the province. Local people and tourists can visit either Vieng Chua market in Nam Giang town or Vieng Phu in Vu Ban town market for identical experiences.
Why it is special?
Vieng market only opens once a year, on the 8th of the lunar first month. The myth of wee hours being the crossing moment between the earth and heaven, which gods could hear the sound of prayers easily, has resulted in current midnight market tradition. All activities begin from the midnight of 7th until the dawn of 8th comes. People not only in Nam Dinh but also throughout the country visit Vieng market when it opens to take part in the traditions. If you had a chance to visit this unusual market, watching the streets crawled with people, you would understand how crucial the religiosity is in local residence's lives.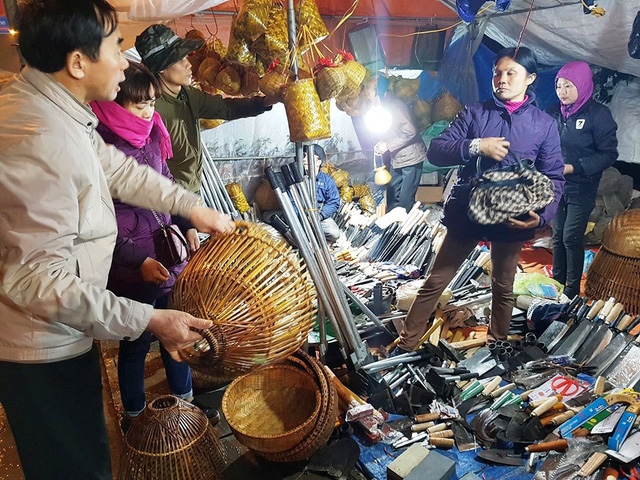 Photo : baohaiduong.vn
Exchange of goods and materials is the physical purpose, but the spiritual meaning is far more than that. In the belief of local inhabitants, whatever business has a prosperous start would also go off without a hitch in that year. The act of buy and sale refers to sending off bad luck and bringing home fortune, happiness and prosperity for the new year. This symbolized exchange is considered as people's wish for a new year of happiness, success and prosperity.
Besides businessmen and traders, young people join this occasion to socialize and meet new friends, couples walk there together to wish for love and happiness. In Vieng market, apart from goods exchange purposes, there are several festive activities such as cockfights, human chess, or puppet play.
What to buy?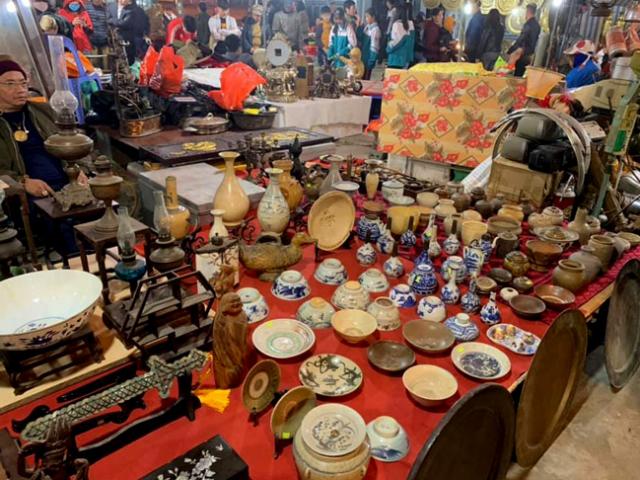 Photo : 24h.com.vn
Join the crowd and you will find it truly impressive to see any kind of goods can be displayed on the market stalls. Not only traditional handcrafted items, crop productions, utensils, but also used goods that can be brought from many sellers. You can have a good deal of copper souvenirs, since Nam Dinh is recognized for copper handicrafts and artisan products. You can also try smoked veal, a local cuisine specialty that its red color is believed to bring good fortune. People mostly have it with rice liquor, and buy some more later for their family and friends as a lucky gift.
Things to note
No bargaining
As mentioned, there should be no bargain as the essential purpose is to earn happiness and prosperity. On the other hand, sellers will not overcharge, so the price is expected to be reasonable and fair. Bargain in this market means bargain for what you wish for, which is a taboo in local creed.
Keep an eye on your personal belongings
Being one of the most popular spring festivals in the Red River Delta area, Vieng market is undoubtedly bulging, which made pickpocket inevitable. Therefore, you should be cautious with your belongings such as wallet and mobile phone, as well as take care of your companion, especially children.
Be conscious of traffic jam
Taking place only for a night during January 7th (Lunar Calendar), it's likely to be a once-a-year chance to take this experience. There are bunches of folks across the country pouring to the streets around by cars, scooters, or on their own feet, so traffic congestion is predictable. Meanwhile, the parking ticket is quite costly. In order to efficiently spend most of your time in the cherish atmosphere, it is recommended to ride a scooter, or park your vehicles at nearby spots and take a walk into the crowd.
Useful Information
Location: Cho Vieng, Nam Dinh
Best for: All visitors
Entrance: N/A
Hours: January 7th (Lunar Calendar) only
Distance to city center: 11.4km (7.1 mi)
Conversations (0)
Join the conversation
Conversations
Join the conversation
ALL COMMENTS (0)
There are no comments. Add your comment to start the conversation.
read next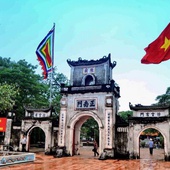 Tran Temple in Nam Dinh is a famous destination, where kings of the Tran Dynasty and their mandarins are worshiped.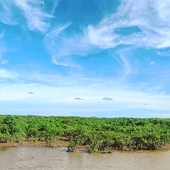 Not only famous for spectacular religious architecture, Nam Dinh is a special destination for nature lovers with Xuan Thuy National Park, one of the country's biggest natural homes for hundreds of fauna species, especially birds.
Thing Long is a new beach in Hai Hau, Nam Dinh that has only recently become popular.