Thien Mu Pagoda
If Hanoi has One-pillar pagoda, Hue is renowned for its Thien Mu pagoda. The architecture, location and history makes Thien Mu pagoda among the top attractions to see in Hue.
Location & History
The pagoda is located at the end of Kim Long Road, in Huong Long Ward, on the northern bank of the Perfume River.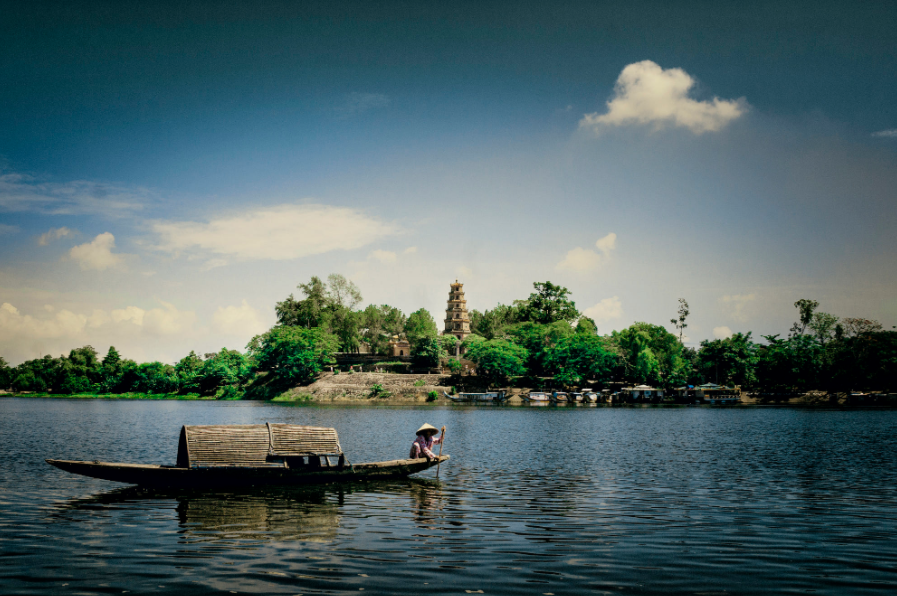 Photo Instagram @Bang Nguyen Manh
There are many legends about Thien Mu Pagoda (also known as Linh Mu Pagoda). Once upon a time, local residents saw an old lady in red appear every night on top of the hill. She foretold that: one day, the Lord would pass by and build something of great importance. From then on, the hill was named Thien Mu Son (Mountain of Lady from Heaven). When Lord Nguyen Hoang actually went pass the hill, he heard the legend and decided to build a pagoda and named it Thien Mu. Having gone through a lot of eventful phase, damages as well as renovations, today the pagoda still exists and remains the unofficial symbol of the ancient city Hue.
What To See
As tourists approach the pagoda, what seizes their attention first is the seven-storey octagonal tower named Phuoc Duyen Tower (formerly Tu Nhan Tower). Built in mid-19th century by King Thieu Tri, the tower was to commemorate the 80th birthday anniversary of his grandmother.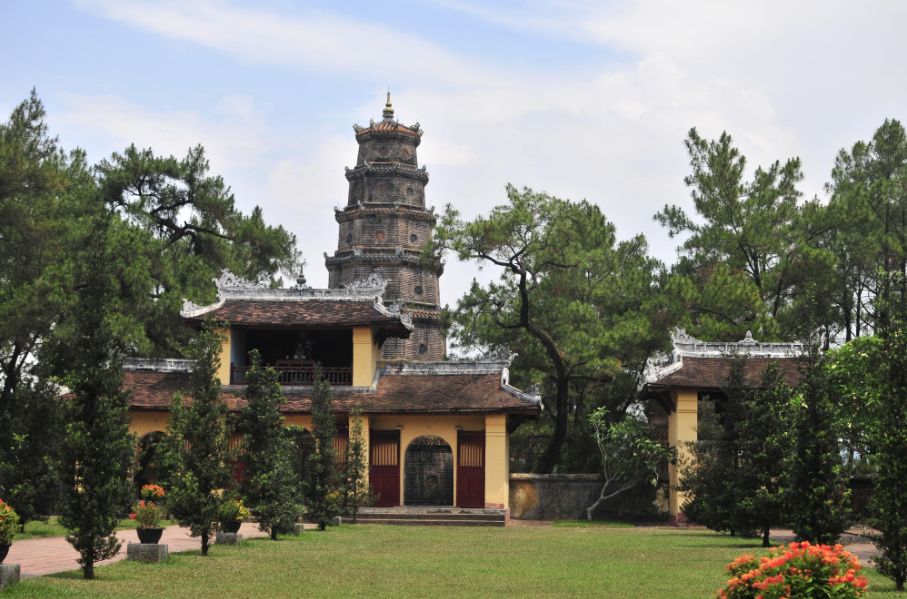 Photo Instagram @VanHai1215
Passing the 3-door gate are 12 huge wooden sculptures of fearsome temple guardians and then in the middle of the area is where Dai Hung Palace – the main sanctuary of Thien Mu Pagoda, is located. Here, Buddha is worshipped with impressive sculptures and a giant bell, measuring 2.5m in height and 2 tons in weight, created since early 18th century. Fragrant incense smoke fills the air there all day long, making the praying for blessings calm and peaceful.
A building near the rear of the complex houses a national relic: the car which carried the monk Thich Quang Duc to the intersection of Phan Dinh Phung and Le Van Duyet streets in Saigon on June 11th 1963, where he burned himself to death in opposition to the anti-religion policy of Saigon's regime at that time.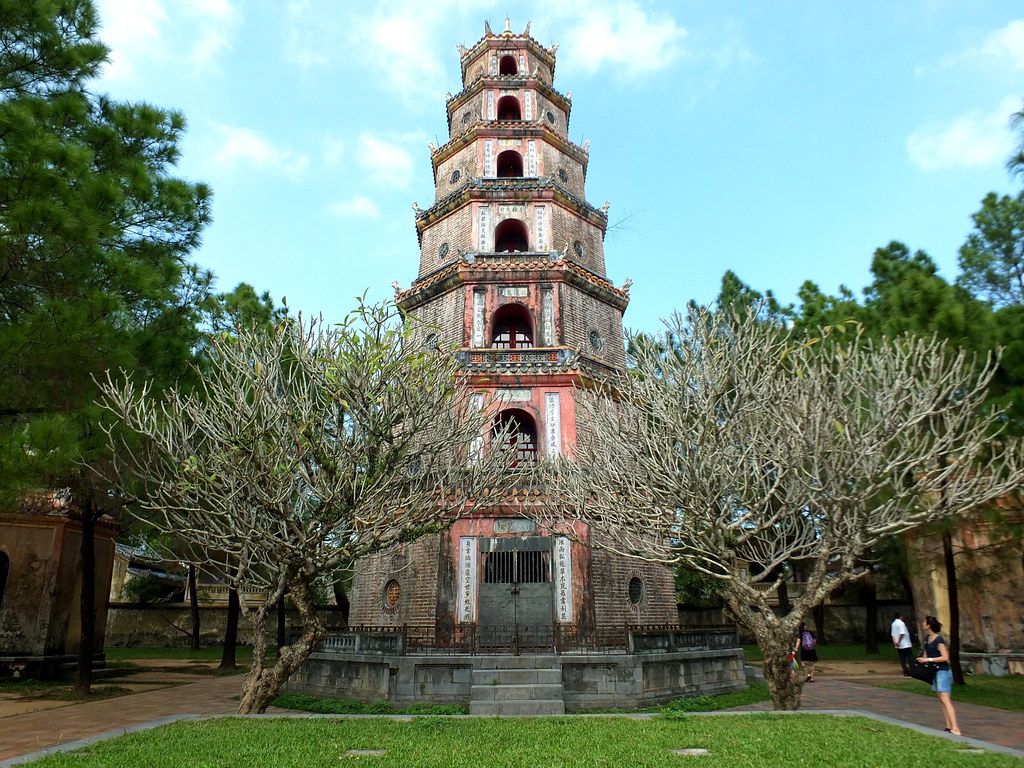 Photo: liberzy.comComing to this prestigious sightseeing, visitors can enjoy both the scenery landscape and the typical traditional architecture of Hue pagodas. Thanks to its high position upward a charming curve of Perfume River, the pagoda offers a mind-boggling view of both the flow and the surrounding areas. Covered with pine trees, bonsai and delicate manmade pond, this religious site brings about a peaceful feeling which is hard to find anywhere else.
How To Get There
Thien Mu Pagoda is about 4km from Hue City Center, thus you can get here by: motorbike, bike, as well as boat. A boat trip can also include visiting Hon Chen Temple and Minh Mang Tomb. A bike-trip is recommended, since the road is very scenic and rather short. Travellers can also combine a trip to Thien Mu Pagoda with Hue Temple of Literature and Huyen Khong Pagoda, which are just a few km away. One remind for those who are fond of bike: a perfect ride should be in early morning or late afternoon to avoid the heat of Hue.
When Best To Visit
The site opens daily from early in the morning till 5PM. It's suggested that tourists should come here early in the morning to see the fresh beginning of daily activities in the pagoda, or at sunset when the sky and the river combines to create a picturesque scene.
On special occasions such as 15th of April and July of Lunar Calendar or at Tet Holiday, the pagoda is more crowded and has several unique ceremonies that visitors may be interested in. These are also the time when visitors can have the most traditional and delicious vegetarian food in the city. Tourists can freely join these meals.
Tips
Avoid wearing tight and short clothes like short skirts when visiting the pagoda, since entrance to the main hall Dai Hung is not allowed for those wearing these costumes. Also, don't make noise when visiting the pagoda.
Useful Information
Location: Thien Mu Pagoda, Hue
Best for: Family, couple, solo
Entrance: Free
Hours: 8AM-5PM
Distance to city center: 3.2km (2.0 mi)
Conversations (0)
Join the conversation
Conversations
Join the conversation
ALL COMMENTS (0)
There are no comments. Add your comment to start the conversation.
read next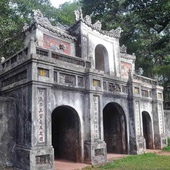 In Hue - one of Vietnam's most sacred lands of Buddhism, Tu Hieu is regarded as the largest and oldest pagoda, and also a famous sightseeing spot with historical and cultural value.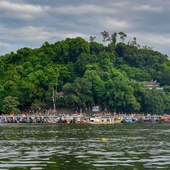 Hon Chen Temple is situated on a lovely slope of Ngoc Tran Mountain, 10km upstream from Hue Centre. The name "Ngoc Tran'' means Pearl Bowl, originating from the bowl-shape of the mountain. That also gives the temple its name: Hon Chen.
Famously being one of Vietnam's seven UNESCO World Heritage Sites, the Imperial City of Hue has long been a must-see attraction for tourists visiting a hidden charm of Vietnam.