Hon Chen Temple
Location
Hon Chen Temple is situated on a lovely slope of Ngoc Tran Mountain, 10km upstream from Hue Centre. The name "Ngoc Tran'' means Pearl Bowl, originating from the bowl-shape of the mountain. That also gives the temple its name: Hon Chen.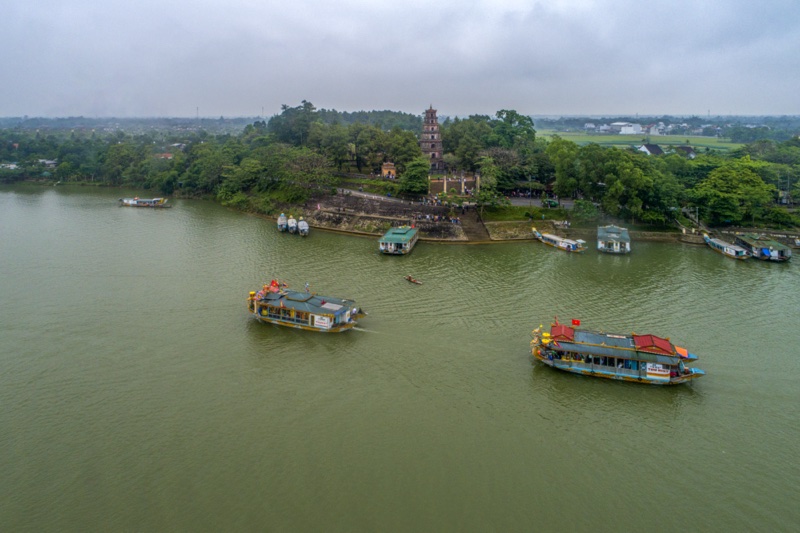 Aerial view of festival Hon Chen temple on Huong river, Hue
However, others claim that the temple was orginally called "Hoan Chen" (Return the Bowl). Legend has it that a turtle returned the pearl bowl that Emperor Minh Mang had dropped onto the river, when he visited the temple. Then, it was renamed as Hue Nam Temple (the temple that gives pleasure to the King of Vietnam) by Emperor Dong Khanh. This was in recognition of Thien Y A Na Mother Goddess's help prior to Dong Khanh's coronation.
A temple with many legends
Hon Chen Temple was originally constructed to honor Po Nagar, the Goddess of ancient Cham people. Afterwards, the tradition was continued by the Kinh ethnic. The Goddess is believed to have created the land and nature, and taught people the art of growing trees, according to Cham legends. This is part of the popular and mysterious worship of goddesses in Vietnam, called "Dao Mau".
This temple for Goddess appeared centuries ago, but with a very simple design. It was not until 1832 that Emperor Minh Mang ordered reconstructing the temple on a large scale. The main ceremonial hall is Minh Kinh Dai, where hundreds of gods, goddesses and Buddhas are worshipped. Mother Celestial Thien Y A Na and Lieu Hanh Princess are on top of the hall, along with other superior gods.
Hon Chen Temple's architecture is noticeable for using phoenix images as decoration, because this symbolises femininity in Oriental culture.
Hon Chen Temple is famous not only because of its beautiful location but also for the folk festival to worship Mother Goddess Thien Y A Na, which takes place annually in March and July of Lunar Calendar, as described in the folk song:
"July is for worshipping Father, March is for Mother."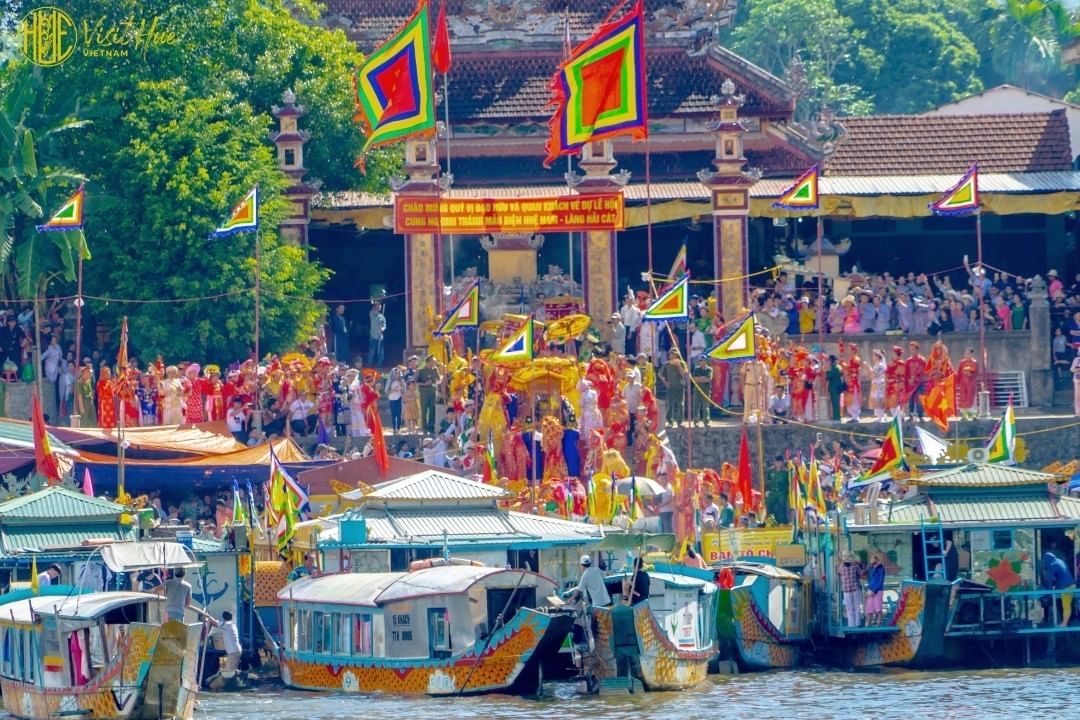 Hon Chen Temple Festival - Photo: @visithuevietnam
Such ceremonies are always very solemn. Clouds of incense smoke and candlelight create a sacred atmosphere in a naturally romantic and loving framework. It's held not only in the temple but mainly on the boats, which are specially decorated with worshipping accessories, flags and banners. The ceremony takes place at night, with traditional music called "chau van" playing and with a long line of boats bound together in bigger rafts called "bang". At that time, the river becomes more crowded and colorful, with hundreds of dragon palanquins sailing upstream and downstream all day.
Tourists are advised to travel there by boats, as the landscape is extremely marvelous. It would be a great chance to visit Hon Chen Temple on special occasions, as it features a unique traditional religious festival. It's said that the festival is not only for "Dao Mau" worshippers but also to celebrate and commemorate Mother. Such a meaningful blend between religion and belief!
Useful Information
Location: Dien Hon Chen, Hue
Best for: All visitors
Entrance: N/A
Hours: 9:00am - 5:00pm
Distance to city center: 5.5km (3.4 mi)
Conversations (0)
Join the conversation
Conversations
Join the conversation
ALL COMMENTS (0)
There are no comments. Add your comment to start the conversation.
read next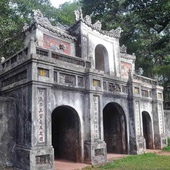 In Hue - one of Vietnam's most sacred lands of Buddhism, Tu Hieu is regarded as the largest and oldest pagoda, and also a famous sightseeing spot with historical and cultural value.
Famously being one of Vietnam's seven UNESCO World Heritage Sites, the Imperial City of Hue has long been a must-see attraction for tourists visiting a hidden charm of Vietnam.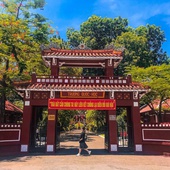 Being the first and also the oldest high school in Vietnam, originally Quoc Hoc (National high school) was the school for children from royal and noble families.