Assembly Halls in Hoi An
Hoi An is famous for its historical role as a bustling trading town, hence the construction of many assembly halls for old-day traders to convene and socialize.
History & Location
Building Assembly Halls as a place to socialize for themselves and the next generations is a tradition of Chinese people when they migrated or did business in another country. Therefore, a lot of Assembly Halls of this type can be found in Vietnam today. In Hoi An Town, which has a long history of international trade, there are 5 Assembly Halls constructed by the Chinese, all are located on Tran Phu Street, facing Thu Bon River. Nowadays, even though not all of the halls stay the same, the five remaining ones (Fujian, Chaozhou, Hainan, Cantonese, and Chinese) become famous attractions of Hoi An.
Assembly Halls in Hoi An
Generally, they all follow a formula that has been used by other Chinese assembly halls in other cities: a grand gate, a nice garden with ornamental plants, a main hall and a large altar room. As decoration is a fundamental part of an assembly hall, it is carried out meticulously at all of the halls with statues, lacquered boards, murals, etc. However, because each Chinese community has its own beliefs, different assembly halls worship different gods and goddesses.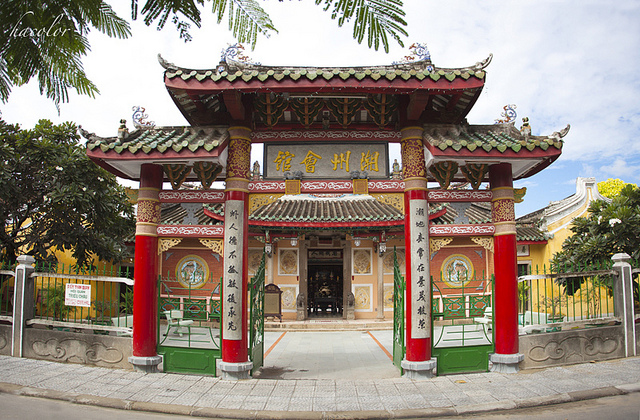 Photo: tourdulich.org.vn
Among the five assembly halls in Hoi An, Fujian Assembly Hall is greatest and most famous. It's located at 46 Tran Phu St.
Trung Hoa Assembly Hall (Ngu Bang Assembly Hall) is the oldest among these five, which is now at 64 Tran Phu St. It worships Goddess Thien Hau.
The Ghaozhou Hall (Trieu Chau) (also called Ong Bon or Am Ban Pagoda) is located in the 157 Nguyen Duy Hieu Street, near Fujian Assembly Hall. It's dedicated to General Phuc Ba (Bon Dau Quan), a god of mastering waters.
Cantonese Assembly Hall (Quang Dong) is at 176 Tran Phu Street. Built in 1885, it has a calm courtyard with ornate statuary.
Hainan Assembly Hall at 10 Tran Phu St. is used to worship 108 Chinese merchants, who were unjustly killed, because they were mistaken for pirates. Later they were vindicated and named "deities" by King Tu Duc, who granted money to build this assembly hall to worship them forever.
How To Get There
Tran Phu Street is the center of the town hence there's no difficulty finding it. Your entrance ticket to Hoi An allows admission to one of these 5 assembly halls. However, some do not have ticket-takers, so it's up to you to wander around. Travelling by bike or walking is the best way to discover the town.
Useful Information
Location: Hoi An, Vietnam
Best for: Family, couple, solo
Entrance: Free
Hours: 9AM - 4PM
Distance to city center: 0.7km (0.4 mi)
Conversations (0)
Join the conversation
Conversations
Join the conversation
ALL COMMENTS (0)
There are no comments. Add your comment to start the conversation.
read next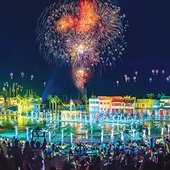 The introduction of newly-opened Hoi An Impression Themed Park has brought a completely splendid experience. Prepare yourself for an eye-popping journey to go through the most amusing history session you could only have once in a lifetime.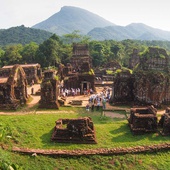 If Hoi An enchants you by colorful lanterns along downtown streets by night, charming red towers in My Son surely amazes you in the sunset.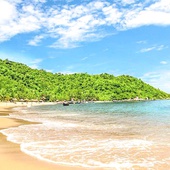 Cham Island is a group of 8 small islands, which has been recognized by UNESCO as the World Biosphere Reserve (Cu Lao Cham Marine Park).