FLC Sam Son Beach & Golf Resort
4 things that we love most about FLC Sam Son Beach & Golf Resort
Upscale suites and villas with private swimming pool

Free of charge meeting and conference facilities

Complimentary spa and massage services

Exquisite, spa-inclusive resort close to the well-known golf course
Overview
FLC Beach & Golf Resort Complex is a world-class holiday accommodation. With the best service and facilities in the Northern regions, this resort promises a peaceful and luxurious stay that can leave all your stress and pressure behind. Make all tired workdays the past and let FLC Resort Sam Son be your future.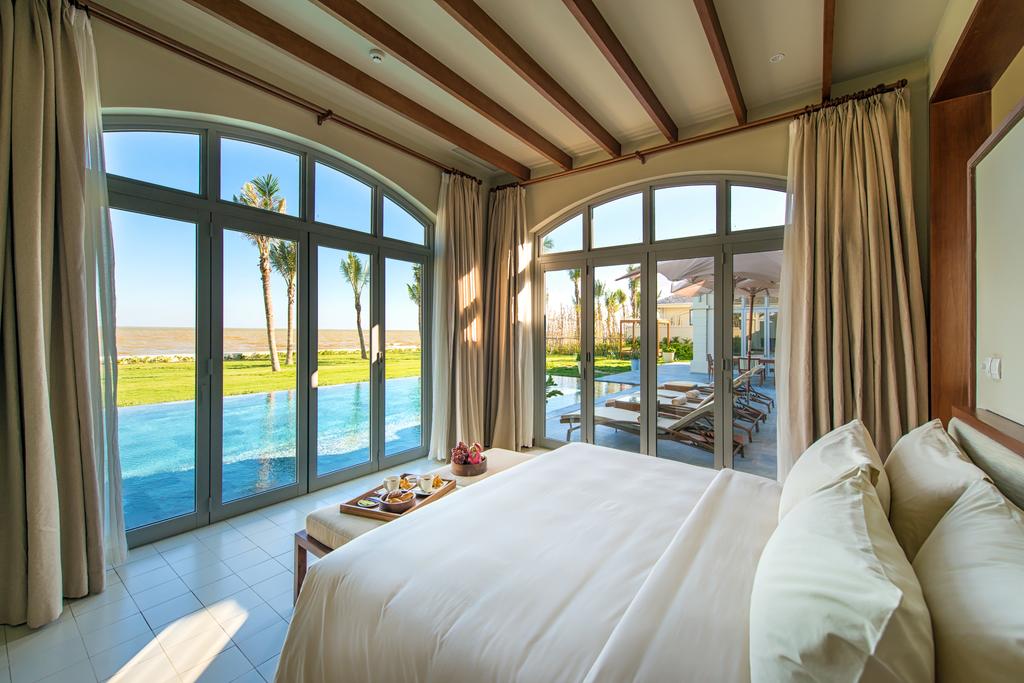 Location
FLC Resort Sam Son is situated on Ho Xuan Huong Street, 160km driving from Hanoi and 15km more from Thanh Hoa city center. One part of the resort faces the rough sea while the other backs the gentle Ma River. With just a few steps, you can dip your foot in the crystal beach, striding along the coast or depict the river wonders.
Residing in the golden area of Thanh Hoa city also gives the resort an advantage in traveling to the city's famous attractions and entertainment venues. It's such an easy, few minutes commute from FLC Luxury Resort to the bustle Sam Son Beach, Sam Son Golf Links, Truong Le Mountain, and Doc Cuoc shrine. Wanting to travel to FLC Resort Sam Son from another city? The resort offers Hanoi - Sam Son two-ways shuttle bus, four trips per week with the pick-up destination at My Dinh bus station.
Service & facilities
The room rate includes hundred convenient services such as free breakfast, none-charged fitness, or a day spa. Travelers can also enjoy plentiful services and facilities belonging to the FLC complex, such as salt-water pools, 18-hole golf links, Beach & Golf bar & restaurants, and amusement parks.
However, the resort is also open to non-residents. With an extra fee, you can enjoy the specific service, do some lengths in the pool or simply stroll around to take pictures. As the resort lies on an enormous ground, it will be easier for guests to book an advanced electric bus to travel from estates to estates. Although there are many buses on the dock, the waiting line sometimes can see length, so do remember to make early contact with the resort friendly staff.
swimming pools

Bar

Beachfront

Private beach area

BBQ facilities (Additional charge)

Terrace

Garden

Dry cleaning (Additional charge)

Laundry (Additional charge)

Karaoke

Table tennis Additional charge

Billiards (Additional charge)

Children's playground

Fishing Additional charge

Golf course (within 3 km) (Additional charge)

Tennis court (Additional charge)

On-site coffee house

Bar

Restaurant

Yoga classes

Fitness centre (Additional charge)

Sauna (Additional charge)
Room & Amenities
FLC Resort Sam Son includes 67 villas, in which 22 units are Ocean View and 45 are Pool Villa with garden vista. Crossing a single lane engulfed in greens, visitors are now facing their dreamlike villa. The accommodations can sleep one to four bedrooms each. All estates have a large outdoor ocean-view swimming pool plus a sunbathe patio right next to it.
While Pool Villa can only sleep a couple, the Ocean View is suitable for even a family gathering beside the beach. The villa interior is designed with utmost care. You can see pleasing to the eye beige and coffee color on the modern sofas, the soft bed, and across the spacious bathroom. Cross-continental inspired furnishing congrats the rooms with luxury yet cutting-edge.
| Room Type | Maximum | Size |
| --- | --- | --- |
| Senior Suite with Private Balcony | 2 adults, 1 Children | 30 sqm |
| Executive Suite with Private Sun Terrace | 2 adults, 1 Children | 32 sqm |
| Presidential Suite with Private Sun Terrace | 2 adults, 1 Children | 60 sqm |
Highlights
Coming to FLC Resort Sam Son is coming to the wellness world of soothing treatment of Maia Spa. The treatment rooms are diverse with familiar names resembling healthy states of mind, such as Optimistic, Strength, and Satisfaction. Wrap yourself in both physical and mental therapies from sauna, steam bath, body massage, and beauty care. Along with experts' advice on health and physique, wellbeing improvement is just a step away.
Food & Drinks
Fresh Restaurant can make an unforgettable impression with a fusion of Asia and European culinary while the Bamboo Lounge offers a variety of on-menu and buffet dishes. Bamboo Lounge can please even the toughest diner with its outdoor area, boasting the coziest and most home-like surrounding of all. One notable thing is that each table has a distinguished staff caring to the smallest demands. Refill your wine or make a request to the chefs, make a small action and your wishes can be heard.